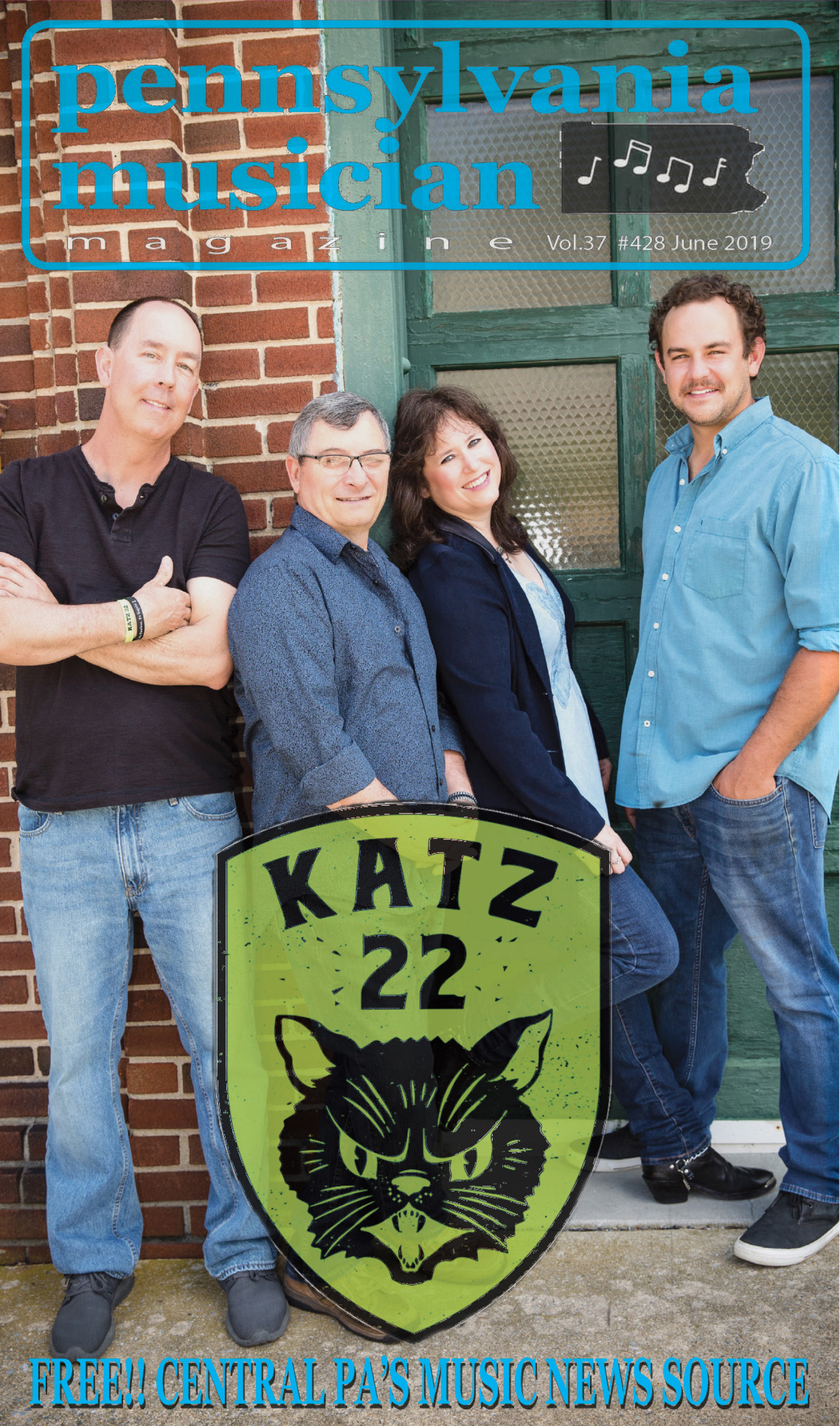 ---
Katz 22… Getting People Off Their Seat
and On To Their Feet!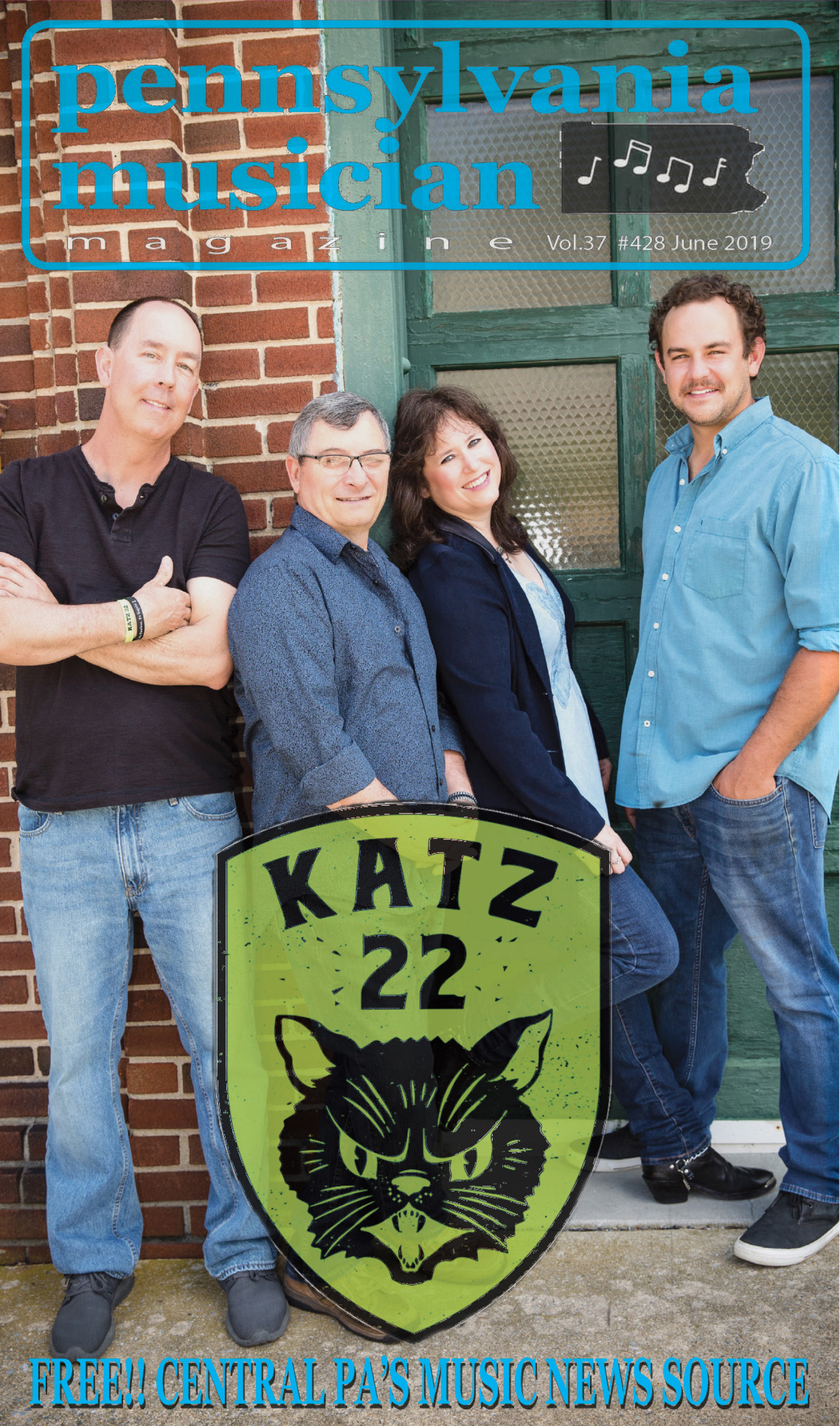 Story by: Rachel Rocks
Katz 22 is a four-piece powerhouse rock & roll dance band with excellent musicianship and superb vocalists. Featuring drummer John Hawk, bassist Rusty Fohner, keyboardist Zach Nyce and guitarist Kathy Rimm, Katz 22 entertains like no other band in PA. They've only been together as Katz 22 since 2017, but their experience as musicians truly shows in every note. You can tell they must be good because their fan base has already grown immensely in a very short time.
Kathy Rimm is their lead singer and guitarist. Kathy has been singing every since her mouth could open! She used to drive her family crazy singing all of the commercials to products as they were walking through the store. When she was 13 years old, she finally got her hands on a guitar. Her parents tried to get her lessons, but that never worked because she can just hear a song and memorize it, she didn't need all of the details, she just wanted to play music. She joined her first band at 16 and hasn't stopped since.
John Hawk has been drumming since he was 3 years old with wooden spoons! When he was 13 he got a guitar and his brother got drums, luckily they switched and he finally had real drums to play. He took private lessons and was in band and the orchestra all through school which really helped with his rhythm and counting skills. He's played with a variety of bands throughout the years, he played with originals acts throughout NYC, Jersey and Philly. He's also played in a country band and opened for quite a few country acts such as George Jones, Brian White, etc.. Even though he's played in a lot of bands nothing compares to Katz 22.
Zach Nyce is their keyboard player and on the day we did this interview he just graduated from college and he was officially Dr. Nyce. He has his Bachelors, Masters, and Doctorate in Music Performance. His keyboard skills are amazing, he's been playing since he was 5 years old, and he's not stopping anytime soon. Even though he's very serious about music and he's played all over the place, from Japan to Greece, and of course in the US. He still just wants to play Rock-N-Roll! He has so much fun, and he is able to have fun because he is surrounded by amazing musicians. Zach also has a solo original project, but he loves getting together with Katz 22 and practicing and playing.
Last, but definitely not least, is their bassist Rusty Fohner. Rusty is a Retired Master Sargent from the US Air Force. Being in the armed forces he of course moved all around the world, and he took advantage of every new place he lived, he would move from Duty Station to Duty Station forming bands: Florida, Tennessee, Europe, it didn't matter music was everywhere! In 2005 he moved to the Chambersburg area and there was a click of musicians he couldn't quite crack, eventually he spent 10 years in a country band where he got to open for some great bands like David Allen Coe and Blackberry Smoke, but he's not a huge country fan, he wanted to rock! As soon as he heard Kathy ripping on the guitar, he knew this was the band for him.
Even though I've never seen Katz 22 live yet, I did enjoy quite a few videos on their Facebook page. You can see quickly that their musicianship is top notch! I thought Dr. Nyce would be the one laying down the law with perfection, but I'm told that Rusty is truly the guy that won't accept a subpar performance, he expects everyone to always be on their A game, and they truly are. They all also appreciate how much they challenge each other with their song choices, they play amazing artists like Heart, Boston, Pat Benatar, etc.. they have a knack for finding songs people forgot they knew. Their vocal harmonies are also insane! They feel their harmonies are extremely important and they help add in a special layer to every song. The band has one goal in mind when they hit the stage, get people out of their seats and onto the dance floor! The band has achieved their goal night after night.
The band has and will continue to perform at just about any type of venue – small clubs, large festivals, casinos, weddings, colleges, corporate events, wineries, private parties, charity events, etc. Sat. June 1st they will be playing Hanover Moose, and Friday, June 7th they will be playing at Cliff's Tavern, they are excited to be playing at Cliff's for the first time as Katz 22. You can check out their full schedule in their ad in this issue. To get Katz 22 booked at your club or private event, you can contact them via email: katz22band@gmail.com or phone: 717-752-2267. Rusty is currently doing most of their bookings, but if you are a promoter or booking agent, they are looking for representation.
Katz 22 so far has been an awesome party train and they just keep chugging down the track! Of course they need all of the pieces to their train to keep their party rockin. They wouldn't be the band they are today if it wasn't for all of the support from all of their significant others. Rusty is the sound guy, booking guy, etc, but when he's on stage his wife Pam steps up as their sound guru. Pam also sends out flyers and helps get gigs wherever she can. Zach's wife Martha has to hold down the fort at home with their new baby girl. John's girlfriend and Kathy's significant other help out with merch and wherever they can. They also wanted to give a special shout out to John's sister Barb for giving them their practice spot. Last but not least they wouldn't be playing anywhere if it wasn't for all of their friends and fans for supporting them at their shows. They all love seeing people up dancing and having a good time.
Make sure and check out their website, www.katz22band.com, for even more info. If you're looking for a fun night out on the town with a band that will get you off your seat and onto your feet, then check out their schedule and plan your next night on the town! Their combined talent and experience produces a high-quality, entertaining and energetic rock & roll experience that you won't forget!