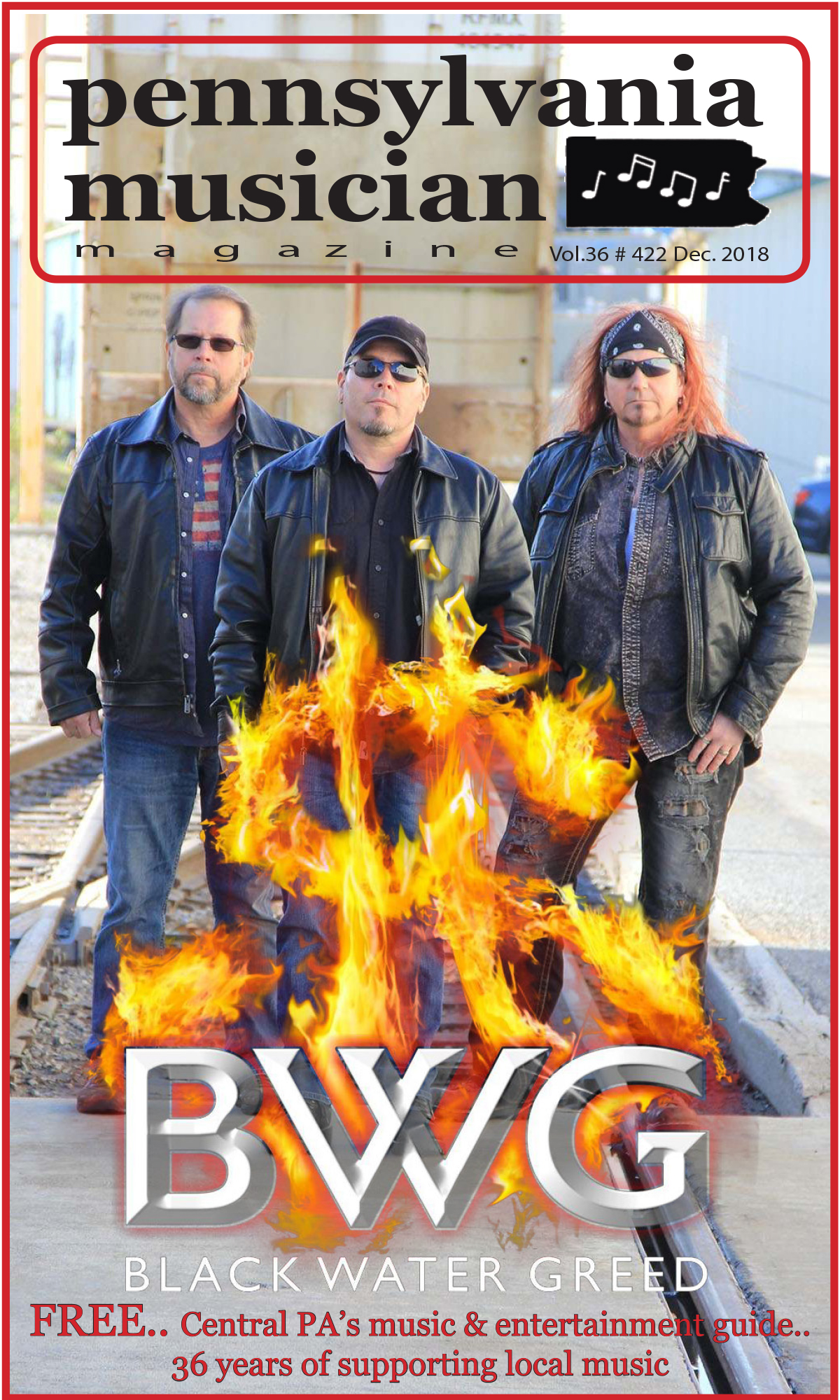 ---
BLACK WATER GREED –
Waking Up the World Through Music
Black Water Greed launched as a force in the music industry in Lancaster, PA in 2012. Black Water Greed, whose name was stumbled upon while tossing about song titles, is now comprised of JJ Tyson; drums, Michael Mundy; lead vocals, and Ios (Andy) Patzer; guitars. Cumulatively, Black Water Greed creates a sound that stands in a category of its own. They refer to their music as "classy rock" – which is a marriage of the classic rock from the 70s and 80s, but with a modern vocal sound. Their influences musically run the gamut – from early Grand Funk Railroad to Shinedown.
In order to grow their presence, they enlisted their devoted fanbase to help spread the word, as well as blasting it across various social media platforms and diligently submitting their music to internet radio stations. Additionally, Tyson travelled overseas to various stop-offs – including Japan, Indonesia, and the UK – where he promoted the project heavily. This strategy worked for BWG, along with direct marketing…in global proportions. BWG garnered the number 1 spot for 5 weeks at the UK FM station Abbey 104 with their first big song, "Walk Away." The song, authored by Tyson, chronicles an emotionally unhealthy, insecure relationship that is fraught with jealousy and toxicity…where the best thing to do is to walk away. This theme apparently resounded with their dedicated fanbase, as the video for "Walk Away" amassed over 1 million views on YouTube! BWG attributes this impressive milestone to tireless marketing, along with a lot of help from their friends and fans. Even though it's been a very long six years they are now ready to release their new album, "Circle of Sin".
All of their promotion didn't only pay off in new fans and streams, but they also made some amazing connections in the music scene, one of which is David Mobley, who is now the executive producer on their upcoming album. I pulled this quote from David off of their website, "I am extremely excited and honored to be acting as Co-Producer and Executive Producer for the up and coming super rock group Black Water Greed. I knew from the very first time that I heard their unique sound and writing style that I would one day want to work with them. I got my wish, and now we're very close to releasing their first major album titled 'Circle Of Sin,' with eleven all-new and superbly written and recorded songs that will blow everyone away. A big thanks to JJ, Michael, and Andy for their unbelievable musical talents."
"Circle of Sin" is not for the weak of heart, it is a very political album which is sure to stir up some conflict, but will have plenty of people connecting with each well written lyric. With "Walk Away" they had a fan write to them and say, you told my whole life story in five minutes! That is their goal with this album, they want people to be able to feel every word and connect with the intensity of every song. With a name like Black Water Greed, you would expect nothing less. They are just finishing up some of the mixing and mastering with The Mastering Lab, who also worked with The Rolling Stones. They are also working locally with Bobby Gentillo of Right Coast Recording. They are hoping to release the album in January, their initial CD Release Party is going to be in Las Vegas!
One thing about Black Water Greed is they are not shy at all about promoting their upcoming album. JJ has been talking to me about it for at least three years, and as soon as he saw the opportunity, he jumped on getting Black Water Greed on the cover. They are very thankful to have been interviewed by multiple radio and tv stations and magazines. They will also be on the cover of ION Indie Magazine based out of Colorado next month, thanks to the publisher Kiki Plesha for promoting them as much as possible. If you want people to know you are out there, you definitely have to promote yourselves and Black Water Greed is doing exactly that!
BWG doesn't take their fans or their success for granted and are proponents of "giving back" – especially where this country's Veterans are concerned. They recognize that music can be a platform to call attention to various causes. To this end, the proceeds from their song "21 Shells Say Goodbye" are donated to The Wounded Warrior Project. You can listen to "Say Goodbye" and many other songs on their website, www.blackwatergreed.com.
Black Water Greed is quick to credit their family and fans for their success – whom they refer to as "Greeders." They view their fans as the backbone of the band. They wanted to make sure and thank a few people who have helped them along the way, Bassist Bill Kahler is on the album, he's a long time friend and was willing to be their pre-production bassist. Becky Lastchanzky really helped open doors for them throughout the fashion and music industry. She's one of the first people that really listened to their music and believed in them, outside of their family. John White did an amazing job on their newest video from their upcoming album, I can't wait to see it! Robert Narber for doing their Cover Art, and last but certainly not least David Mobley for helping them take their music to the next level.
This was a different interview for me because Black Water Greed is strictly focused on their album and they don't really have shows to promote, but even though you can't see them in person you can still hear them online at www.blackwatergreed.com. You can also find them on all of your favorite social media, Facebook, Reverbnation, etc. If you like what you hear they are more than happy to play their music anytime or anywhere. Give them a call and get them scheduled at your venue. I can tell you one thing for sure, they will promote the heck out of any show they play! I know I will be watching closely to see when their album, "Circle of Sin" is released so I can check it out and add it to my collection!