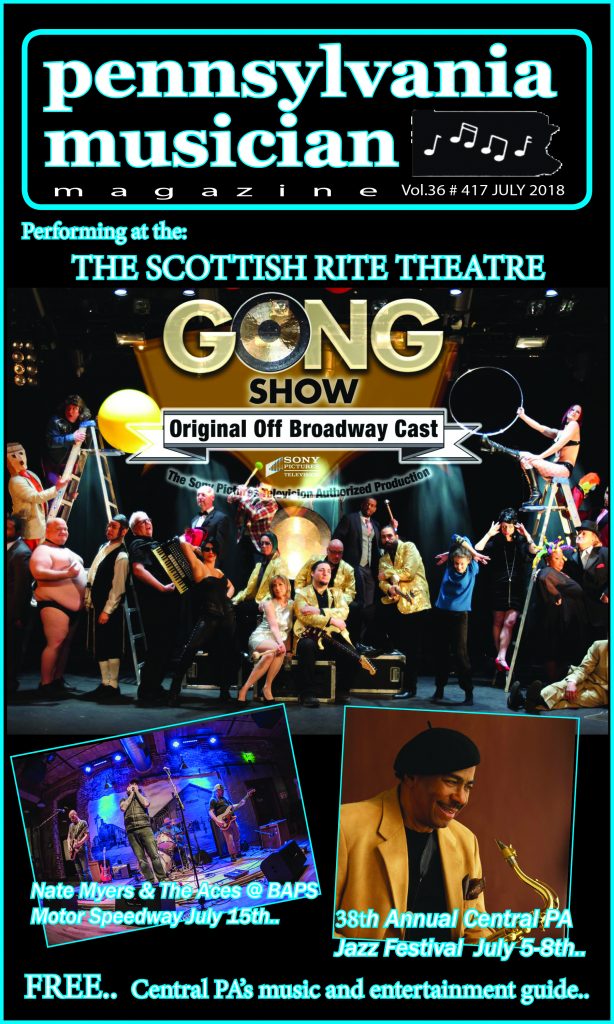 ---
Grab a Seat and Fall Off of it Laughing…
   The Gong Show Live, Off Broadway is Coming to Town…
By: Rachel Rocks
We all need a night to leave our troubles behind and let loose and laugh till it hurts, and the Harrisburg Scottish Rite Theatre has the best show coming to town to do just that! The Gong Show Live Off Broadway is coming to Harrisburg on Friday, August 17th. I had the privilege to interview Leslie Gold, the Executive Producer, and Peppy Castro, the Associate Producer and Creative Consultant of the Gong Show Live to find out all about the show.
   The Gong Show Live is just like the old TV show you loved watching. There are 10 different mind-blowing acts, 4 hilarious judges, and a host that will be sure to make you laugh! Leslie was a big fan of The Gong Show for as long as she can remember. She used to run home from school just so she wouldn't miss any good acts. It was a great day when it got moved to prime time so the whole family could watch it together. Chuck Barris, the original host and creator of the Gong Show was on tour with his movie, "Confessions of a Dangerous Mind" and Leslie, who is also a radio host, jumped at the opportunity to interview him. When Chuck was on her show they got the idea to bring back the Gong Show on radio in the middle of the day, a Radio Gong Show. The response was overwhelming and people were talking about it for days afterwards, and that sparked Leslie into bringing back the Gong Show Live!
   After getting the rights to produce the show from Sony, Leslie got busy finding the perfect talent. Luckily, she had the help from her Casting Director, Robert Russell, and Peppy Castro, founder of The Blues Magoos, Balance, Barnaby Bye, etc. and was in the Broadway show HAIR, and a never-ending list of other bands and has influenced so many artists like Ace Frehley and many more. They weeded through over 9,000 auditions and came up with their top 20, oddly talented people, curated from around the globe. These are the masters of entertainment. We all know we like to see people flop just as much as we like to see them soar, and I'm told you really see it all and then some at the Gong Show Live. All of the "contestants" are professional actors and actresses. They all have very interesting back stories that have been written into the show that will make you fall in love with them. These performers have fought through their own struggles to get to where they are today.
   After they got their cast of characters they first had a 3 year residency in New York, but then they decided to hit the road. They've now been on the road for two years and they are planning on heading back to New York City soon. Leslie and Peppy took the original concept of the Gong Show and elevated it by producing the talent into a well-polished professional performance.
   Even though their performers have a scripted show, the crowd is definitely not scripted and reacts differently in every city and every show. Peppy loves to sit in the back of the house and watch the crowd's reaction, that is a show unto itself. They do have a hilarious host, comedian Ray Ellin, and 4 super-hilarious judges, Chuck Nice, Brian Scott McFadden, Mike Fine, and Leslie Gold herself. The judges are all comedians and they write their own material. They are also good at ad libbing because this is a live show and they are real people and mistakes do happen, and like I said the audience's reactions are always different, so the judges are always prepared to keep the show interesting to say the least! They also have a live band, The Gong Show 10, even though it only has 4 members.
   Some of you that grew up with the Gong Show might remember some of your favorite acts like Gene Gene the Dancing Machine, well they have Teen Gene the Dancing Machine, that will definitely have you rolling with laughter. The Unknown Comic was another crowd favorite, so they adapted their character into The Unknown Convict, wearing a bright orange jumpsuit and everything! One of the newer acts is Amazing Amy, a toothless, 80-year old, contortionist that can fold herself up into her own luggage! You might be wondering what happened to all of those rejects from America's Got Talent, or just some nuts you've seen on YouTube. Look no further, you found them, right here in The Gong Show Live.
   Each show has 10 different acts, plus they also have understudies, because you never know what's going to happen next, and they are prepared for everything. As in any professional theatrical show they have rehearsed every move, but they also mix it up every night to keep it interesting for not only their fans, but the performers themselves. Some of the acts performed can be difficult and dangerous, and some are just flat out hilarious! I asked them if this is an all-age show? They said they would classify it as PG, there is no swearing, but there is some adult humor which is why they say it is PG. They suggest 10 and up, but they've seen plenty of younger kids at shows that are cracking up laughing along with their parents.
   The Harrisburg Scottish Rite Theatre is located at 2701 N. 3rd St. Harrisburg, right beside the Zembo Shrine. There is plenty of free, well-lit parking, and the theatre itself is amazing! Tickets for this once in a lifetime show are only $45 with a VIP option of $55 which gets you a seat in the first 6 rows and there is a Meet & Greet with the performers after the show. For more details check out the Harrisburg Scottish Rite Theatre's ad in this issue. You can also check out The Gong Show Live's website, www.gongshowlive.net.
   I don't know about you, but I'm more than ready to laugh and have a great night out on the town! Get your babysitters lined up now, Friday, August 17th, Harrisburg Scottish Rite Theatre, you don't want to miss it!