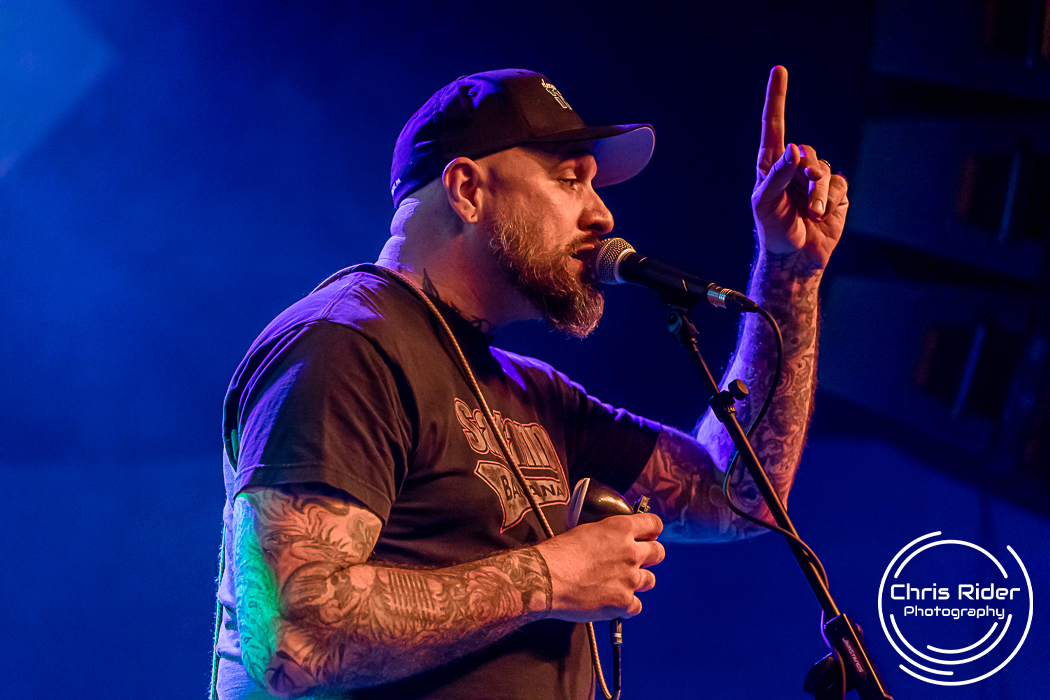 ---
By: Michele Kelley
Hello sunshine! After all the rain we had, it is so nice to see the sun again and feel warm temps. Something else that is heating up are all the bands and new talent we discovered this past month. Some names that will be exploding in the next few months along with some throwbacks that gave me some time to reminisce about the old days. I am excited to share them with you. I have a lot to cover this month so I will get to it.
We started the month at Club XL in Harrisburg to cover three rockin' bands. Time Bomb, Every Mother's Nightmare and Warrant. Time Bomb kicked off the night covering 80's and 90's rock. These guys are such a blast to see perform. We saw them back in December for the Toys for Tots Concert and had such a good time that we had to go see them again. These guys dig in and find some gems to cover that I have not heard in a very long time. Strange how I can't remember what I had for dinner last week but I can belt out some song lyrics from 25 years ago. The band consists of Dave Grim: Lead Vocals/Guitar, Brian Gates: Lead Guitar/Vocals, Todd Williams: Bass/Vocals, Randy Groff: Drums/Vocals. If you haven't heard them play, you are in for a treat. They will certainly give you some flashbacks to the long hair rockin' days.
Next up was Every Mother's Nightmare from Memphis, TN. Some of you might remember this band from the late 80's/early 90's if you watched Headbanger's Ball. MTV featured three of their most popular songs "Walls Came Down", "Love Can Make You Blind" and "House of Pain". They were full of energy, had great stage presence and showed the crowd they still have it goin' on! We got to talk with some of them after they finished playing and they were such cool guys to hang out with. Always nice to find personalities behind the music.
To end the night, Warrant took the stage on their 'Dirty 30 Tour'. As a fan of the 80's hairbands, I was curious to hear them play. I wasn't sure if all the years of hard partying would affect their sound and performance. Having a different lead singer also changes a lot of things but not for these guys! They rocked it just like back in the day and even did a few of the crowd favorites like "Heaven", "Dirty Rotten Filthy Stinking Rich" and of course everyone's favorite "Cherry Pie". What a fun night!
A few months ago, I was contacted on Facebook by R.J. Conrad and he asked me to give a listen to a song he had recorded. Yes, I do listen to music sent to me. I had Chris give it a listen also and we talked about it before responding to him. Chris has always been a fan of Dave Matthews so he instantly noticed the Dave influence. I was picking up a Dispatch influence but no denying the Dave influence. We liked what we heard and I reached out to R.J. I shared our conversation and he backed up that they were both one of his favorites. Nailed it! So, we found out where and when his band, Rascal Revival, would be playing and went to check them out at HMAC. This was our first time at HMAC (I know, I know, but at least we finally made it there) What a cool place! I see a ton of bands listed to play there and but our schedules just had not lined up to make it. I absolutely loved all the original art they display throughout the place and all the old architecture. I bet that building has a lot of stories to tell! HMAC has 2 stages and will be adding another one soon. Special thanks to Chris Werner at HMAC for giving us the grand tour and the warm welcome. Also, congratulations to Chris on the purchase of HMAC and now being co-owner! Looks like some great things are in store for them.
Three bands were scheduled to play that night at the Stage on Herr. The first band was East Coast to Nowhere. When they took the stage, they announced that this was their debut performance. I absolutely love catching these bands! You get to see the progress they make along the way. They are a 5-piece Punk/Rock band originally from Adams County. For being a brand-new band and never playing in public, they did a great job. Keep it going guys!
Next was Rascal Revival from Harrisburg. They are an Alternative Folk-Rock band that started as a 3-piece band in 2017 and recently expanded to a 6-piece band consisting of R.J. Conrad: Rhythm Guitar/Vocals, Jeff Fuhrman: Drums, Jake Joyce: Lead Guitar, Liam Galiano: Bass, Caleb Stelle: Violin and Eric DeAlmeida: Sax. I kept looking at the bass player thinking I knew him from someplace. It turns out, Liam also plays with the band Sun & Rain that we have covered a couple times. Always cool to see musicians sharing their talents. The band did a great job of mixing original songs and covers from the 60's to current. They had a great groove going and I am really looking forward to hearing them explode in the local music scene. For being a newly expanding band, they were extremely tight. They have a lot going for them and they are really picking up speed with their bookings! Go check out their Facebook page to find a show near you!
We were exhausted from a very long week and late-night prior, so we were not able to stick around long for the final band, The Hollow Roots. They are a Blues/Rock/Metal band from TN. They have a unique sound to them and we really enjoyed hearing them but we had a long drive ahead of us and my bed was calling my name. They play a lot all over the place, so I am sure we will get to catch them another time.
We took a week off to recuperate since we have been going hard with music, our full-time day jobs and a family emergency that I wanted to stick around home for in case I needed to jet. Thankfully, things have settled down on the home front and we are back up and running, literally!
Next was the final show for the Harrisburg University Spring Concert Series, Joan Osbourne at The Whitaker Center in Harrisburg. A week before the show, Frank Schofield announced that Harrisburg native, Jeffrey Gaines, would be opening for her band! I was ecstatic! I absolutely love hearing him play. Jeffrey always has such a heartfelt and powerful presence when he performs. His stories and lyrics command everyone's attention. That evening, he talked about growing up in the Chambers Hill area and how he drove around before the show to find his childhood home untouched from "progress". He shared how he would sit in the back of his parents' station wagon playing Hot Wheels and singing to "Tiny Dancer". He continued by saying he started music in school and how the guidance counselor told him to stick with it, because there wasn't much else for him. I had to chuckle, because I had heard the same thing from the school I attended. Strange how times have changed. That would never fly in today's world! I for one, am glad that he stuck with it, because he is amazing! He played some newer originals and performed one of his hit songs "Hero". Jeffrey will be back to Harrisburg on July 19th at HMAC at the Stage on Herr. Mark your calendars now. I'm sure this will sell out fast!
Joan Osborne was next! Another one that I have always wanted to see live and just now had the opportunity to do so. Joan's second album "Relish" was released at a time in my life when so much was changing. The time when you're forced to look real-life straight in the face. This album is probably the one everyone remembers with the well-known songs "One of Us" and "St. Teresa". I recently found out that Joan was in the band Trigger Hippy. I have been listening to them for a few years and never took the time to investigate them. I was able to talk briefly with Joan after the show which was surreal. I find it so interesting how music will take you back in time to certain moments in life. I had forgotten what an impact this album had on my life until hearing her that evening. My friend Michael Lundy from the band Prairie Dogma said it perfectly "It is pretty cool to meet your musical/cultural touch stones". Could not have said it better Michael! Joan will be releasing a new album soon and we were the first to hear a bit of it that night. Keep your eyes open for her release date!
Round 3 of the spring series of Whitaker Unplugged was amazing! This month's performers were Michael Arthur, Hunter Root from Medusa Disco, Justin Angelo and Soji. Wow! An impossible decision to make with such great musicians from all different genres! It certainly was not an easy decision! This month's winner goes to Justin Angelo. Congratulations Justin! Each month the winner receives $100 cash and a paid gig at Strawberry Square. The winners will advance to the finale on August 16th. The final winner will get $500 in recording time at the Green Room, Harrisburg and perform on the main stage at Kipona! Join us on June 21st at 5pm to see who will be the next winner! This has been so fun to do and I am so thankful The Whitaker Center allowed me to be part of this. Admission is $5 in advance and $8 at the door, so get your tickets early!
After Whitaker Unplugged, we headed to Mifflinburg Hotel & Scarlet D Tavern to see Bakuru Mtn. This was our first time there and seeing Bakuru Mtn. Neat place with great food and service! Bakuru Mtn is a 2-piece band consisting of Mark Cresswell: Vocals/Guitar/Harmonica and Jerrin Bottiger: Percussion. These guys do a mix of covers from pretty much every genre from jam, reggae, blues and rock along with some great originals. They were a lot of fun to see. We will be seeing them again soon.
The following night we headed up to Que Brew to catch our friend Jason P Yoder. Jason is a singer/songwriter with influences of Country, Rock and Jazz. He has been playing since he was 13 years old starting out with trumpet. Not only does he sing and play guitar he also plays piano, percussion, bass guitar, mandolin and banjo. Not to mention that he is an all-around great human being! His wife owns B Original Studios and does Graphic Design, Photography and Printing Services. She made a patch and Iron-on for Chris's Photography which turned out awesome! Such amazing people! If you see Jason scheduled somewhere to play, stop in and see him. If you need some graphic design and printing done, look up B Original Designs and let her know we sent you her way!
We thought we were finished covering bands for the month but we ended up at our friend Becky Blue's house for a housewarming party and ran into John Merx from Switch Fu. It was a great afternoon filled with a bunch of awesome musicians that just jammed on the first real hot day of the year, so we were all a melting mess. John convinced us to come see him and the band play at Club XL a few days later. All right, twist my arm. I mean, what better way to kick off your vacation and what isn't to love about this upcoming show! Switch Fu, Nate Myers and the Aces and none other than Savoy Brown. With that line up one would think Switch Fu were straight up Blues. Not the case! They are a mix of Blues, Funk and Rock. Switch Fu is a Harrisburg band with members John Merx: Vocals/Harmonica, Bill Wasch: Guitar/Vocals, Eric Slaughter: Drums and Jay Kirssin: Bass/Engineer. They kicked off the night and WOW! Pretty cool stuff! If I had to explain them in simpler terms, picture Danzig singing funky Blues/Rock. I know, right! I loved it and can't wait to see them again. Great job guys!
Next up was a long-time favorite of ours, Nate Myers and The Aces. I first saw them over 15 years ago and I still love seeing them play. They have so much fun entertaining their fans with their clever and sometimes comical lyrics. Anyone that has seen Nate perform before knows he is an exceptional Harmonica player and I still cannot figure out how he holds out those notes for that long. It impresses me every time. Never have I heard someone hold a note that long before! Always a great time seeing them play!
I was so happy to close this month with this final band, Savoy Brown. One of the earliest British Blues bands that have been playing since 1965 and are the longest touring blues/rock band in existence! I usually mention bigger named bands and who they have opened for. These are the guys that are always the headliner giving the opportunity for bands like KISS, The Doobie Brothers and many others, to open for them. Current members include Founder, Kim Simmonds: Guitar/Vocals/Harmonica, Pat DiSalvo: Bass and Garnet Grimm: Drums, both joining in 2009. The band has had numerous members start out with them over the years that went on peruse their careers with bands including Fleetwood Mac, The Kinks, UFO and Foghat. It was a great night of music and fun to see such a wide range of ages in the crowd. Get out and support your Blues Musicians. It is an audience that never seems to have the live support it deserves.
We will be in W.V. at Waynestock when this issue is released, so look for the breakdown from Shakedown St. in next months issue! Shows we will be covering in June are: 6/13-The Dirty Mojo Blues Band at Liverpool Volunteer Fire Company Carnival. 6/19-Deathcab For Cutie at Riverfront Park, Harrisburg. 6/28-The Marshall Tucker Band, The Outlaws and Molly Hatchet at Spyglass Ridge Winery, Sunbury and a few others that we have in store for you.
Finally, Chris and I would like to wish a happy 1-year anniversary to Josh Noll: Owner, Editor and 'Superstar' (yes, I used the SNL voice)! Thank you so much for everything you do for local music and for taking a chance on us! You have done an outstanding job and I am excited to see where you take this! So, if you want to wish Josh a Happy Anniversary, PLACE AN AD ALREADY! Catch you all next month!