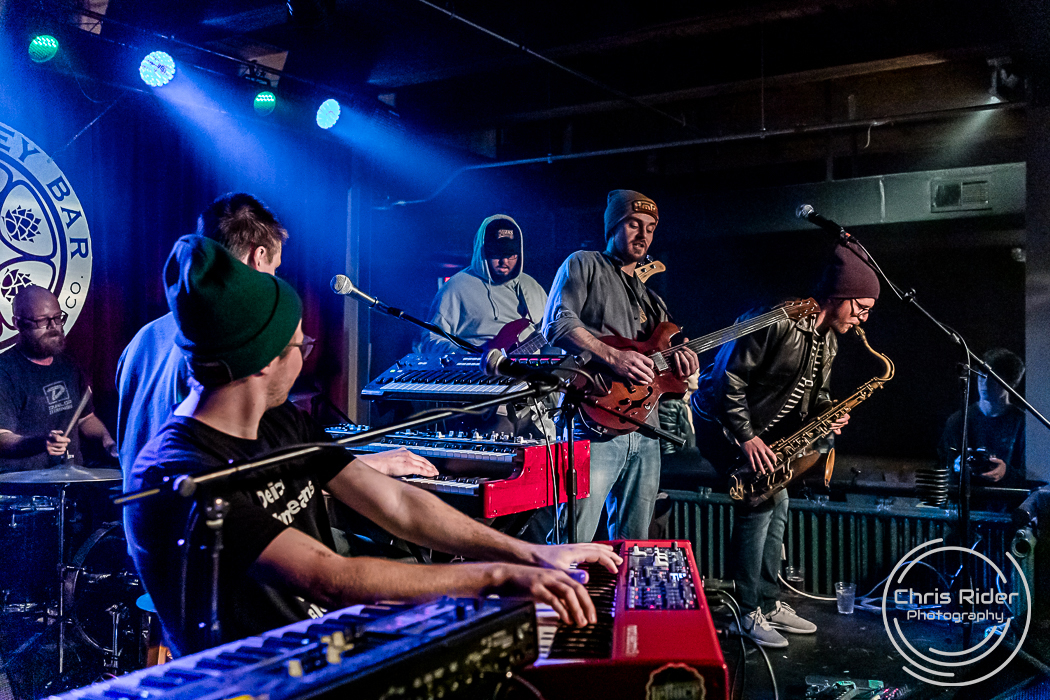 ---
By: Michele Kelley
I hope everyone has recovered from their turkey indulgence and is ready for the craziness that December always promises to bring us! November was a hard month for us to get out and see bands with so many things going on, but what we were able to cover some pretty amazing shows. I am continuously surprised by the level of musicianship that our state has to offer. When we started with the magazine, I figured we would cover the best of the best pretty quickly and the rest would be okay bands with an occasional surprise. I am happy to say, I was wrong. Each month is always an adventure and makes me proud to be with the magazine and to be involved in supporting Pennsylvania's LIVE music scene. I hope that you take the time to look these bands up online, get out to see their shows and buy their music!
We were set up to see our first band for November but things did not pan out, so we decided to head over to The Bullfrog Brewery in Williamsport to see what was going on. We met up with someone new to us, Keith Kenny. Even though Keith started out in NJ, he told us he really started to break out here in PA and loves playing in our state. Keith is considered by many people as a solo musician but after watching him perform, he is definitely a one-man band and more. If you closed your eyes at one of his shows, you would bet money you were listening to a full band. He does it all, from playing guitar, VOX, suitcase kick drum, banjo, harmonica, singing and layering and looping all while keeping the crowds attention and drawing you in by his entertaining facial expressions and his stand-out 'Big Red Suitcase'. One-man bands have always intrigued me, so much going on and to keep track of, I honestly do not know how they do it. Now, I have seen some pretty incredible one-man bands before, but Keith is a completely different composition. Keith infuses different genres of music from Rock, Metal, Blues & Folk. He did an outstanding job of covering a TOOL song and for a one-man band to pull that off is pretty incredible, in my opinion. He performs mostly his originals, some very comical and others with deep meaning, leaving an impression. Keith has been busy this year releasing his video "Teenage Dream" and touring the UK and the US collecting fans and playing with some amazing, well-known musicians. I think one of the refreshing things I liked most about Keith was that, not knowing him, he could be the guy you're next to in a venue, talking about anything and everything, waiting to hear the next great thing on stage. He is such a genuine person and you can tell he really loves what he is doing!
If you have been following along, last month I mentioned that we caught the end of a really good band called Yam Yam from Harrisburg that played at Little Buffalo's Music Festival. They released their self-titled album on November 21st at The Abbey Bar at Appalachian Brewing Company in Harrisburg. The crowd that came to support this band was insane! It was a sold-out show of wall to wall people and they were all having a great time dancing and singing along. As mentioned last month, Yam Yam formed in 2015 and members include Mike Dempsey: Keys, Tom Fuller: Guitar, Tyler Fuller: Drums, Jason Mescia: Sax and Xander Moppin: Bass. They mix Jazz and Funk "Junk" with some really cool R&B groove. I can honestly say these guys are among the top talented musicians I have had the pleasure of watching. The amount of people at the release party was a true testament to their musicianship. If you have not seen them yet, you are missing out! You can stream their music on all the major platforms, pick up a digital copy on iTunes or purchase a hard copy through their website at WWW.yamyamband.com
Before Yam Yam hit the stage, we had the pleasure of seeing AMFM: Andy Mowatt's Frequency Movement, formally named Steely Jam from Lancaster. They too, were incredible. Often times you see opening bands that are just that, an opening band. Now, I know it was Yam Yam's night to shine, and they certainly did, but AMFM is not just an opening band. They too are incredible musicians that just seemed to gel together. Rather than AMFM "opening" for Yam Yam it was more like they were warming up the crowd for an insane evening of music. The two bands were equally matched and complimented each other very well. AMFM consists of Andy Mowatt: Guitar, Taylor Wade: Drums, Tuck Ryan; Keys/Vocals, Nate Young: Synth/Vocals, Paul Berry: Tenor Sax and Josh Mulberry: Bass. They have mastered meshing together Jazz, Jam, Rock, Funk, Soul and Blues into one really cool sound. You listen to them by streaming on all the major platforms or pick up your hard copy of their self-titled album from their Facebook page or website at www.andymowatt.com The album is also available on Amazon.
The Family Ties kicked off a great night of music on November 23rd at The Bullfrog Brewery. They are listed as an Indie Rock group based out of Williamsport, but what they have going on is pretty special. Brother's Mike and Gino Caschera started out as an acoustic project in 2010. They then added their father, Mike Caschera III, in 2012 to form 'The Family Ties". Their father Mike may be remembered by some as former member of the 70's pop band, Spiral Staircase. Along with their growth musically over the years, The Family Ties are a tight five piece band, playing their original songs along with a few covers. The Family Ties released their debut album "Holding on to the Earth" in May this year. The band consists of Mick Caschera III: Vocals, Guitar, Gino Caschera: Drums, Mike Caschera Jr.: Sax, Keys and Vocals, Nick Laylon: Bass and Mike Steppe: Guitar, Harmonica and Vocals. Since 2014, the band has kept these same members and is going strong, touring in PA and NY. They are scheduled to record a full length album in Reading the early part of 2019. Their album is available on iTunes, Amazon, Spotify and any major streaming platform. You can check out their music videos on YouTube.
Moxie & Rebel played following The Family Ties. They classify themselves as an Indie Rock band and formed in 2011 and band members include Joe Jaser: Guitar, Vocals, Tim Harer: Bass, Chris Hess: Vocals, Guitar, Tim Redka: Keys and Mike Wrench: Drums. It is hard for me to explain the type of music they have created. They embody several types of music from raw punk rock sound to, at times, a chill jam. In my opinion, to classify them into one category would be a mistake. Their show was high energy and at times, emotional charged, and left you intrigued on what was coming next. They have released two albums, a self titled album "Moxie & Rebel" in 2012 and "The Brute in the Brain" in 2014. They have been working on their latest album "You Are Not Alone" that is set to be released February 2, 2019. There music is available on Amazon, Spotify, Google and Apple Music.
November 24th we were going to head further north to check out some more music but the roads were getting a bit icy up that way so we decided to stay closer to home. We landed in Selinsgrove at Que Brew. I have wanted to check this place out for a while now and I am glad things worked out as they did. Very cool little place. They have done a great job with it. Jason P Yoder was scheduled to play but when we walked in there were two on stage, Jason playing guitar and his friend Caleb Minium on Violin. Jason is a local in Selinsgrove and an American Blues performing songwriter with influences of Country, Rock and Jazz. When talking with Jason, he said he has been playing since he was 13 and he is not only a vocalist and guitar player but started out playing trumpet. He can also play piano, percussion, bass guitar, mandolin and banjo. He has studied under some great artist like Roy Book Binder, John Cephas and John Jackson to name a few. Jason and Caleb played a good mix of originals and covers from Grateful Dead, Santana and even Guns and Roses in a coffee house style. You can check out Jason's music on Spotify and all other major music distributors.
To close out November, we made a trip to Spyglass Ridge Winery outside of Sunbury. There we saw an outstanding performance from The Gabe Stillman Band from Williamsport. Members include Gabe Stillman: Guitar, Vocals, Colin Beatty: Bass Guitar and Jesse Roedts: Drums. At age 11, Stillman enrolled into the renowned Uptown Music Collective, school of music in Williamsport, where he excelled and became the star in many performances. He was noted as the leader of the Youngblood Blues Band, and in 2012 performed in the Youth Showcase at the International Blues Challenge in Memphis, TN; there he earned an award for individual effort. Gabe formed his band in 2015, just after graduating Berklee College of Music, where he earned his Bachelors Degree in Professional Music in just 27 months, just before his 20th birthday. The band quickly gained recognition following performances at the Billtown Blues Festival, the Lancaster Roots & Blues Festival and the Destination Blues Festival. The band won the Billtown Blues Challenge this year for the second time and will be competing in the International Blues Challenge in Memphis in January, 2019. Besides Gabe's excellent vocals, he plays guitar like no one I have seen on a local level. He is truly a prodigy and it makes me excited to think of the future he and his band has. Keep an eye on this band. They are going places!
A special thank you to my long-time friend Joel at the Bullfrog Brewery in Williamsport for making special arrangements for us during a very busy time of year and to Sarah at The Abbey Bar in Harrisburg for letting us come back to cover another show. Thank you to Tom and Michelle at Spyglass for welcoming us back. We are really looking forward to the summer line-up you have coming and will definitely be covering some shows with you guys. And finally, thank you to the cool Que Brew Crew in Selinsgrove. We really enjoyed your establishment and will return to cover some more shows there also. We really enjoyed working with all of you and we love seeing how passionate you all are with supporting LIVE music!