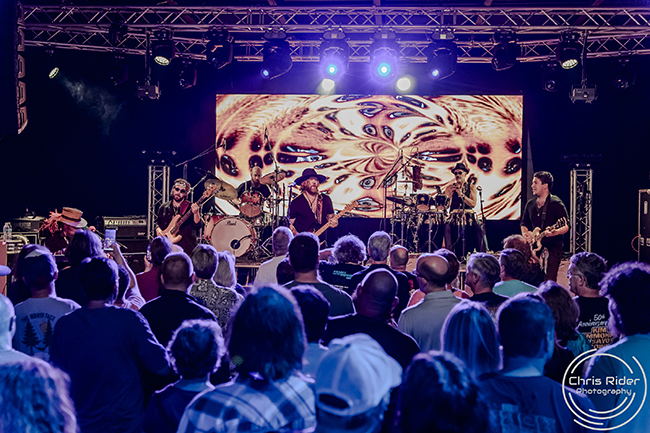 ---
By: Michele Rider
First and foremost, thank you for reading this! We are the new addition to Pennsylvania Musician Magazine's staff and we are very excited to be here. We live in a little town called Liverpool, just north of Harrisburg. Chris grew up in Liverpool and I am originally from Williamsport.
Chris and I have always loved live music and we have been to some great concerts and shows around PA. Even though Chris has been doing music photography for many years, I would have to say that his love for music photography started in 2011 when we decided to step outside the box, and Pennsylvania, and attend a weekend-long trip to our first big music festival in up-state New York. We didn't know a single person going when we bought our tickets. We were lucky enough to stumble upon a message board on the festivals main website. I asked the usual questions about the festival and what to expect. There we met some cool people that invited us to camp with them for the weekend while attending the festival. We accepted, and in that weekend, we met some of the greatest human beings, from all over the world, that have become forever friends. We heard some awesome new bands and got to see bands we have been following for years, like my all-time favorite, Gov't Mule. Over the years we have attended some other great festivals and checked off some bands on our must-see list. We decided the last couple of years to fill in our time at more local events doing what we love, watching live music! In doing so, we connected with editor Josh Noll a couple of times. Chris was able to share with Josh some photos of the bands we have seen. On August 2nd, Josh asked Chris to capture some bands at the new Club XL in Harrisburg. That is where our "ride" begins!
The night started off with a very talented singer/guitarist/songwriter from Lancaster, Corty Byron. This was our first time seeing Corty and we were not disappointed. In reading his Facebook page, the description stated, "pure, swampy, vintage rock 'n' roll and soulful Americana". Well, that was an understatement! He previously fronted the band The Green Onions, which he co-founded. As a solo act, he is very good, and we really enjoyed watching him perform. He has currently released three solo projects; '717', 'Histrionic' and 'Endless North'. He ends every show with the same message "Be excellent to each other". If you ever get a chance to see him, please do, he is great!
Next on the agenda was Duane Betts & Co. Betts, son guitarist from The Allman Brothers Band, Dickey Betts. Not knowing much about Duane or his music, I sat back and listened to the story he had to tell. Although he plays like his father, you can hear his own creativity in his music. His music is a mix of blues, rock and country. At first appearance on stage, he came across as shy. As he played his guitar and sang, you experienced the layers peel away and really felt his passion. Check out his newly released album "Sketches of American Music".
Finally, to close out the night, Devon Allman Project hit the stage. Allman is the son of co-founder, Gregg Allman, of The Allman Brothers Band. He was the front man for the band Honeytribe and original member of the band Royal Southern Brotherhood. Devon's newest collaboration is a mix of blues, rock with a touch of funk. At the end of the evening Betts band joined Devon's band on stage for a 30-minute set of Allman Brother's songs. They also threw in some other classics like 'Friend of the Devil', 'Lean on me', led by keyboardist Nicholas David. Name sound familiar? You might remember him as 2012's season finalist on 'The Voice'. The group then closed the night with an emotional/bluesy version of 'Purple Rain'. This was a night of brilliant collaboration that will stick with me for a long time. It was truly an honor to see these boys on stage doing their own thing while respecting the legacy of their fathers.
We actually saw this next band, Runaway Stroller, twice in August; once at The Winery at Hunter's Valley in Liverpool and then again at Shade Mountain Winery in Middleburg. Runaway Stroller is a Lewisburg acoustical duo consisting of vocalist, songwriter and rhythm guitar player, Johanna Kodlick and lead guitarist, singer, songwriter, Anthony Latt. The couple covers songs from the 1960's to today including Rock, soul, funk, blues, folk and R&B They are excellent and I am probably safe to say they are the best acoustical duo I have had a chance to see live thus far.
Our next adventure was one that I have been looking forward to for some time. One80 is a Williamsport based band that was first introduced to me a while back from an old friend that also happens to be a member of the band. I remember him telling me how excited he was to be part of this group. When Chris and I were asked to be part of Pennsylvania Musician Magazine, this was the first band I wanted to see and cover. Not because of having a friend in the band, but because I had to find out what the buzz with this band was about. So, on August 5th, we went on a road trip to Bastress Mountain Winery, just outside of Williamsport. The owner, Frank, met us and instantly made us feel welcome. He recently purchased the winery along with his wife Sarah. It's a beautiful place and not just a winery, but also a distillery, which Chris was excited about. The band consists of Jill Baker and Matt Eyer on vocals, Charlie Vincent on guitar, Andy Breen on lead guitar, Rich Baker on drums and Eric Berger, AKA "Cheese" on bass guitar. I was excited to see what they were doing with their musical talents these days as some of the members and I went to school together. I was pleasantly surprised. The band took the stage and instantly had people on their feet dancing. They are a very upbeat and energetic group covering 80's, country, pop and classic rock. They interact great with the crowd and have good harmonies. You can tell they have a great time doing their thing and they want you to be part of it. They made for a fun afternoon. Catch a show sometime, you're guaranteed to a good time!
On August 18th, Vogfest began with riders meeting at 10am. A brief safety meeting was held along with a Blessing of the Bikes and kickstands were up at 11am. Riders were off to start the 1st Annual Poker Run for Vogfest. Vogfest was created by Jim Cleveland and Ryan Hayes to help celebrate the memory of their long-time friend, David E. Vogelsong, who was tragically lost in a car accident one year ago. Approximately 35 riders and passengers toured 80 miles of beautiful Perry County. The ride concluded at The Facktory in Liverpool, where there was a celebration of life. There was great food, music, a 50/50 raffle and a Chinese Auction with items donated by local businesses.
The music started off with David Furman D.J & Sound cranking the tunes before the beautiful voice of Corina Aucker of Manchester, York County, took the stage. She had her father, Bud "Buddy" Aucker; join her on stage with his guitar. Corina started singing as soon as she could talk. At age 16 her father taught her some cords on the guitar and she has been playing and singing ever since. She is truly talented and worth checking out.
The headlining band was a 5-piece, progressive metal band, Balistic. This was their first public appearance in 14 years and boy did they rock the house! Members of the band are Mark McNelley on lead vocals, Brian Kneasel on lead guitar, Mike Bordner on rhythm guitar, Dave Fox on bass guitar and John Lohman on drums. When talking with Jim and Ryan, proceeds from this event will go to the family of Vogelsong and to fund Vogfest 2019.
After Vogfest, we headed down to Harrisburg to see a band we grew up listening to, Soul Asylum. First on stage was a singer/songwriter, Tony Ryder of Harrisburg. He was there performing as a solo act and performing songs he has written. I found him to be a very creative musician. It was both relaxing and refreshing to hear him perform. Some of you may know Tony from singing with a band out of Hershey called 'The April Skies'. He is also in 'Tony Ryder & True West', which will be releasing a record soon. I am excited to hear more of Tony in the future.
The Jellybricks, Indie-Rock band from Harrisburg area opened for Soul Asylum and they were full of energy! This band had good music and really interacted with their audience. They had everyone dancing and laughing at their comedic remarks between songs. This band formed in 1996 and is no stranger to the stage and it truly shows. Members of the band are Larry Kennedy – guitar and vocals, Garrick Chow – Bass guitar and vocals, Bryce Connor – guitar and vocals, and Tom Kristich – drums and vocals. They have produced 6 albums over the 22 years together. It was a pleasure watching these seasoned musicians on stage.
Soul Asylum took the stage as the final act and talk about a flash back! This Minnesota band rocked the crowd playing old hits all night long. Although the years have come and gone the group still sound like they did back in the day. The band has been together since 1981 and seeing them jump around on stage and belt out the notes, was insane! Sony Legacy just released an unheard, live album that was recorded in 1992 "Live from Liberty Lunch, Austin, TX".
If you haven't checked out Harrisburg's new Club XL, you are missing out! It is a great place to see bands. They have a huge stage with great lighting and sound. The staff and stage crew do an amazing job with this place. It has quickly become my favorite go-to band venue. They are always adding new entertainment to their Facebook page so don't forget to look them up and check out their full schedule on page 24 of this month's issue.