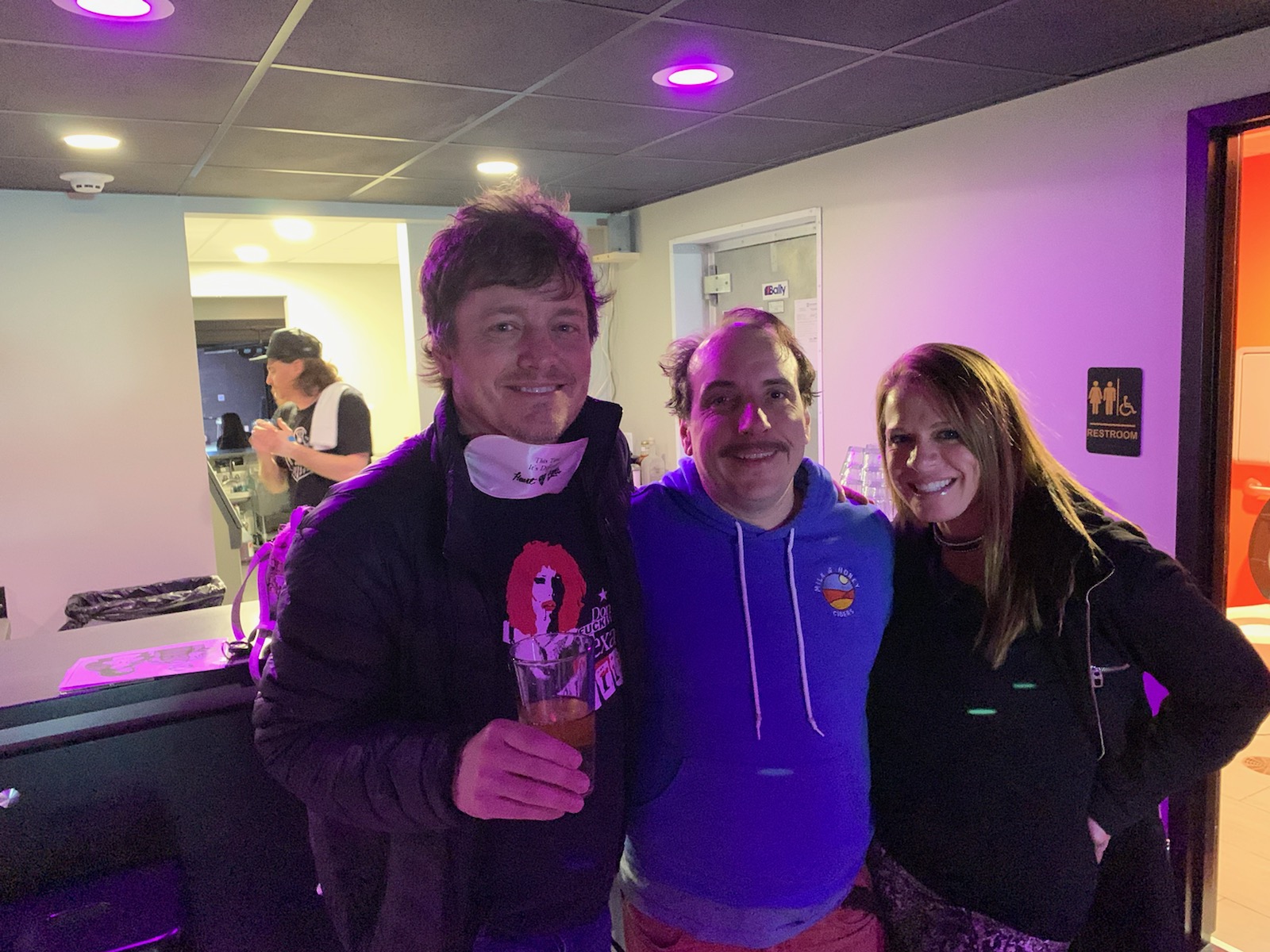 ---
By: Eric Hoffman
Greetings Rockers 'N' Rollers! A few shows squeezed in last month before the current crisis took over the world. Hall & Oates played the first night of their current tour at Hershey's Giant Center on February 26th. This year marks the 50th anniversary of their formal partnership but the duo aren't celebrating it, they are more focused on a new album. Hall & Oates sold-out Madison Square Garden in NYC two days later but had to put the rest of their 38 summer dates on hold. Harrisburg University brought The Revivalists to the Forum Auditorium downtown on March 4th. A unique show in which the Forum removed the permanent seats for the first time to create a general admission pit area. Harrisburg University will continue to bring live concerts to the historic Harrisburg venue that was built between 1929 and 1931. Young, The Giant is scheduled for December 12th and past HU shows at the Forum include Jason Isbell, Grace Potter and Rodrigo Y Gabriela. March also saw the grand opening of new music venue, Phantom Power in Millersville, PA. On March 6th, Heart Bones (featuring Har Mar Superstar and Sabrina Ellis) played the first show and put on a fantastic performance. The duo was in the middle of their Hot Dish US Tour 2020. Congratulations to Gregg Barley on his latest venture and new venue, Phantom Power. Gregg has been a huge part of the Lancaster music scene with many years spent at the Chameleon Club and the opening of Tellus 360. Congratulations are also in order to John Harris and the Millennium Music Conference which took place February 28th-29th, celebrating its 24th year. MMC has educated and showcased thousands of independent acts and artists over the years.
NATIONAL NEWS: As the world deals with the unprecedented coronavirus pandemic, society has felt the affects in almost every possible way. Practically everything has shut down including businesses, employment and the entertainment industry. It began with professional sports teams ending their entire seasons on March 11th. Quickly to be followed by the music industry, with bands cancelling tours, venues closing and Live Nation putting all concerts on hold. With the viral spread, the city of Austin, Texas announced the cancellation of South By Southwest (the largest music conference in the Nation) which was scheduled to begin on March 13th. This marks the first time in 34 years that SXSW would not take place. The cancellation has estimated to have cost $336 million in economy revenue loss.
Pearl Jam was the first band to postpone their 2020 tour, citing public health concerns surrounding the coronavirus outbreak. Pearl Jam wrote on Twitter "It's been brutal and it's gonna get worse before it gets better. So we are being told that being part of large gatherings is high on the list of things to avoid as this global health crisis is now beginning to affect all of our lives. The risks posed to fans is simply too high for our comfort level." Then the Rolling Stones followed postponed their North America "No Filter" tour stating, "We are sorry to all the fans who were looking forward to it as much as we were, but the health and safety of everyone has to take priority. We will all get through this together – and we'll see you very soon." Which then led to a flood of cancellations of tours (Elton John, Rage Against The Machine, Foo Fighters, Guns N Roses, Madonna, The Who) and shows by bands, venues and promoters. The U.S. government then stepped in cancelling all events and closures. Governor, Tom Wolf, extended a shutdown to the entire state of Pennsylvania, closing schools statewide and a range of government offices.
The virus, which started in Wuhan, China, has spread to more than 30 countries, including the United States, Italy and South Korea. With the world's population staying safe at home to combat the virus, many artists have started a new trend by streaming live performances for their fans. Neil Young was one of the firsts to announce his live stream the Fireside Sessions, "Because we are all at home and not venturing out, we will try to do a stream from my fireplace with my lovely wife filming. It will be a down-home production, a few songs, a little time together. See You Soon! NY." Other artists who have streamed live include, Chris Martin (Coldplay), Keith Urban, Pink, Rob Thomas, Garth Brooks, Sheryl Crow, John Legend, Dave Matthews and Metallica.
Lady Gaga is meant to visit six International cites this summer, July 24th to August 19th, as part of a short run dubbed "The Chromatica Ball Tour," promoted by Live Nation. The concerts will take place at Stade de France in Paris (July 24), the new Tottenham Hotspur Stadium in London, UK (July 30), Fenway Park in Boston, MA (Aug. 5), Rogers Centre in Toronto, ON (Aug. 9), Wrigley Field in Chicago, IL (Aug. 14) and MetLife Stadium in East Rutherford, NJ (Aug. 19). Lady Gaga was in the midst of her Las Vegas residencies "Enigma" and "Lady Gaga Jazz + Piano," with shows confirmed through May.
Journey principal members Neal Schon and Jonathan Cain have fired drummer Steven Smith and bassist Ross Valory, alleging in a lawsuit the duo has launched a "corporate coup d'etat" by attempting to claim the rights to band's trademarks. The suit was filed March 3rd in California Superior Court and seeks $10 million in damages along with other declaratory relief. Smith and Valory are accused of holding an improper shareholder meeting February 13th to oust Schoen and Cain from leadership roles in and take control of Nightmare Productions, the corporate entity that conducts part of the band's business and owns the Journey Mark. The lawsuit accuses Smith and Valory of "self-dealing .. and have destroyed the chemistry, cohesion and rapport necessary for the band to play together. Journey can only tour successfully and succeed creatively if it is united and the band members trust one another. The actions taken by Smith and Valory shattered that trust."
Live Nation will book shows at Philadelphia's nonprofit Mann Center for the Performing Arts as part of an exclusive multiyear partnership. As part of the agreement, the Mann and Live Nation will offer enhanced VIP options to enhance the guest experience at the open-air venue. Live Nation will also participate in developing new music festivals to fill the Mann's multiple stages. The Mann's 22-acre campus is in Philadelphia's Fairmount Park. The main stage, seats 4,500 under its roof and can accommodate 10,000 more concert goers for terrace and lawn seating.
Public Enemy has abruptly fired founding member Flavor Flav following a public spat over the rap group's plan to perform at a Bernie Sanders campaign event. Public Enemy "will be moving forward without Flavor Flav," the band said in a brief statement. "We thank him for his years of service and wish him well." Flavor Flav responded on with incredulity, writing to band leader Chuck D: "You wanna destroy something we've built over 35 years OVER POLITICS?" He scolded the rap pioneer: "I'm very disappointed in you and your decisions right now." Public Enemy released this, "Official Statement: Public Enemy did not part ways with Flavor Flav over his political views. Flavor Flav has been on suspension since 2016 when he was MIA from the Harry Belafonte benefit in Atlanta, Georgia.That was the last straw for the group. He had previously missed numerous live gigs from Glastonbury to Canada, album recording sessions and photo shoots. He always chose to party over work."
Currently, there are no future concerts in the near future. Most tours have been postponed until later this year. Stay tuned. Please take care of yourselves and stay well.