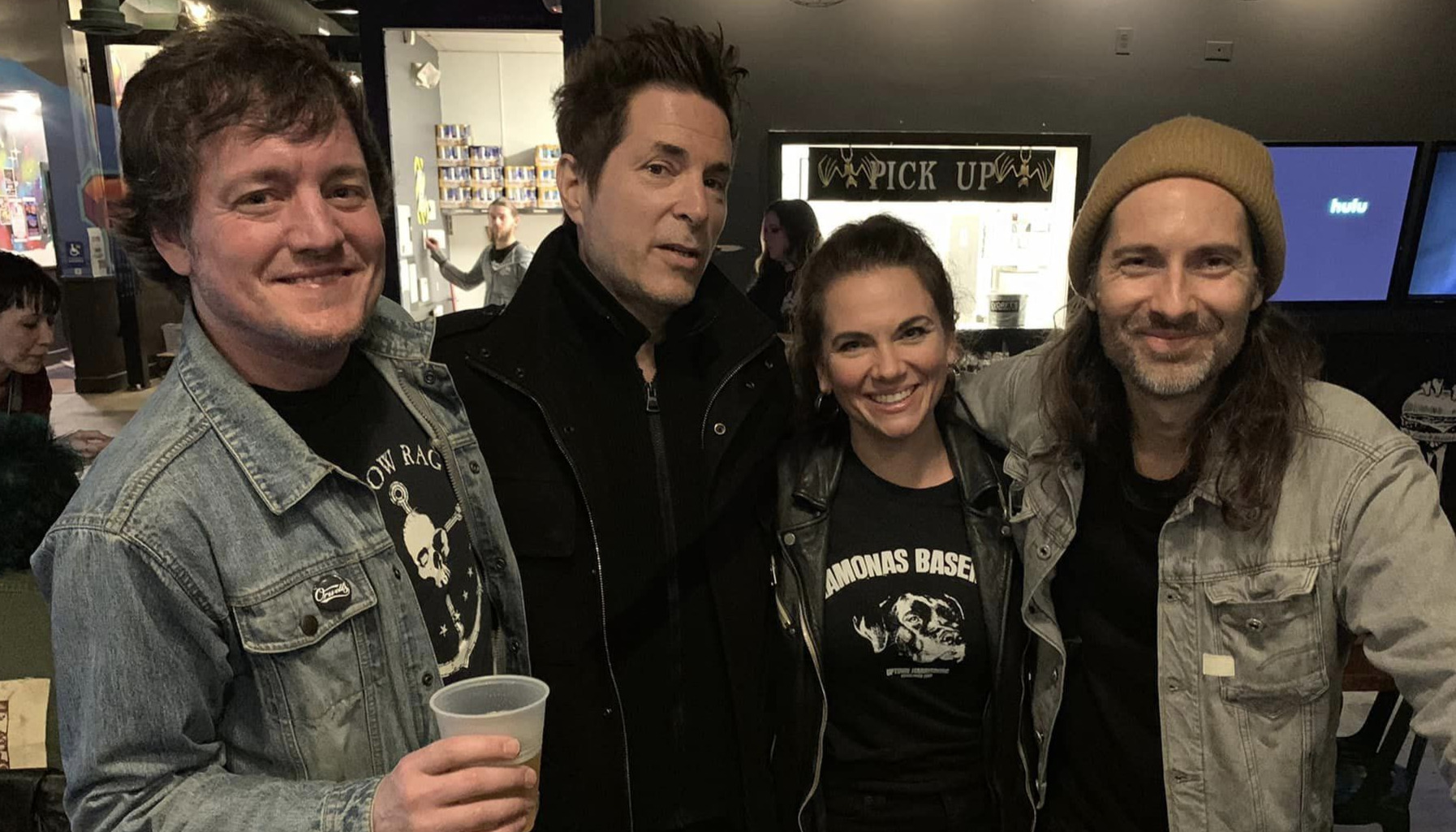 ---
By: Eric Hoffman
Greetings Rockers 'N' Rollers! Thankfully Central PA has a really good local music scene as the winter months are quieter for National concerts. Mechanicsburg's own, Steel, rocked the Racehorse Tavern in Thomasville on January 6th. It was great to finally see their new singer, Kyle Stuhler, who really was incredible. A fantastic voice and very humble but confident stage presence focusing on the lyrics. Steel are as impressive as ever and are undeniably the best metal band in the area. Steel plays the Hanover Moose Lodge on March 4th.
Timmy's Creep Show played an incredible set at JB Lovedrafts in downtown Harrisburg on January 14th. The night also included bands Archaia and Beer & Pretzles. JB Lovedrafts was packed for all three bands and provides the perfect ambience for diverse shows. York's own, Hexbelt, played a really great show the same night at HMAC's Stage On Herr. Hexbelt have been around for decades and are wonderful creating a hybrid of rock, reggae, blues, funk and ska music. Hexbelt play Millersville's Phantom Power on February 11th. Lovedrafts in Mechanicsburg also had a great show on January 12th with a solo show from Todd Morse. Morse has played in many bands including H20 and Juliette Lewis & The Licks – and currently is the bass player in The Offspring. Titled 'The Screaming Babies Tour' consisting of 5 intimate shows, Morse brought a full band for the first solo show of his career.
NATIONAL NEWS: Alice Cooper is bringing his "Too Close For Comfort" tour to the Hershey Theatre on April 30th. According to Hershey Entertainment the show will include "the dark and horror-themed theatrics that Cooper is best known for."
Global icon Madonna will tour North America and Europe on a 35-city tour for her first arena shows since 2016. The legend announced "The Celebration Tour" will visit Pittsburgh's PPG Paints Arena August 7th, Washington DC's Capital One Arena September 2nd and NYC Madison Square Garden August 23rd & 24th. The tour begins July 15t and ends December 1st. Madonna did a run of multi-night theater plays in 2019 and 2020 pre-pandemic including 4 night's at Philadelphia's Met.
Jeff Beck, a guitar virtuoso who influenced generations of shredders along the way and became known as the guitar player's guitar player, died at the age of 78. Beck died January 10th after "suddenly contracting bacterial meningitis." Beck first came to prominence as a member of the Yardbirds and then went out on his own in a solo career. "Jeff Beck is the best guitar player on the planet," Joe Perry, the lead guitarist of Aerosmith, told The New York Times in 2010. "He is head, hands and feet above all the rest of us, with the kind of talent that appears only once every generation or two." Beck won eight Grammy Awards and was inducted into the Rock and Roll Hall of Fame twice. Beck is survived by his wife, Sandra.
Elton John's "Farewell Yellow Brick Road" tour is on track to become the highest-grossing tour of all time. The tour began more than four years ago in September 2018 and has played 278 shows to date. Elton John is currently in Australia and will conclude his tour in Europe with 50 more shows. Ed Sheeran currently holds the record for his "Divide" tour grossing $776 million from 257 shows, selling more than 8.8 million tickets. Elton John's final concert is scheduled for July 8th in Stockholm, Sweden.
David Crosby, a harmony singer with the Byrds and then became a troubadour in Crosby, Stills, Nash & (sometimes) Young, died on January 18th at the age of 81. Crosby had underwent a liver transplant in 1994, paid for by Phil Collins, after decades of drug use and survived diabetes, hepatitis C and heart surgery in his 70s. A statement from his family said he died "after a long illness," however friends say he remained active and had been working on plans for a tour and a new album. During Donald Trump's election as U.S. president, Crosby suggested that he was open to Crosby, Stills, Nash and Young protest tour, but his old bandmates declined to respond. In 2000, Melissa Etheridge revealed that Crosby was the father of the two children she shared with then-partner Julie Cypher. Cypher carried the children Crosby fathered by artificial insemination.
Ringo Starr and His All Starr Band are soon to hit the road this spring as they unveil west coast dates. "It's a new year and here are some new tour dates," Ringo said in a statement. "I love playing with the All Starrs and can't wait to be back out on the road again with this band. I send Peace and Love to you all and we hope to see you out there." The 20 tour dates include shows in California, Arizona, Nevada, Oregon, Washington, Colorado and Utah.
In a year-end note posted to the band's Instagram, Foo Fighters announced they'll continue together after the death of drummer Taylor Hawkins. The band's remaining five members played two tribute concerts to Hawkins at London's Wembley Stadium and the Kia Forum in Inglewood, CA. The band wrote 2022 was "the most difficult and tragic year our band has ever known." And continued, "Foo Fighters were formed 27 years ago to represent the healing power of music and a continuation of life. We know that we're going to be a different band going forward. We know that when we see you again — and we will soon — Taylor will be there in spirit with all of us every night."
Many large summer music festivals have begun to announce huge lineups including: Coachella, Bonnaroo, Governors Ball, Boston Calling, Bottle Rock and Sonic Temple in Columbus, Ohio. After a three-year hiatus Sonic Temple takes place May 23rd-28th and the lineup boasts Foo Fighters, KISS, Avenged Sevenfold, Godsmack, Rob Zombie, Queens of the Stone Age, Deftones, and many more. The festival takes place at Historic Crew Stadium.
A few other artists lost recently include: Drummer Fred White, who backed up his brothers Maurice and Verdine White in the Grammy-winning ensemble Earth, Wind & Fire, died at 67. Gangsta Boo, a Southern rapper who was a former member of the hip-hop group Three 6 Mafia, died at 43. Anita Pointer, one of four sibling singers who earned pop success and critical acclaim as The Pointer Sisters, died at 74. Jeremiah Green, the founding drummer for the rock band Modest Mouse, died just days after the band announced he had been diagnosed with cancer. He was 45.
UPCOMING CONCERTS: Hexbelt – Millersville Phantom Power Feb 11. Viagra Boys – Washington DC 9:30 Club Feb 13. Jeffrey Gaines – Pottstown Rivet Feb 17. Angel Du$t – Harrisburg HMAC Feb 22. Angel Du$t – Baltimore Ottobar Feb 24. Metron reunion – Harrisburg XL Live Feb 24. Anthrophobia – Pottstown Rivet Feb 25.
Hopefully we'll see you at a show soon.Like us on facebook.