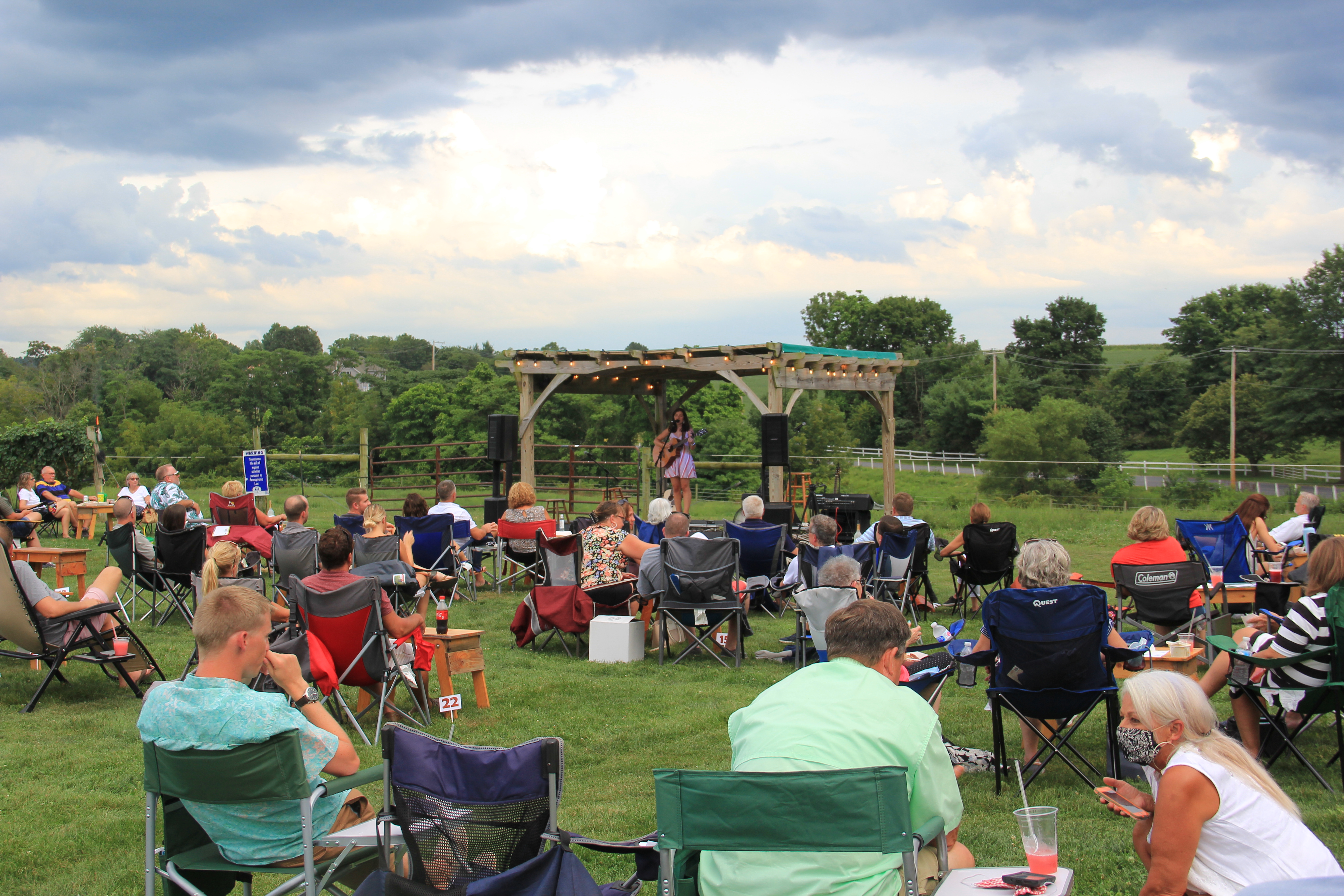 ---
By: Rachel Rocks
I feel like the theme song of my life is Gloria Gaynor's song, "I will survive!" I feel like my life is a constant battle of trying to stay compliant, trying to be a good example, a good Mom, wife, etc.. and half of that time is also spent on trying to keep myself sane! Trying to find a release, entertainment, LIVE MUSIC! I even recently got a kayak from a friend, and I've been spending a lot of time in my boat! I'm very lucky and I work from home all day, but when 5pm hits, I pretty much sprint out my front door! I was able to find some entertainment this month. I am very grateful to all of the venues, restaurants, etc. that are still finding a way to have live music. I know it's not easy, but it is greatly appreciated.
My first night out was a special one, Mom came down and we went out to the Fredericksburg Eagle Hotel for some amazing food and entertainment by DMC Duo. This pandemic has kept Mom and I from going on our adventures, so we were long overdue. We had a great visit, ate some amazing food, and we both loved finally getting to hear some live music again. DMC Duo, Darrell and Marisa play so many songs that make you want to sing along. Marisa has a fantastic voice and sings most of the songs, but Darrell sings a few songs too. They have amazing harmonies, and every time I see them perform you can't help but notice how well they perform together, they understand each other in a way only they could! They play pretty much anywhere they possibly can. This month alone, I actually caught them playing 3 times. I also saw them at Snitz Creek Brewing in Annville, and Midway Bowling out in Carlisle. Don't forget, the Eagle Hotel offers Customer Appreciation Days on Sunday with 10% off their Entire Menu! They also have other amazing deals and entertainment throughout the month. Check out their ad in this issue for all of the details.
On a beautiful afternoon/evening I headed down to the Racehorse Tavern for Stonewood Acoustic, or as they refer, Stonewood "lite". When I got there the show was in full swing and all of the tables were full. Luckily the rest of the Stonewood guys were there supporting Shannon and Kenny and I was able to join them at their table. It was awesome to see the guys all there even though they weren't technically playing. Martini was handed an extra mic, and was joining in for some harmonies throughout the show. At one point Shannon took a little break, and it was Martini and Kenny on the stage. Even playing their "lite" version of their show it was still so sad that we couldn't get up and dance and sing along! I'm so happy that people are still getting out there and supporting business like Racehorse Tavern. This really isn't easy on anyone. Please make sure and tip your servers even more than usual to help them get thru these crazy times! Stonewood has also been playing all over the place, even going as far as Seacrets down in OCMD. One place that they have definitely been having one heck of a party is at the Burning Bridge Tavern in Wrightsville. The Wrightsville Boro helped the tavern, and all of the other small businesses in town, by helping the show go on! They actually release the open container law on the street, so then everyone is partying, dancing, and having a great time. That's what I don't understand.. why can't we all just work together. If you're nervous about people partying without masks, etc. then stay home. But let the people who are healthy and willing to take the risk, to get out and enjoy life. Every day is a risk, just driving your car, or heck, even walking down the steps in my house, but we can't live in fear. I know, maybe I'll get COVID, and I do have asthma, etc.. so I am at a greater risk than some, but I simply can't live in fear forever. It's time to rip the bandaid off and get back to rock n' roll! I hope more boros, towns, townships, etc.. get together and figure out ways to help the show go on!
Another town that is trying to do their part is Harrisburg city. Every Saturday night they shut down part of 2nd St, and literally put tables in the street! Now they are even having live bands on the sidewalk right in front of Hops, Vines, and Vineyards. One Saturday night I finally made it in for the tail end of Emily's Toybox. I was told that the bands play til 11pm, but turns out they only play from 7-9 pm. Bourbon St. and Taste of Key West are both open serving drinks and food. You're supposed to keep your mask on when walking around and you're supposed to sit down to drink your drinks. You're still not allowed to stand up and dance. So please, sit down and enjoy the show! It was awesome to hear Emily's Toybox rocking out with their full band. I'm bummed I missed most of their show. I'm not sure who is all on the schedule coming up, but I do know Smooth Like Clyde will be playing Saturday, Sept. 5th at 7:30. It will be Labor Day weekend, so plenty of time to get out and have a good time!
Speaking of Labor Day, the Kipona Festival is going to have food trucks on City Island just like they did for the 4th of July. The food trucks will only be there on Saturday, Sept 5th from 3-8pm, followed by fireworks at 8:15. All 3 days of the Kipona, there will be virtual fun, with live music, artisans with their wares, kids games, etc. They really want to make sure we are all still having safe fun! Check it all out at www.harrisburgpa.gov/kipona.
On a Thursday night I swung into Susquehanna Harley Davidson for their Bike Night with Road Case on stage! Another full band show!! Road Case only knows how to play loud and proud, so hopefully they keep finding places that are willing to let a full band rock out! It was a gorgeous night, so the bikes were out in full force, I saw lots of familiar faces, everyone was enjoying the amazing Thursday evening. Susquehanna has a great set up for events and a truck bed for a nice sized stage for the band. Road Case will also be playing at the Children's Miracle Network Music Festival on Oct. 3rd at the Mechanicsburg Club Picnic Grounds. I'm glad to see some special shows popping up around the area. Please keep me in the loop of any shows happening, you just never know where I will show up next!
The next special show of the month was Throw Down in the Vines at Cassel Vineyards. This was a benefit for Flag Blankets hosted by the Rothrock Foundation. If you don't already know, the Rothrock Foundation is an amazing company that supports the US and beyond in Natural Disasters, and really anytime that someone needs help. At this event they were raising funds and awareness for Flag Blankets. This organization donates one of a kind Flag Blankets to our veterans. They are beautiful blankets that can help keep our veterans warm, and remind them they are loved and appreciated. You can donate to the Flag Blankets, or even ask about them honoring your loved one with a blanket by visiting, flagblankets.org. Of course if it is a Rothrock event, there is going to be music! The first act of the night was Katie Rubino. Katie is an 18 yo singer/songwriter from right here in PA. Her voice was absolutely beautiful and she really has some amazing original music. Unfortunately, right after her set a terrible downpour came flying in, everything got drenched, but in true Rothrock attitude, no one let a little rain or a little obstacle get in their way of the fun. Everyone ran for shelter for a bit, but as soon as the storm passed, everyone grabbed their chairs and set them back up for the music. I felt awful for the sound guy because his equipment got drenched. He actually had to pull out an emergency set of equipment out of his truck for the 2nd half. Angie Keilhauer from Nashville, TN played next. She was on the voice a few years ago, and has since taken the bull by the horns. She does work for Disney and has written many well known songs that you hear from some of the bigger artists in Nashville. The ladies were all taking the time to explain their songs, why they wrote them, the meaning behind them, etc. Angie shared the stage with another singer/songwriter, Bridgette Tatum. Bridgette has also written a bunch of great songs for people like Jason Aldean, Randy Houser, etc. All of the ladies really had beautiful voices and it was just a great night of chillin and listening to music at Cassel Vineyards. Thanks to the Rothrock Foundation for once again another great event!
My last adventure of the month was a Brewery Tour with my good friends Terri and Joanie. We did a massive loop and we hit up: Shy Bear, Rusty Rail, a Buggy Museum, Jackass Brewing Company, the scenic overlook before Williamsport where we saw storms all around us! Therapy Brewing (fave of the day), New Trail, and then we finally ended up at a campground in Winfield, PA called Little Mexico for Honeypump. The original plan was to camp at Little Mexico and have the opportunity to enjoy a full band performance. Due to the chance of rain, we decided to do the brewery tour instead. We truly had a blast and had amazing beer everywhere we went. The necessity to always buy food is very annoying, but it all worked out and it really wasn't that bad. Therapy Brewing, in Montoursville, is absolutely gorgeous!! It is a very small brewery, but due to the pandemic, you can only buy beer to go, and then you can tailgate in the parking lot. We met a lot of super awesome people from all over the place! It's always fun getting the chance to talk to people and get to know them. Unfortunately, at most of the other places they frown on you trying to socialize with other tables, it truly is sad, especially for talkative people like us! Honeypump was very happy to see some familiar faces walk in. For all of the times I've seen Stephanie and Ritt Casey out supporting other live musicians, it was awesome to finally see them on stage doing their thing. Steph is an amazing keyboard player and vocalist! We all know I love to see keys in a band! Due to the pandemic they are currently playing with a new line up, even though they've only played 3 shows together, they really sounded great. They had amazing harmonies, and truly covered some music I never heard played before, and some of my favorites! The one truly amazing part.. we were allowed to dance and bang our heads!!! And boy did we!!! My neck is reminding me, that it has been way too long since we had a night out like that!! After their show, we headed down the road to home, and got to sleep in our nice comfy beds! It was a very fun day of adventuring with friends!
Thank you so much to everyone once again for continuing to advertise. These times are hard and crazy on us too! We REALLY want to get back to printing, but we have to have places that will let us distribute the magazines there to make it worth our time, money and effort to print!! I know some people say I see the same music all of the time, again, you have to let me know about your show! Whether it is big or small, on a Thursday or a Sunday.. Please!! Let me know!!! RachelRocks@pamusician.net. Facebook is ridiculous and I never see anything that's actually worth seeing. I've tried so many tricks, but I can never get it showing what I want it to. Anyway.. so PLEASE tell me what's going on!! Or even better yet.. ADVERTISE!!!! $30 for a business card sized ad is nothing. You know a lot of people are out there, like me, trying desperately to find something to do. If they don't already know about you, posting it on Facebook will never reach them, but advertising in something like the PA Musician Magazine just might! We do our best to share your shows on our Facebook Page, and all of us writers also do our best to get out there and support our advertisers!! If you need more info, or want to find out how to get started, give Josh a call, 717-636-4203.
Last, but not least I want to give a special birthday shout out to all of the Virgos in my life!! There are so many!!! The amazing Sabrina Kreps, Eric "Rock" Hoffman, Meredith "The Flash" Kaminek, Angie Gramm Finney, my partner in crime, Rochelle "RoStar" Smith… and so many more.. but most importantly, my baby boy, who is also starting his Senior Year tomorrow, Zack Boob! He's going to be the big whopping 18 on Sept. 11th!! I am so not ready for my little cub to leave the den, but he's been pawing himself out for a while now! Please pardon any outbursts as I survive his senior year.
Well that's all for this month. Here's to hoping I'll see even more of all of you very soon!!! If you see me Out and About please say Hi! If you have any questions, comments, or want to tell me about a show, please hit me up.. RachelRocks@pamusician.net. Remember to check out our website, www.pamusician.net, and last but not least remember to support LOCAL MUSIC and SMALL BUSINESSES!!!