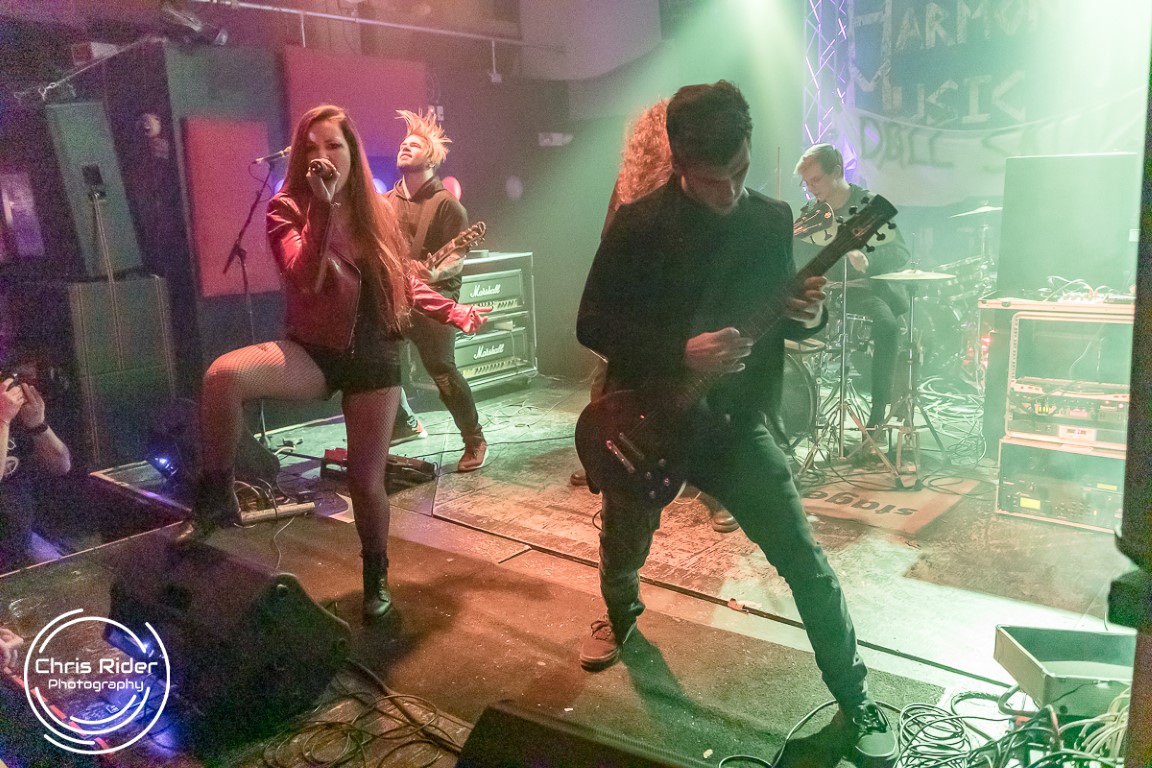 ---
By: Chris Rider
Another month has come and gone…but this one's gone out with quite the bang I suppose you'd say. Covid 19, Corona Virus, whatever you want to call it…has thrown quite a wrench into the live music industry (as well as everyone else of course). At this point, no one knows how long this thing is going to last, but I can assure you that it has touched everyone's life in some way or another. For some it's just an inconvenience, to others it's meant a loss of income, and for many others it's meant the loss of their life or perhaps a loved one. Before it made it here to the States, we did have some time this past month to enjoy some live music. My article is shorter this month than normal as a result of all of this, but here we go.
As I'd mentioned last month, the Millennium Music Conference was held the last weekend of February at the Harrisburg Hilton, with showcase performances all around the area at more than 25 venues for three nights. Friday night I decided to hit a smaller venue that I haven't been to yet in New Cumberland, Dead Lightning Still Works. The place was packed and had a small stage in the front corner just big enough for a solo performer. As I ordered a fruity vodka drink at the bar, Kendra & the Bunnies from Los Angeles took to the stage. I never did find the bunnies, but Kendra played a great mix of originals and a few covers including "I know you Rider" (a personal favorite LOL). Kendra has a unique sound with influences from the likes of Grateful Dead, Stevie Nicks and a few others. Kendra released her first album "of Vinyl" in July of 2019 and has released an EP and another single from her upcoming album since then. Next to take the stage was Matt Tarka. You may remember Matt as he took part in last year's Whitaker Unplugged in July. Matt put on a great performance then, and I'd had a great conversation with him afterwards, so I was really looking forward to seeing him play at Dead Lightning. Matt lists his influences as Green Day, Dead Milkmen, Grateful Dead, Bob Dylan, and The Get Up Kids, to name a few. He brings a unique and varied folk-rock style to the stage which I enjoyed quite a bit. Definitely go out to see him play sometime, or look him up on Spotify.
Saturday, during the Millennium Music Conference, Rock Mill Industries had their stage setup for small three-song performances by anyone that wanted to sign up. I was unable to attend the entire day, but I did manage to catch performances from Dan Barry, Alex Cano, Sarah Ontaneda, Kevin Roy Correll, The Wildcat O'Halloran Band, Lucas Fields, Evy Z and Tempted. This made for a very wide range and variety of music played in a short amount of time, all of the performers showing off their talents. Thanks to everyone that took the time to participate or to stop & give the performers a listen!
My next trip out was to HMAC for a night of music with 6 bands. First band up was Words For Hands, a Hanover based rock duo. This two piece rock band played all original music with a lot of energy. This was their first time playing in Harrisburg and they did a great job getting the crowd warmed up and starting the night off in style. They've got an album coming out in a few weeks, make sure to keep your eyes peeled for it! Next up was Baltimore based Flying Jacob, female-led alt-rock band that's been playing since 2016. I'd recently been introduced to their music by a friend and was really looking forward to seeing them perform live. Lead singer Kaytlin Medley brings a powerful voice to the stage belting out heartfelt lyrics. I've been listening to their music for a little while now on Spotify and dig them quite a bit. Third up for the evening was Harrisburg based Eternal Frequency: winners of the CPMHOF's "Best New Band" award, this female led five piece hard rock band brought a high energy to the stage and was very animated, keeping the crowd moving. They played a blend of originals and covers, all of it powerful music with great melodies. It was evident early on in their set how they won their award, they put on an awesome show and I look forward to hearing more from them for sure. Fourth act up for the night was Missouri based Flashing Lights, a four piece pop/punk rock band that played mostly originals with a few covers tossed in. They're currently recording their first EP which they hope to release soon. The fifth band of the night was Fame on Fire, a four piece alternative pop/rock band based out of West Palm Beach. These guys had a very upbeat, positive and driving sort of sound to them that I enjoyed listening to. They've been getting quite a bit of airplay on Octane, Sirius Radio and it's understandable. They've got a great sound and are definitely worth checking out on all streaming platforms, as well as on Octane if you have Sirius Radio. Final act of the evening was Phoenix Arizona based Doll Skin, a four piece all female Alt-Rock band that came out and took the stage by storm for a crowd that was clearly familiar with their music as they sang along to all of their songs. These girls put on one hell of a show and were a blast to see.
Soon after that show, Corona started taking hold, shows started getting canceled and postponed…and here we are, stuck in the middle of it. Folks, even though we can't go out to see shows live, there's a TON of artists putting on live shows on Facebook. Donations are asked for, but not required. Make sure to check em out and give them a listen. A lot of these folks have lost their sole source of income for who knows how long, so consider making a donation if you have the means. At the very least, give their show a share to spread the word. Any little bit that any of us can do to help them out will help keep live music alive and, maybe not well, but at least on life support until we can return to some sort of normalcy. Artists, please make sure to let us know when you're going to have Facebook-live events so that we can share them and help get the word out for you. Everyone stay safe, wash your hands, stay six feet or more away from others as much as you can…and hope and pray that this thing passes as quickly as possible.