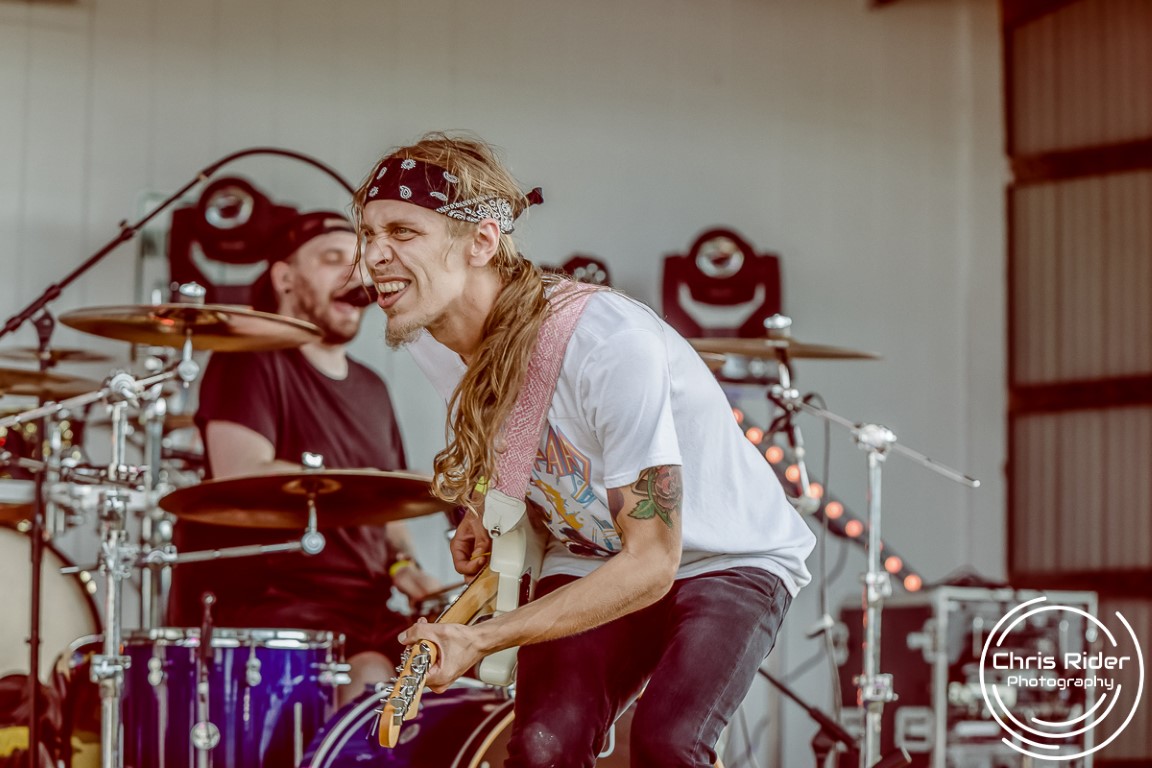 ---
By: Chris Rider
So, here we are…still dealing with the Coronapocalypse, and back to more restrictions. This isn't the place to argue the logic, or lack of, of these restrictions…but I can't express how badly I feel for all the venues, musicians, and live music fans that are being adversely affected as a result of these restrictions both emotionally and financially. Between these restrictions forcing the cancellation of many shows, as well as some other life things, it did severely limit my ability to see shows this last month as I'm sure it did for everyone else…but I did get to see a few.
I made my annual trek down to Oak Hill, WV (yes I know, it's not PA…but stick with me here) for Waynestock '20. If you might recall from last year's article, Waynestock is a small festival that has morphed from a group of friends going on a whitewater rafting trip, to an adventure weekend with whitewater rafting, live music, Zip line, horseback riding, paintball, ATV tours, spa / massage packages, rock climbing, hiking, bridge tours, and more. The festival is hosted by my buddy Wayne and I have to say…with all the challenges tossed at him by this year's events, he did an awesome job of rolling with the punches and still putting on a great time for everyone that attended. I was really looking forward to seeing Yam Yam put on a show as the headlining event, but unfortunately more restrictions were put in place in West Virginia just a few days before the festival forcing Yam Yam to cancel. Hopefully they'll be able to come down next year as I think they'd be a perfect fit. While the stage was cancelled and not set up, entertainment was still provided in a more limited form first by Drew Ryan aka LSDJ. Drew also owns the A.R. Entertainment who was scheduled to provide the stage and production for the weekend. Be sure to check out both of his pages on Facebook. Following a set by LSDJ, 2 members of The Roof stepped up to play an acoustic set for the crowd. The Roof is a 4 piece band out of State College and was set to open for Yam Yam, but 2 of them still came down even after having to be canceled. These guys put on a great set of originals and some covers that had the crowd well entertained. I look forward to catching a show with the full band sometime in the (hopefully) near future.
My only other venture out was this past weekend up to Middleburg for Rock The Pond, a rock and metal show held in Charles Park. As I'm sure everyone's aware, it was blazing hot this past weekend, but that didn't stop all eight bands from showing up and each putting on a great show.
First act of the day was Diversifyed – an all original rock band out of Montandon, PA. These guys did a great job warming the crowd up (see what I did there? LOL) and put on a great show. If you check out their facebook page, you'll find some videos coming up of their performance at Rock The Pond. Second act of the day was Sovereign Archetype, a progressive rock trio out of Berwick, PA. They played several rock covers including White Wedding & Glycerine, as well as several originals from their most recent EP released in September 2019. Next up was central PA's Eternal Frequency. You might remember they recently were awarded Best New Band/Artist 2020 at the Central Pennsylvania Music Awards. Emelle and crew played a number of originals and covers, coming close to setting the stage figuratively on fire. Their music is loud, it's moving, and it's powerful. If you haven't heard them yet, do yourself a favor and check them out! Coming out on the stage fourth was From Me To You, a new pop rock band that focuses on music with a message. This was their first live performance and included originals and covers including Aerosmith and Maroon 5, Jimmy Eat World. Had they not announced that this was their first performance, I'd have never guessed. They've clearly been putting the work in to polish their music and it shows. Keep an eye out for them, this likely won't be the last time you hear their name. Next up was Pine Grove based UltraViolent, a heavy rock/metal band with high energy, all original music and a great group of fans that followed them to Middleburg that day. Founded in 2014, these guys recently signed with DI Records and have an EP "Eviction" out and available now for your listening pleasure. Their music is heavy, it's raw, and quite honestly it kicked ass on stage. Fifth on the bill was Kris And The Trainwrecks – from WilkesBarre, an energetic rock cover band playing anything from Aerosmith, Boston, Living Colour, Def Leppard, to Tool. Playing songs that maybe normally aren't covered, but everyone seems to be familiar with and can sing along with, these guys were an absolute blast to watch on stage. I talked with a few of them briefly after their show, and they're just genuinely nice guys as well. I hope to see them come back to the area sometime soon. Coming in next to last on the bill, Threatpoint, a heavy metal band from Scranton original metal-core music that was powerful with a mix of good groove. It did start cooling down a little as the sun went down during their set, but they kept the fires going quite well on stage. Headlining the evening was the Art of Deception, a metalcore band from Pine Grove. I've been following these guys on Facebook for a while now and was happy to finally get the opportunity to see them on stage. I was happily not disappointed a bit. Those that know me know that metal isn't my first choice personally when it comes to music, but I can say without hesitation that I've grown to appreciate it over the last few years as I became more involved in the local music scene as a photographer and now a writer. Metal also makes for great images as it's always high energy and full of emotion. These guys have put in a ton of hard work crafting their music, and it truly shows on stage. I can't way to see how they grow in the future and highly recommend checking them out should you get the chance. Overall, this was a great little festival and I will surely attend it again next year.
I'd mentioned in my last article an announcement coming up. The details will be going up on my photography page this week, but I wanted to make sure it was included here as well. I realize that this whole apocalypse is affecting everyone involved in the music industry, local and national. I hate seeing how it has affected my friends both emotionally and financially, and I wanted to find my own way to help out a little bit. That being said, here's what I can do. I'm going to have a post up shortly on my page with all the rules and details outlining the giveaway of a free promo photo-shoot. This will be open to any and all bands and solo musicians in the local Central PA area. Someday, this apocalypse and the restrictions that come with it are going to go away and you're going to be putting yourself out there again to venues and fans, advertising yourself, selling yourself, etc. Wouldn't it be nice to have some fresh images to help you out with that? I don't care what genre you play, I don't care if you're one artist or seven…I just figure this is a small way that I can repay the musicians that have brought their music to all of us, and maybe help them bring MORE music to us in the future. Details will be posted up by this weekend with all the rules and limitations that go along with that sort of thing.
Folks, I'll end with the same paragraph I did last month…it applies more now than ever: Just a reminder: if you've got a show coming up that I should see, make sure to send me an invite, shoot me an email or a message, let me know about it. The majority of the shows that I go and shoot I find out about through invites from all of you or your friends. Hit me up on facebook: @chrisriderphotography or email: chrisriderphotography@gmail.com, stop me if you see me out & around and say hi. Until next month…go find some live music and give them and the venue your support.