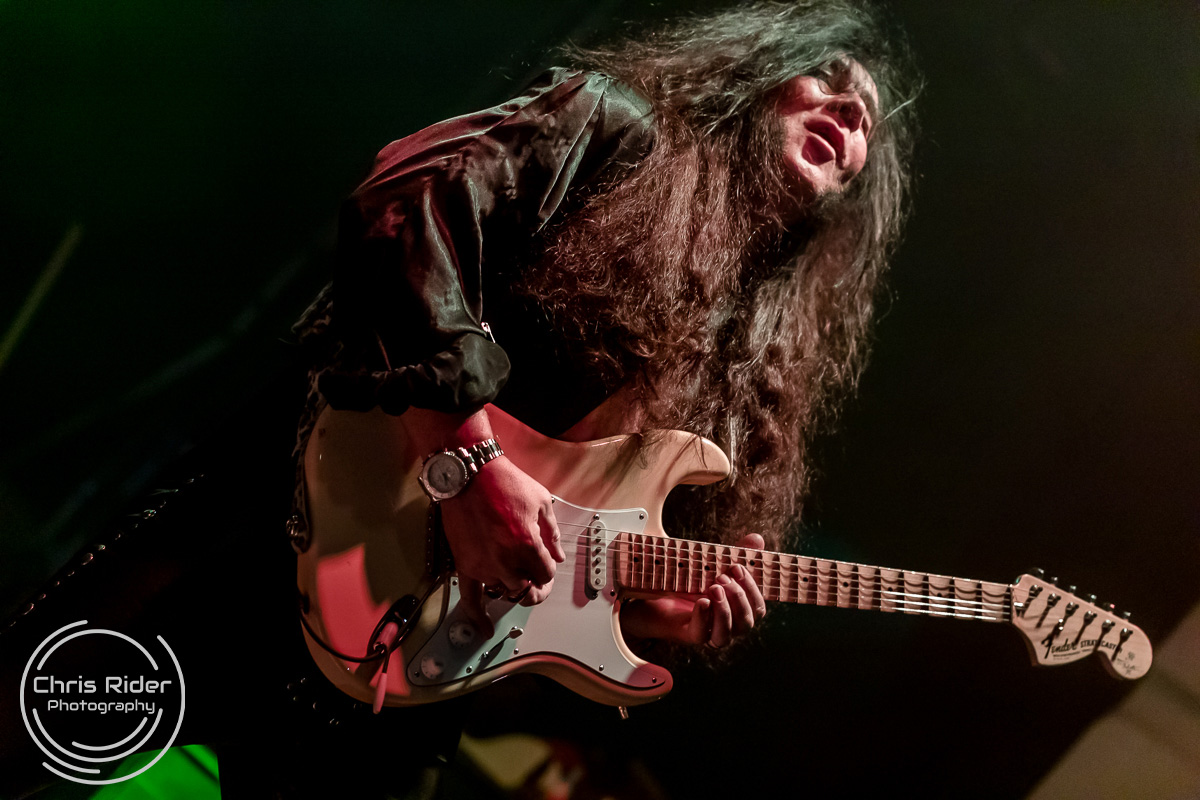 ---
By: Chris Rider
December…the last month of the year. A year that a lot of us would like to forget I suppose, although it still had it's high points if you look close enough. November went by in a flash as it was a busy month the whole way around, but I still managed to get out and see some fantastic music. Each and every time I met new people with new stories, all with a love for music in common. One of my favorite things about what I do is the people I meet, hearing their stories. Some are sad, some are happy or funny…but those stories are what make them who they are, they help motivate them and shape the music that they share with all of us. I had a special moment that was very touching to me, a conversation that I'll share a bit of later on in my article…but it set the tone for the band's set and in particular one of their songs that maybe wouldn't have happened for me had we not talked prior to their set. These momentary connections are a part of what I love about what I do. Ok…now that that's out of the way…on to the music!
Our first trip out was up to Iron Vines Winery in Sunbury for Flipside Trio. As the name implies, this trio brings a bass guitar, keyboard and alto saxophone to the act. It seemed like it might be missing a lead guitar, but these folks make it work very well and put on a great show covering artists like The Rolling Stones, Tom Petty, Fleetwood Mac, Steely Dan, and more. Winery owner David even sat in for a song or two playing the bongos. I also wanted to mention that the day after we were there, Iron Vines had their ribbon cutting ceremony for their event room upstairs. Perfect for wedding receptions, parties and whatever else, I can tell you that the preview David gave me showed me a beautifully decorated space that a lot of hard work went in to. Check out their page for some pictures of their event space and contact them with any questions you might have and to make your reservation!
Next up was a trek down to the Stage On Herr at HMAC for the Felt Side Out CD release party. There were a few last minute lineup changes due to health concerns. The opener committed to the show just hours prior to start time! I'd heard the name Dinosaurs in Paris (it's a name that sort of sticks with you LOL) but this was my first time seeing them play. Describing their style as "Easycore", this pop/punk family band even brought their kids to the show. Having a sound reminiscent of Green Day but with a metal-core flavor thrown in, these guys brought to the stage pounding guitars with solid melodies and great vocals. They were a lot of fun to see and listen to, as well as all being great guys to talk to prior to the show.
Playing second for the evening was Heroes 4 Ransom. Lead singer Hutch pulled me aside to talk prior to their show about their music, some of their influences, and asking me what I like in music. He mentioned that they'd recently released a re-written, owned and licensed version of John Lennon's "Imagine", and then went on to tell me about their song "Reaching Out". He wrote this song after losing his son. I have to say, when they played both of these songs, after hearing the stories behind them and seeing Hutch's passion behind the songs, I actually let my camera hang on it's strap and stood there just taking in the strength and emotion behind both of these songs. Moments like this stand out to me; as I mentioned above, this right here is what I love about music. "Imagine" is out on Spotify, as well as a few of their other originals and they are definitely worth checking out.
Headlining the show was Felt Side Out, celebrating their cd release "Inertia." These guys brought a good sized crowd along with them, it was awesome seeing so much support for them. They hit the stage loud, fast and hard. I think most of them spent almost as much time in the air as they did standing on the stage LOL. They play with an energy that you can't fake that their fans were clearly infatuated with and returned in spades. This was just an all around great rock show!
My next night out, we headed over to the Broad Street Market to see Switch Fu performing as part of Harrisburg's "Third In The Burg". John Merx and the boys brought their funky blues to the market for a nice sized crowd, we enjoyed a few tasty beverages from Zeroday Brewing as well as a pizza from Knead Market pizza that was awesome. I'm not sure who's idea it was to put honey on a pizza…but they "knead" a promotion. And yes…I groaned as I typed out that pun, but I'm leaving it LOL. This was a great way to enjoy some great tunes, drinks and grub and I look forward to going back in the future for more "Third In The Burg's".
The next time we headed over to Carlisle to catch Joe Cooney & Friends playing on the stage at Hook & Flask. Joe and friends brought a pair of guitars and a harmonica to the stage covering a wide range of songs including a few favorites of mine: "I Know You Rider" and "Riders On The Storm". Hook & Flask was a busy place, I think this was my first time there…the staff did an awesome job and I have to say they make a pretty tasty Old Fashioned. Definitely a place worth checking out.
My final trip out for the month was one that I'd been looking forward to for a little while. Gordon from Images of Eden had let me know that they'd be touring with Yngwie Malmsteen and making a stop at HMAC, encouraging me to come out and photograph the show. Who am I to say no to such an invite? Starting out the evening was New York City based heavy metal trio Sunlord. These guys put on an energetic, loud rock and roll show to start the evening. They did a great job pumping the crowd up for the evening.
Next up for the evening was Images of Eden, a band I've been wanting to photograph for a while now. These guys combine metal and rock, singing about the hardships we all face in one way or another through life, and standing up to those hardships and challenges, facing them with a positive voice. While being metal, and hard rock, their music was very positive and inspiring at the same time (not that metal and rock ISN'T positive or inspiring at all, just that it's not always an overwhelming theme). Their music was unique, but also felt familiar at the same time almost immediately. These guys put on a show that was unique, inspiring, and very well done. Very happy to follow along with their facebook posts about their tour, it looks like an awesome experience!
Headlining the show for the evening was Yngwie Malmsteen, Hailing from Sweden, Yngwie has been playing for over 40 years with over 20 studio albums released over that time…an impressive accomplishment by any measure. He came out and ripped right into his rock that I can only describe as Classical/Metal/Rock. Watching and listening to him, it quickly becomes apparent why he's widely regarded as one of the greatest electric guitar players of all time. His setlist covered a wide range of his classic releases as well as some songs of his newest cd release "Parabellum."
So there it is, my month of music through my eyes and ears. Just a reminder: if you've got a show coming up that I should see, make sure to send me an invite, shoot me an email or a message, let me know about it. Venues: please don't hesitate to reach out to me as well. The majority of the shows that I go and shoot I find out about through invites from all of you or your friends. Hit me up on facebook: @chrisriderphotography or email: chrisriderphotography@gmail.com, stop me if you see me out & around and say hi. Until next month…go find some live music and give them and the venue your support, they truly need it more now than they ever did.