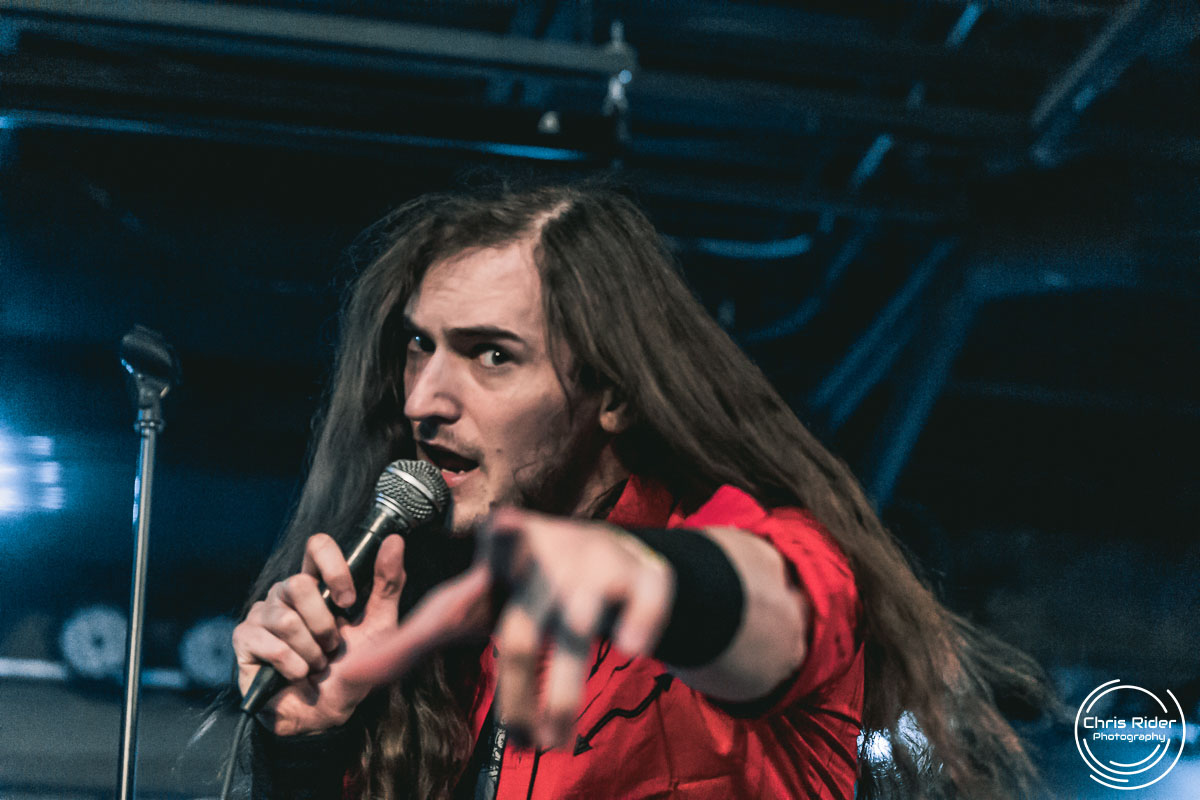 ---
By: Chris Rider
And just like that, welcome to February. I'm starting writing my article a little ahead of time due to a stupid busy schedule lately (life gets in the way sometimes LOL), but by the time you read this it's February. I expect it'll loosen up a bit after the next week or so and I'll get to see more shows as a result, but I want to use my space here before I get to the music to say this: Congratulations to my son David for getting his dream job at the age of 19. I am so proud of you dude for not only chasing your dreams, but catching them! So, due to that and a few other things, I only got out for a few shows this month, but yet again our local music scene came through with some bangers! It may make for a slightly shorter article this month, but gives more room for pictures LOL.
My first trip out was with my son to get back to Shermans Creek Inn to see Carlisle based TUG – The Unusual Guests. This talented five piece band covered a huge variety of tunes from rock to county, spanning five decades of music. Covering songs like Summer Breeze, I Want You To Want Me, Are You Gonna Go My Way and a ton of others, these folks put on a great show. If you happen to stop by the Creek sometime, check out their cheese-steak…it might actually, somehow, maybe be better than even their wings, and I LOVE their wings.
Next up we headed up to Iron Vines Winery in Sunbury for some of their delicious wines and to see my friends in The Ann Kerstetter Band dishing out their wide variety of music. Ann's voice is one of a kind, bringing such heart and soul to songs like Honky Tonk Blues, Take A Little Piece Of My Heart, Bobby Magee, and a ton of other great classics.
My third trip out for the month was to Lovedraft's Brewing in Mechanicsburg for what I knew was going to be an ear-bleed-inducing show (in a good way LOL). Put on by 717 Entertainment Inc and hosted by iRock Radio, this was guaranteed to be a great show. Starting out the evening was Central PA based Elsewhere, a Punk-based Metal-Core band that starts out loud and fast and just seems to find a way to expand on that with melodies and rhythms that just rock the room. The guys did an awesome job warming up the large crowd for what was to be a memorable night. Taking the stage next was a new band to me, Akron OH based hard rock/metal band Audience Of Rain. I had no idea what to expect as they came out on stage, but I have to say…these guys blew me away and gained a number of new fans this evening. Their music was outstanding, their stage presence and crowd interaction (always a big thing to me) was seemingly beyond their years quite frankly. I was very impressed with these guys for my first time seeing them and really recommend catching them if you get the chance. The next two bands I've covered together a few times now and I think I can honestly say they go together like peanut-butter and jelly…and I do love me some peanut-butter and jelly, especially on potato bread. Anyhow, I digress…the third band to storm the stage was Ignite The Fire. Jack and the boys live up to that name and truly bring the fire. The energy they have on stage is amazing, constantly moving and interacting with the crowd while belting out tunes that fans of most any genre can rock out to and love. As much and as fast as they move around the stage, they make for an interesting challenge from a photography standpoint…but I do love a challenge. Rounding out the evening was my incredible friends Eternal Frequency. This was a very special show for the group as they'd brought a HUGE crowd to Lovedraft's, and it was also drummer Dane's last show (at least for a while) as he begins preparing to be a new father. Congrats again Dane! Playing songs like Head Like a Hole, Parasite, Breath In Breath Out (still my fav of theirs!), as well as two of their newest releases War and A.I., these guys left it all on the stage to cap off an awesome and somewhat emotional evening. Congratulations are also in order (I just found out tonight) for Eternal Frequency as they were selected to play this years Blue Ridge Rock Festival, HUGE NEWS for them!
Final night out for the month was back down to Lovedraft's for a great night of music, food and a few drinks. Starting out the evening was a band I've seen a few times now, and each time just gets better. Sugar Hysteria hit the stage with their new drummer Josh who if I didn't know better, had been playing with them for a while instead of his first show with them. With a mix of covers done in their own way, as well as originals, they killed their set and really got the crowd set up for a rocking evening playing songs like Are You Gonna Be My Squirrel, It's Better If You Don't & Prisoner; they set the bar for the evening's energy. Next up was a new band for me, Benny Okay. Bringing a smooth classic rock/blues sort of feel with a modern spin to their tunes, these guys brought great guitar solos and solid rhythms that combined for a great sound that I really enjoyed. Coming out on the stage third was a band I've heard quite a bit about but finally got to see for my first time: Coal State. This four piece hard rock band mixed with a dash of punk and maybe even a little celtic to their sound resulting in a set that really pumped up the crowd that was getting huge by this point of the evening. Fourth up for the evening was my buddy Jon Garcia & The Hopeless Romantics. Bringing out his solid Pop/Rock style with songs like Kiss Kiss, Dreaming, and Good Talking; they brought out solid guitar work and percussion work for a great performance. They'll be playing next over at HMAC on March 18th with a bunch of other great bands that I highly recommend checking out! Headlining the evening was Baltimore based Jimmies Chicken Shack. Bringing they experience of over 30 years of rocking crowds from the stage, the guys took the stage by storm. Playing some of their classics mixed with some of their newer songs, the guys put on a hell of a show. I think this is the third time I've gotten to see them over the last year (maybe I'm trying to make up for having not seen them the previous 29 years LOL), and each time has been a great experience.
So there it is, my month of music through my eyes and ears. Just a reminder: if you've got a show coming up that I should see; make sure to send me an invite, shoot me an email or a message, let me know about it. Venues: please don't hesitate to reach out to me as well. The majority of the shows that I go and shoot I find out about through invites from all of you or your friends. Hit me up on facebook: @chrisriderphotography or email: chrisriderphotography@gmail.com, stop me if you see me out & around and say hi. Until next month…go find some live music and give them and the venue your support, they truly need it more now than they ever did.