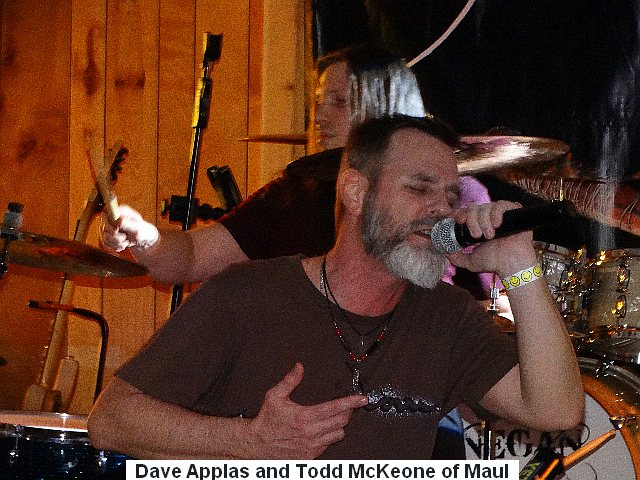 ---
By: Jim Price
Live music steadily continued to resurface in the past month as COVID-19 restrictions were eased and outdoor temperatures continued to rise. Barring any setbacks, the summer season looks to rebound at least partially, with several outdoor festivals and area concert series announcing their schedules, and area music venues with outdoor capabilities planning outside entertainment as well.
Some outdoor festivals that were silenced last year due to the pandemic are already bouncing back this year. One of them is Huntingdon's annual Mayfest celebration, which returned to a five-block stretch of Washington Street in downtown Huntingdon during the last Saturday of last month. The weather was cooperative as visitors enjoyed vendors, volunteers and organizers dressed in period costumes from several historical-themed zones, food and refreshment vendors, children's activities, and live musical entertainment. I caught some of the later afternoon music, including the Nick Miller Project performing at the entrance to the Clifton 5 Cinema. Equipped with guitar, djembe and other percussion, plus his looping pedal array, Nick played a wide range of sounds, mixing blues, funk, hip-hop, folk, reggae, jazz flavors and more. Nick was fascinating to observe as he recorded instruments, rhythms and riffs on the spot and looped them to build his rhythmic backdrops, to which he would then sing and play lead guitar – building each song from scratch into full-blown, soul-stirring adventures. He mixed original tunes and select covers. Some of Nick's selections included Phish's "Down with Disease," Squirrel Nut Zippers' "Hell," Cher's "Bang Bang," Blitzen Trapper's "Furr" and more. After watching Nick, I strolled a short distance up Washington Street to catch some of the latter songs from Mayfest mainstays Dan & Galla. With Dan on keys and Galla on acoustic guitar, flute and various percussion instruments, the pair sang a variety of favorites; I listened as they happily did versions of Johnny Rivers' "Rockin' Pneumonia and the Boogie Woogie Flu," the merging of "Twist and Shout" into "La Bamba," the Drifters' "Under the Boardwalk," Little Richard's "Tutti Frutti" and others.
Huntingdon's Mayfest was actually the first of three different events I attended that day, and three events in three different towns for a 100-plus mile round trip adventure!
Following Mayfest, I followed Routes 26 and 30 to Bedford to see the Bad Luck Lover Boys as they performed at Olde Bedford Brewing Company. Recently issuing their full-length CD "Letters to Emily," lead singer Chris Diehl, guitarist/singer Matt Godissart, bassist/singer Adam Lingenfelter and drummer/singer Brad Hengst generated the fun by mixing power pop/punk-flavored tunes off the album with similar-flavored favorites from Green Day, Blink 182, Lit, Jimmy Eat World, the Matt-fronted amped-up take on Johnny Cash's "Folsom Prison Blues" and more. Some of their original numbers off the album included "Cory's Hangover," "I Lost You," the Adam-fronted "London Fog," "Movie Song," "Mixed Bag," "Grump," "Somewhere Girl" and others. Bad Luck Lover Boys were a hit with the crowd, mixing their music with friendly talk and audience member shout-outs. When the audience called for the encore, the group closed out the night with Green Day's "Good Riddance." Watch for Bad Luck Lover Boys as they spread their upbeat music and energetic show across the region.
From Bedford, I completed my trifecta by returning to Altoona and a venue I hadn't stepped inside since before the pandemic, the 4D's Lounge, where the Giants Of Science were playing their first show since before the pandemic. The Giants were a trio this night, as founder, ringleader, singer and guitarist Mick, bassist and singer Johnny 5 and drummer Steve mixed up a variety of rock and pop favorites spanning the 1960s through 1990s. (Keyboard man Scotty B was not available this night.) The Giants and the Dees audience shook the rust as the night went along, and a few dancers took to the floor as the group played numbers from Sublime, the Rolling Stones, John Mellencamp, Van Morrison, Pearl Jam, Beastie Boys, Rick Springfield, Tommy Tutone, Doors, Green Day, Tom Petty and many more. I think this may have been the first time I've seen the Giants break out Black Sabbath's "Paranoid," and the group did several of their familiar favorites like Van Morrison's "Brown Eyed Girl," the Beastie Boys' "(You Gotta) Fight for Your Right (to Party)," Soft Cell's "Tainted Love," and to close the night, Tom Petty's "American Girl." Still bringing the party, the Giants Of Science will be frequenting the area for several outdoor events during the summer season; watch for their return to the 4D's soon as well.
Four hard-hitting rock bands christened the freshly-renovated and reopened Root-Hovett Hall near Patton for an all-ages show in late March. Although I arrived after their set, young Altoona-based punk rock trio Abstentious reportedly represented well during their set to open the evening. The Heathen Parade was on stage as I arrived, testing the structural integrity of the former church with their sinister brand of metal/punk-driven "rotten roll." Guitarist and lead snarler Jason Straw, bassist Jay Snider and drummer Rik Golden showcased their punishing original songs such as "Dead Heat, Dead Last," "Notorious," "Born Again Leviathan" and their closer, "Diesel Jesus." Preparing to issue their debut album this summer, Altoona's Maul followed with their set of all-original, hard-hitting rock. Singer Todd McKeone, guitarists Eric Prindible and Nate Nagle, bassist Tanner Thomas and drummer Dave Applas blended alternative, classic rock and metal elements into their song creations, with each tune displaying its own unique angle. Some of Maul's numbers included "Don't Mean Nothing," "The Bridge You Can't Burn," "Stoning Glass Temples," "Fly Away" (inspired by pro-wrestling legend Jimmy "Superfly" Snuka), "Keep That Light Inside" and "The Writing on the Wall." Todd delivered intensity on the vocal end, and Maul backed him with tightly-executed, intensifying and varying grooves. Negan then finished the night with their scorching set of full-force heavy rock and metal. Singer (and Root-Hovett Hall owner and renovator) Mike Davis, guitarists Bob Gray and Jeremy Ashurst, bassist Josh Yahner and drummer Damien Falatek unleashed several of their original songs, including the four songs from their 2018 "Burnt Pages" EP plus new ones like "Goat Whispers" and "I Am Negan." Negan also played several select heavy-hitting covers from Helmet, Tool, Audioslave, Ozzy Osbourne, System Of A Down, Soundgarden and others. Highlights included young guest "Squeaks" dancing with Mike onstage to Negan's take on Ghost/Roky Erickson's "If You Have Ghosts," and the lid-slamming rendition of Iron Maiden's "Two Minutes to Midnight" to end the show. Watch for more shows at Root-Hovett Hall, along with other community events as well.
More fundraising shows took place in recent weeks to support the upcoming Mass N Tha Grass Alternative Music & Arts Festival, happening Aug. 6-7 at the Sinking Valley Fairgrounds in northern Blair County. I checked out last month's "Alt Jams" fundraiser show at JOOS in downtown Altoona, featuring four performances. I arrived just before Wolfgang Moon officially kicked things off. The Williamsburg-based singer and guitarist mixed several of his blues-based original songs with select covers, including tunes from Stevie Wonder and Johnny Cash, plus his versions of Nancy Sinatra's "These Boots" and David Bowie's "Life on Mars?" Next was Jesse & the Ghost, the solo project brainchild of former Kevo Can't Dance collaborator Jesse Querry. Armed with guitar, Jesse mixed alternative, punk and folk elements through his set of original songs and select covers. Among his original numbers were "Radioactive Decay of Nostalgia and Trinkets" and his set-closer "Road." This night marked the return of the Steam City Riders, playing their first set in nearly a decade. Jon Wittmer wielded acoustic guitar and sang, while Colin Lennox fired up and generated low-end sounds and rhythms on didgeridoo. Dedicating their performance in memory of Damien "Peach" Petry (the founder, singer and guitarist for roots/jam group the High Street Drifters passed away on March 27), Jon and Colin performed their unique brand of Americana and roots sounds, mixing original songs and a few covers over two short sets. They opened with the traditional folk tune "Going Down the Road Feeling Bad," and also did renditions of "West Texas Cowboy" and their take on "I Know You Rider." Colin opened their second set with a tutorial on the didgeridoo and how it is played. Closing the evening was Tois (pronounced "toys") with their hard-edged garage rock sound. Comprised of singer/guitarist Brandon Russell, bassist Dylon Weakland and drummer Sean Foster, Tois mixed a number of hard-driving, low-fi original rockers from both Tois and its sister project, Neon Hotel, such as "Hey You," "Daily Dose," "Blue Collar," "Mediocre at Its Best," "We All Fall Down," "Simon Says" and more. This show saw decent attendance and raised some money toward Mass N Tha Grass; watch for more of these Tuesday night events at JOOS in the weeks ahead.
I checked out several shows at McGarvey's in Altoona recently. One was the Johnstown double-bill of Blood Union and The Heathen Parade, which was also a Jay Snider doubleheader – Jay did double-duty this night, playing guitar with Blood Union and bass with The Heathen Parade. Blood Union started off the night – Jay, Tim Frick on lead vocals and guitar, bassist and singer Ron Gallucci plus Ben Frick on drums showcased their hard-rocking original songs. Blending elements of both modern and classic hard rock with strong melodies, Blood Union did numbers such as "A World Apart," "Survive," their new intensifying slow-rocker "Suffocate," "My Obsession," "Killing Me Inside," their anthemic closer "Lit" and others. Tim displayed a powerful and high-ranging voice up front, and Blood Union's instrumental performance was tight and action-packed. The Heathen Parade then upped the savagery with their set, unleashing their scathing brand of metal music. Jay, singer and guitarist Jason Straw and drummer Rik Golden displayed their original song arsenal, this night doing such numbers as "Hellbent Hellbound," "Guns N Rosaries," "Dead Heat, Dead Night," "Born Again Leviathan," and "Rockstar," prefaced by Jay playing his bass with a bow. The Heathen Parade returns to McGarvey's in a double-bill with Samara on May 21.
Cumberland, Maryland's Anger Box paid their first visit to McGarvey's stage last month. Four members strong, the group brought the firepower over three sets as they performed a blend of hard-hitting original songs and heavy-rocking favorites spanning the 1990s to present. Drummer Chris Spiker, bassist Jimmy Crawford and guitarist Dave Ullery generated the powerful backdrops for frontman Nick Boren, who displayed a strong voice and action-packed stage presence up front. Anger Box introduced their own songs such as "Save Myself," "In My Head," "I'll Find You Here" and "All I Wanted," and also songs from Fuel, Alice In Chains, Pearl Jam, Staind, Godsmack, Chevelle, Mudvayne, Tool, Velvet Revolver, Theory Of A Deadman and much more. Among many highlights were the group throwing a curveball with their rocking adaptation of Lil Wayne's "Like a Lollipop" (for the ladies), and their third set-opening Korn triple-shot of "Blind," "Here to Stay" and "Falling Away From Me." Anger Box's high-powered performance won over numerous fans this night; watch for more visits by this group to McGarvey's stage in the months to come.
Mellissa Vella and Kenny Karlheim brought their acoustic show to McGarvey's early last month. They brought reinforcements, as Rick Ramsey and Ed Hofer joined them on bass and percussion respectively. Mellissa handled most of the lead singing duties, with Kenny providing backing vocals and playing acoustic guitar. They mixed a wide variety of classic rock, pop, folk, soul and blues sounds as they performed numbers from Elle King, Cranberries, Bob Seger, Indigo Girls, Blind Melon, Tom Petty, R.E.M. and more. Mellissa poured herself into every song, her expressive singing style wringing emotion, heart and soul out of each word. Some standouts this night included versions of the Allman Brothers' "Soulshine," Fleetwood Mac numbers such as "Dreams," "Landslide" and "Rhiannon," Tracy Chapman's "Give Me One Reason" and Otis Redding's "Sitting on the Dock of the Bay."
The Castle Pub in Ebensburg hosted the duo of Denny and Ken Pompa in late March. Both strummed acoustic guitars and sang, with Ken switching between six and 12-string guitars. Denny & Ken entertained with a variety of mostly classic rock, pop and country favorites; doing tunes from Kenny Wayne Shepherd, Badfinger, REO Speedwagon, Tom Petty, Lumineers, America, Poco, CSNY, Collective Soul, Zac Brown Band, Doobie Brothers, Gin Blossoms and more. The pair pulled out some song surprises you don't hear very often, such as Randy Meisner's "Hearts On Fire," John Stewart's "Gold," Crowded House's "Something So Strong," Barenaked Ladies' "It's All Been Done" and Corbin/Hanner's country hit "Work Song." Other highlights included Ken singing lead on Marshall Tucker Band's "Fire on the Mountain," the pair's harmonies on Kansas' "Dust in the Wind," their blending of Poison's "Every Rose Has Its Thorn" with the Rolling Stones' "You Can't Always Get What You Want," their first stab at Emerson, Lake & Palmer's "From the Beginning," and for the finale, Denny sending the Beatles' "Here Comes the Sun" out to his wife, Peg. It all sounded good, and Denny & Ken's performance was much appreciated by the Castle Pub onlookers. Denny & Ken bring their acoustic stylings throughout the region; watch for them on a stage near you soon.
On the live-streaming front, the Central PA Music Hall Of Fame has been presenting almost nightly live-streaming performances on their Facebook page in recent weeks, and I was able to witness a few of them. One was rising Harrisburg-based southern rock and outlaw country force Buckskin Whiskey as they celebrated the release of their debut EP, "Roll On," last month. (See the review of the EP elsewhere in this issue.) Performing at the Rock Mill Studios in Mechanicsburg (where the EP was recorded), lead singer and acoustic guitarist Josh Saussaman, lead guitarist Zach Beers, guitarist and steel player Koedee Gordon, keyboardist Alex Cassel, bassist Bryan Sentz and drummer Dan Almoney did songs from the EP such as "Sleeping Around," "Hell Hounds of El Dorado," "Outta Tennessee" and the EP title track "Roll On," with Josh, Zach and Bryan all sharing lead singing duties. The group introduced several other new originals, and also did numbers from the Allman Brothers, Lynyrd Skynyrd, Merle Haggard and others. One surprise was Buckskin Whiskey's rural-tinged take on Dire Straits' "Walk of Life," and the group also did a stormy version of Molly Hatchet's "Flirtin' with Disaster," highlighted by dual guitar harmonies from Zach and Koedee. Buckskin Whiskey plays a busy summer season performance schedule throughout central PA, including the Southern Rock Woodstock event on July 24 at Wagon Wheel Amphitheater near Philipsburg.
Andy Mowatt's Frequency Movement – AMFM – also did a live stream performance last month on Facebook via the Central PA Music Hall Of Fame. Performing from Tellus360 in Lancaster, Andy Mowatt's latest band endeavor brought an adventurous mixture of mostly instrumental funk, jazz and rock fusion. Andy on guitar and talkbox, Nate Young on keys, Caden Myers on bass, Paul Berry on sax and Taylor Wade on drums spotlighted AMFM's original compositions, including several songs from their most recent album, "Symphonic Funk Box." This performance was constantly dazzling, with busy arrangements, musical interaction and frequent improvisational bursts – all making for exciting listening and viewing. According to Lancaster Online, Andy recently enlisted in the U.S. Air Force to join Max Impact, the Air Force's premier rock band.
And Perry County-based country songsmith Zach King appeared on a Central PA Music Hall of Fame live stream last month, showing part of his performance at Grandpa's Love Shack in Shermans Dale. Strumming acoustic guitar and entertaining music fans and diners, Zach performed several of the songs off his recently-released cassette EP, "Peace Of Mind," such as the title track, "Vice," "Grow Up," "Whiskey" and "Ohio." Zach kept folks happy with his classic country/folk sound and style, and his friendly and conversational onstage personality.
I also caught portions of live stream performances from the duo of John "JT" Thompson and Andy Tolins plus Acoustic Moose, both as part of the weekly Thursday Virtual Jam presented by the Blues Society of Central PA; as well as New York's Chelsea Takami during one of her weekly Monday Facebook live stream performances.
The regional music scene was again saddened by the passings of musicians in recent weeks…Harrisburg area-based guitarist Mike Knoll passed away on March 25 at age 49. Mike had played guitar for such bands as Waysted Sylence, Dying Breed, Angels N' Saints and Treachery…And Damien "Peach" Petry, the singer, guitarist and founding member of Cambria County roots music group the High Street Drifters, passed away unexpectedly on March 27 at age 44. Damien and the High Street Drifters frequently performed at Magoo's in Cresson, as well as various music festival events throughout the region…We at PA Musician share our heartfelt sympathies with the families, friends and fans of both musicians.
News and notes…Candlelight Red returned to the recording studio last month to record a brand new EP to be released later this year; with Morgan Rose of Sevendust playing drums, Candlelight Red recorded with Jose Urquiza at his studio in Geneseo, Illinois…After initially cancelling it due to concerns over COVID-19, Visit Johnstown announced that PolkaFest will return next month at a new location, People's Natural Gas Park in Johnstown, on June 4-5…The Blair County Historical Society will again present Mansion Mania Rockfest on June 5 on the lawn at Altoona's Baker Mansion, featuring performances from Challenger Deep and Half Tempted; ticket proceeds benefit the Blair County Historical Society…The first of a two-album compilation series spotlighting music about the Susquehanna River has been released – The Middle Susquehanna Riverkeeper Association issued "Songs of the Susquehanna Volume I," featuring 20 songs about the Susquehanna River, its history, legends and traditions. The songs were contributed by various regional songwriters and performers; among them Van Wagner, Hannah Bingman, Bill Dann and William Ryan. The CD can be purchased from the website www.middlesusquehannariverkeeper.org…Stephanie & the Wild Hearts songwriting couple Bob and Stephanie Onkst's song "Sorry You Got Caught" was recently chosen as the winner of the Nashville Songwriters Association International (NSAI) Pittsburgh Chapter Challenge, hosted by Anthem Entertainment; the song now advances to the national challenge…And former Kyx, Inside Out and Kicked In member Jim Walstrom has taken over bass duties in Altoona-based rock group Fourth Street.
Please send correspondence and recordings to: Jim Price, 1104 S. Catherine St., Altoona, PA 16602. You can also e-mail me at jptheprofessor@gmail.com. And if you're into social networking, look me up on Facebook. SUPPORT LOCAL MUSIC!