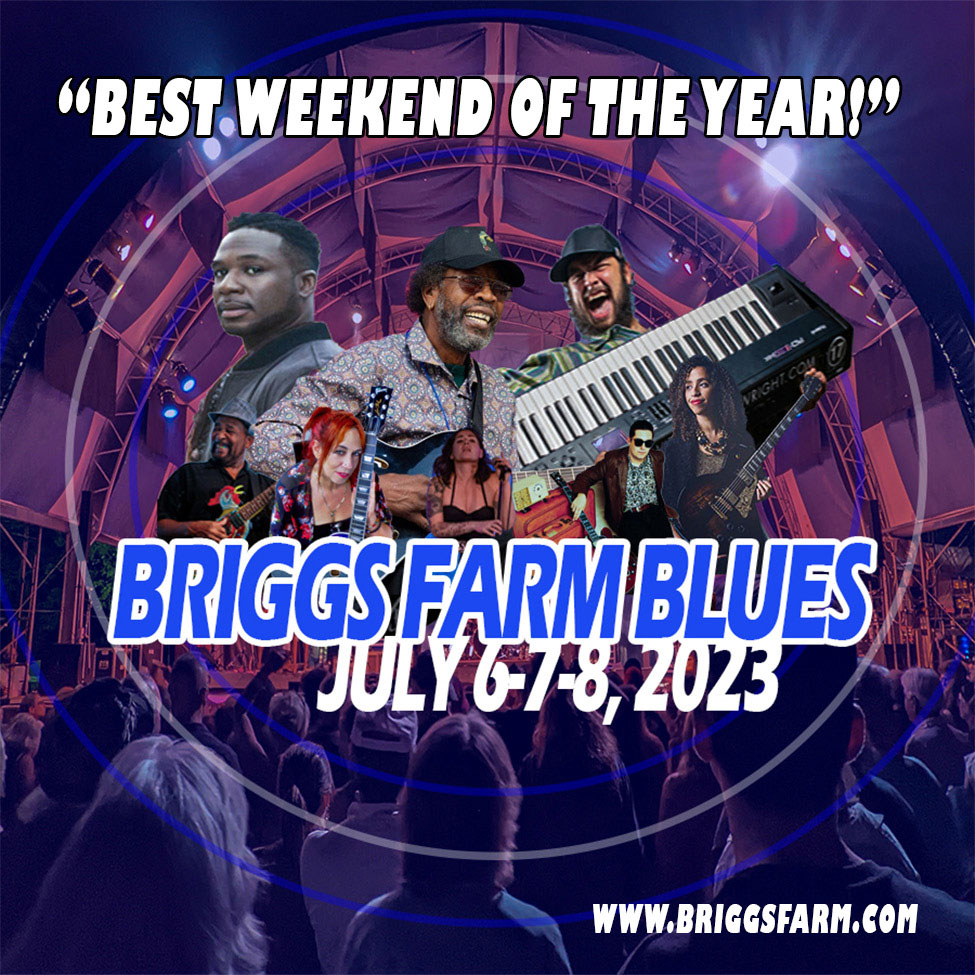 ---
Experience 3 days of world-class music, great food, & good times! Blues fans, music lovers, friends & family gather on our 440 acre farm. The Briggs festival family continues to grow… welcoming those who have been here year after year as well as first timers!
Canopies! Bring em'! We have a designated area just for you in line with the stage. We'll have space for aprox. 120 Canopies with overflow on the side.
Now in our 26th year, Briggs Farm brings the heat with artists such as: Doug McMinn Blues Band, Clarence Spady Band, Scott Pemberton O-Theory, R.L. Boyce & The Cornlickers, Super Chikan & The Fighting Cocks, Joanna Connor & The Wrecking Crew, Victor Wainwright & The Train, Jackie Venson, Eddie 9V, Bywater Call, Robert Randolph Band & many more!!
Briggs Farm offers a family friendly atmosphere, which keeps bringing our guests back year after year! Introducing kids or grandchildren to our festival helps keep the music alive, while fostering a great family tradition that people of all ages look forward to every summer!
The Briggs Family has been bringing the Blues to their family farm since 1998. Over the years they've transformed a humble little gathering into one of the Nation's most revered Blues Festivals! Though the size has grown, "Briggs Fest" has managed to maintain a small festival mentality in a family friendly setting here in the rolling hills of Nescopeck, Pennsylvania. Over the past 25 years we've had 150+ national and regional bands play at our festival that has grown from one stage into two, from one day into three. Time and again, Briggs Farm Blues Festival remains "The Best Weekend of the Year!"
Frequently Asked Questions:
What kind of ticket do I need?

IF you are Camping – a Camping ticket is required.
IF you are Not Camping – a General Admission ticket is required.
IF you are entering Camping – You must have a Camping ticket.
12 years old or under are Free.

Do I need a Reserve Campsite to be able to camp at Briggs?

No. We have plenty of Open Camping at Briggs! There is always room to capture your Blues Fest magic!

Do Reserve Campsites come with Camping Tickets?

No. Reserve Campsites are a separate purchase and only reserve your 20×50 spot. Everyone camping on that spot needs to have a Camping Ticket.

How will I get my tickets? Will they be mailed to me?

Thanks to our online ticketing system, tickets will be emailed to you immediately following your purchase. If you do not receive this email (coming from ThunderTix), contact us and we'll help you out. What do I do if I lose my tickets?
You can opt to have your tickets re-sent to you at any time by clicking the link at the bottom of this page… https://briggsfarmbluesfestival.thundertix.com

Are Pets allowed?

Service Animals – Yes
Emotional Support/Comfort Animals – No
Briggs Farm Concerts
88 Old Berwick Hwy
Nescopeck, PA 18635
570-379-3342
​briggsfarmblues@gmail.com
Still have questions? Feel free to contact us!
We're happy to help!
www.briggsfarm.com