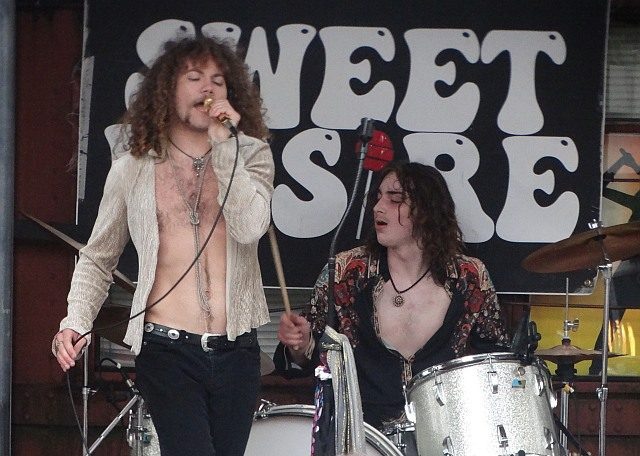 Sweet Desire at Blair Creators Festival
---
Another cycle around the sun signifies that I have completed my 36th year of writing for PA Musician this month! As I ponder if or when I'm ever going to start slowing things down in my quest to cover live music, I realize that I am busier than ever, and loving every minute of it! Thanks to Josh Noll for continuing to provide the opportunity for me to keep doing these monthly duties for PA Musician, even if pulling an all-nighter (or two) around deadline time is part of it! Thanks to all the musicians who keep inspiring me to continue this endeavor, and all the readers for their support and kind words!
Outdoor live music continued its surge in recent weeks…The Blair Creators Festival filled downtown Altoona's Heritage Plaza with arts, crafts, food, refreshments and live music on the last Saturday in April. Organized by ArtsAltoona and Penn State Altoona's Sheetz Fellows program, the festival featured eight bands on the plaza railcar stage, beginning with Asbury Lane. Singer and guitarist Jeremy Schimansky, singer Tami Hinish and harmonica player Jack Coyle set the day's pleasant tone with acoustic favorites from Johnny Cash, John Denver, John Prine, Old Crow Medicine Show and more. Next was my first look at another of the growing crop of area youth bands, Lilly-based rockers After School Special. Comprised of lead guitarist Collin Borlie, drummer C.J. Myers, bassist Jude Hudkins and singer Robert Yeager; After School Special did impressive work on a variety of classic rock numbers from the 1960s through 90s – including songs from CCR, Greg Kihn Band, Toto, Led Zeppelin, The Clash, Cheap Trick, Beatles, Lynyrd Skynyrd and more. Another group I was seeing for the first time this day was the following group, Altoona's Vision Manifest. This acoustic group – singers Tiffany Westover, Jess Veach and Curtis Tracy, singer and guitarist Matthew Sheedy and percussionist Aaron Antesberger – packed excellent vocals and harmonies throughout their set of classic and current pop, soul, folk and country favorites; including four-part harmonies on The Band's "The Weight!" In between bands, programs from the Arc of Blair County performed in Heritage Plaza's main court, including Arc singing groups and drummers. Although I was emceeing at the main stage, it was a pleasure to sit in with the Arc drummers and their facilitators from the Joy Drummers. Back at the main stage, Hot Fudge Mondaes accelerated the musical pace with their hard-hitting mix, as they played a number of their original songs plus a few punk-geared favorites. Some of their originals included their first recorded single, "Sorrow," as well as "Don't Mean Nothing," "So Long," "So Far From Fine" and more. Seven members strong, Altoona's Tom Nevers Field then brought ska, punk and reggae sounds to the stage; including numerous original songs such as "Impossible," "Hold My Hand," "Hey Mr. Newsman" and more, also a cover of the Ramones' "Blitzkrieg Bop." Sans drummer Brad Hengst this day, the Bad Luck Lover Boys performed as a trio, mixing their punk/pop-driven original songs with select favorites. The group did songs from their "Letters to Emily" album such as "Anything at All," "Somewhere Girl," "London Fog," "Movie Song," Corey's Hangover" and more. Youthful Roaring Spring-based rockers The Pines added to the musical excitement with their wide mixture of classic and vintage rock. Singer Daman Mills, guitarist Logan Warner, bassist and keyboardist Alex Snyder and drummer Ben Brumbaugh kept the audience excited with numbers from Van Halen, The Sweet, Romantics, Beatles, Elvis Presley, Billy Joel, Poison, plus two of their own original tunes, "Want More" and "That's All Right." And Altoona's Sweet Desire slammed the lid on the day with their action-packed set of original rock and select classic rock covers. The roster of singer Jordan McCaulley, guitarist Kenton Lewis, bassist Joshua Simpson and drummer Trey Boore tapped into their late 1960s/early 1970s blues rock foundation for numbers from Blue Oyster Cult, the Rolling Stones, Led Zeppelin and others, and performed scorching original numbers such as "Too Much to Please," "Want You Again" and their first single "Raspberry Joe Blues" (which will be issued on streaming platforms June 9). Sweet Desire sank fire and passion into their performance, escalating to their finale as they fused together Led Zeppelin's "Communication Breakdown" with "How Many More Times," before answering encore demands with Rush's "Working Man." The Blair Creators Festival generated a large turnout, happy vibes and community spirit throughout the day; kudos to everyone who worked to make it happen!
A rainy day didn't thwart the second annual Cann-a-Toona Festival, hosted by Tru Healing Concepts at their downtown Altoona location in late April. As rain fell, Lucid Yooth & the Cubensis Lenses and the PennSoulvanians performed prior to my arrival. I got there just before Clearfield foursome Innocent Sin brought their blend of blues, R&B and reggae. Singer Carli Jones, singer and guitarist Adam Caldwell, bassist Robert Misho and drummer Adam Moore mixed original songs with a few covers, generating a casual, soulful vibe along the way. Some of their numbers included versions of Gary Clark Jr.'s "Low Down Rolling Stone" and the Allman Brothers' "Whipping Post." As the rain ended, Hot Fudge Mondaes shifted musical gears into fast and loud to close the afternoon as they did punk and alternative-infused rock. Singer Jake Mowery, guitarists Breydon Bremer and Micah Button, bassist Kevin Neely and drummer Christian Wesner fired through original songs and covers. They did original numbers such as "Better Man" and "Put It on the Fridge," as well as numbers from Fall Out Boy, My Chemical Romance, Green Day, Jet, and – for their finale – merging their original song "Sorrow" into their volatile rendering of Rage Against the Machine's "Killing in the Name."
Downtown Bellefonte Inc. presented the Outdoor Adventure Expo at Talleyrand Park last month, and live music again served to entertain visitors as they browsed various outdoor-related vendors and displays, food and drink vendors and more. I arrived in time to see much of Southbound's set to open the afternoon. The acoustic trio of lead singer and guitarist Jon Phillippi plus guitarists Greg Hubler and Mike Nedrow, Southbound did solid work on their variety of country, acoustic rock and more. They did numbers from Willie Nelson, the Eagles, Elvis Presley, Bob Seger and Nitty Gritty Dirt Band, and also did a version of the Frank Sinatra-popularized "Summer Wind." Up next was the debut of the Centrefugues, featuring a Don and three Johns, all seasoned Centre County musicians. Former Frackwater Jack/Your Dad's Friends member Don Bedell sings and plays guitar; flanked by guitarist John Cunningham, bassist John "JK" Kennedy, and drummer and singer John Lynch. The Centrefugues played an eclectic mixture of music, mixing popular songs with deep cuts and lesser-known numbers. Some of their numbers included a version of Big Star's "In the Street" (known as the theme song to the TV series "That 70s Show"), Neil Young & Crazy Horse's "Everybody Knows This Is Nowhere," The Beatles "One After 909" and the Rolling Stones' "Respectable." They also did songs from The Refreshments, Foo Fighters, Smithereens, Todd Rundgren, Warren Zevon, Talking Heads, Tom Petty and more. The group's instrumental execution was tight, and they displayed strong vocals and harmonies – including Don's dead-on version of Van Morrison's "Into the Mystic."
Indoors, the Crazy Fest Amateur Youth Talent Show made its return in late April at the Juniata Civic Association in Altoona. Started in 1990 by entertainer Dennie Huber, "Crazy Fest" was brought back seven years after Dennie's passing, and a number of youngsters performed and competed for trophies, awards and other prizes in various age divisions. In the age 3 and under category, 2-year old Elizabeth Arthur won the top award for her singing of "You Are My Sunshine." In the age 4-6 category, Zori Lorraine won first place for her hip-hop dancing routine. In the 7-9 category, 8-year-old Carlynn Davis won for her dance routine. In the 10-12 division, Magdelin Oakes won for her country-themed dance routine. Magdelin also won the Angela Dodson Road to Nashville award and Typhani Russo's Top Notch Talent award, and the runner-up, ballet dancer Isobel Hess, won Typhani's Heart of an Angel award. In the 13-14 age division, Kyla Mulhollen won for her gymnastics routine. And in the 15-17 age category, Ava Conrad won first place for her singing of Leonard Cohen's "Hallelujah." The runner-up, singer Emily Pentland, won Typhani's Most Promising Performer award and the Servello Family Studio's Terrific Technique award. The afternoon also saw guest performances from "Crazy Fest" alumni Dalton Farabaugh (slinging playing cards at celery, he can still captivate the house!), Elaini Arthur (who organized and emceed this year's event), Chet Denny (of the PennSoulvanians), former NBC "The Voice" contestant Jimmy Mowery and Typhani Russo (who also helped organize the event). Chet, Jimmy and Typhani lit up the house when they teamed up on a sing-along rendition of Bill Withers' "Lean on Me." James Lee, Jack Servello (who ran sound) and The Caldwells also performed. Congratulations to all the youngsters who boldly stepped into the spotlight to entertain and make "Crazy Fest's" comeback a big success. The event will return next year.
Altoona's Unter Uns Musical & Entertainment Society last month hosted the Benefit for Jackie Cone, which raised funds to help longtime area music fan Jackie as she faces a double-lung transplant. Live music was a big part of it. Work duties prevented me from seeing the afternoon's openers, The Band OZ with guest Eileen Christman on violin, but I understand they got things off to a rousing start. The house was packed as I arrived, with Felix & the Hurricanes on the stage. Love filled the room for Jackie, and the mood was joyful and lively as the Hurricanes roster of lead 'Cane, singer and guitarist Felix Kos, bassist and singer Pat McGinnis, and drummer and singer Bob Watters were joined by several guests – including singer Bobby Gates and guitarist Mark Middleton (who both played together in the 1970s area group I Heard The Owl), along with both Dave Villani and Harold Hayford staffing the keyboards. The Hurricanes and their accomplices played rousing numbers from the Allman Brothers, Deep Purple, Lynyrd Skynyrd and ZZ Top to wrap up their set. Next was The Pines, who kept the energy level high on their set of classic and vintage rock'n'roll favorites. It was again amazing to witness this young contingent sinking full heart, soul and intention into music mostly created decades before they were born! Opening with Steppenwolf's "Born to Be Wild," The Pines filled and kept the dance floor busy with numbers from the Doors, Allman Brothers, Bill Withers, Procol Harum, the Beatles, Elvis Presley, Logan Warner showing his guitar talents on Eddie Van Halen's "Eruption" into "You Really Got Me" and "Jump" to close the set. After thankful words from Jackie, R2B2 finished up with their dance party. Their next-to-last performance, the roster of lead singer and guitarist Rick Wertz, lead singer and keyboardist Mary Villani, guitarist Ric Criste, bassist Fritz Wyland and drummer Eric Wertz mixed up danceable rock, funk, pop, soul and country favorites that packed the dance floor. Opening with Pink's "Let's Get This Party Started," R2B2 kept the mood electric with tunes from Cameo, KC & the Sunshine Band, Pat Benatar, Roxette, Blondie and more. Guests Bill Hocherl and yours truly joined in with drummer Eric on percussion, resulting in a percussion jam ending to War's "Low Rider," and founding and former R2B2 drummer Beau Saller returned to the kit to help end the night on Shania Twain's "Man I Feel Like a Woman." Coupled with a prior Wednesday Jam Night fundraiser, this benefit helped raise more than $7,500 for Jackie – great to see the community come together!
National recording group Sponge made their return visit to the stage at McGarvey's in Altoona last month. Under way as I arrived were Tampa, Florida-based indie rockers Kamenar, who opened the night. The brotherly duo of singer and guitarist Sean and drummer John Kamenar delivered a full, high-energy sound on their set of original songs and select covers. The group did songs from their forthcoming album and their self-titled EP, including "Crazy Life"; and they also did a cover of Bush's "Everything Zen." Altoona's Sweet Desire followed with their classic rock-informed performance, doing numerous original songs and a few select covers. Led Zeppelin and The Doors are prominent influences in Sweet Desire's sound, and they did renditions of the Doors' "Roadhouse Blues" and Led Zeppelin's "Immigrant Song" and "Rock and Roll," the latter featuring an explosive Trey Boore drum solo. Sponge then took the stage and played a selection of songs from throughout their career. Joining lone founding member and frontman Vinnie Dombroski were guitarists Kyle Neely and Andy Patalan, bassist Tim Patalan and drummer Dave Coughlin. Opening with "Jump While the House Is On Fire," Sponge played their 1990s radio favorites such as "Wax Ecstatic," "Molly (16 Candles Down the Drain)," "Have You Seen Mary" and – to close the night – the high-powered hit "Plowed." They did the song "Stitch" off their new album "Lavatorium," as well as the title track to their 1994 debut album "Rotting Piñata," as well as "Glue," "Got to Be a Bore," "Silence Is Their Drug," "Treat Me Wrong," "Sick Of It All," "Drownin'" and a version of Pulp's "Common People." Vinnie's voice was in good form as he established a strong connection with the McGarvey's audience, and Sponge was instrumentally strong and kept the energy level high. According to Vinnie, Sponge will return to McGarvey's next year when they tour in support of the 30th anniversary of the release of the "Rotting Piñata" album.
Tribute bands also represented at McGarvey's in recent weeks…The "Halfway to Halloween" show in late April featured area Alice in Chains tribute Deny Your Maker and Type O Negative tribute Dead Again. Northern Cambria County's Deny Your Maker – singer Mike Davis, guitarists Bob Gray and Jeremy Ashurst, bassist Josh Yahner and drummer Damien Falatek – sounded strong as they mixed Alice In Chains favorites with several of the group's deeper and lesser-known tracks. The group generated momentum as they went through a stretch doing the numbers "Down in a Hole," "We Die Young," "Them Bones," "Dam That River" and "Rain When I Die"; and they ended strong with versions of "Man in the Box," "Rooster" and "Would?" Altoona's Dead Again followed with their "least worst" tribute to Type O Negative, successfully capturing that group's sound and aura with green lighting and backdrops. Singer Todd McKeone sounded excellent in the Peter Steele role, flanked by guitarists Chris Peters and Seth Rupert, bassist Eric Shumac, Alyssa Stevens Burgess on electronics and Randy Wilson on drums. Like Deny Your Maker, Dead Again also blended Type O's more popular material with several deep cuts. Opening with "I Don't Want to Be Me" and "Profit of Doom," Dead Again did convincing versions of "Love You to Death," "Wolf Moon," "My Girlfriend's Girlfriend," "Halloween in Heaven," "All Hallow's Eve," "Cinnamon Girl," "Black No. 1," "Christian Woman" and more…New York-based Slayer tribute Show No Mercy then made their first visit to McGarvey's last month, with Black Sun opening. Black Sun fractured Valhalla and awakened ancient gods with their mesmerizing merger of doom and thrash metal with progressive elements; highlighted by Todd McKeone's intense howls, Jason Feathers' scorching guitar solo displays, Jae Smith's sinister keyboard fills and embellishments, and the volatile rhythms from bassist Dave Mollica and drummer Nate Woods. Original numbers levied by Black Sun this night included "Under Mountain," "Thrall," "Gylfaginning," "Oskorei," "Perception" and more. Show No Mercy then showed no mercy as they unleased the fury that is Slayer's music. Four members strong, they captured Slayer's all-out velocity and intensity; doing such numbers as "Dead Skin Mask," "Outta Control," "War Ensemble," "Mandatory Suicide," "Postmortem," "Hell Awaits," "Angel of Death" and more.
Pittsburgh's Legendary Hucklebucks brought their high-powered rock'n'roll back to McGarvey's in late April. I arrived in time to catch the last two songs of local openers The Jaded Lips, and then witnessed Pittsburgh's Thirteen Bends. Featuring lead singer and upright bassist Nick Scuglia and guitarist Greg Brozak, plus guitarist Dave Fresch and drummer Brian Gault (both also members of the Hucklebucks), Thirteen Bends delivered a raucous blend of country and rockabilly. They mixed original songs with interesting covers – including rockabilly renderings of Billy Idol's "White Wedding" and Black Sabbath's "Electric Funeral." The Legendary Hucklebucks then did what they do best, unleashing rip-roaring, roots-driven rock'n'roll. Singer and harmonica man Ted Bundy brought the enthusiasm and craziness up front, flanked by bassist Uncle Piddles, guitarists Dave Fresch and Johnny Devil, and Brian Gault again behind the drum kit. The Hucklebucks introduced some new songs, and did several of their favorites off the "Hillbilly Death Wrock Vol. I" CD such as "3 Sheets," "Don't Feed the Rats" and "B-Movie." They also did uniquely feral treatments of numbers from Jerry Lee Lewis, George Jones, AC/DC and more.
Philipsburg's StoneMan celebrated the release of their debut CD, "Heartbreaks," before a full house early last month at the group's home venue, the LaunchPad. It would turn out being the venue's swan song, as owner (and StoneMan lead singer) Shawn Inlow announced days later that the venue was closing its doors due to financial difficulties. But StoneMan gave the LaunchPad a fun and rousing send-off with their brand of piano-driven, blues and jazz-tinged rock and roll. Positioned in different spots throughout the room, Shawn, singer and keyboardist Steve Dixon, guitarist Nick Miller, keyboardist Rich Horton and drummer Jason Sopic performed numerous songs off the CD, as well as an eclectic mix of covers. From the album they did "What's Good for You," "Parkland," "I Guess You Would Know," "Same Place/Different Time" and others. StoneMan's cover selection was fascinating, as they did versions of David Bowie's "Starman," Elton John's "Honky Cat," a two-piano rendition of Black Sabbath's "War Pigs," Marvin Gaye's "What's Going On," Steve Winwood's "Roll With It," their tour de force rendition of Pink Floyd's "Pigs (Three Different Ones)" and more. StoneMan's overall musicianship and versatility dazzled throughout the show, and Shawn engaged tables and audience members as he strolled and sang throughout the room. Hopefully StoneMan can soon find another venue to continue their live musical magic, and the LaunchPad's special décor and atmosphere for experiencing live music will be missed.
I caught up with Johnstown's Silver Screen as they rocked the house at Johnstown's Woodside Bar & Grill last month. The room was empty when the group first started, but it didn't stay that way, steadily filling up as they fired off their hard-rocking mix of numbers spanning the 1960s through 1990s. Singer Stephen Platt, guitarists Ben Ressler and Kody Ofsanko, bassist Robbi Rummell and drummer Austin Danel rocked with tunes from Kiss, Jimi Hendrix, Oasis, Jet, Red Hot Chili Peppers, Creed, Green Day, Weezer, Foo Fighters and more. Silver Screen also sprinkled in a few of their own originals, including the new song "Daydreaming." The group steadily got the growing crowd excited and cheering, setting up for the night's rowdy finale rendition of Rage Against the Machine's "Killing in the Name." Silver Screen opens for Puddle Of Mudd at Jergel's in Warrendale on June 2.
Altoona's Levity Brewing Company presented the duo of Eric Ian Farmer and Mary Ann Cleary in late April. It's always a pleasure experiencing Eric's pleasant and nuanced performance, from the delicate tones of his voice to the ways that he becomes a musical instrument himself. He and Mary Ann shared singing duties throughout the evening, mixing his originals with select cover material. Some of this night's highlights included Eric's rendition of Leonard Cohen's "Hallelujah," Mary Ann playing ukulele and singing Bob Marley's "No Woman No Cry" and her sing/clap-along rendition of Tracy Chapman's "Give Me One Reason," Eric's extended and powerful treatment of Otis Redding's "That's How Strong My Love Is," and the pair's rousing version of Bill Withers' "Lean On Me" to finish the night. After a few area shows early this month, Eric will spend much of June in Colorado.
Other performers I saw recently included the traveling "Human iPod," John Rush, as he entertained students with acoustic music and karaoke during the Spring Week Carnival in late April at Penn State Altoona…Also "Pletch-Vello" – the duo of singer and guitarist Matt Pletcher, and drummer and singer Randy Servello – in late April at Altoona's Greenbean Coffee House…90s Alive, the 1990s music alter ego of the Giants Of Science, at Altoona's 4D's Lounge…The last two songs of Avenue Of Kings' recent performance at McGarvey's…An unusual Felix & the Hurricanes weekly Sunday performance at Altoona's Black & Gold Tavern; lead Hurricane Felix had to leave the show midway through with a sudden medical issue (not severe), with Rogan Allen taking over Felix's guitar to finish the night…And a singer and guitarist named Zack, who was busking outside the entrance to Altoona's Gourmet Buffet (Chinese restaurant) one Saturday last month.
The area music scene was saddened by the passings of several musicians in recent weeks…Keith Little passed on May 2 after a battle with cancer. He was 58. Keith was involved with musical productions at Northern Bedford High School, where he taught science for 30 years. And Keith was a member of several area bands through the years, including playing keys with popular Cambria County rock band Retroactive, and more recently playing guitar and singing with the band Emberstitch…The western PA music scene was saddened by the passing of Joe Serian. The longtime lead singer for Punxsutawney/Indiana-based classic rockers Down to the Wire, Joe passed away on May 8 at age 70 after battling heart issues. Joe was known for his incredible, high-ranging voice and upbeat stage personality, and friends and colleagues recalled his abilities to sing Steve Perry-era Journey and the song that became a favorite of Down to the Wire performances, Head East's "Never Been Any Reason."…And longtime Altoona area musician John Alamprese – "Johnny Al" – passed away on May 17 at age 76. Johnny was a gifted singer, songwriter, multi-instrumentalist and composer who worked and performed on area stages, and took his musical craft to New York, Los Angeles, Florida and more. He released a 1991 cassette album with his studio group, Johnny Al, Kevin Bruce & the L.A. (Little Altoona) Street Band; that album, "For Adults Only," was recorded in Hollywood. Johnny used to be a frequent flyer during the popular Wednesday jam nights at the U.S. Hotel in Hollidaysburg during the late 1980s and early 90s…We at PA Musician share our heartfelt sympathies with the families, friends and colleagues of all three musicians.
News and notes…Images Of Eden was handed bad news last month when they were separated from W.A.S.P.'s European concert tour after opening shows in Norway and Sweden. The reason behind the development was not revealed; the group said it is now a legal matter and they cannot comment on it. The group has since returned to the United States and is working on new music toward their next album…The 10th annual Wam Bam Mountain Jam will take place outside Port Matilda on July 1; performers include the Chris Bell Duo, Forrester Grey, Luke Cimbala, Homegrown, Daystruck, Goatsmoker, JR Mangan Band, Caledonia, Donny Burns & the 3rd Degree, Broken Fayth, Sidewinder and The Roof. Admission is free, and all ages are welcome…The Pennsylvania Heritage Songwriting Contest (PHSC) announced the winners for their 15th annual contest for songs themed around Pennsylvania, its people, places and history. Former Huntingdon area musician now based in Nashville, Doug Forshey took first place with his song "Walter Main's Circus Train." Jim Moore from Norristown captured second place with his song "Gettysburg Snow," and Jason Bolinger of Nicktown placed third for his song creation "Belsano Job." The winners receive cash prizes plus the opportunity to perform their songs during the 2023 Smoked Country Jam Bluegrass Festival at Quiet Oaks Campground near Cross Fork June 15-17…State College favorites Pure Cane Sugar announced that after nearly 20 years, they will be stepping away from steady live performing; the group will continue to play out their regular performance schedule through July, and then will limit their live performing to special performances from time to time…Area country performer Zac Grace will be one of the local openers during Bret Michaels' Party Gras event tour stop on August 26 at the Hollywood Casino in Grantville…And Johnstown-based rock band Orange Fire recently added Reggie Heffner as their new female lead singer.
Please send correspondence and recordings to: Jim Price, 1104 S. Catherine St., Altoona, PA 16602. You can also e-mail me at jptheprofessor@gmail.com. And if you're into social networking, look me up on Facebook. SUPPORT LOCAL MUSIC!