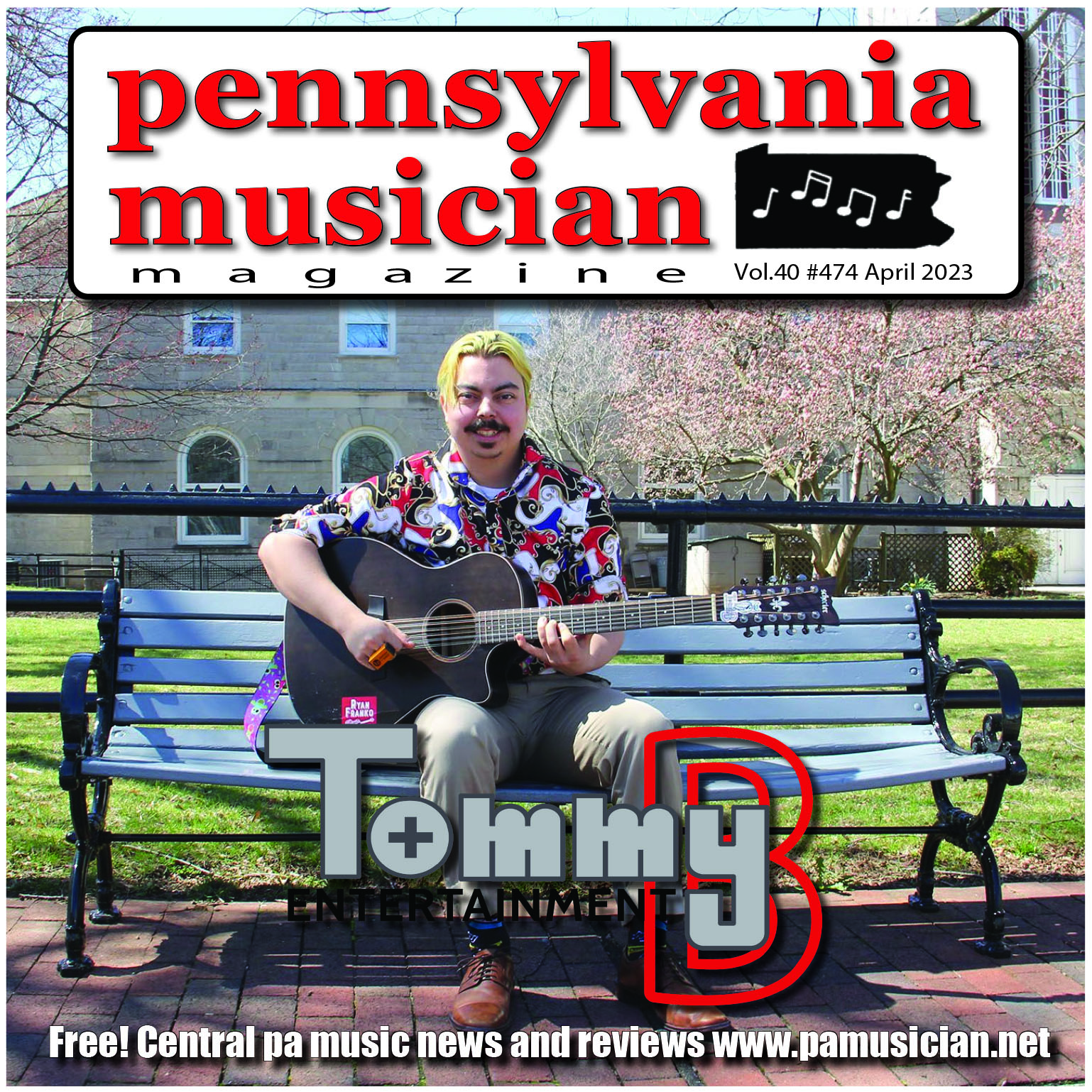 ---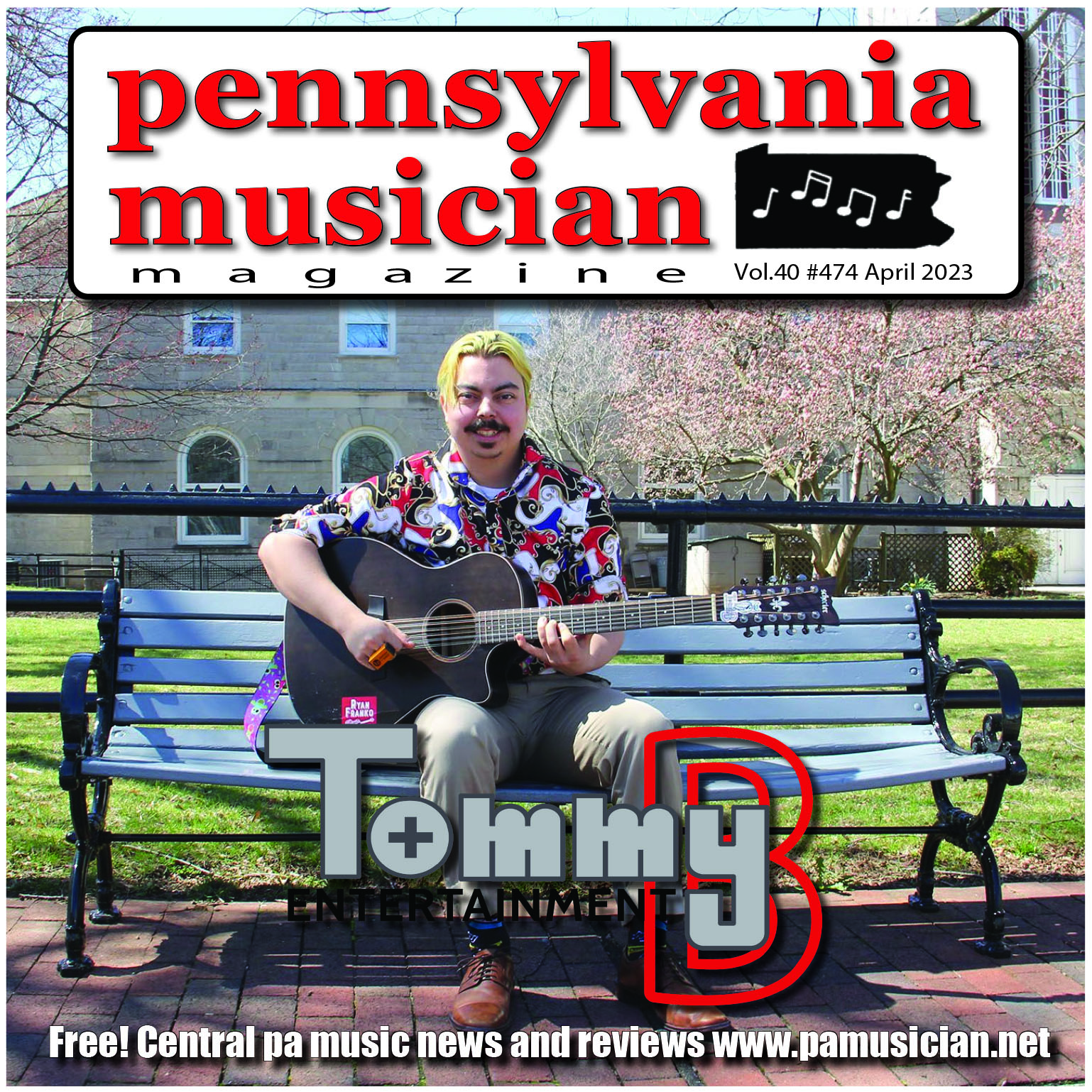 He's Baaaacckk! Yes, you're right, Tommy was on our cover exactly one year ago, how could you possibly forget that beautiful face! Tommy decided to get back on the cover to tell us about how he did meeting his goals of 2022, and how he's hopefully going to crush his goals again in 2023!
Tommy B started playing guitar in 2008, but didn't start playing out in front of the public until January of 2021. Tommy wasn't really expecting much that first year, but before he knew it, he wound up playing 53 shows! He wasn't even really "ready" to start playing his own shows, but one night he decided to stop in to the Shermans Creek Inn for Colby Dove's open mic, Tommy played 3 songs, and he was hooked! Before he knew it, Troy, from the Shermans Creek Inn was booking him for his 1st show! In 2022, he was all about his "Road to 100 Tour" and I'm thrilled to say he made it, with a whoppin' 103 shows played in 2022. It's still hard for him to believe, but in 2023, he already has 124 shows booked, and the year isn't over yet! His goals are a little different for 2023; this year he is aiming to release 3 albums and make $20k, just with his music and merch! So far he feels he's on the right trajectory. You can help him reach his goal, you can give him a call to get him booked at your venue or private party, 717-462-1300, or even better yet, when you see him out playing a show, throw a couple bucks in his tip jar or pick up some merch or even an album!
That's right, he's already a third of the way to meeting his 3 album goal! Back on February 27th, he released his first six song EP, "B1". In just a little over a month, the response from his first album is way more than he expected. Not only is he selling a bunch of physical copies but people are also streaming it online like crazy! His 2nd Album, "B2" is well on it's way to completion, some recording has already been done, and he's hoping to have it ready for release in June. His good friend, Jake Hebert co-wrote one song on this EP, called "Dream", the chorus of the song is "Dream like you'll never die…" Tommy B says it is by far the best song he's ever created, and he can't wait for the world to hear it! Once "B2" is complete, no need to fear, songs have already been written, recorded and plans have already been made for his third album, "Where's Fluffy?". If everything goes according to plan, Tommy B should have no problem meeting his goals for 2023. Tommy has been recording all of his music at Shaw Ranch Studios with the expert skill and guidance of Steve Shaw. Tommy had some additional help on his upcoming album: Megan Paullet and Alexia Christian have added some vocals, Eric Rider was ripping away on the guitar, and Colby Dove has been slapping that bass! Even a few non musician friends made special appearances on the album. He's so grateful for all of his friends that have been helping and supporting him in every way possible. He definitely couldn't do this alone.
As an added bonus, Tommy has also been working on creating some videos with the help of Cody Myers of Myers Media. They all just got back from an epic bus trip to Kutztown where they performed a show. Cody was along for the ride and got all kinds of great footage. Keep your eye out on Tommy B's facebook page for the video releases.
If you've never had the privilege of seeing Tommy B perform, he could easily be classified as a solo act that sounds like a trio; He plays on a 12-String guitar, while sitting on a cajon, that he plays with a kick pedal, but it's also attached to an effects pedal, so he has a cowbell and a cymbal he can also play with his feet! Meanwhile, he also has special effects on his voice, and he has a looper pedal! There is so much happening all at once, it's overwhelming to watch, I can't imagine trying to play it all, and sing at the same time! Those were the only instruments I saw, but I'm also told he can play the ukulele, bass, omnichord and keyboard. He also plays a large variety of songs and he has an amazing range. He plays everything from Violent Femmes, to Pat Benetar, John Denver, Duran Duran, and even some Sweet Dreams made even sweeter on the looper machine. Tommy has been getting a great response from everywhere he plays.
I know I've talked a lot about Tommy's originals, but he also plays quite a bit of cover music, but he does sneak in a few originals every chance he gets. Tommy considers himself a "selfish" player. He really focuses on songs he loves playing, and he'll do requests when people demand it, but for the most part he likes to stick with his setlist. Even though he considers his setlist a selfish endeavor, he's continually amazed by people that walk up to him after a set and tell him about how much his songs mean to them. Music touches people's souls. The music acts as a catalyst sometimes creating amazing life moments, and if even just for a minute Tommy can help someone reminisce of that special moment in their life, then his purpose is fulfilled.
Being a musician takes up tons of time and energy, and Tommy B wouldn't be able to do what he does without the amazing support from his Girlfriend, Parents, his beautiful Daughter (she is his #1 cheerleader!), all of his friends, and very importantly his fans. He has an overwhelming debt of gratitude to everyone. One person in particular to thank is Troy from Shermans Creek Inn. If it wasn't for giving musicians a place to show off their talent, Tommy might've never got up on stage!
Tommy does have quite a few shows coming up, you can check out his full schedule, and even listen to some music at www.tommybentertainment.com. If you'd like to get Tommy B scheduled at your venue or private party and help him reach his goals, you can give him a call at 717-462-1300, or email: tommybentertainmentandmusic@gmail.com, or you could always send a Messenger Owl!