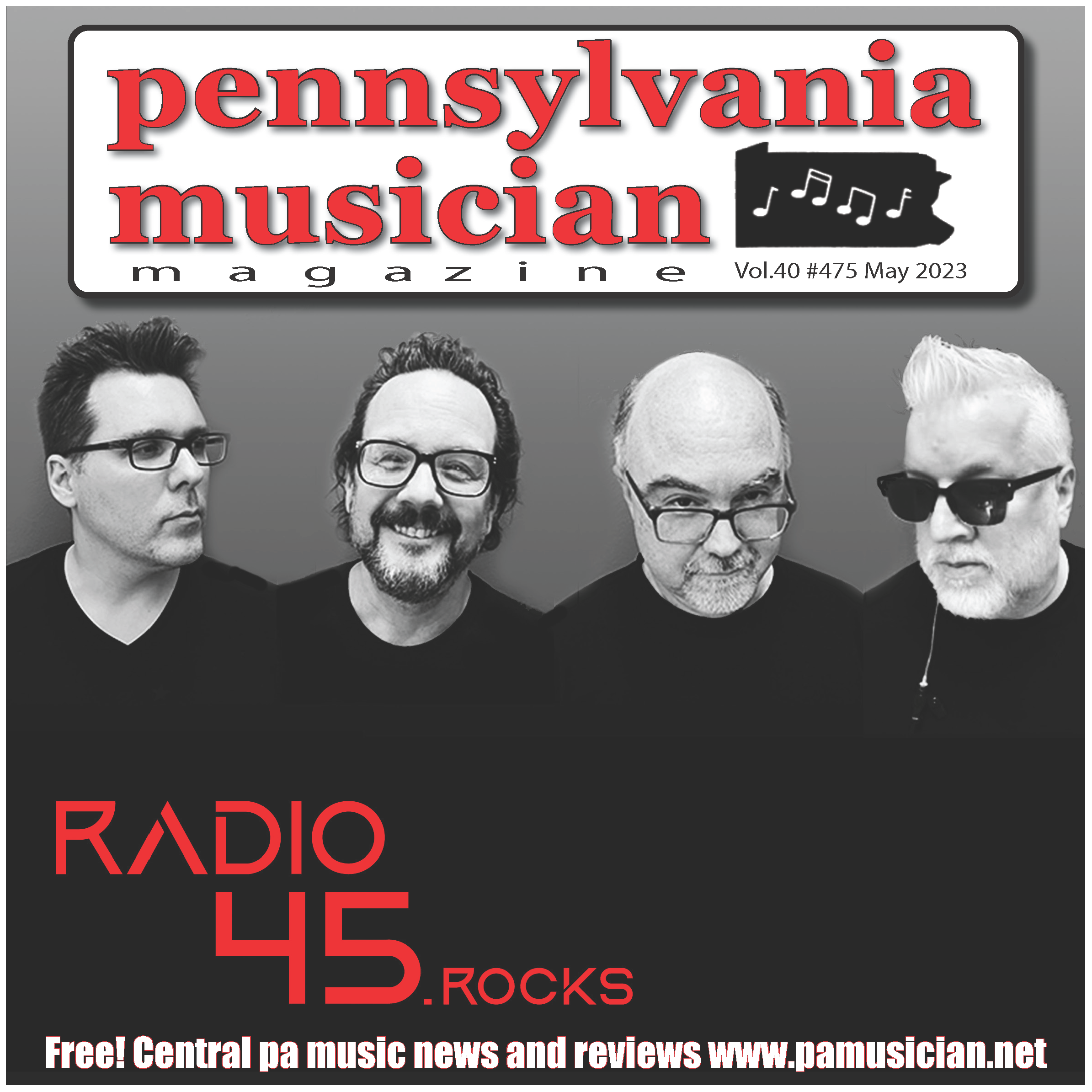 Radio 45 on the Cover of PA Musician
---
When you hear the band name 'Radio 45,' you might think back to an era when radio played 45 rpm vinyl records, which – once upon a time – were the main format by which hit songs were consumed by the masses. In a current age where listeners can access potential hit songs through multiple streaming and online outlets, social media platforms like Tik-Tok, YouTube, Vevo, and other avenues – how does a band or artist navigate the waters to get quality music out to listeners and potential fans, and earn a living doing so? 
Based in Pittsburgh, Radio 45 takes a scientific and calculated approach toward accomplishing this.
Before we go on, a little background…All seasoned musicians of the western and west-central PA music scene, the four members of Radio 45 – multi-instrumentalist and singer C. Scott "Scotto" Gilbert, lead singer and lead guitarist Aaron "Double-A" Greer, lead singer and guitarist Gary Bickerstaff, and drummer, percussionist and singer Mark Wesesky – had interacted with each other through previous band projects. Aaron and Scott worked together in the Aaron Greer Band, which gained notoriety in Christian music circles with their 2008 album "Agents Of Change" and their update of U2's "I Will Follow." Mark and Scott worked together during their college days at Clarion University in the band Mainstream. The group's latest addition, Gary, worked with Scott during the 1980s in the band Ten Till Destiny.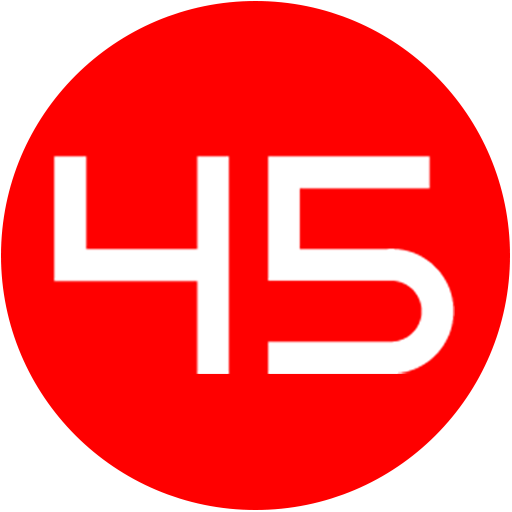 When these four musicians converged to form Radio 45, they decided to do things a little differently than your conventional band set-up. They concentrated on music first, and generating a portfolio of the best songs they could assemble and record – including their own creations, plus working with songwriters in Nashville and Los Angeles to license the very best songs they could get their hands on.
According to Scott, "The immediate focus is to create and record great music that we can use to build a stream portfolio. We want to record 50 songs between now and 2030, and we want each song to be special, reflective of our influences and who we are. And we hope they're songs that people will really enjoy and will have legs in that they'll last for decades to come in the future."
Mark added, "It's definitely a different mentality from bands saying 'We just formed together and we're going to play in bars and then we're going to learn songs and then we're going to try to release them and maybe hope they do something'…This is like throwing all those rulebooks out the window. Well, has anybody ever done this? I never really approached music like this before. We're interpreters, we're also the performers, but we're also going to do our own thing and yet pay tribute to what was on that demo and make it our own. It's definitely a different mindset."
In describing their overall sound, the members of Radio 45 call their endeavor a work in progress, as they develop their own identity while navigating the waters of a changing music industry to figure out where they stand, and how best to succeed.
"The internet has changed the way that music is produced and consumed, and we're trying to figure out where our place in that new architecture is," said Scott. "Streaming is here to stay, and for artists and musicians like ourselves, it's hard to make money from streaming – Apple and Spotify pay half a cent per stream. So we're trying to figure out how to best play in that arena and move forward as an artistic, creative unit and be able to support ourselves at the same time."
Radio 45's music is rooted in the members' influences, spanning 1960s hitmakers like the Beatles and the Monkees to 1970s arena rock favorites like Kiss and Cheap Trick, but channeling those influences through a modern rock/pop lens into something fresh and contemporary. According to Gary, "If I had to call it something, I think I'd call it modern rock. I think it's got a real, cutting-edge sound, but at the same time it's kind of informed by all of our influences, which are decidedly not modern – like Kiss and Cheap Trick and the Beatles."
Aaron added, "I'm a fan of music that's accessible to an average listener. And that's what I do like about our songs, that there is a little something there that is familiar and accessible for everybody…The songs we've been recording have a newness about them; they are original songs. I appreciate hearing music that's brand new that I can also put a reference to."
One of Radio 45's first song creations, recently issued before the start of the warm weather season, is "Feels Like Summer," a catchy piece of power pop where thoughts of a special woman's kiss trigger reflections about warm weather and fun times. Joining Radio 45 on this recording are studio guests Danny Sharrow on backing vocals and Mark Matthews on piano. The song can be heard on the group's website, radio45.net, as well as on multiple streaming services like Spotify, Apple Music, iTunes, Amazon and more.
Early reaction to "Feels Like Summer" has been favorable. Mike Hand of Virgin EMI Records said, "'Feels Like Summer' is a sweet little smash of a tune, and can't wait to hear more of what Radio 45 have in store!" According to another listener, "I could easily see this song being part of an all-American rom-com movie soundtrack."
At present, Radio 45 is issuing their music as single songs, given the current music industry trend of being a singles-driven market. According to Scott, an EP is in the works. The group's current game plan is to release small batches of songs to see what they will do.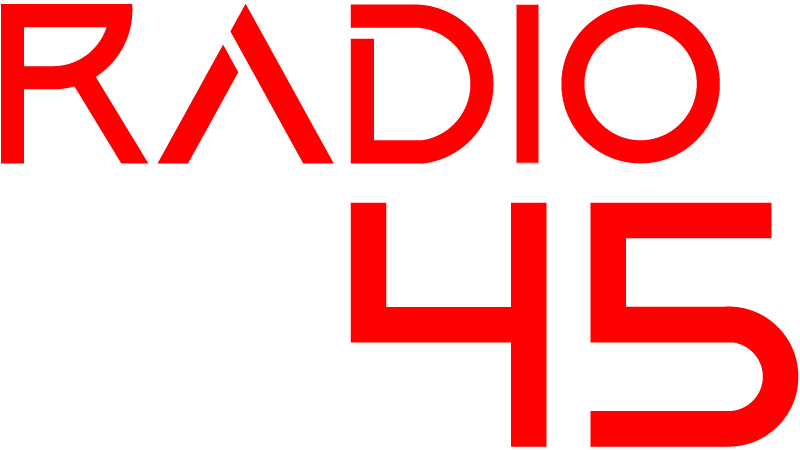 And that's where the "science" comes in…Radio 45 takes an analytical approach to their music and how it is received. They are very interested in listener feedback to their song material to determine what is and is not working, and they study the numbers to determine their songs' success. According to Scott, "How do you know if someone likes your music? There are bands out there that say, 'Hey, we know what you want to hear.' We don't know what people want to hear. We know what we think they might like, and we'll create that music and put it out there. But we will measure very carefully what people like, what they don't like in our music. And we have the tools to be able to do this pretty accurately. So if you're listening to one of our songs, and you like it or you don't like it, let us know on social media. We're watching, we're listening, and we'll be glad to take that feedback and act on it when we're able."
Besides generating songs, Radio 45 also performs them live, and has developed an efficient yet potent stage performance. In describing their performance, Mark said, "It's practiced, it's all together…we pack as much as we can and give the people what they want." During their show, Radio 45 takes their strongest song material and delivers it with enthusiasm, giving the audience just enough to make them want more.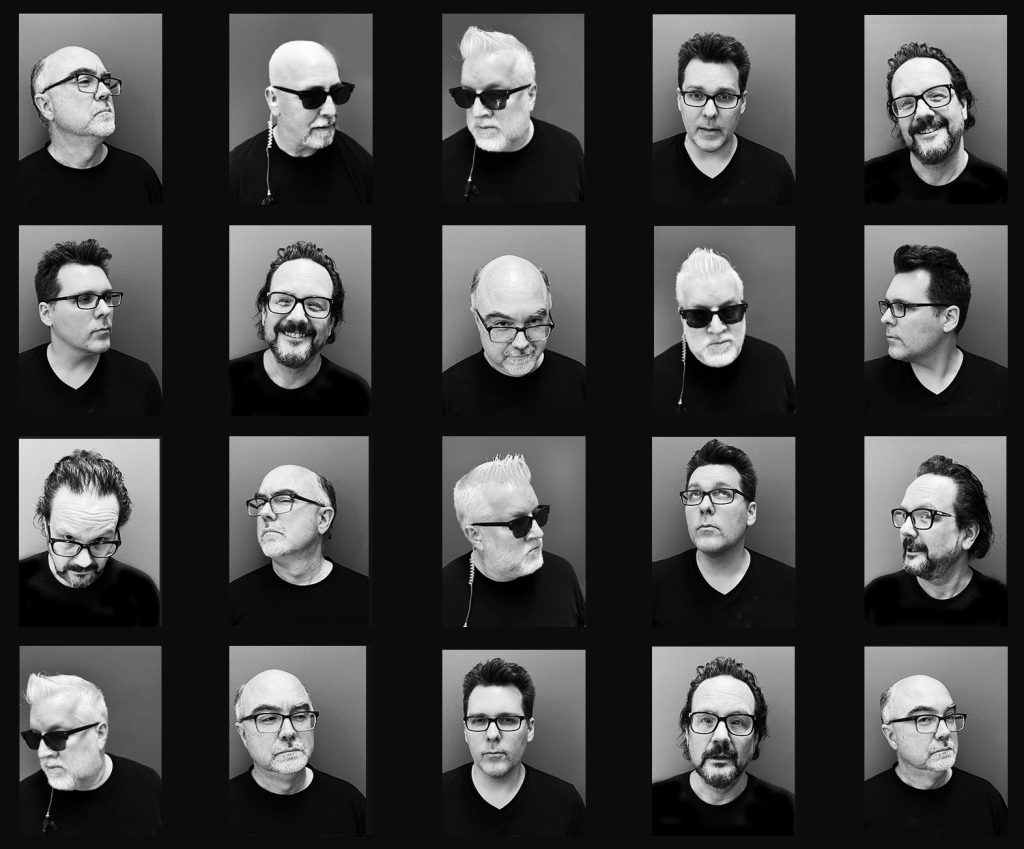 The group usually performs as an opener for interesting bands that people want to see, including touring acts and tribute shows. Several of their performances thus far have happened at Pittsburgh's Hard Rock Café on Station Square. According to Gary, "We really want people to be pleasantly surprised when they come to see the headlining act they were going to see, and when they see Radio 45 open they come away thinking they were really good, and they were surprised. That's the feedback we have been getting so far, the 'I didn't expect that, that was really good.'"
Radio 45 will be a frequent flyer at Hard Rock Café in the coming weeks – opening for Pitt Floyd (Pink Floyd tribute) on June 3, Texas blues-rock performer Chris Duarte on June 7, and The Crystal Ship (Doors tribute) on June 30. They also will open for Meet Loaf (Meatloaf tribute) at Jergel's Rhythm Grille in Warrendale on July 21.
The journey has been fun for Radio 45 so far. The group has established a strong chemistry both as music creators and onstage performers. Their goals and mission are different from their past projects, and they are excited about the future and its possibilities.
Give Radio 45 a listen, and come see them live. According to Scott, "We're here for you. We hope you like what we do. Give us a listen, give us some feedback. We're listening, and we hope we produce something that you like."