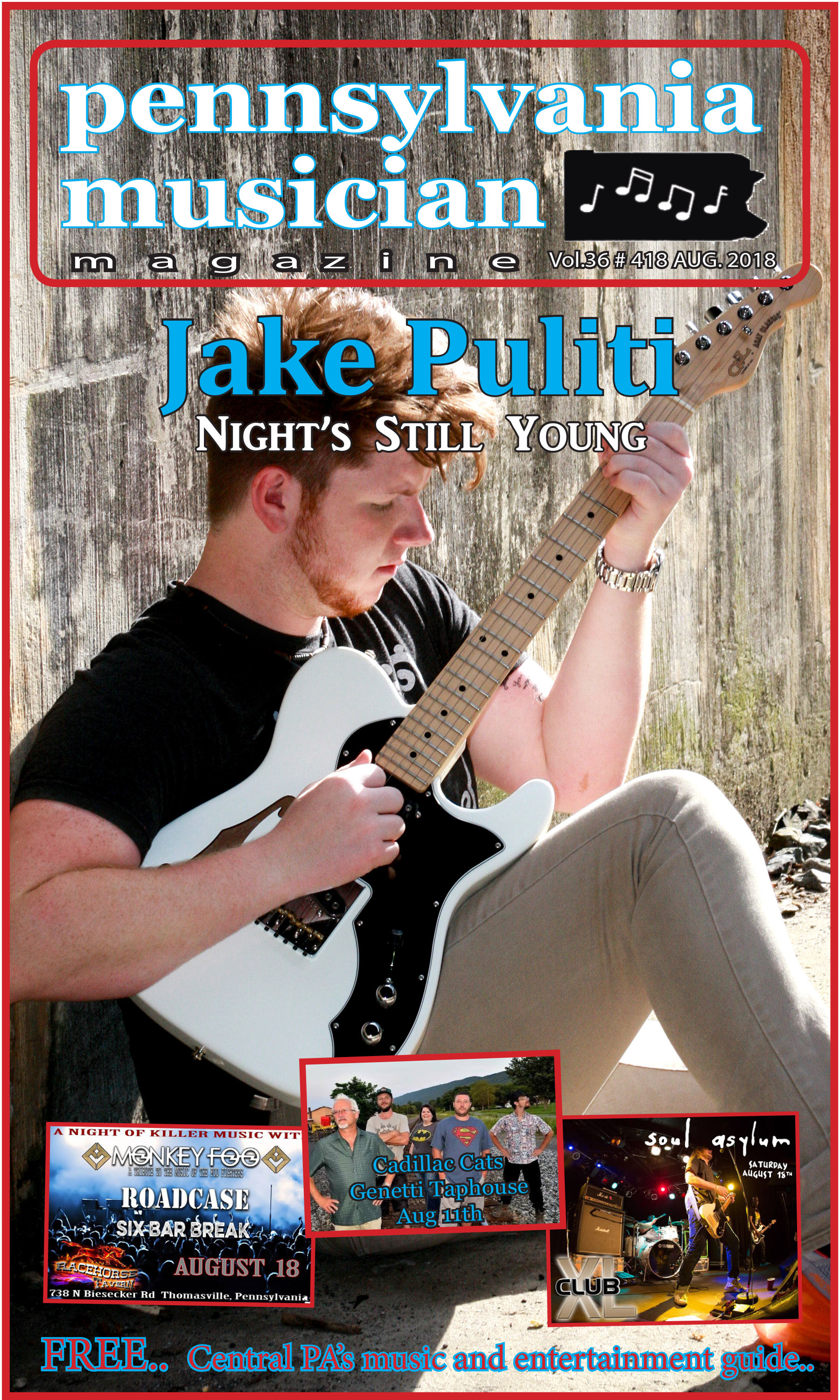 ---
Jake Puliti…
Bringing the Party Back to the Dance Floor!
By: Rachel Rocks
We all love the 80's, and Jake Puliti is making sure they have the comeback they truly deserve. His style, charisma, and his music all scream 80's. When I asked Jake how he described his genre of music, his first response was "Tie-Dye," his music is a melting pot of all genres of music and it really depends on his exact mood and how he's feeling when he starts writing a song. He loves how music is so versatile and can constantly go in all different directions.
Even though Jake grew up surrounded by music, it's hard to believe he only picked up a guitar 2 years ago. One day he was playing around on a guitar and his Mom challenged him to learn how to play Stevie Ray Vaughan's "Pride and Joy". Even though he hasn't mastered the master himself, he has learned quite a few songs, and he immediately started writing his own originals. Just like his music has quite an array of musicians that inspire him ranging from Ed Sheeran to Frank Sinatra to the Red Hot Chili Peppers and beyond. Jake currently plays acoustic shows throughout the midstate and beyond, but his true dream is to not only be a full time musician, but he wants to have a full band where he can be the front man and jump around and go crazy like Anthony Keidis from the Red Hot Chili Peppers.
He's definitely on the right path, on May 3rd of this year he just released his first original, "Dirty on the Dance Floor" on Spotify and all of the other music platforms, his goal was 500 streams in the first 3 months, but he managed to have 5,000 streams in the first month! It's awesome how he can see where people are listening to his music, not only locally but all over the world! Jake recorded his song at Rock Mill Studio with the assistance of Mitch Hood and Logan Summey. It was an amazing experience, and he's extremely happy with how the song turned out. "Dirty on the Dance Floor" is a very catchy song with a true retro 80s vibe. Jake's voice is smooth yet gritty at times and it instantly draws you in and easily gets you up and dancing on the dance floor. I've heard the full rocking version of "Dirty on the Dance Floor" on Spotify, but I've also heard his acoustic version while he was playing at Arooga's. Jake is not your typical acoustic musician who sits quietly in the corner and strums his guitar, there are some songs he truly lets loose and rocks out in a full band style. It's hard to believe there is only one guy up there. Jake is also not afraid to take requests when he's playing, he wants to make sure anyone listening to him is having a great time and is enjoying what they are listening to. He also plays a lot of sing-a-long songs, and it really makes his night when people are singing along and having a good time. He really feels like we need a lot more "fun" in this world, and he makes his contribution at every show! Jake is getting ready to release a new song, "Night's Still Young" that was also recorded at Rock Mill Studio. He's currently working on creating a music video to go along with this release. He played a little snippet during the interview, and I gotta say, I'm excited!!
Seeing and talking to Jake is very refreshing, yes, he might be one of those "millennials" but his focus and vision is intense, I asked him where he gets his drive from, and even tho he has amazing parents that have taught him a lot, he credits a lot of it to a YouTube video where Steve Harvey talks about the need to Jump. When you are standing on the cliff watching everyone else soar on by, all you have to do is Jump! Steve explained in the video that there will be bumps and bruises along the way, but you will never soar if you don't jump. Jake decided from that moment on it was time to jump, and put himself out there, and he is definitely soaring! Music is Jake's life and he's definitely found his natural gift! Since playing music isn't enough Jake and his friends are opening their own recording studio and label called Chicken Coop Records. They are currently transforming an old chicken coop/barn into a recording studio. He currently uses it as his own peaceful place to sit and write, but eventually they will be opening up to other musicians to record too. It sounds a little shady, but he showed me some pictures, and they are going all out and turning this chicken coop into an amazing place to record, high on the ills in Lewisberry.
You can currently catch Jake playing on a regular rotation at the different Arooga's in the area, and at Nick's in New Cumberland. He also has random gigs at other places, and he plays private House Parties, weddings, etc. Wherever anyone wants music he is ready and willing to play! If you want to get Jake booked at your venue or private event you can email him at mfjpuliti@gmail.com. You can also check out Jake's ad in this issue to see where and when he'll be playing near you!
Jake wanted to thank all of his family and friends for all of their support. Being a musician takes an army and he has a strong one! On a little side note, I do believe that Jake being on the cover is the first 2nd generation cover. His Dad was on the cover with his old band, SOS, and now the musical torch has been passed to Jake. It's pretty awesome as the next generation takes the helm of the magazine, the next generation takes the helm of the cover too! Music is definitely something that will last throughout all generations, and we are glad we can give people the platform to share their music with anyone who will listen.
You can follow Jake on all social media platforms: Facebook, Spotify, Instagram @gingerspicelatte, etc… And just in case you were wondering, the secret to his awesome hair is just a touch of salt water to help make it wavey and fabulous…