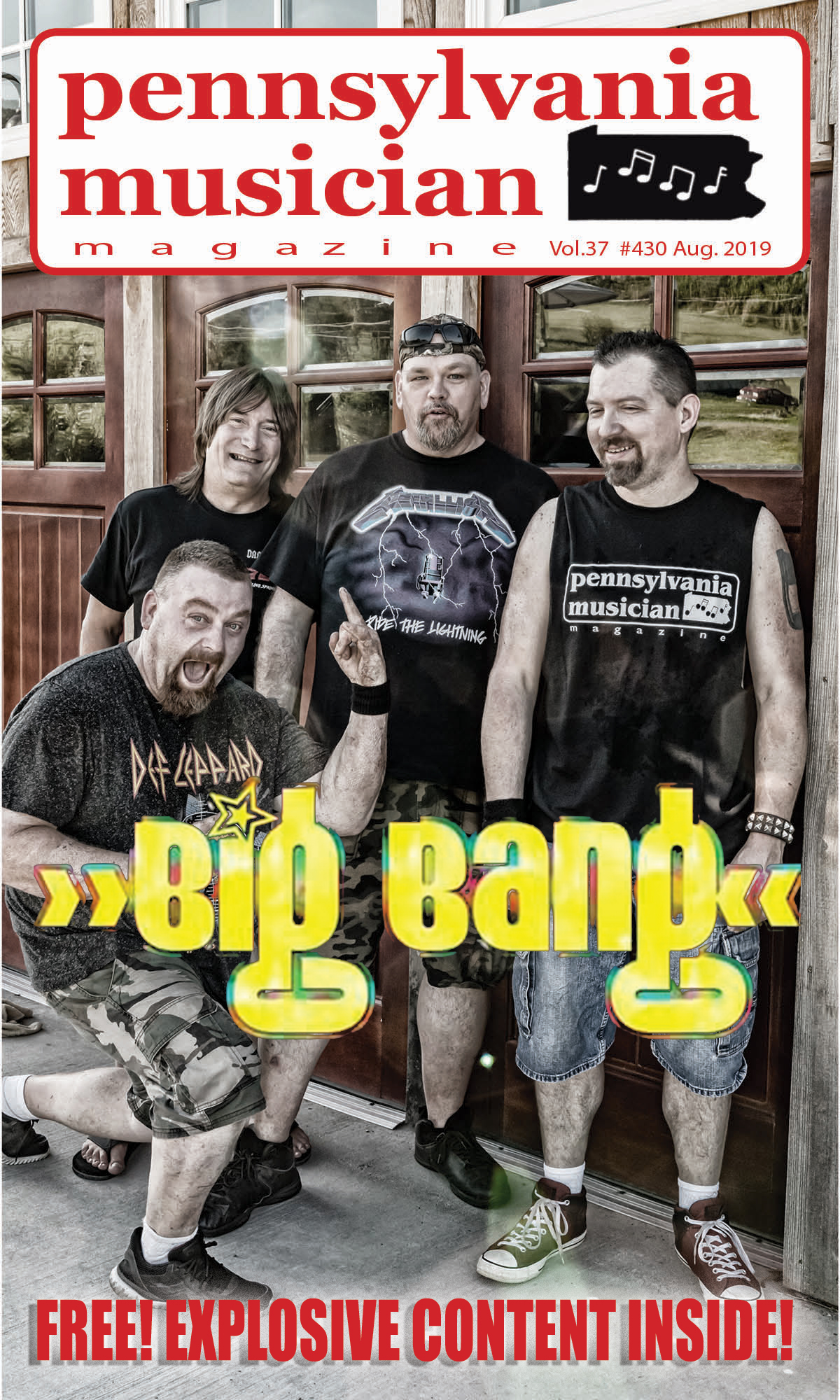 ---
If you like 80's Rock music, you will like this month's featured band, Big Bang! Big Bang is a four-piece band from Central PA that really likes to party and have a good time. It was a bit difficult to get these guys to stand still to answer a few questions for our interview before they hit the stage at Juniata Valley Winery in Mifflin. They were running around doing all the pre-show preparations and were getting pumped to get the party started for their fans. When I asked drummer Harry to describe the band, he stated "We are just four good ole boys playing rock-n-roll. We strive to put on a great show every weekend to the hardcore weekend warriors who continuously come out and support local music".
Members of the band include Jimmy Leaman: Vocals, Todd Smith: Guitar, James Foltz: Bass, Harry Bleyer: Drums. All four of these guys have been performing for years in various bands. Jimmy, was in the band Gash, Todd was in Siogo, James in The Remnants and Harry was in the band Wiskerbisket.
In the 3 years they have been playing together they have only had one change in their lineup. When they first started playing as the Big Bang band, they were playing cover songs from the 80's and 90's but found that their fans really enjoyed the 80's Rock cover songs, so they gave their fans what they wanted and stuck with the 80's Rock covers. The band is full of energy on stage and bass player James came out to the crowd several times during their performance at Juniata Valley Winery to get everyone engaged. They are always open to song requests and did a good job covering one of my requests from the band KISS. At one point they covered the song Zombie but in a bit of a Slayer style.
When asked what songs they themselves like to perform, it was unanimous as they all agreed on Metallica and doing any kind of mashups of different songs. They did a good mash up of "My Sharona", "Anyway you want it " and "You May be Right." Another one performed was "Stacy's Mom" mashed with "Jesse's Girl" and others including songs by Pat Benatar, Bon Jovi and Joan Jett.
Catching one of Big Bang's shows should not be a hard task to accomplish since these guys seem to be playing out every weekend around Central PA. Upcoming events include a show with Hybrid Ice at Buddy Boy Winery in Duncannon on August 10th. Big Bang will kick things off at 6pm and it is sure to be a rockin' good time. August 17th they will be at Port Royal Lions Club for their Fish & Shrimp Bash. It looks like a great line-up there as well. including our good friend Ed Varner. Big Bang will be closing the night and will hit the stage at 6:30. This is B.Y.O.B. and rain or shine event, Ticket can be purchased in advance through their Facebook page. Last but not least for August, Big Bang will be playing Riverbilly's Grill and Bar in Huntington on August 24th. For more information on upcoming shows or to book this band, email harrybleyer19@gmail.com or find them on Facebook @bigbangpa.
A special thank you goes out to George and Coleen Hazzard and their wonderful crew at Juniata Valley Winery for having us and for supporting LIVE music every weekend! They also have Wilson House Bed and Breakfast which is a really cool 19th century stone house. If you haven't made it out there yet, please make it a point! It is a gorgeous country drive to their beautiful place with an outdoor stage, firepits and lighted trees. So, go listen to some live music and book a room to stay overnight for a nice little getaway. Juniata Valley Winery always does a great job hosting live music! Check out their Facebook page @JuniataValleyWineryWilsonHouseBedBreakfast. Thank you guys for having us and see you again soon!