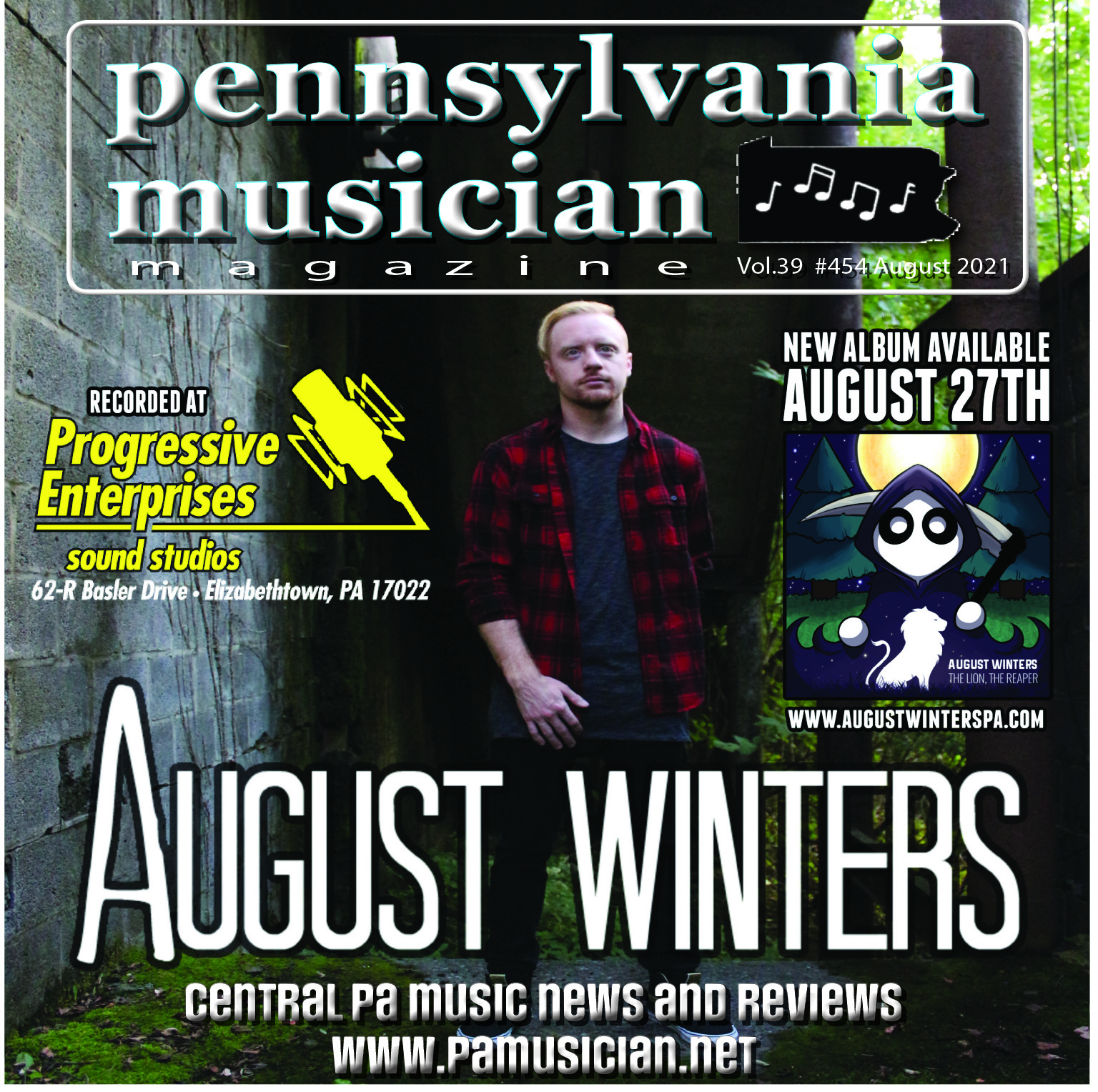 ---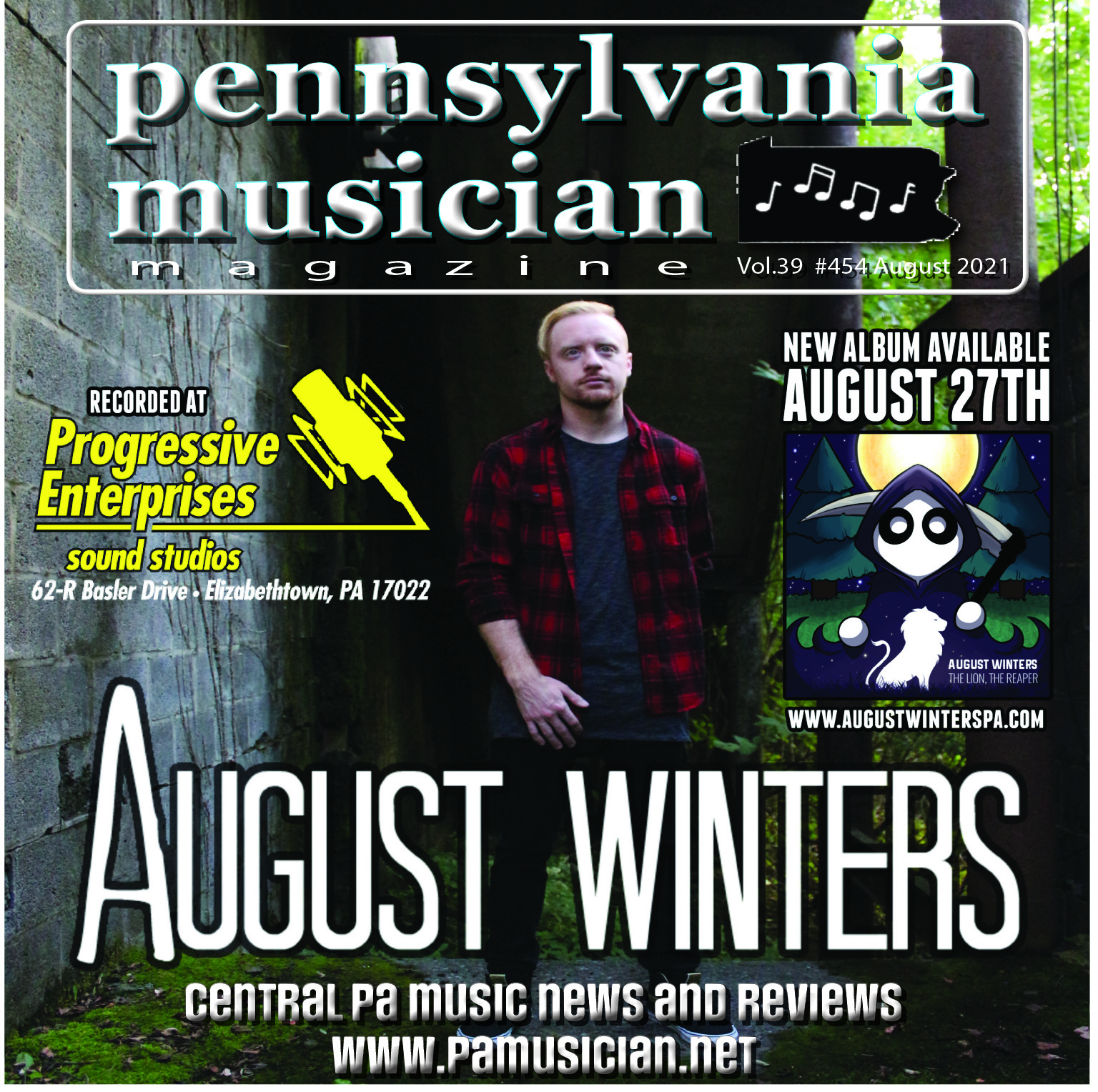 NEW CD "THE LION THE REAPER"
By Jim Price
The music project alter ego of State College-based musician Drew Zimmerman, August Winters is set to release a new full-length album, "The Lion The Reaper," on August 27.
Drew took up interest in music during his teen years, first influenced by a middle-school music teacher and his grandmother, a classical pianist. But hearing Green Day's pivotal 1994 album "Dookie" attracted Drew into the world of punk rock, and he began to hone his initial style of punk and pop-punk rock.
After some initial bands fell apart as members left to get married and start families, Drew decided upon his project's name, August Winters, which could work as both a solo stage persona and a band name. A first recording, called "The EP," was issued in 2015; Drew described August Winters' style at that point as "The Warped Tour meets The Killers, and they had a brainchild together." He continued to present August Winters on stage as both a solo endeavor and a full band involving various musicians he had known and worked with. Drew also became involved with a working cover band in the State College scene called SouthPaw, which he currently performs with regularly.
On "The Lion The Reaper," Drew takes his punk/pop-punk foundation and expands from it, resulting in a more diverse mixture of modern rock flavors. Establishing a pop-punk rock-rooted foundation, the album's title song, "The Lion The Reaper," was inspired by a dark moment in Drew's life, as he witnessed his grandfather –described by Drew as a "fighter" throughout his life – slowed and eventually claimed by illness, and Drew envisioning a reaper standing alongside and waiting for him to say "I'm done." Other song creations on the new album include the depression-themed "Life and Times of a Salesman," which Drew describes as leaning toward a Linkin Park rap-meets-rock direction; and the incendiary "MMXX," which Drew calls a "new age Rage Against the Machine" sound. Also on the album are "A Tale of Two Trees," inspired by a Pittsburgh band called Twin Trees, and "Ghost" – inspired by the mascot ghost image that Drew created for the first EP – which gives meaning to the mascot as the song ponders somebody who feels overlooked in life.
As you might surmise, Drew is not afraid to push into darker themes with his music. According to Drew, "I tend to be the guy that will push the boundary a little bit…I'll pick the stuff that nobody wants to talk about." But Drew adds that he tempers his lyrical themes with hope, and he hopes that his music will help listeners who might be dealing with situations similar to what he describes in his lyrics.
The initial demos for "The Lion The Reaper" were recorded by Drew and Brandon Deamer (who helped to mix and record, plus contribute drums on several of the album's songs). Final recording, mixing and editing took place at Progressive Enterprises Sound Studios in Elizabethtown – where the first EP was recorded – with owner and engineer Joe Trojcak at the helm. A former student of Joe's from his music business and internet classes at Harrisburg Area Community College, Drew praised Joe's studio and its relaxed environment, which made it easy to concentrate on the music without distraction. Drew added, "I've never heard a drum kit sound so good in any studio space that I've worked in before…I always do all my recording there."
Likewise, Joe expressed kind words for his former pupil and the recording process, especially Drew's preparation and attention to pre-production, which allowed him to quickly get to work once he arrived. According to Joe, "He knew exactly what to do, and what parts of the room to get the best results."
About the music on August Winters' finished product, Joe said, "It is a lot of very raw energy…There's a definite, solid feel to it." He added that Drew's songs "have attitude…They're great to listen to."
Several musicians helped Drew's songs reach fruition, including Drew's SouthPaw bandmate Austin Weaver and Dumm's Brandon Deamer (formerly with SouthPaw) on drums, Jake Marquardt on bass, Bear Ketchum and Velveeta's Adam Becker on guitars, Coty Stinson on backing vocals (and choruses on "Life and Times of a Salesman"), and Joe Trojcak, who contributed piano on several tracks.
Response for two of the new songs has been promising so far. After the album's title track "The Lion The Reaper" was released early this year on Spotify (with corresponding video on YouTube), response was strong on both Spotify and Facebook. More recently, the song and video for "MMXX" were released; the video achieved 31,000 views on YouTube during its first week, while the song doubled the response that "The Lion The Reaper" achieved on Spotify. Drew said that the online marketing campaign will intensify as the release date for the album approaches.
Once released, the album will be available through August Winters' website, www.augustwinterspa.com, as well as through online platforms such as Amazon, iTunes, Spotify, Google Play and others.
As a live performing entity, Drew has a primary goal with audiences when August Winters hits the stage, whether solo or as a band. "The biggest goal I've always had with a crowd is…I want them to be engaged," said Drew. "I want them to feel like they're right dead in front of me and I want them to enjoy themselves."
Live performances are being booked to help promote the new album. August Winters' official album-release show will happen on Friday, September 3 at Drew's home venue, The Phyrst in State College (where SouthPaw performs every Monday night). The group will then open for national recording group Bowling For Soup at the Harrisburg Midtown Arts Center (HMAC) on Thursday, September 23. Watch for more shows on August Winters' Facebook page or on their website.
Drew does not have a long-term goal for August Winters; staying creative and getting his music out there remains his ongoing objective. "I like playing music, I like writing my music," Drew said. "I want to put music out that I enjoy, and I think everyone else will enjoy…If it goes somewhere, great; if not, at the end of my life, I can look back, and I won't regret having ideas and not getting to record them." Drew added that he feels passionate for the music he creates, and wants to share that music with listeners.
Drew thanks a number of people behind the scenes who have helped with his musical endeavor – including his fiancée Kenzie, who does photography and videography, handles merchandise, helps with the website, design and inventory. Drew also thanks all the musicians who helped out on the new album, as well as Jordan Krepps, the late Aaron Bossinger, Johnny Baker, Michelle Meyer, the interns who helped him, his mother, and his recording mentor, Joe Trojcak. Drew added, "Go to Joe's studio."
Drew is thankful for the support he has received in his musical journey so far…"I appreciate every single person that comes out and wants to even take five minutes to listen to a song that I wrote."