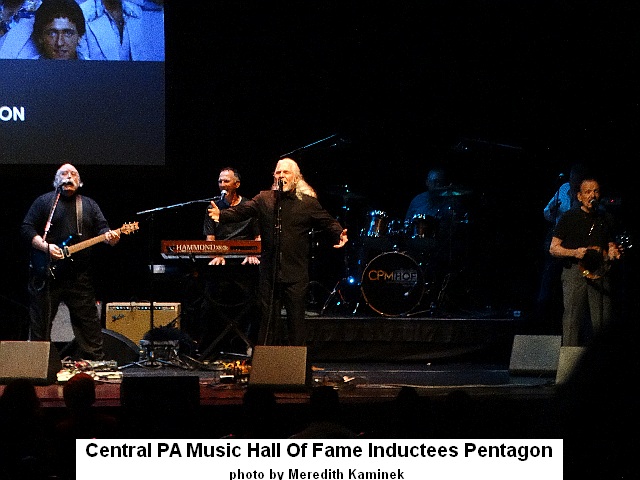 ---
By: Josh Noll
Wowzah! What the heck just happened? Did someone say August, holy cow this summer is blowing by. I'd like to start off this month by Thanking Brandon Valentine for honoring our founder/Dad, Whitey Noll with a lifetime achievement award at this years Central PA Music Hall of Fame Awards Ceremony. It was my first time at the Awards and it was great seeing all local artist together under one roof, recognizing and celebrating all the hard work that each and everyone of them put into the art of making music. It's was an impressive night celebrating local music. We were treated with performances from Eternal Frequency, Jeffrey Gaines, Rich Clare and Pentagon (freaking amazing) and last but certainly not least The Badlees. Hearing The Badlees perform was a blast from the past, smacking you right back into 1995. I was pretty overwhelmed by the whole thing as I am just a country boy trying to survive, but once again thank you Brandon and your whole crew for an amazing time and congrats to all the winners and nominees for the 2020 CPMA's.
Ok so you think summer's almost over and I got no plans for Labor Day Weekend 2021! Well fear not, cause Neil Clifford "The Tooling Surgeon" was feeling a little bored himself, and after attending the Whitey Noll Celebration of Life decided he was going to have a party too. So here you go, It's Your Cure for the Summer Time Covid Blues being held at the South Mountain Fairgrounds in Arendtsville PA along route 234. It's The Musica Health to Wealth Festival! Neil is bringing in Comedian Natasha Pearl Hansen aka NPH, to host the show and keep everyone entertained between sets. They are even doing an open comedy mic on Saturday night to keep things spicy. Info on the bands is still coming in but so far it includes: Tung, Cover Scent, Sons of Man, From Dawn Till Death, Trilogy, Time Bomb, Silver Mountain, Beatlemania Now, 6 cents and Live Wire. If that's not enough music for you don't worry cause it sounds like Neil is going to be bringing in as much talent as he can wrestle up on such short notice. You can check out the ad on the back cover for more details and stayed tuned to the PA Musician Magazine facebook page as we will update you on any new info.
Another great event this month is a FREE!! Day of music at The Iron Bridge Music Festival in New Cumberland Borough Park. The following is a run down of the event and you can check out the ad on the next page.
That's all for this month get the last bit of sizzle out of your summer and go catch some live music. Also please be kind and advertise in our future issues. A couple dollars a day can help support this small town local paper and by helping us your helping local music survive. Email joshnoll@pamusician.net or call/text me at 717.636.4203 about your extended car warranty options I'd love to hear them.
IRON BRIDGE FESTIVAL press release:
As live music lovers, we want to share with you an event that you should know about: The Iron Bridge Music Festival.
The inaugural festival will be held along the scenic Yellow Breeches Creek in New Cumberland's Borough Park on Saturday, August 28, 2021, from 7-8:30 p.m. and Sunday, August 29, from noon to 8 p.m. (rain or shine) and will be a celebration of all things musical for all ages. Live performances will feature the beloved New Cumberland Town Band, local talent, regional bands and national acts and is FREE!
The festival was supposed to happen last year on Father's Day but got postponed until 2021 due to public health concerns. We pushed it as deep into the summer as possible to allow mitigation efforts to take effect.
We are constructing a 30' x 30' covered stage with lighting and sound towers. There will be food trucks and vendors of music and the music lifestyle. Parking in the park is limited, so there will be supervised bicycle parking (bring your lock) as well as a shuttle bus running up and down New Cumberland's Bridge Street. Out of towners can bring their bikes on their vehicles, park at Hillside Elementary School and ride the short distance to the park.
Saturday evening's program will include a performance of the Central PA High School All-Star Jazz Band in addition to the Harrisburg Jazz Collective big band with guest soloist, Jonathan Ragonese.
In addition, Loren Press and another guest audio engineer will be offering a free clinic on producing audio for a live event on Saturday at 5:00 p.m. in the park. Pre-registration is requested. Contact Loren Press at pressloren14@gmail.com for more information and to register.
Following is a rundown of the talent:
Paul Nelson – is recognized as one of today's top guitarists/songwriters and producers not only having the distinction of being the hand-picked fellow guitarist to the legendary rock/blues icon Johnny Winter but he has toured the world over performing and or recorded alongside an endless who's who list of top artists from Eric Clapton to Slash, Billy Gibbons, Ben Harper, Robben Ford, Vince Gill, Warren Haynes, Derek Trucks, James Cotton, Joe Perry, Susan Tedeschi, Kenny Wayne Shepherd, John Popper, Dr. John, Larry Carlton, Leslie West, Joe Bonamassa, Sonny Landreth, Dickey Betts to Joe Walsh and more…
Harper & the Midwest Kind "Harper is an original, playing the harmonica like an authentic Chicago bluesman, singing about unity and love like a member of peacenik jam band, belting crisp vocals like a straight-up classic soul performer, and then pioneering the didgeridoo into these popular forms of modern music. Unique and quality music of this kind is truly a rare treat." Karyn Albano, Modern Rock Review, USA —Harper's unique slant on roots/blues music is reflected in his dominance of Billboard's Blues Albums charts.
Skyla Burrell Blues Band —This group plays a smooth and upbeat brand of blues, highlighted by Skyla's rangeful and soulful voice and feisty guitar work, which she often trades off with Mark, resulting in some fiery guitar jams." –PA Musician
The Jellybricks ­—The Jellybricks formed in the mid-90s and their hook-laden songs owe debts of inspiration to decades of melodic Rock 'n' Roll from the '60s British Invasion through '70s Punk, '80s College Rock and '90s Alternative. The Jellybricks were voted the Top Rock Band at the 2020 Central PA Music Awards. A regional favorite!
Bob Randall —"He's easily comparable to the likes of Merle Haggard or Willie Nelson, but his style is uniquely outlaw and uniquely Bob Randall." –James Treese. Country in the style of Waylon, Merle, Willie, Cash and Coe
Hot Jam Factory —"Hot Jam Factory is the Art, Prom Rock, Surf, Post-Punk recording project of Harrisburg, PA-based songwriters Jordan Trevino and Sean Saman." "HJF is known for their high-energy live performances."
New Cumberland Town Band —For 75 years the 60-piece concert band has maintained a shrinking American tradition: concert bands performing marches, show tunes and light classics to a devoted audience. A summer staple!
Harrisburg Jazz Collective (formerly River City Big Band) —Led by jazz pianist Steve Rudolph & trumpeter Bill Perbetsky, the Harrisburg Jazz Collectivde draws music from the history of big band jazz & dance ensembles (Buddy Rich, Count Basie, Duke Ellington, Stan Kenton, Thad Jones). Jonathan Ragonese is a native of New Cumberland. As a saxophonist he has performed and recorded with a wide array of musicians including Steve Wilson, David Liebman, the Harrisburg Symphony Orchestra, Tim Warfield, Tin Can Buddha and Steve Rudolph.
Central PA High School Jazz Band —Selected by the region's high school band directors, this incredibly talented group will perform as part of the program.