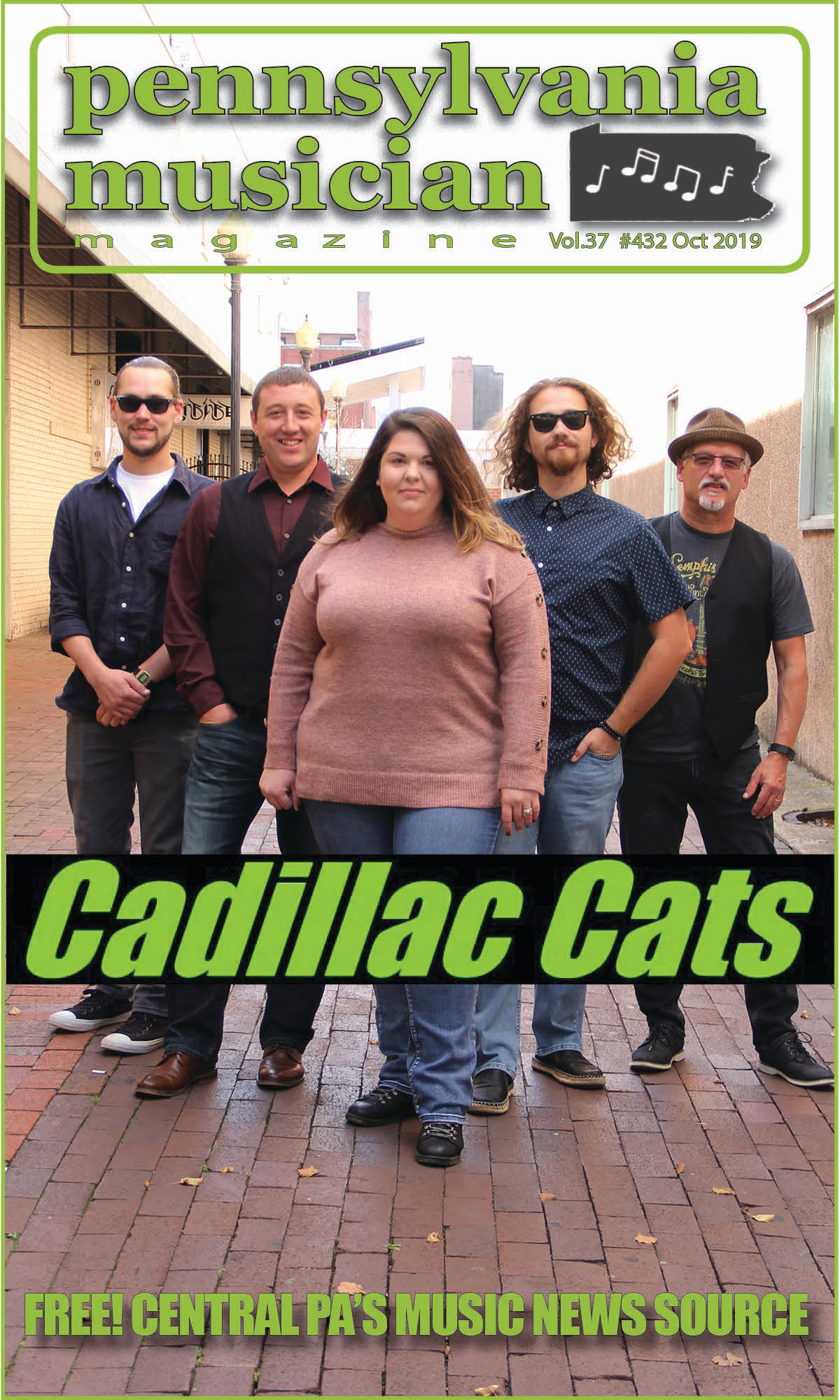 ---
By:Rachel Rocks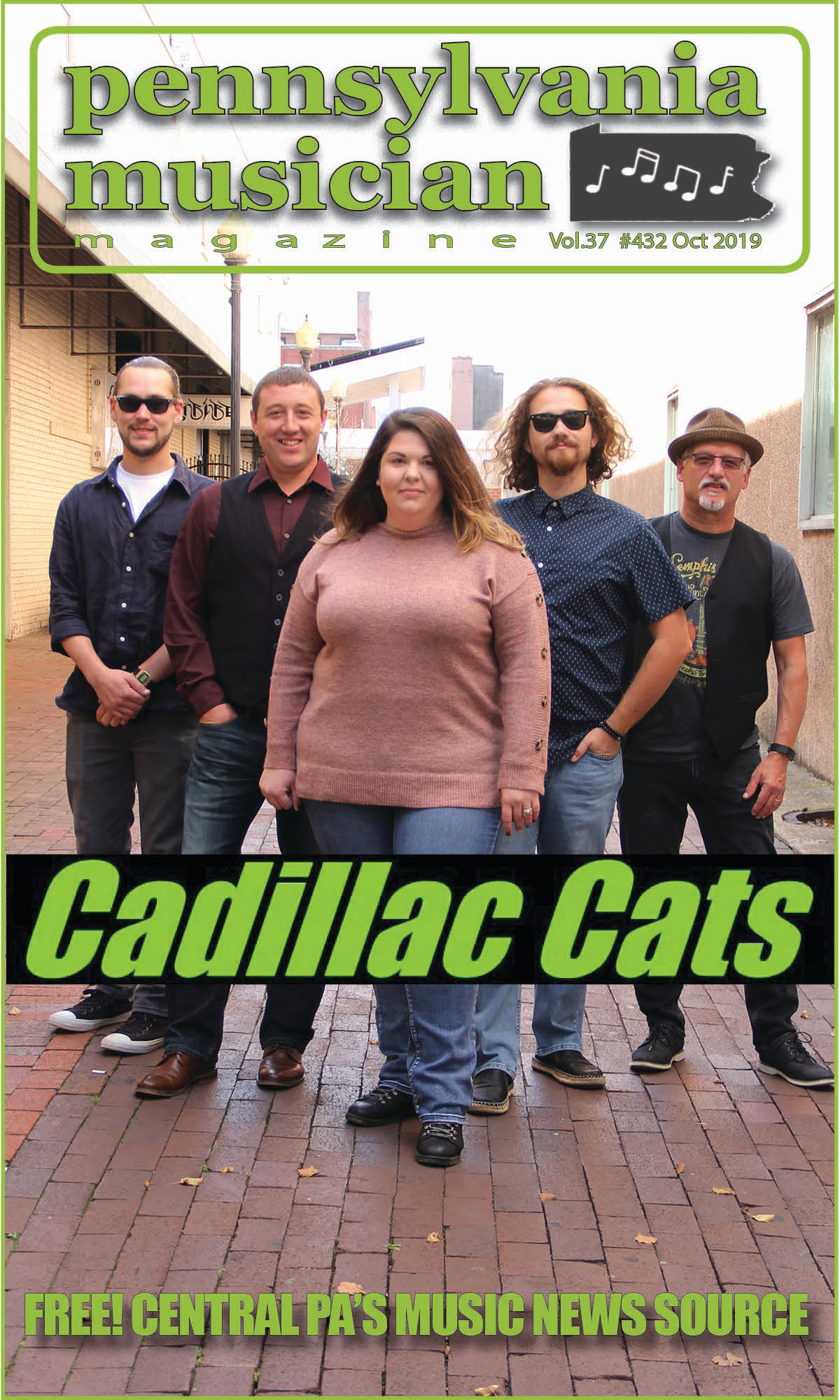 The Cadillac Cats are a five-piece band based out of Williamsport, that are keeping "The Blues" alive and well, delivering high energy, foot stomping Blues at every show!
In 2014 Blair Mitcheltree was competing down at the International Blues Challenge as a solo acoustic artist, and he was mesmerized by all of the Blues bands, so he decided he wanted to start up his own band when he got back home. With plenty of time to think on the long drive home from Memphis he came up with the name The Cadillac Cats, now he just needed to find his band members.
Luckily, Blair was in blues bands before, so he reached out to his friend Dave Thompson and asked if he'd come over and help audition singers for his new project. Unfortunately, none of singers stuck, but the auditions gave Dave the itch to get back in a band, and Blair was thrilled to have "Diamond" Dave Thompson as part of the band, wailing away on the harmonica.
A few days later Blair was hosting an Open Mic and Becky Wool asked him if he would play for her while she sang a song or two. They were a perfect fit, and a week later, Becky was singing in her 1st gig as the third member of The Cadillac Cats.
Blair also got lucky and stumbled upon Urie Kline. When Urie auditioned it was another perfect match. Urie has been studying percussion all over the world, and he currently plays in multiple bands, and even the area symphonies, but he truly loves playing the Blues, so he was thrilled to be part of this project!
Their newest member on bass is Garrett Gaetano. Again, it's good to know people, while Blair was at the Tuesday Blues Jam at the Finish Line Lounge, he started asking some other blues musicians about any bass players looking for a band and Gabe Stillman and Collin Beatty both highly recommended Garrett Gaetano. This isn't Garrett's 1st blues band, he was in a youth blues band in 2012 that also got him a trip down to Memphis for the International Blues Challenge. He was very excited to audition for another Blues band. At their 1st rehearsal they started jamming and they couldn't stop! After one night and 9 or so songs they knew he was just what they were looking for, and a week later he also had his 1st gig as an official Cadillac Cat.
The Cadillac Cats take playing the Blues very seriously. It is important to all of them to play traditional Blues or Old Fashioned Blues. Dave is also a "scholar" of the blues, his historical knowledge of the Blues is intense. If something isn't right, he lets them know, and explains the history behind the song. It really helps the whole band come together and realize the true meaning and desires of the original artists were having when they created the song, and it helps them perfect their cover of the songs even more. Don't worry though, even though they are playing the music style as authentically as possible there is still plenty of the improv blues guitar riffs, harp blowing, bass lines, and drum solos. For how professional they are in perfecting their music, they also know how to let loose, and have some real foot stomping good times playing the blues! The musical chemistry of The Cadillac Cats allows the music to flow through their souls uniting them as one, and isn't that what true blues is all about.
They play classic hits like "Boom Boom" and "Little By Little", and they also play some great originals like "Billtown Boogie, and "The Cadillac Swing" that is sure to get you up and dancing! The Cadillac Cats don't really use a strict setlist, they refer to their setlist more as a 'Song Bag' that they pull from depending on the mood of the crowd. They are blessed to have two great singers in the band. Becky covers most of the lead vocals, but Dave also steps up to the mic and belts out a song or two himself at times. It really helps to add to the diversity of the band. They have great communication on and off the stage so it is very easy for them to fly more from the cuff and keep their show diverse and very high energy! They don't map out their whole show because they want to keep it fresh and exciting for not only their fans but for themselves as well.
As mentioned, they do play a few originals, and they will hopefully keep creating new ones as time goes on. They are currently in the studio working on their first original album. They have 6 out of 10 songs recorded already, so hopefully they will have an album to be release soon. Blair is the one who usually gets the originals started with a melody and some lyrics. Then he brings it to practice and they all watch it come to life. Everybody writes their own sections. Becky has an amazing range in her vocals, and she loves songs that really let her use her powerhouse vocals, but yet she also likes a good growl too! I've been told it's fun listening to Becky sing and hearing her bring out her inner Etta James! It really helps that they have similar tastes in music because then their songs move more into the same direction until they finally have an amazing original song. I know I will definitely be keeping a close eye on The Cadillac Cats in anticipation of their 1st album release!
Since they've been playing solidly for the past three years, they've really had some amazing opportunities to play some cool gigs and open for some fantastic musicians. They play most of their gigs now in the Williamsport area, but they are also willing to travel. They would love to get into the Fairs and Festivals circuit and play some bigger shows. They are extremely grateful to the Billtown Blues Association for including them in their regular events, and just for supporting them as a band, creating venues in the area, and really for supporting all musicians throughout the area and beyond. They do have some shows coming up, every Thursday, from 8-10pm, they host an Open Mic at the Trail Inn in Cogan Station. Friday, October 4th they will be playing at The Stonehouse in Williamsport, (I had their delicious pizza during the interview, make sure when you go, get yourself some!) The big show is Saturday, October 26th at The Gamble Farm Inn & Suites in Jersey Shore, it is a special Cadillac Cats Halloween Blues Bash! The will be a costume contest! Door Prize! Great Food, Booze, and Blues! Sounds like a great time for sure. You can check out their website, thecadillaccats.com, for more info, and additional shows!
Being in a band wouldn't be as much fun without some fans, and The Cadillac Cats have amazing support from even more amazing fans! They are so blessed to have so many friends that love the blues as much as they do, and come out and support them night after night. If you like to get down and Boogie to some Blues, this is the band for you!! To get them booked at your venue, give Blair a call at 570-651-5014. To check out their schedule, watch some videos, or just listen to some great songs, you can find them at Facebook.com/The Cadillac Cats or visit their website, www.thecadillaccats.com.