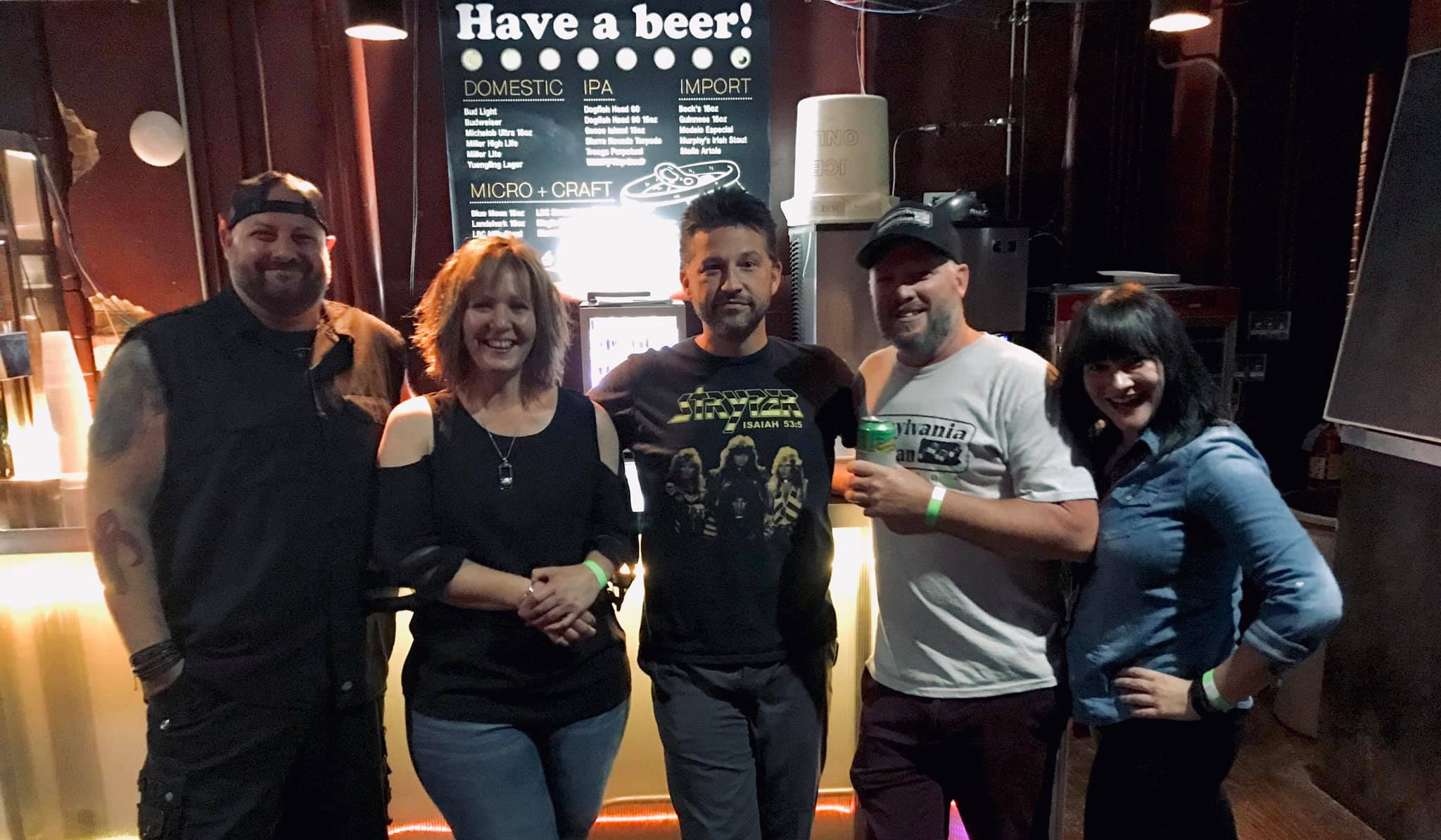 ---
By: Josh Noll
Welcome back readers and wouldn't you know, just like that Fall is here. It didn't take mother nature long to let us know that cold weather is on the way. With the temps dropping and the leaves falling its time to start hitting all the indoor spots for your local music fix. As if the cold weather wasn't enough to bum you out, we also got hit with some sour news in the way of some local venues closing up. Yes, Cliff's Underground has closed in a rather sudden fashion. Shortly after that happened rumors of another local establishment's closing started to surface. Blarney's, aka Park Inn, aka Wanda's (as I like to remember it) is soon to follow. The word on the street is that it will be knocked down in favor of another strip mall. I for one could live without another Family Dollar, Target, or whatever else might fill the space. The one thing, no matter what the name was, for years Park Inn/Blarney's along with Cliff's/Gullifty's were always a place you could count on for supporting local music. So yes, an end of an era is approaching but hopefully someone will see the need and fill the void that we will all be feeling.
Blarney's has a lot planned for their last month of operation in October so please check out the ad and make your plans to get out and enjoy a show. They start the month out with a benefit with an amazing day of music. Great local bands are on the calendar the rest of the month including; Hot Mess, Hometown Strangers, Adrian Blitzer, Whiskey on the Rocks, Gas Station Disco, Garret Shultz, Smooth Like Clyde, Chapel Hill, Dirt Cheap, Escape and more as they go out with a BANG! We at PA Musician Magazine would like to thank everyone at Blarney's for the years of support through advertising with us and also for supporting the local music scene including the MMC. God Speed Wanda's, we will miss you.
On the other side of coin we would like to welcome The Warwick Hotel to our pages. You can find the ad on the next page with the list of bands/artist who will be performing throughout October. They have been serving guest since the 1790's and have a deep history of catering to Hummelstown's needs. This month you can catch Brett Alexander, Heart and Soul, Dan Jamison, Element 22, Josh Tweedy and many more. Along with the regular Friday and Saturday Night Live music (7pm-10pm), they are also doing open mic nights every first and third Wednesday of the month hosted by Chuck Britton. Throw in Taco & Trivia with karaoke nights on Tuesdays and you have a little something for everyone as far as music and food is concerned. It doesn't stop there for foodies, be sure to check out all the other weekly specials which will be sure to get your juices flowing. Keep your eyes out for more info on"The Wick" and in the meantime check it out for yourself and meet up with some friends for fine food and music
In other local news, downtown Mechanicsburg shop, Noteworthy Guitars will be moving locations. Don't worry nothing to fear, Ed is simply moving 4 doors down (no this is not a new band). Ed will be making the move at the end of the month and hopes to be in the new store for November. The new shop will offer more room along with a better window display for passer bys on the street. To help with the move he will be holding a, "We Are Moving Sale!" All guitars and amps will be heavily discounted throughout the month of October so get to Noteworthy Guitars and check out the awesome deals! Tell him Josh sent ya!
Now let's talk about last month's music. Early in the month I headed down to the Chameleon Club in Lancaster for a heavy hitting night of music headlined by Defiant. Kudos to Chameleon Club and Defiant for hooking up and booking an awesome night of local music. Once I saw the lineup forming I knew it was a must attend event. We missed the first band Audiobox out of Williamsport but did get to talk to the guys a bit. Super fun to hang with and on my short list of bands to see in the future. Voice the Chaos was just taking stage when we rolled in and instantly got my attention. They started off heavy and just never quit. Great band, high energy with some heavy riffs. Next was Gallowglas "a furious metal band out of York PA" as their facebook page states. They lived up to the hype and kept the music coming hitting some super heavy tunes. The lead singer really took command of the crowd and got them all into it. Great job by Gallowglas. Fourth on the bill was the mighty Suicide Puppets. Do yourself a favor and go see a show. These guys have been at it for years and are really picking up steam. They always have new material and are constantly upping the game with new songs. After opening for Stabbing Westward the following night doors are really starting to creep open for them. Its not easy in the local music scene to make it happen with such an original act but with hard work and dedication comes the rewards. Stay tuned for more Suicide Puppets news coming soon. Speaking of hard work and rewards lets hear it for Defiant! I haven't seen a band working as hard as these guys all year. Constantly getting new shows all over the place, selling tickets everyday to make sure the fans are there, booking other local bands to help support the shows. I mean people, if you're going to complain about not having any gigs or places to play take a note from these guys. Get out there and find the spots, do some traveling, talk to the other local bands. Self promoting is a hard gig but you are the best asset your band has. Only you can give it the effort it needs to get the ball rolling. The hard work has really paid off for Defiant in the last year and it shows in the music. The guys killed it and with the new cd release (which has been on repeat for the last month in the truck) there is no stopping these guys. Congrats and thanks Defiant an awesome night of music.
Later in the month I headed out to XL Live for the Supersuckers "Evil Powers Tour"! It was a Thursday night so attendance seemed a little weak but that meant everyone that did venture out got an awesome treat with some up close and personal action. The Supersuckers, along with The Hangmen both put on an amazing show and if you were at home watching "Office" reruns on Netflix then too bad for you. I know midweek shows are tuff but this one was a great excuse to take off Friday! The big standout for the night for me was the opening act, The Bad Luck Charms. I've known drummer Dave Brooks for years and he is always in about 5-6 different projects it seems. He is one of those guys who is in all sorts of bands playing all sorts of roles from drummer to singer to uke to guitar. He is a very talented guy and the rest of the band was right up there with him. They started out fast and never quit. With little to no break in between songs, The Bad Luck Charms got the crowd moving and really did a great job of warming up the room for the main show. You can check them out on facebook @thebadluckcharms wish I knew when they were playing next but you will just have to stalk them on facebook to find out. I do know that one of Dave's other bands, Dirt Road Redemption is opening up for local legends, The Martini Bros. at River City on October 5th.
The Supersuckers show kicked off our vacation week which started in Las Vegas a few days later, where we were treated to a free Kenny Wayne Shepherd show right outside our hotel on Fremont Street. What an amazing guitar player. A lot of Stevie Ray Vaughan in his playing and it was a great way to start our trip. One night in Vegas was enough for me and then we headed out onto the open road for a week long road trip. I chocked a lot of stuff off the bucket list and had an amazing time out in the wilds of Utah, Arizona, and Nevada. If you have never ventured out west, just make it happen. It was crazy dusty and super windy. We saw so many natural wonders and beat the piss out of our rental jeep. Great memories that will last a lifetime. We did our own golden circle route and added some other destinations along the way. One spot was Moab, I hope to make it back someday to spend more time there. Looks like a sweet place to catch some live music, along with going off roading, mountain biking, canoeing, you name it Moab has it. Get out there soon because the place is blowing up and will soon be overpowered with people. The once small town is now overrun by tourist year round and is the new place to go for your adventure vacation.
Speaking of the west, the country outlaw Bob Randall has been making waves with a recent appearance on Fox 56 news. They did a great piece on Bob and how he is keeping his music dream alive at the age of 74; along with a new Cd release, and an induction, later this month, into the New York State Country Music Hall of Fame has kept him pretty busy. Be sure to check out his show schedule on page 2, along with a review of his Cd further back in this issue. You can find his Cd on all major streaming platforms or get one at a show from the man himself.
Well that's it for this month get out there and enjoy your haunted month of October! Make way for scary outfits and girls dressed in less then they wear to Walmart! Its a great month for music and fun. If you would like to get in on the fun that is the PA Musician Magazine please contact me now and find out how easy it is to start promoting your band or business in our pages. email me at Joshnoll@pamusician.net or call 717-636-4203. ROCK ON AMERICA!