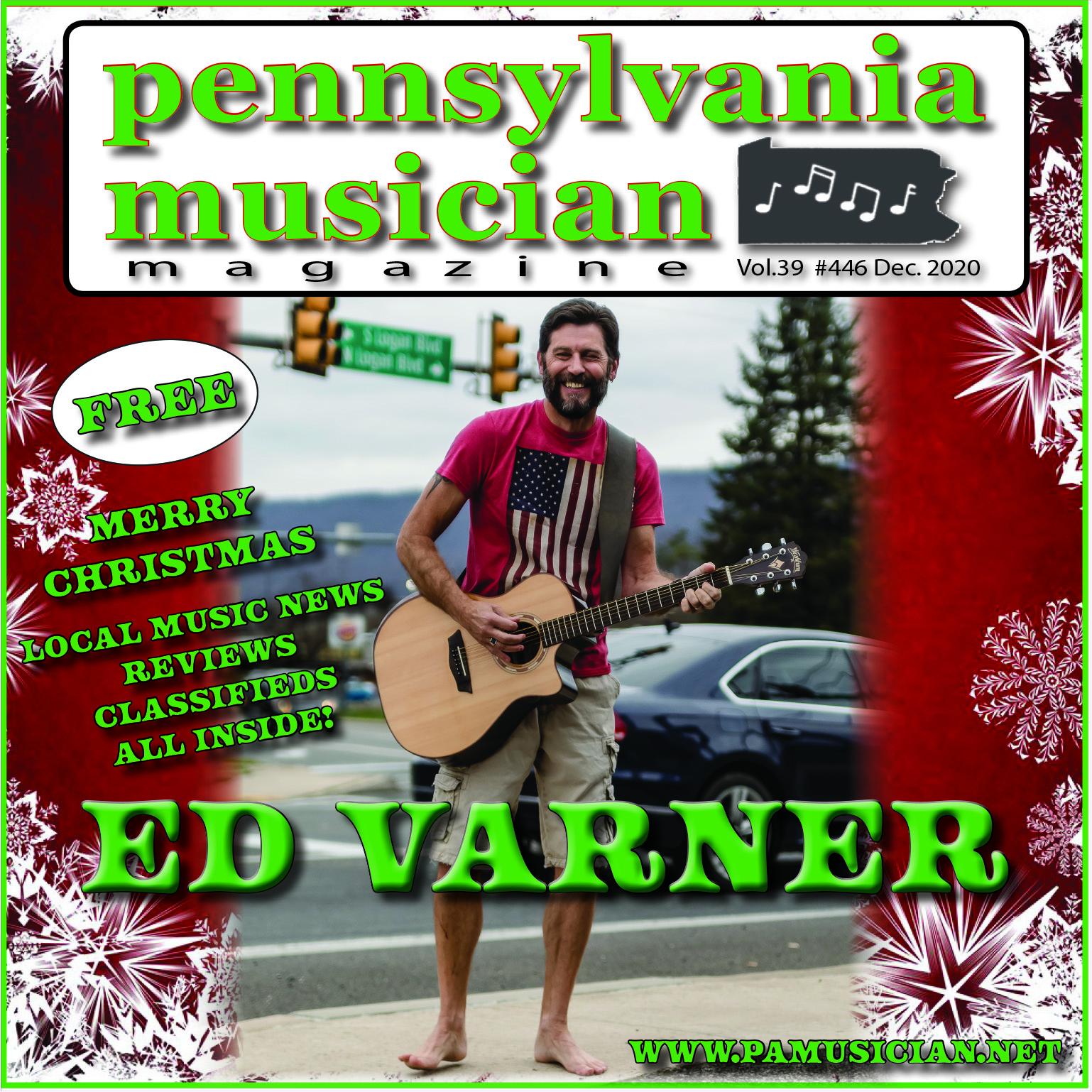 ---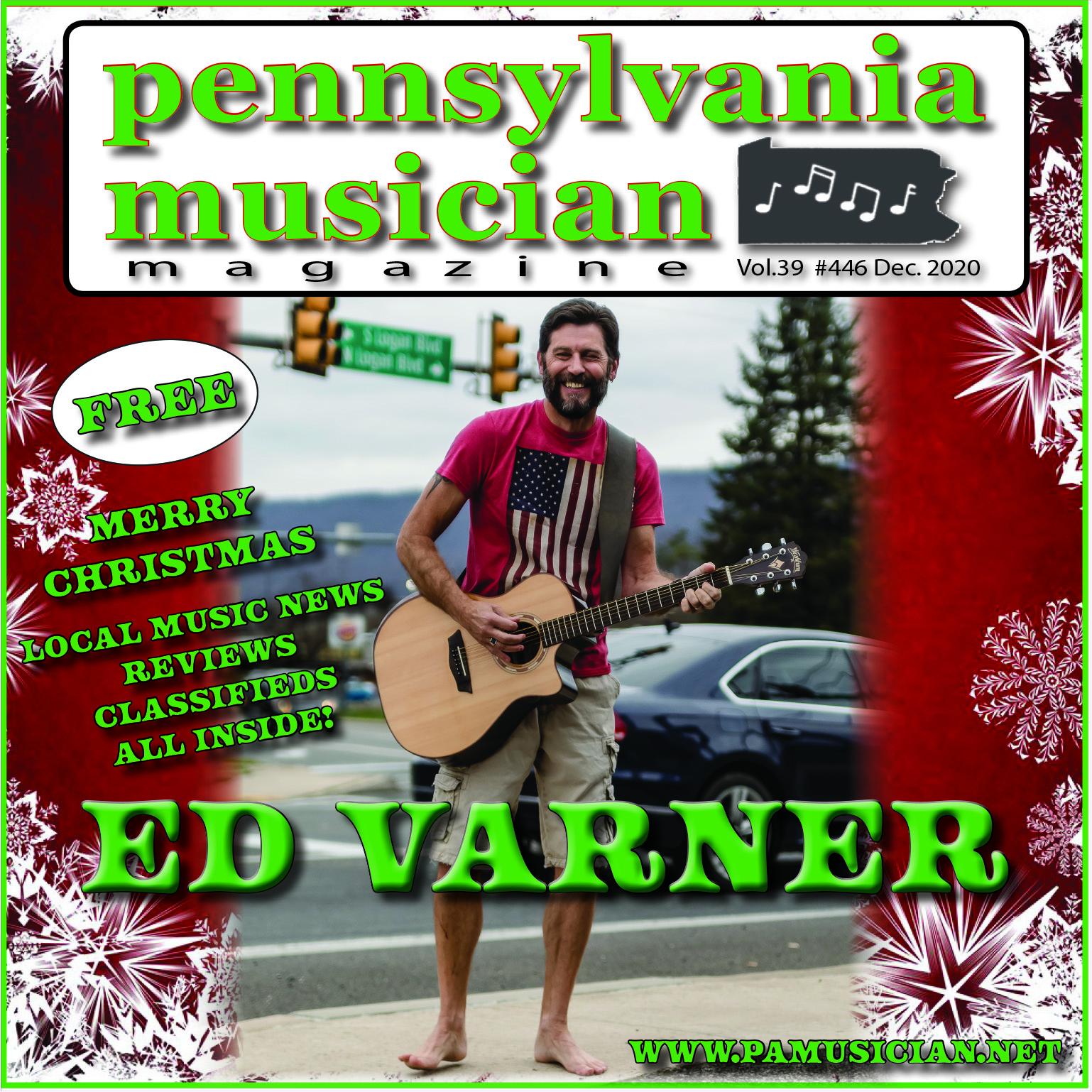 ED VARNER – NO SHOES REQUIRED
By: Josh Noll
Photos By: Chris Rider Photography
This month we are featuring the one and only Ed Varner! Ed has been performing in our area for years in many local bands and has now transitioned into his solo act. With the onslaught of Covid 19 trying to kill live music, Ed did not waste time and instantly started performing what he calls his "Not Live Streams". As the months went on he was able to begin playing "Live" again but also has been including live streams so if people can't make it to the show they can still join in on the action. Known for his unique style of performing covers, and never wearing shoes, we decided it was time to sit down with Ed and talk about his career in music and how he dealt with live music in Covid times…
PAM: How long have you been playing out/when did you get started? Have you always been a solo act or were you ever in any bands?
ED: I bought my first guitar when I was 19…that's 1983. I didn't get real good at it, but I could do the David Lee Roth screams, so I got my first gig as a vocalist in the Juniata County band Strycnine in 1986. From the late 80's into the early 90's I was lead vocalist for Riff Raff from Lewistown, played guitar and did lead vocals for Tsk Tsk from Mifflintown, played bass and sang in Razkal from Lewistown. I spent several years playing guitar and singing in church, as well as playing and singing in some Christian bands: Torn Veil, Joe's Army, and Hinge. A couple of years ago I joined The Remnants from Mifflintown as the bass player and ended my band career playing guitar at a few gigs with them. I started solo in late 2018 after playing some songs at an open mic. It kind of exploded from there.
PAM: What got you into playing music? Is there a certain artist/album/person that really influenced you?
ED: There was always music playing in my house while I was growing up. We had one of those huge console stereos, about 6 feet long, that you could load up 6 or 8 records and just let them play. It was mostly 50s and 60s stuff, and a lot of country from back then. Then I heard some rock and realized I'd probably need to grow my hair. What made me want to play guitar and make music was hearing Kiss "Alive" for the first time. Still one of my favorite albums. I wanted to be Ace Frehley when I grew up.
PAM: Who do you consider your major musical influences?
ED: Kiss first and foremost. Then I heard AC/DC. When I first started playing in bands I got into hair metal, and I still listen some. Mostly classic rock from the 70s these days.
PAM: Do you play just covers or do you have any originals?
ED: I've written and played a few originals in the past. There's a reason I don't play them. They kind of suck. My show is 100% covers. There are too many great songs out there for me to re-write them and call them mine.
PAM: You were one of the first people in our area to really concentrate on the live Streams when Covid 19 hit, were you doing live streams before? Or is this something you began because of covid?
ED: When COVID shut us down in March, I had a bunch of shows scheduled. I wanted to play. The first show was a Saturday night at the Short Bus Brew House in Burnham. I'd never done live streaming before. So I thought what the heck, let's do a live stream NOT from the Short Bus. I worked with Husky Hummel, one of the owners, and I played like I was there, but I was not. I set up a virtual tip jar and gave the money to a person who was out of work because of COVID. Over the next few months I did a live stream NOT from the venue I was scheduled to play almost every weekend. The majority of my tips went to those who couldn't work because of the shut downs.
The live streams were really great for a lot of reasons. First, I got to play. People who live far away and can't come see me live got to see me play. My son, who was deployed (USMC) watched a lot of them. The furthest was from Australia A friend I "met" through another friend through the live streams. I got a lot of requests during the streams, and added a bunch of songs to my set. Also learned there are some songs I shouldn't play.
Now that I'm playing live again, I stream most of my shows. Just for those who want to see and can't be there. Feel free to tip.
PAM: Tell us how you stayed so busy over the last 8 months with all the restrictions and show cancellations it must not have been easy. How did you maintain a positive attitude and keep on booking shows?
ED: Throughout April and May I played the live streams almost every weekend, and some through the week. I booked an outdoor show in June, just to play. It actually got pushed back a week because of the "YELLOW" phase, but we got it in. I was able to play a number of the shows that I had booked because they were outdoors, or the venues where large enough to get people in with the restrictions.
It sucked that I couldn't play my live shows. Yes, I had the streams, but it's not the same. I love interacting with the people. I'm a very positive person most of the time, so I didn't let this get me down. I feel bad for all of the venues and other businesses fighting to keep things going through all of this crap. I feel really bad for the musicians who make a living doing this and had no money coming in. When I wasn't streaming, I'd watch other's streams and support them in every way possible.
PAM: I see you sometimes play with a couple other people, Tell us about project EHE and what you guys are about. What type of music do you play, band members, any plans to form a full band? How did you guys meet up?
ED: Project EHE came about when some guys got together to drink beer and decided to play some music, too. It goes back to Summer 2019 when Husky Hummel, one of the owners of the Short Bus, and a pretty good bass player, asked if he could sit in with me to play a few songs at one of my gigs there. Ended up he would sit in with me for a few songs during every gig. After a few months we brought in Erik Bryant as a lead guitar player. For the past year plus we practice once a week (eat good food and drink a couple of good Short Bus brews), play a few songs at my solo shows, and have done a number of band gigs at the Bus.
We started out with my set list, which is 60's, 70's, 80's stuff. These guys brought in stuff I wouldn't normally do, namely 90's stuff like Chili Peppers and Alice In Chains. We have a pretty eclectic set list. We even have a few country songs that we do now. And Husky is doing his first lead vocal on "A Country Boy Can Survive: (Hank, Jr.).
I think we'll probably just stay as the three of us. We've yet to play outside the Short Bus (other than an EHE live stream during the Summer), but there are plans.
As much as I like Project EHE, my favorite person to play with is my 4 year old granddaughter Ellie. She gets to quite a few of my shows and, when she does, she steals the show and the crowd when she comes up to sing. She has a nice set list (she rocks "Twinkle Twinkle Little Star" and "The Wheels On the Bus"), and makes songs up as she goes. All tips that Ellie gets, Ellie keeps.
PAM: What is up with the No Shoes thing? When did this start? Do you ever play in Shoes? What do you do when it gets cold lol?
ED: Life in general, I only wear shoes when I have to. No shoes while playing started about 20 years ago when I was playing with a church band. One night at practice I took my sandals off and thought, "Wow, this feels good playing like this." Since then, I rarely wear shoes when I play. First time in a venue I ask if anyone will be offended or turned off if I'm barefoot.
My last pre-Covid show was in March at Que Brew in Selinsgrove. With all of the fear, we thought it best that I have as much covered up and I could, so I wore jeans and my shoes.
I have a pair of socks in my gig bag just in case it gets too cold. I've only worn them once.
PAM: Tell us about the Kazoo is it just for certain songs or do you grab it whenever the mood strikes?
ED: Early 2019 I added "Crazy Little Thing Called Love" to my list. The song has a nice little guitar solo that is really missed if it's not played. On a whim, I bought a kazoo to play the solo. Since then, I've added it to a bunch of other songs. And sometimes I just play it when I think I need to get the crowd's attention.
PAM: If you were on a road trip and could only listen to one Album what would it be?
ED: April Wine – The Nature Of the Beast
PAM:List some of your favorite covers that you are doing right now at your shows.
ED: Styx – "Come Sail Away" is fun. For some reason Steve Earle's "Copperhead Road" makes me happy. 867-5309, "Margaritaville" and "Sweet Caroline" are fun because of crowd participation. "Purple Rain" and "Tennessee Whiskey".
PAM: We all have that one song that we have played one too many times, what is one song that you will never play again?
ED: I'm not that stereotype. If someone requests a song, I'll do what I can to play it even if I hate it. Of course I guilt the requester into giving my a nice tip. I've played "Baby Shark" about 30 times in the past year….
PAM: With Covid still having a major affect on live music what are your plans for 2021?
ED: At this point 2021 is a little iffy. A lot of venues are tentative in booking because we don't know if things will be open, if music will be allowed, if they can serve drinks. I'm ready to book when we know things will be happening.
PAM:Who would you like to thank?
ED: I'm going to be vague with this one because I don't want to miss anyone. So I'll just say I want to thank all of my family and friends, band mates and venues have supported me throughout my music career.
Ed would also like to thank Short Bus Brew House for letting them take pics for the story and for always giving him a spot to perform live music. Be sure to check out Ed's schedule every month in the paper and be sure to go catch a show or watch one of his many Live Streams.
Cover & Cover story photos by
Chris Rider Photography.