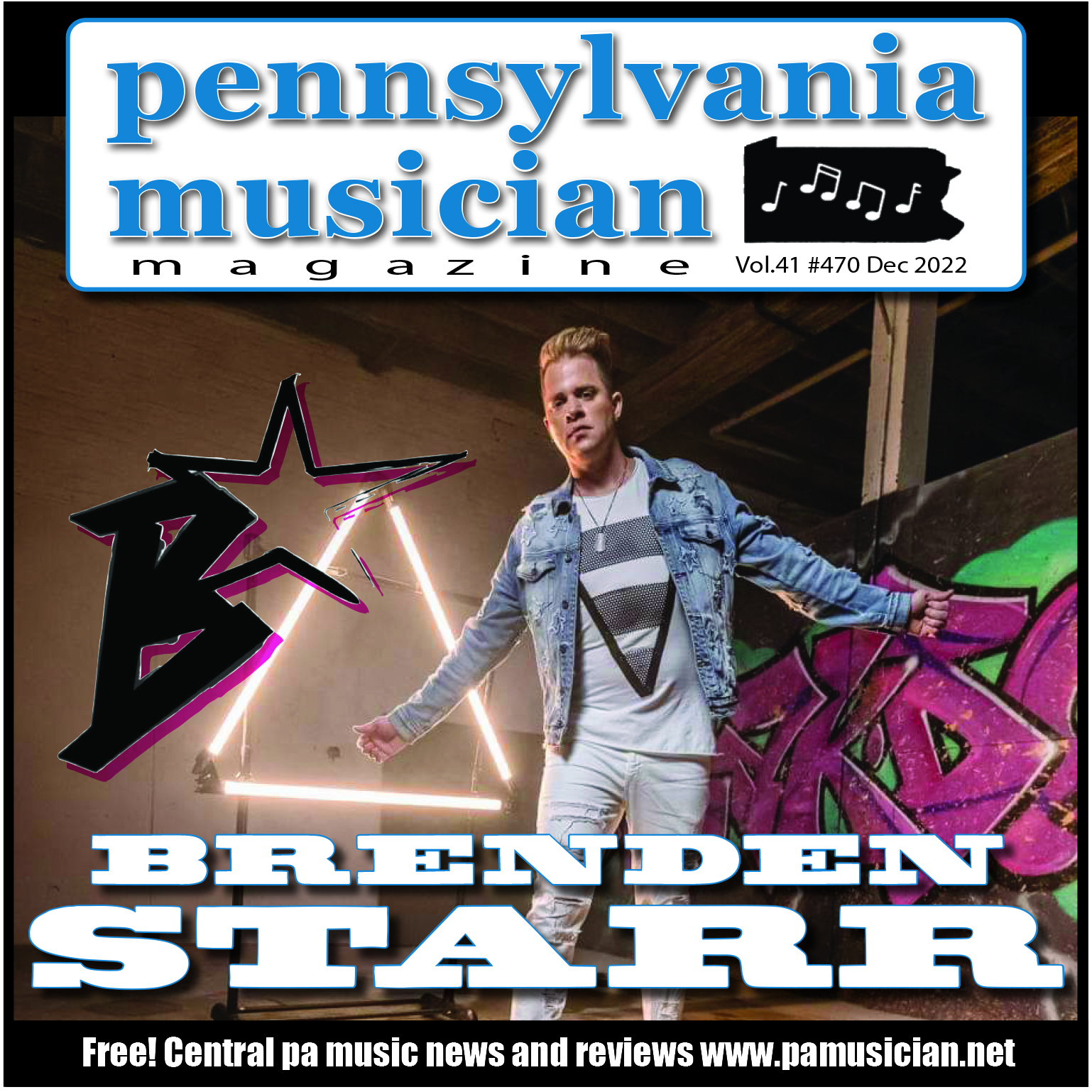 ---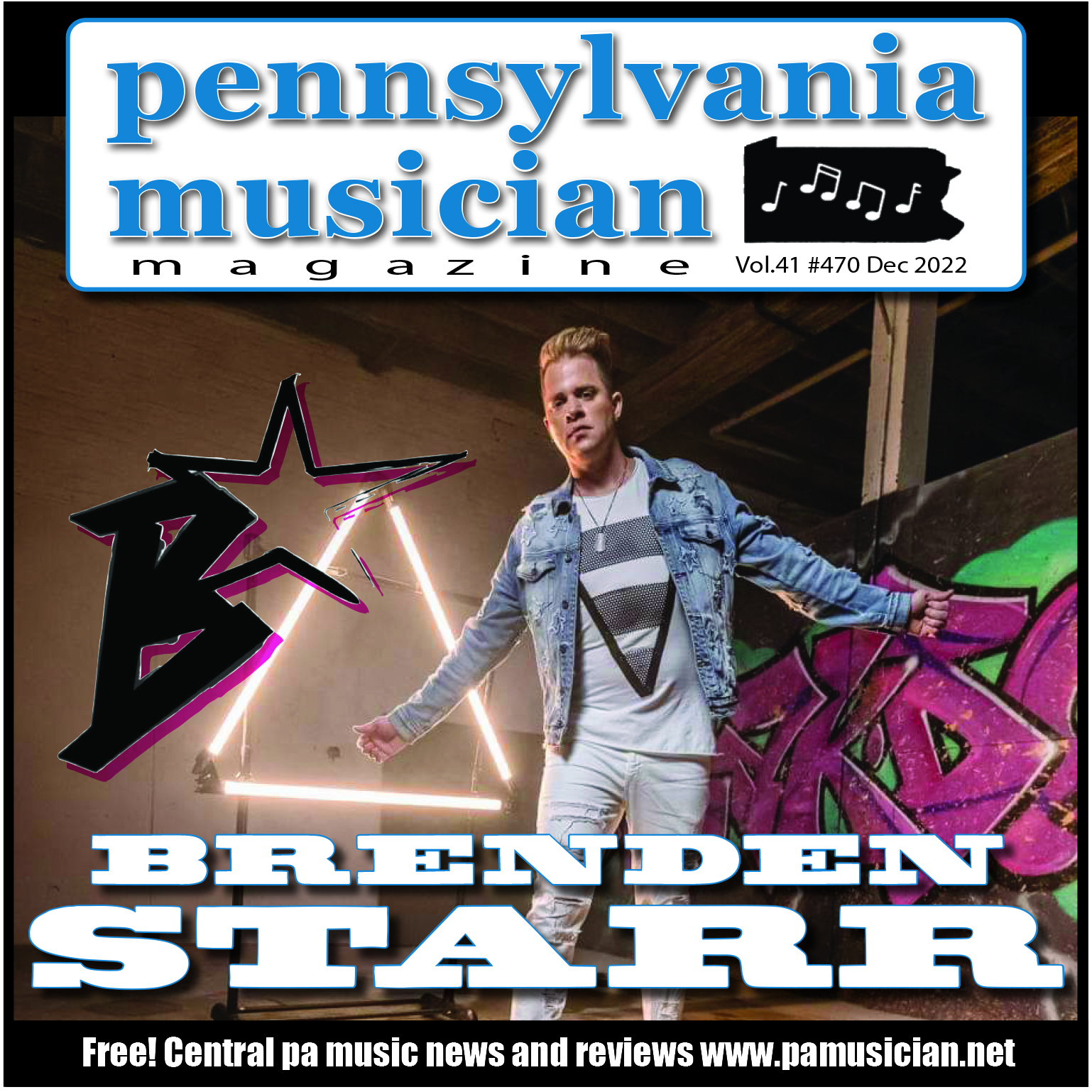 Brenden Starr is
On Top Of The World
By: Chris Rider
I recently had the opportunity to meet up with my buddy Brenden Starr to interview him for this month's cover article. Give it a read and learn about him, his music, and what his plans are!
Chris – Who is Brenden Starr and why should we listen to his music?
Brenden – Brenden Starr is an inspirational singer songwriter from the small town of Hanover Pennsylvania with pop vocals and a rock mentality. You can expect big ballads and courses that are not forgettable with an alternative pop rock sound, that is my schtick!
Chris – Tell me about where you grew up, what it was like growing up as Brenden Starr and how that related to the musician you've become.
Brenden – I'm from Hanover Pennsylvania. I'm a third-generation singer/drummer in my family. I spent a lot of my childhood in my teens listening to music and studying my favorite bands and singers. I also spent a lot of time around country music; my uncle and grandfather were third generation singers and drummers playing carnivals and halls. I was always into more heavy hard rock but I also couldn't get away from the love I had for Pop music. I was into 90s House and dance music with artists such as Real McCoy and Vanilla Ice. Back in 2010 I had the opportunity to audition for Lady Gaga as a back up singer for her Monster Ball Tour which was a great milestone for me.
Chris – When you & I first met, you were the drummer for a metal-core band called Ethics. How did you go from a metal-core musician to a pop-rock musician, and is there any relation between the two?
Brenden – There is no relation between the two. I've played drums for most of my life and decided to take on that project. I was in between figuring out my next steps for my next chapter of Brenden Starr's music. It wasn't hard to go from that style back into my music, I'm always writing ideas.
Chris – Who are the best examples of musicians that serve and served to be your inspiration?
Brenden – I'd say Steve Perry of Journey first, just practicing and studying his runs as he's been such a huge inspiration in my vocal techniques. Chester Bennington of Linkin Park I love, and we have a lot in common. From a pop side of things Darren Hayes of the group Savage Garden: he just has killer vocals and falsetto and I'd say last, I do have a touch of 90s early 2000s R&B
Chris – Who would you most like to do a collaboration project with?
Brenden – Jonny Craig of Dance Gavin Dance, Isles & Glaciers and several other bands. I feel like we could make some magic happen in the studio!
Chris – If you could open a show for any artist, who would it be and why?
Brenden – It would be 30 seconds to Mars just because I met Jared Leto multiple times and I'm a huge fan of his. I feel that myself opening for his shows would fit well and sound great with their style.
Chris – What do you like most about being a musician?
Brenden – The rush of being on stage and seeing fans sing my songs. I love making videos and being able to have my hands on directing them.
Chris – Top Of The World is a song that speaks to me on a really deep level. Tell me about the process that went into creating this piece?
Brenden – Top of the world was always meant to be a powerful inspirational anthem song. I wanted a song that spoke for my hard work and drive and not giving up on myself. I just want that one shot, whatever it takes but also staying true to myself. I made the beat for this song almost 10 years ago on my iPad and it was time to break it out in the studio to set the tone as my first single.
Chris – Last year was your first time putting on and promoting a day long music festival, Rock On The Hill. I personally had an awesome time photographing it…tell me how it came about, and where it goes from here.
Brenden – My Rock on the Hill festival was something I wanted to do to give back to my hometown and my community of growing up and being a music fan. Meeting a lot of bands, I always wanted the idea of a music festival to be a part of my hometown. I wanted to bring some bigger bands to the community, everybody just having a good time and it all goes to a good cause as it's funded by a nonprofit group and the funds go back into the community. As it grows every year and gets bigger, I hope one day I can look back and see what I gave back to my community for the love of music and rock 'n' roll. Last year's festival did around 800 attendees and I'm hoping to do at least 1K or more at next year's festival. It will be on May 13, 2023 and you can expect myself to perform as well as national headliners such a Scotty Austin of Saving Abel, the 90s alternative rock band Sponge, and Nu metal band Flaw (interviewer's note – Flaw played the festival's first year and were incredible!) as well as headliners Trapt. 15 other top regional and local bands will also be playing between the two stages, not to mention some great beer and food vendors there and local artists selling their crafts as well. I'm super stoked for the festival in 2023.
Chris – What's the best piece of advice another musician has ever given you? Who was it?
Brenden – I Remember I was just a kid, I went to see Three Doors Down play in the parking lot at ski Roundtop and I got to talk to the guitar player after the show. He was telling me how it has taken him like 20 years to get where they were and told me to keep on my grind and keep working at it.
Chris – Do you follow a process or ritual before a performance to get rid of nerves or performance anxiety?A
Brenden – I have anxiety issues as it is so when I have shows I try to not talk too much before I perform, calm my nerves and focus on my vocal warm-ups before shows. I usually like to keep to myself, away from people so I can focus on my performance and try to visualize how my show is gonna go.
Chris – The Pandemic certainly had an effect on live music, and the music industry in general. How did you handle it and do you feel that you're stronger as a result?
Brenden – I do think more and more people want to get out and go see live music and entertainment. Now that music is more than ever at anybody's fingertips, I feel like it's easier to be heard more so yeah I would say it changed a lot but I feel like it was mostly to the good.
Chris – What's next for Brenden Starr?
Brenden – My new remake single Should've Known Better by Richard Marx comes out December 2 on every digital streaming service. I'm hosting a show on December 9th at Black Rose Ballroom in Hanover staring myself, Lyndhurst, Coal, Sugar Hysteria and Faith Noel. January 20 my new original single Gravity and music video will be out, and the new album will be out with a release party show January 27 at Lovedrafts Brewery in Mechanicsburg. I'm looking at a possible week-long tour of the state late February or early March.