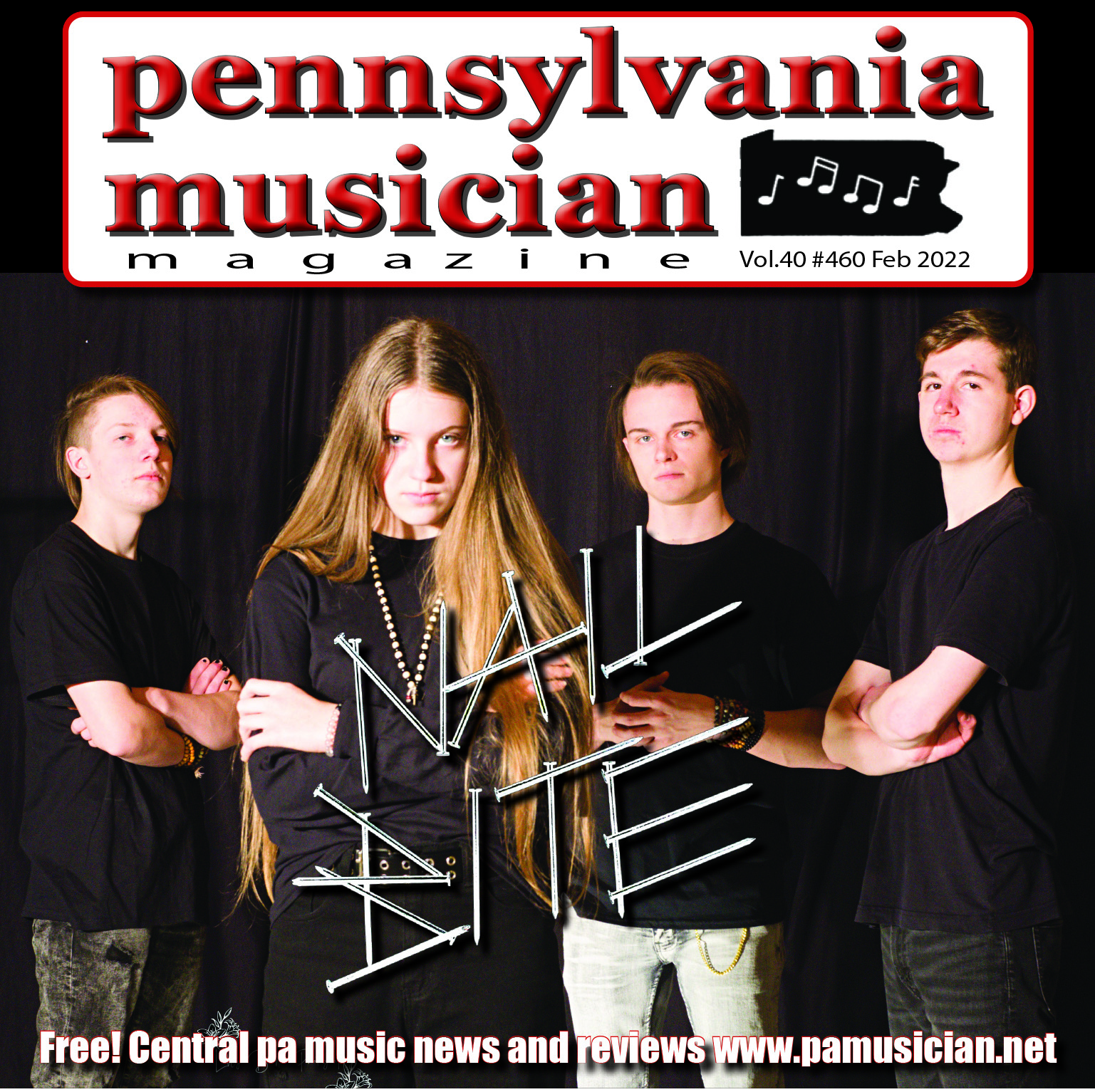 ---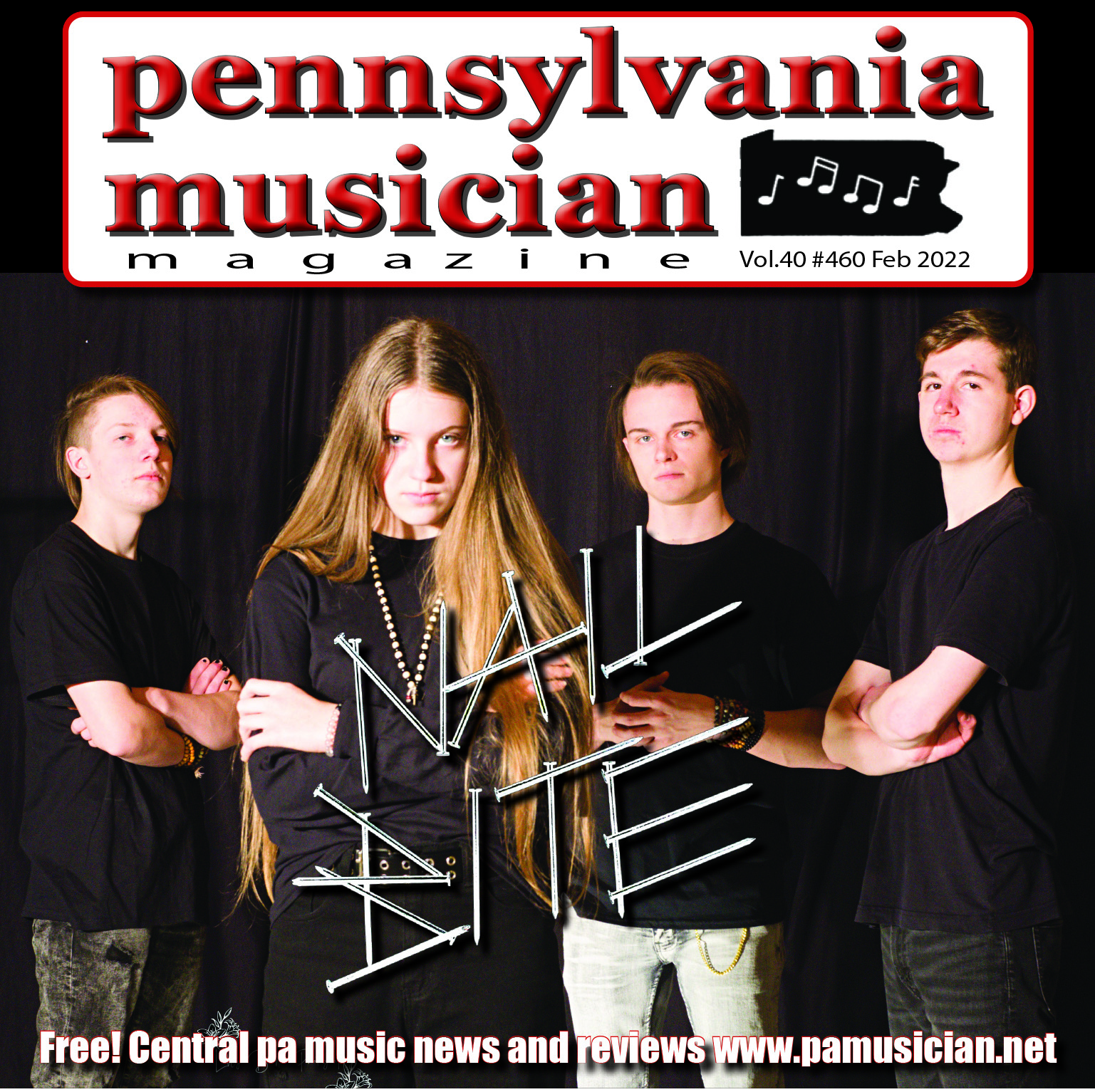 NAIL BITE – POUNDING THEIR WAY INTO THE METAL SCENE
By Rachel Rocks Cover & feature photos by Lisa Bitting
I recently had the privilege of judging a Youth Music Showcase for the Central PA Music Hall of Fame, one of the acts performing that day was Nail Bite. As a fan of metal music, I was shocked when they took the stage and broke out with Slipknot's "The Devil in I". One thing you learn quickly with Nail Bite, is they aren't messing around. Even though 4 out of the 5 members are under 18, it's quite amazing what they've accomplished since becoming a band in November of 2019, even with a pandemic messing everything up.
Nail Bite, based out of Lancaster, PA, has already released 29 songs including 2 full Albums and 13 official music videos between 2020 and 2021. They won Castle Blakk Radio's Band of the Month award in December 2021, ultimately leading to them winning the Band of the Year for 2021 too! They were named in the top 5 rising acts at the Blue Ridge Rock Fest in September of 2021. For those that don't know, the Blue Ridge Rock Fest was one of the biggest music festivals in the Nation for 2021, other bands on the bill: Megadeath, 5 Finger Death Punch, Shinedown, Seether, etc… They were even chosen as one of the Top 5 overall acts at Blue Ridge Rock Fest by livemusictoday.com. They've also recently been listed as a Central PA Music Award nominee for the Best Youth Band/Artist. They have been featured in several music magazines all over the world, and their music has been played on radio stations in over 100 different countries. But where did they come from?
Johnnie Bitting has been playing guitar since he was 5 years old. He also trains at the family's Dragon MMA Academy. Since they are the owners of Dragon MMA Academy, and Johnnie and his Dad both have such a love of music, they also decided to incorporate having music lessons at the studio after their martial arts classes. One of those fellow students was Austin Landis, who is now their drummer. Austin has a very intense double bass drumming technique that you are sure to feel after any show! The lessons got Johnnie and Austin jamming together, even though they were only 9 at the time, they both enjoyed playing and continued to develop their skills. After a few years they were at a Summer Camp for Dragon MMA Academy and they were all just playing Rock Band on Xbox, and Lonna Nelson, came over and stepped in as the singer and instantly Johnnie was amazed even though Lonna was only 10 at the time, she could sing Adele's "Someone Like You" perfectly! The next Summer Lonna signed up for the Talent Show at Summer Camp and sang "Colors of the Wind" from the Pocahontas movie, and John told Johnnie, I don't care how young she is, that's your singer!
Johnnie and Lonna started playing acoustic shows and doing open mics, it started with songs by Adele and other sweet female singers, but then they started getting a little harder, covering Metallica, and other metal songs. When Johnnie started writing songs, they were songs that needed to have more emotion, he was trying to add in the growls, but when everyone was laughing at him he joked to Lonna, you try it.. She went in to their "vocal recording room" (aka Johnnie's closet) and they couldn't believe the sound coming out of the closet. It was just natural for her to growl and roar, it doesn't even hurt her throat when she does it, because she is doing it right. Lonna's brother Caiden also played the guitar, but when they were looking to grow into a full band, they needed a keyboard player, and Caiden stepped up to the task. The keyboard can bring in so many other elements.
As soon as they got the band all lined up, they decided it was time to start booking shows. The Church in Lebanon was the first venue to let them play, and they will forever be grateful. Nip Nyce also had them stop by his Rock Rage Radio show to play an acoustic song which helped launch their music into the online radio show media. It's not easy as minors finding places that will let you play, and when you do get the opportunity there are usually special rules to follow. They were muddling through and had a few gigs all lined up, and then Covid hit.
Johnnie didn't let that stop him, he just started writing songs like a crazy man. He wrote 20 songs during the Covid shutdown. He finds inspiration from the turmoil happening in today's world. When he's writing he loves to try and incorporate traditional instruments like the Sitar, that Caiden is able to play through the keyboard. As they continued to develop as a band, Lonna also started co-writing songs with Johnnie. When she is helping to create the song it just helps her connect with it even more to bring out her insane emotions in every song.
They started out doing everything on their own, mainly from Johnnie's bedroom…all of the recording, videos, etc. They knew it wasn't real professional quality, but they had to give it a shot. They started by releasing 6 or 7 songs throughout 2020, one of those songs, "Winds of Neptune" that they released on YouTube broke through. It was getting airtime on different radio stations throughout the world, and before they knew it, it had over 65k streams on Spotify and Apple Music. In January of 2021 they released their first album, Mammoth of the Great Sea. Their album also got great response, and it really helped them feel like they were starting to go to the next level with their music.
While sitting in his room cruising the internet one day, Johnnie decided to randomly put in an application to get a spot to play at the Blue Ridge Music Festival, he sort of thought it was kind of a joke, but then all of a sudden they got contacted that they were selected. When they started posting on Social Media that they were selected no one really believed them, but when they did a live stream on the Blue Ridge Rock Festival's website, people started giving them a lot more respect. When they took the stage and rocked it, they had an amazing crowd response and got a ton of new fans, and world-wide recognition. Another side note of the Music Festival is that it was a 4 day festival where they were able to backstage as artists and do things like eat dinner beside Poppa Roach, POD, Fit for a King, and many others. They took full advantage of every minute and these kids have guts, they have no problem going up to anyone and introducing themselves and letting them know who they are and what they are all about.
Of course as a "bunch of kids" they are an easy target and they get approached by a lot of people that want to help them with their career. They are lucky to have great, involved parents that keep them all grounded and protected. One problem they've had is their "bedroom recordings" they've had radio stations tell them that they would love to play their song, but the recording itself wasn't good enough quality. Jesse Joseph from AppleDoog Studios reached out to them and offered to mix and master their songs. He told them he loved their music, and he wanted to help them take it to the next level. Their first song they released with Jesse's help was "Disengage". You can definitely hear the difference! He also redid their song "Winds of Neptune". They are quickly getting the new version out there and people are loving it. They included the new "Winds of Neptune" song on their latest album, Lost Travelers, that they just released on December 31st. You can check out all of their music, tour dates, and even buy their merch on their website, nailbiteofficial.com, or you can also stream it on all your favorite streaming platforms.
Being a young band is not easy without a whole tribe of people supporting you, and Nail Bite definitely has it! They have their bass player who is also Johnnie's Dad doing all of their booking, Johnnie's Mom Lisa helps them do their pictures at shows, and promotional shots, the Nelson's Mom Megan does their cool face painting, and she did the Claymation in their Crown of Filth video that took like 6 months to do! Scott Church for giving them their first show at The Church, Doctor D. Photography for all of their awesome live shots and for supporting their shows, Brandon Valentine for selecting them to play on the Central PA Music Hall of Fame Live Streams during Covid that helped the local scene realize they were out there, the Suicide Puppets for reaching out and supporting them. They actually have a show with Suicide Puppets on February 19th at Lovedrafts Brewing Co. in Mechanicsburg. A special huge thank you to all of their fans near and far for listening to their music, and sharing it with their friends, and for coming to their shows! The fans definitely help make things a lot more fun and rewarding!
Nail Bite has quite a few shows scheduled throughout February and March and beyond, so check out their website, www.nailbiteofficial.com, for all of their shows, music, merch, and updates! These kids have only just begun.. I can't wait to watch and see where they go next!