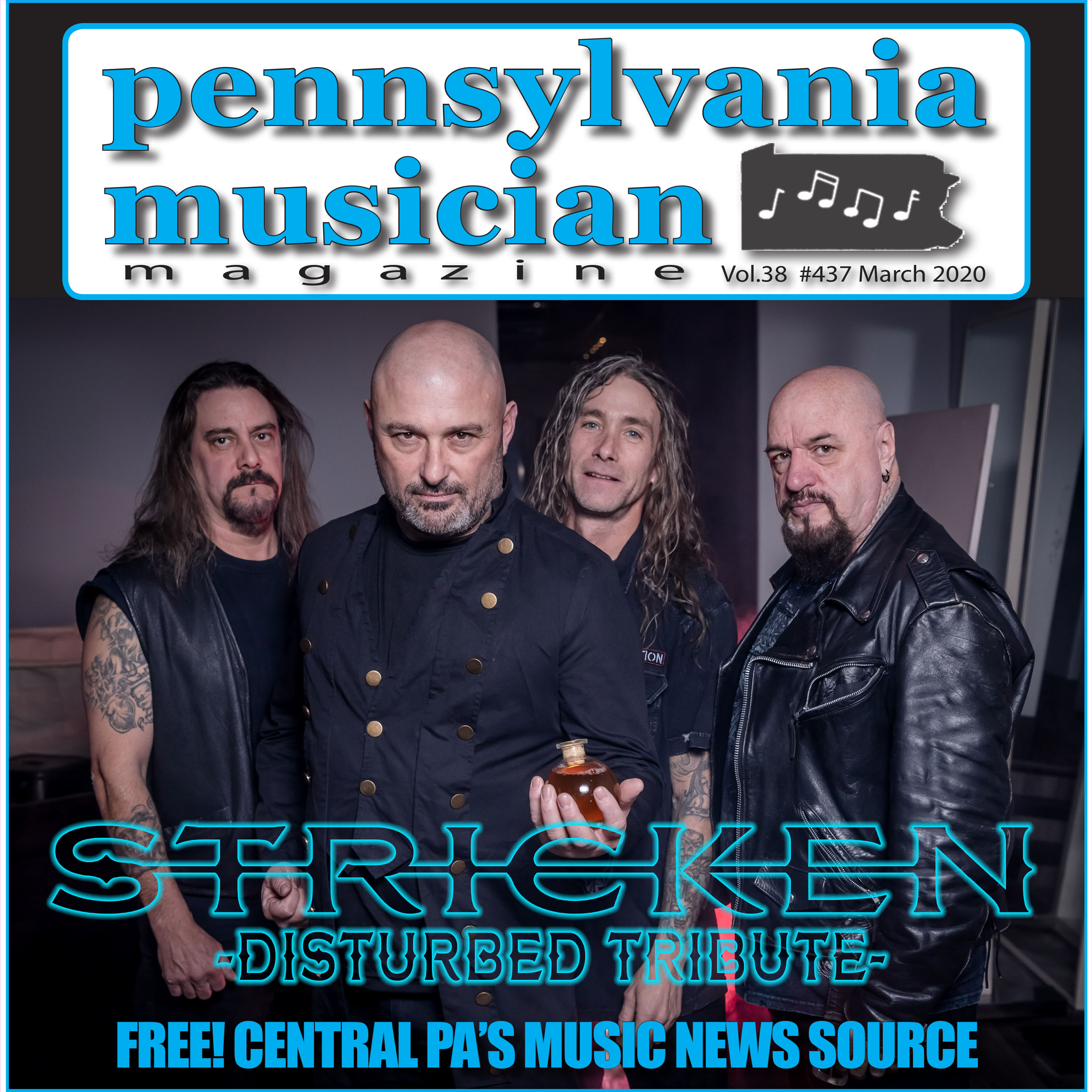 ---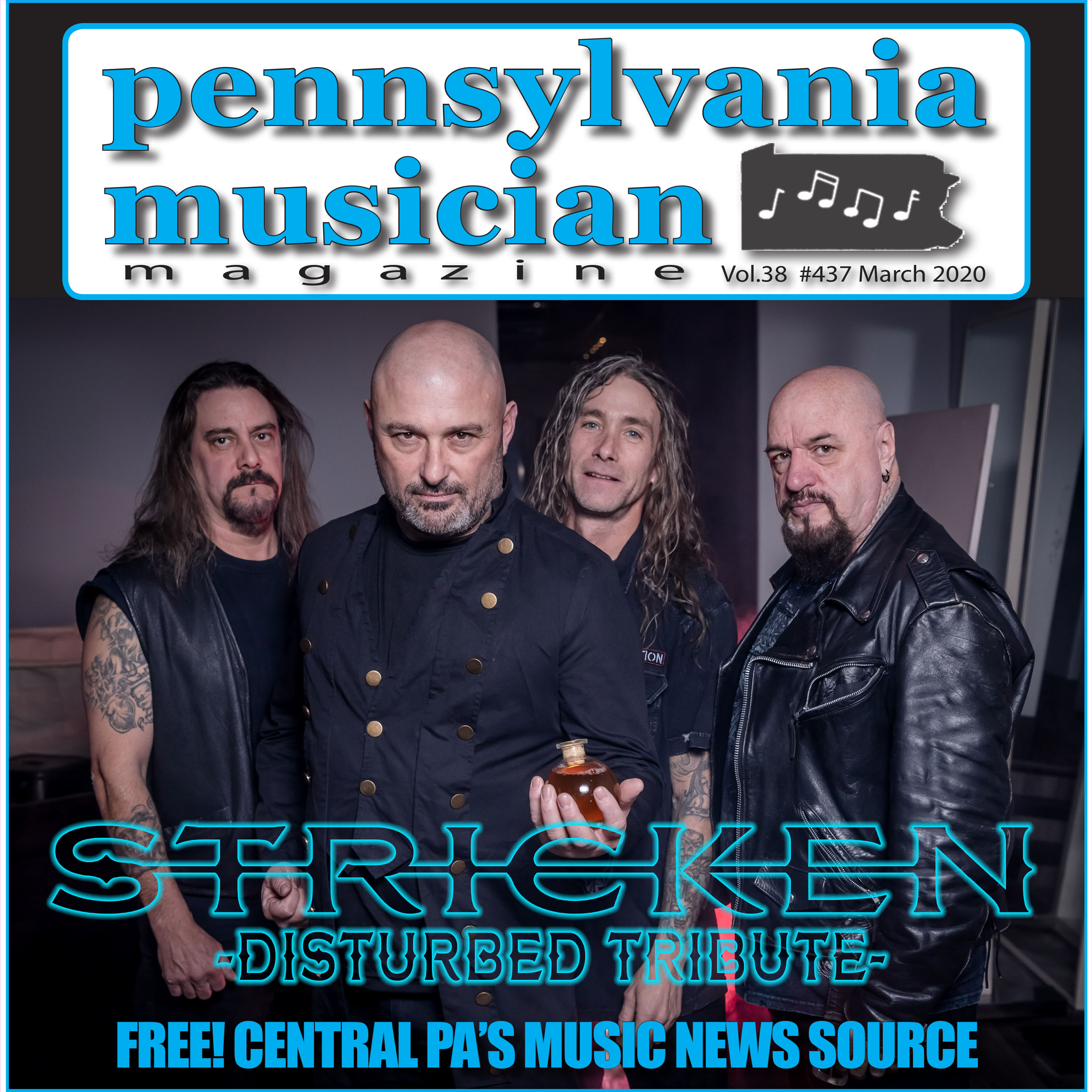 Stricken is a Disturbed Tribute Band based out of Harrisburg, PA. All four members have been around the central PA music scene playing with many different bands. Combined, they have over 80 years of stage experience! They have Dave Zienkiewicz on lead vocals, Steven Junkins on guitar, Anthony Blauch on drums, and Dave Gelwicks on bass.
They've all kept an eye on each other throughout the years. Steve saw Dave singing with SEEP about 10 years ago and instantly thought he would sound great in a Disturbed Tribute Band. Fast forward 10 years and Steve and Anthony both saw him playing an acoustic set at this past year's Helping Little Hands benefit, and Steve said to Anthony, "Wouldn't he be a great lead singer for a Disturbed Tribute Band?" Then all they needed was a bass player, years ago they played with Dave G. in the band Scars of Hatred, and they knew he would be a perfect fit for their bass player. Anthony gave him a call, his only question was, who is going to be on vocals, as soon as he found out Dave Z., he was on board, even though he already sold all of his equipment, he agreed to give the band thing a go, one more time.
Every time you start a new project it is a little terrifying wondering what everyone will think, but at this point I think Stricken have all agreed, they have nothing to worry about. In just over 3 months they have close to 4,000 "likes" on Facebook. They can't believe the response they've gotten from their fans at every show and online. They are very thankful for every share, review, comment, and like.
They first got together back in November, and it has been a whirlwind ever since.. their intention was to maybe start playing out at gigs in February, but as soon as word got out about a Disturbed tribute band, people were contacting them to get them booked at their venues or play in their shows. Their first show was December 28that Fat Daddy's with Next to Nothing a Breaking Benjamin tribute band. They are also very thankful to Bob Patterson, for booking this show, and a few more that are currently on their schedule. They've already crossed state lines and played a show in Delaware and on March 6th they will be playing with Silvertung at Bad Habits in WV, and March 13th they will be at Suite 710 in Maryland. On April 4th they will be back at Johnny Joe's with Next to Nothing and Reign of Eve. They already have gigs booked up through August! Including a big show May 28th when they will be opening for Kix at the Allstar Family Fun & Events Complex in Gettysburg. You can check out their full schedule in their ad in this issue.
I was able to see Stricken at Johnny Joe's for the 2nd show. Johnny Joe's had a last second cancellation, so they asked Stricken on a Tuesday if they wanted to play on that Saturday. They instantly started promoting it like crazy, and sure enough by Saturday they had Johnny Joe's packed! When you first see Stricken you are instantly amazed at how much Dave Z. looks like Disturbed's, David Draiman, but when he starts singing, it's even more shocking how much he sounds like him too! They so far have 17 songs on their set list, and they hope to have 20 very soon! The songs they do have already expand over the entire 20 years that Disturbed has been together. When Dave sang 'Sound of Silence' you could practically here a pin drop as everyone was mesmerized, by Dave's talent! Of course, the whole band kills every song they do, this isn't a band that does anything half-a**ed. They all know if they are going to call themselves a tribute band they better be doing their best to make it sound exactly like the original. They had the dance floor packed at Johnny Joe's and everyone seemed to be loving what they were hearing, just singing and headbanging along. During the interview I was able to hear them practice "The Light" and "The Vengeful One" both sounded great to me, but it was interesting watching them nit pick each and every note, making sure it was spot on! They've only played together about 30 hours so far, and way more of those hours are on stage at shows. The one good thing about a tribute band is you can practice at home alone. They always have lots of homework, and they are all excited to have band mates that all work together that make sure when they get to practice, they are ready to play the song the way it is meant to be played. Everything is moving at such a fast pace, if they are going to keep up they have to practice, practice practice!
When you get so busy so quickly it can be hard on family and loved ones, but the guys in Stricken are very grateful that all of their families, wives, girlfriends, kids, etc.. are so supportive. They wouldn't be able to do what they do without them! They also wanted to thank Rob Meyer from RSM Productions for running sound at multiple shows, and some of them were very last minute. Rob does a great job on their sound and lights, and that takes a huge weight off their shoulders knowing Rob is behind the board. They also wanted to thank Chris Rider Photography for the awesome promo pics, and Christine Charron Photographie for always making them look awesome on stage with her killer live shots! They also wanted to thank PA Musician Magazine for existing, because they know that running an ad and promoting their shows in the magazine is a great way to get the word out. Facebook is not the ONLY answer. They have run an ad in our magazine every month, thanks to their amazing sponsor, Goblin Alchemy. Being in a band is not cheap, and they are very grateful for any help they can get.
If you are a big Disturbed fan, and are psyched that they are touring again, and coming to Hershey this Summer, you don't have to wait for the big show, get out there and see Stricken now! I promise, you won't be disappointed. Check out their Facebook page at: facebook.com/STRICKENTRIBUTEBAND. If you would like to get them booked at your show, give them a call at 717-501-8198 or email strickentributeband@gmail.com.