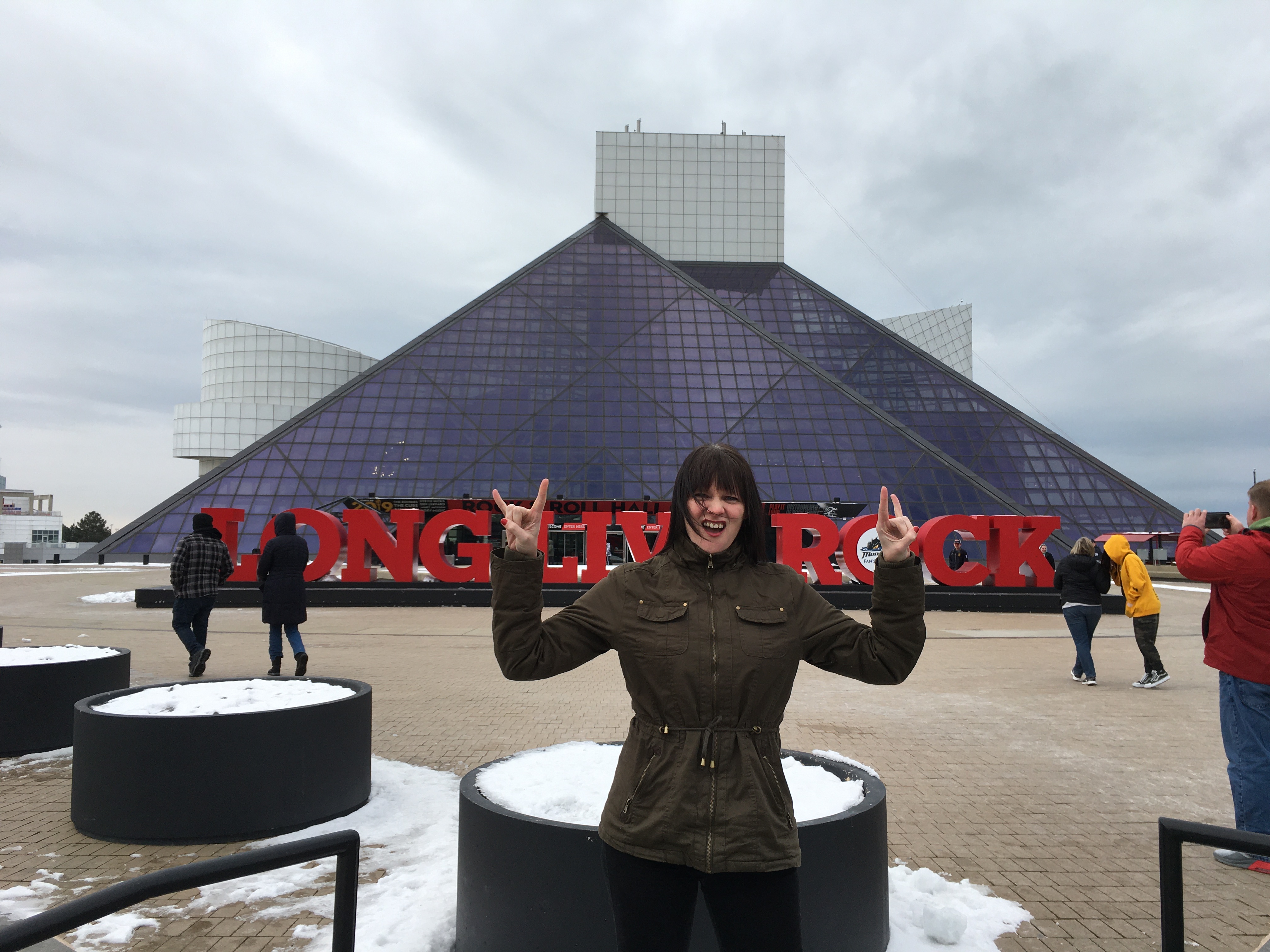 ---
By: Josh Noll
Welcome to PA where February showers bring March flowers! That's right music fans, looks like spring has sprung early this year. Flowers are starting to break through the soil and buds are forming on the trees. To go along with the changing seasons we have decided to give a new layout a try and change things up a bit. We hope you like the new look. The new size gives us a bigger cover area while still keeping the paper in a convenient size for reading and display. Some might not remember but this layout is how the paper started back in 1982. A lot of people have asked for a vintage cover so if your band is looking for some promotion and dig the vintage look, get a hold of me about recreating this iconic look. February flew by so quick it's hard to imagine we turn the clocks ahead next weekend, Sunday, March 8th.
For Valentine's day weekend Missy and I traveled out to the great city of Cleveland Ohio. We went out to the Rock 'N' Roll Hall of Fame and to catch a Cody Jinks show. We arrived at the Rock 'N' Roll Hall of Fame about 2:00pm on Saturday and the place was packed. Making your way to the front of the building you can't help but stop and take some pics with the big sign in front of the huge glass pyramid building. As we walked through the front door they were jamming out to some Public Enemy on the loudspeakers. It was nice to see that no censorship of the music was taking place but keep this in mind if you're taking small children. Once inside things can get a little confusing, but basically head downstairs to buy your tickets and start your tour.
Once we got our tickets and started into the museum it was instantly overwhelming. There is a ton of info and exhibits and it starts out with the early days of the blues as you walk into the first hall. As I started to digest it all I came across an odd looking, beatup, dark red guitar that caught my attention. Upon reading the info placard I learned that this was Muddy Waters rig and jacket. An odd feeling of emotion and wonder comes over you when you gaze upon what is in front of you. Thinking about the stories this guitar could tell, the people who have played it, and the crowds it has entertained. This was not the last time I would feel this that day as it started happening around just about every corner. About 2 second later Missy comes running over, grabs my arm and says, "You have to see this," dragging me over to a beat up acoustic guitar with tears in her eyes, "It's Janis Joplin's," she exclaimed! I chuckled and said, well you just drug me away from F–king Muddy Waters guitar. This is pretty much how the rest of the trip went. From The Ramones to Elvis, from Clapton to Hendrix, they have a lot to see.
I kept my cool for a bit, but when I got to the Jimi Hendrix main display I was in a Purple Haze trying to decipher exactly what I was looking at. They have an awesome collection of drawings, guitars, outfits and original handwritten songs from the late guitar master. I never knew Jimi was into drawing at a young age and to see his most loved football players hand sketched along with fantasy drawings of Knights jousting on horseback was pretty cool. When you first glance at a little ripped up piece of yellow tablet paper you don't really think anything of it, but when you start reading and realize that it's the first draft of Purple Haze, its a weird feeling. On and on we wondered through the halls. My favorite was all the guitars and reading about who and when they were playing them. Seeing guitars once used by Bo Diddley, Eric Clapton, Van Halen, Stevie Ray Vaughn and so many others really made the trip worth it.
As I came around another corner a sweet white and gold Gibson Explorer caught my eye, so I got closer to check it out. It was then I realized who's guitar it was —Lzzy Hale of Halestorm's along with her jacket. Of course, I then had to go drag Missy by her arm, to show her what I had found. It was a cool feeling seeing Halestorm included with all the other legends. A little sense of PA pride came through remembering all the times watching them play as kids performing at small clubs with maybe just a hand full of people watching, as RJ was getting spun upside down by his dad during his drum solos, to them now being included in the Rock 'N' Roll Hall of Fame. All this, and we still haven't left the basement.
The first floor or level 1 has your gift shop, cafe and entrance. Level 2 is "The Garage" where you can go and just pick up a guitar and start playing. A lot of the younger crowd were here making friends and jamming on some sweet instruments. There was even a band of young lads rocking out with a small crowd gathering around them. Covering one of the most played cover songs of my youth, "Enter Sandman". If they would have busted out "Smells like Teen Spirit" next I might have just grabbed an axe and joined in. I decided to leave this to the younger crowd as they all looked to be having a great time.
Heading up to Level 3 is where they have the 2019 inductee's, Jukeboxes to listen to said inductees, voting areas, so you can vote on who you think should be included next, and also where you can find past inductee's. Level 4 has something pretty iconic, which is Pink Floyd's "The Wall." No, I'm not talking about the album, but the actual wall they used to setup on stage on their last tour. I walked right through one of the openings at first not knowing what it even was. Funny thing was, I saw the wall in use years ago, back in "94," but the sad thing is I remember more about the parking lot party then the show from that concert. Oh to be young again.
Levels 5 and 6 contain even more guitars which we quickly looked through as we were starting to run out of time and had to make our way to the upcoming Cody Jinks show. If you're planning a visit to the Rock 'N' Roll Hall of Fame I would budget a minimum of 4 hours if you're real fast but recommend 5-6 if you really want to take it all in. You could easily spend all day here as there is plenty to do for all ages.
That night we got to see Cody Jinks who put on an awesome show. If you're not familiar with Cody Jinks then I guess you're just missing out. He has a modern outlaw country style and is really growing in popularity. The other thing growing in popularity is the mighty Mullet. I haven't seen so many beautiful manes of mullet since high school. These guys were seriously proud of their accomplishments as they strutted around the venue. Just wait till they see those senior pics thirty years from now. Been there, done that, don't want to do it again, haha.
On the way home the next day, we made a detour to check out the Kinzua Bridge State Park. This amazing bridge was built in 1882 to help transport manufacturing materials, people, and oil (which was just discovered in the area). In 2003 during a restoration, the center of the bridge was wiped out by an F1 tornado. They have a really cool interactive museum that tells the story beginning to end. The coolest part is Odo Valentine, who in 1939 flew his bi-plane under the bridge. To do so, he had to do a half roll so the wings would clear the pillars. He kept it, along with a picture a secret for 70 years, until he finally admitted what he had done. Odo, who was a WWII pilot trainer and original barnstormer, passed away in Sept of 2019. While the bridge has nothing to do with music, it makes for a cool place to visit and is free to the public all year round. You can still walk out on the remainder of the bridge, which at the end has a glass section you can stand on. It makes you feel like you're floating in the sky. Its a bit of a drive into the middle of nowhere but it is worth the visit.
I know everyone is dying for some Millennium Music Conference coverage but, with the event at the end of the month we were all just to pressed with our deadline to include all the great bands that showcased the event. Tune in next month for everyone's take on the conference. One thing is for sure, if you're a developing artist, photographer, venue, or generally like music you should not miss this event. I had a great time this year once again. Seeing old familiar faces and meeting so many new ones. Networking with everyone really makes the weekend worth it. Musicians from all over the world come to Harrisburg and its a great chance to broaden your music horizons and see some great talent. Highlights from this year for me were, in no particular order, learning of Justin Hershey's mannequin fetish, hearing Uk country for the first time by the band Sam Coe (who are also some of the nicest people you will ever meet.), Seeing too many bands to count including Blind Choice, Eternal Frequency, The Radio Broadcast, Northern Borne, Bill Hartmann, Kevin Roy Correll, Sam Coe, Derek Henry, JackKnife Stiletto, and so many more. All these bands and performers really showed Harrisburg how diverse music can be with styles for everyone. So we have said it before, and will say it again, if you have never been to an MMC you should do so next year. A big thank you to John Harris for creating this conference and all that he continues to do for the local music scene.
This month on the cover is a new tribute band taking the area by storm, STRICKEN! If you haven't heard of these guys, you better crawl out from under the rock you've been hiding under cause they are really creating quite the stir. From what I have seen and heard, if you're a Disturbed fan you better go check these guys out. They are all seasoned musicians and are really focused on delivering the goods. Rachel Rocks has already seen them a couple times and claims they MELT FACES! Please go check out the full story on page 13 and make your plans now to catch one of their upcoming shows. There's a lot going on in March but I'll let the paper speak for itself, just start turning pages, instead of swiping left or right, to find out what is going on this month in Central PA and beyond. Rock on Pennsylvania! See you next month!