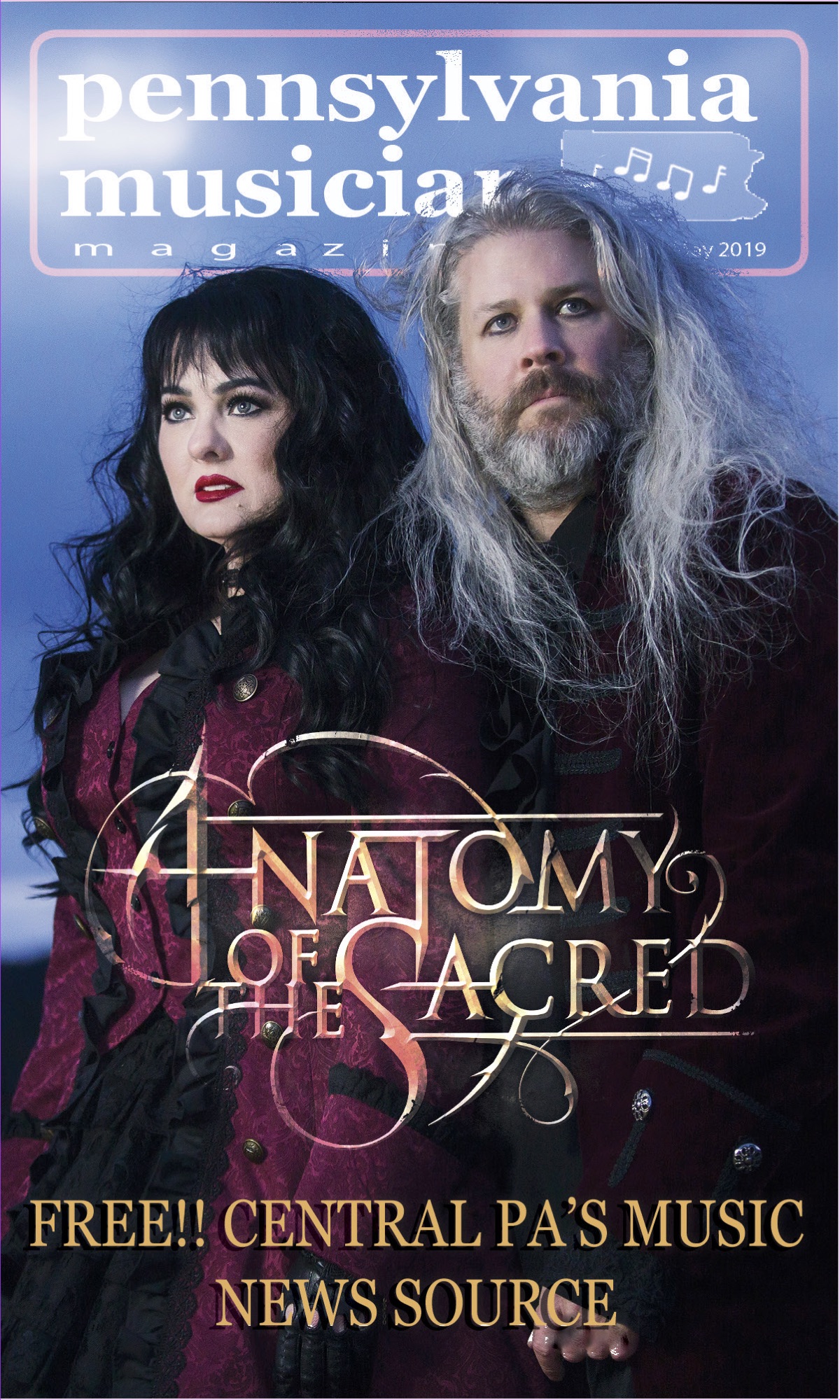 ---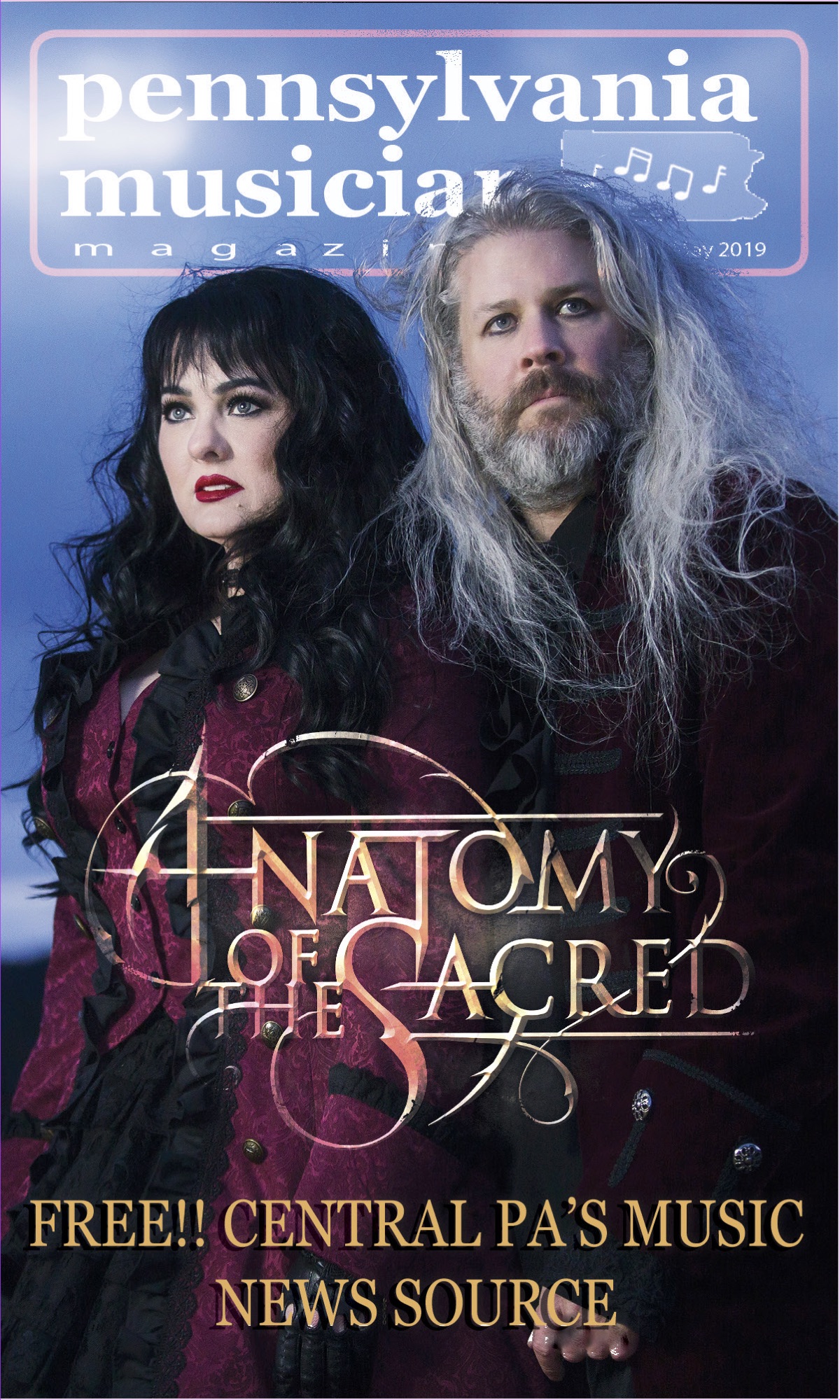 Anatomy of the Sacred… Beautiful Metal
Cover Story by: Rachel Rocks
Anatomy of the Sacred is not your average south-central PA band, they are truly a band that you can easily say has their own songs, style and sound. When trying to describe it, you could simply say 'Beautiful Metal' or 'Symphonic Metal.' I sat down with Brenda Robinson and Shane Krout, the musical geniuses who have created this masterpiece by blending together their unique talents into what is known as Anatomy of the Sacred.
The name of their band captures the meaning behind their music. Their lyrics examine the anatomy of the most sacred human elements and the reason of their existence. Most of their music is based around love, loneliness, passion, joy, and longing. You may be wondering, how did they find each other? Back in 2011 Shane ran a free classified ad in this (PA Musician) magazine for a vocalist for a previous project, Shades of Autumn, and Brenda responded to the ad. To audition Brenda was given 3 song choices to learn and she chose the hardest one, "Never Enough" by Epica, and she nailed it! Her voice sailed effortlessly through the vocal progressions in the song, and Shane knew she was the one.
Brenda was new to PA, she grew up in the Midwest where she was a lead soloist and songwriter for the Sheffield Family Life Center Choir for many years. As a Christian recording artist and soloist, she opened for Vernessa Mitchell and had original songs performed by celebrated Christian artists Donn Thomas and Calvin Hunt. She's come a long way from her Midwest roots, but when you are such a talented vocalist like Brenda, the sky is the limit! Shane is a life-long multi-instrumentalist and a masterful arranger. He started playing in bands and orchestras where he learned to appreciate the lush, romantic music that now influences the songs of Anatomy of the Sacred. With both of their diverse musical careers it's easy to see how such a complex band was formed.
Almost immediately they started collaborating and writing original music. The songs they were writing didn't really fit with Shades of Autumn, so at that point Brenda and Shane decided to start their own project and hence, Anatomy of the Sacred was born. They knew from the start that their show was going to be just as unique with the production as it is with the lyrics and musical style. Brenda looked all around until she found their perfect wardrobe. Their shows always involve costuming and props, which helps dictate the meaning and purpose behind every song. Even though it's a risk, they are daring to do music in a different way, it seems to be paying off.
Anatomy of the Sacred has already had amazing opportunities to play their music and they won't be stopping anytime soon. They most recently got selected to play in the Wacken Metal Battle USA, competing in the New York Region, for the ultimate prize of representing the US in the World's Largest Outdoor Metal Festival in Germany. They made it to the 2nd round in their bracket, but one very cool thing is they were the only female fronted band in their bracket. In 2016 they released their 1st EP, Ashes to Ashes, you can check out the EP on their website, www.anatomyofthesacred.com. They have a great website where you can listen to their music and watch videos and get a real taste of what Anatomy of the Sacred is all about. They are currently working on the final touches to a very amazing song, "Suicide Lake." They are hoping this new song will touch as many lives as possible and help prevent the horrible tragedy of suicide in our nation and around the world! One powerful line in their new song, "We all are dreaming of finding our rest, but rest is for living, and those who exist…" Unfortunately, too many people have been directly or even indirectly affected by suicide, and plenty of people will be able to relate to this amazing song. They strive to make sure their music is about building each other up. This world is dark enough, there is no need to add to it.
This year Anatomy of the Sacred will be headlining the Roosterpalooza Music Festival on June 15th. This year the Roosterpalooza will be featuring all female fronted powerhouse bands. They are very excited to be headlining this amazing festival. When Anatomy of the Sacred plays out at their shows they do have a full band supporting them. They have been blessed to have a great line-up of musicians that enjoy playing the music they create. They wanted to send out a huge thank you to their musicians: James McGarvey, Brett Rome, Kenny Sheldon, and Dale Lytle. You can have all of the vision in the world, but if you don't have a band that can handle playing your music, it would definitely make things a little more difficult.
They also wanted to thank the usual Family, Sound Technicians, Promoters, and their Fans! They wanted to give a special shout out to Scott Sobel for recording their music at The Demo Factory and to Michael Washkevich from MDW Productions for mixing and mastering their recordings to perfection! Some special friends who have helped them along the way, Michael Clayton Moore and Gordon Tittsworth for all of your guidance, and the world-renowned Renee Robyn for all of their professional photography and for designing the cover of their EP. They actually flew to Newfoundland for the photoshoot! What an amazing experience… Anatomy of the Sacred is currently looking for a booking agent or promoter, but in the meantime, if you would like to get Anatomy of the Sacred booked at your venue or special event, you can email anatomyofthesacred@outlook.com or call 417-650-1216. Don't forget to also check out all of their videos and listen to their music on their website, www.anatomyofthesacred.com.