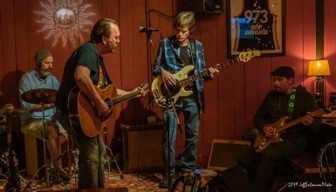 ---
By Josh Noll
Welcome back for another month of the PA Musician Magazine. We appreciate everyone in the local music community that has supported us over the last year. It's hard to believe that next month will be my one year anniversary issue. Time flies when you're having fun and I'm happy to say that the paper is doing great and I couldn't be happier with how things worked out. Still a lot to learn about being a small business owner but I wouldn't trade it for the world.
Onto music news this month it seems that everyone is talking about Woodstock 50th. I know Missy and I have been talking about it all winter. She was/is planning on attending, while I was on the fence waiting for more details. My thoughts were why not just attend the Bethel Woods event, as things were coming together this looked like the better of the two choices. The first of the depressing news for us on the Lang event at Watkins Glen was the line up seemed more of what we were not into vs what we liked. Followed by the report of high ticket prices and now ending with the financial backers calling it cancelled. As of press time it is still not really clear if the Watkins Glen event will happen at all. At this point it is not looking good. I think if everyone really wants a modern day Woodstock forget about tickets and hotel reservations all that worthless stuff and just show up in Bethel NY with your bros and hoes a case of Hams (I think that's the hipster beer this year). Park in some farmers field piss off the locals, make a mess, do some acid, drink all your beer the first day, meet someone and fall in love for the rest of your life. It will be wonderful and you will make memories that will last a lifetime. You may even be in a documentary running around naked tripping your brains out. If all this sounds fun then you really should just hang out in Perry county up at Uncle Twisty's haha. In all seriousness If you really want to go be part of Woodstock I would support the Bethel Woods event as they have obviously been about Woodstock all along and deserve the support. Get your Tickets NOW!
Now what's up on the local scene. Last month I was lucky enough to get out and head up to the Que Brew in Selinsgrove for a little open mic mash up. We were up celebrating Chris Riders birthday and got to hangout and hear some great musicians. Becky Blue was leading the charge and her blues songs were sweet. She kept things rolling all night by switching it up with the different talent that was in the room and we got to hear some great combos. Ed Varner even played happy birthday to Chris with his Kazoo! We got to see two of the Prairie Dogmas, Michael Lundy (guitars and vocals) and Dave Jackson (percussion) mixing it up and everyone seemed to be having a great time. If your looking for something to do check out Que Brew's facebook page for dates and events.
Ok so what's happening in May? Well we got the Delany Chevrolet Westsylvania Jazz and Blues Festival. Try saying that five times real fast. This is FREE and is held in downtown Indiana PA on the 24th and 25th of May. With names like Dwayne Dolphin, Venessa Collier, Jack of Diamonds, Tom Roberts and many more check out the back cover for the full details on what and when things are going on.
We would like to welcome Reverb back to our pages. They have a booked month for May including Insane Clown Posse on the 4th, Doro and Metal Church on the 8th followed by David Allen Coe on the 10th with local boy's Zach King and Aaron Parker which is sure to be a great show. Check out the full page ad back on page 2 with all the dates for upcoming shows.
XL Live has Warrant with Time Bomb on the 3rd if you don't have tickets get them now from Time Bomb you can contact the guys to get tickets cheaper then you will get elsewhere and it helps support the local bands. Hit up the Time Bomb facebook page and message them about tickets. Same for the KIX show coming up on June 15th both Defiant and Road Case will be opening. Plan ahead and see these guys to get your tickets.
The Harrisburg University Concert Series has Joan Osborne on the 4th at the Whitaker Center. Also this month on the 17th and throughout the summer the Whitaker Center will be holding its Whitaker Unplugged Series. It's an acoustic singer songwriter competition featuring local artist performing original songs battling it out for the number one spot. They bring in different local judges to keep things fair and they even had our own "One L" Michele Kelley to do some judging last month. Be sure to make plans to attend or enter one of these great competitions.
Blarney's/Park Inn has a stacked month and on the 18th are hosting the A.R.M.E.D. Halfway To Pay For Play event. With a list of bands including Hot & Dangerous, Broken Fayth, Hometown Strangers, Six Bar Break, Whiskey On the Rocks and Southern Tyde! If that line up doesn't get you excited then I don't know what will. I believe this one is hosted by Jen Shade and we all love Jen so get out and support the event.
So much going on this month its hard to cover it all in here but there are great places like Gary's Bar, Racehorse Tavern, Union House Taproom, all these places support local live music and are bringing it for all to enjoy so please go check out the schedules and go out and support the bars and venues that help local music survive. Oh and one last thing May is DAM PARTY time!! This year they are going all out and making it a two day event with camping, music, great food lots of great food!. This is no dam ordinary party and you will have a dam good time its right along the dam creek in the dam woods of Pennsylvania and everyone there is awesome and has a dam good time. Leave your dam problems at home and go enjoy this fantastic Dam Party. Its May 31st- June 1st dammit!
The cover story this month is Anatomy Of The Sacred. I had a great time making this cover I am trying to learn all this graphic designer stuff with my construction background and somehow a hammer has no effect on the end product something I am not familiar with. The cover shot was taken by Renee Robyn. Be sure to read all about Anatomy Of The Sacred on page 13 and get out and checkout a show. They will be headlining this years Roosterpalooza on June 15th along with a list of female fronted bands including Conviction, End of Days, Madness at Midnight, and Don't Tell! Roosterpalooza is always an awesome time.
Have a great May and if you're wondering how do I become part of this PA Musician Magazine it's easy, give me a call or shoot me an email or message on our facebook page. Advertising is super easy no fuss, no muss and we have ads for all budgets and we support all genres of music!! Peace out you hippy loving freaks!