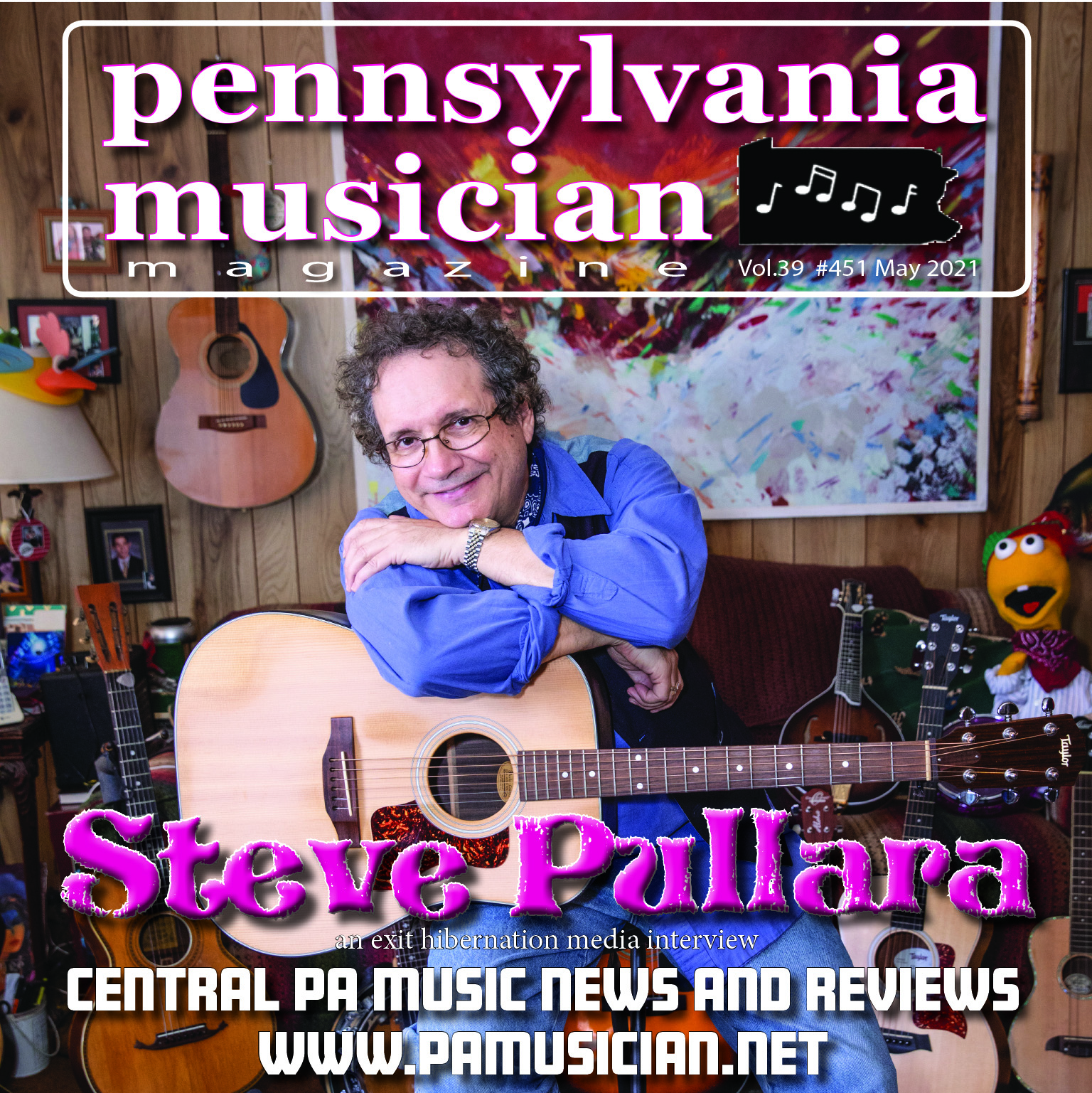 ---
Interview & Photos By: Exit Hibernation Media
Steve "Cool Beans" Pullara is an exceptional musician and story teller that you may not have heard of. His audience is not the usual concert goer, nor is it the night club party fan. He likely would not be pushing his amplifier to 'eleven', nor showing up two hours late to a concert in a helicopter. What he WOULD be doing is arriving in his quite punctual fashion, carrying a guitar case and a bag with mysterious addendums, including a flute, a banjo, and a sidekick named Sonny (Sonny is a handmade, trademarked puppet that features in part of his show). Steve's audience is made up of something that one could say is a bit more endearing, and one that tugs at the heart strings. Just glancing at some of his song titles, such as "Kitty Cat Under My Wheelchair", "Grandma's Video Camera", "The Elephant Who Couldn't Pay Her Rent" and "Alien Babies", you know that his music is geared towards all ages, but of special appeal to those up and coming. When Steve shares his stories and wit with the audience, he shares what has become known as 'Pullarables', a collection of original sayings that could be a daily calendar reminder for all to enjoy.
For over thirty plus years now, Steve has been entertaining the very young, the underserved, the learning-challenged, along with families and groups of all ages, with songs that not just get their attention, but that stick with them after they are heard. 2011 proved to be a pivotal year for Steve, where he earned the coveted GRAMMY® award for Best Children's Album "All About Bullies…Big and Small", as a producer and lead writer for the project. Steve has been listed in the top ten entertainers list by the Philadelphia Intelligencer newspaper, has received additional GRAMMY® nominations, is the recipient of a U.S. Congressional Citation, and has been honored and recognized by such organizations as ASCAP-Plus, Crayola, Bucks CountyIntermediate Unit, various Parent's Choice, National Parenting Product's Awards aka The NAPPA®, the Hot Digitty Awards® for Children's Music, and many more. Steve's latest album, "An A Cappella Family", was released in 2020. With a catalog spanning more than 15 albums and multiple collaborations, Steve has been a busy bee to say the least. Exit Hibernation Media though it most prudent to sit down with this artist to get a new perspective on the life of a professional musician whose genre is unique and profound, along with clicking some photos of him with his guitar collection.
Steve makes use of two professional studios in and around Bucks county. East Coast Recording Company, an area recording facility run by GRAMMY® winning producer Jim Cravero, is located in Warminster. A long-time collaborator of Steve's, Jim has worked with Steve on many projects, and has an impressive list of clients. East Coast Recording is a nucleus of many commercial projects, and is housed in a historic former astronaut training facility. Steve's other main studio is Robinsong Studio, located in Swarthmore PA, owned and operated by fellow GRAMMY® winner Pat Robinson. Steve has regularly collaborated with fellow GRAMMY® winner and friend Gloria Domina, who adds her percussion on songs in both studios to complete the team. As a working, professional musician, Steve utilizes the best of the best.
EHM: Thank you, Steve, for taking the time to do this interview! It is exciting to talk with a GRAMMY® award winning musician, and especially one who is making a difference in the lives of the youth of today. To help the readers get a sense of who you are, and what you do, can you tell us a bit about how you got started as a musician? When did you first start to play an instrument, and what instrument was it?
SCBP: It's my pleasure to meet with you today, in fact it's been a lot fun! The first instruments
that I ever touched were my grandparent's guitars. They both taught me the Italian folk song entitled "Eh Cumpari." I included that song on my multi award winning album entitled "A Big Bowl of Musicroni". Grandpa's guitar (an original, hand-made OscarSchmidt) stayed with him during his whole life. In fact, it was on his back when he landed here in the early 1920's at Ellis Island. After Grandpa went to heaven, my Dad, his Sister, or Aunt Della, and my two uncles Joe & John, presented it to me. I treasure it. My parents had it restored for their 60th Wedding Anniversary where I played it to sing "Che Sera Sera" for the whole family and guided them in a sing along. You can hear my album version of this song on YouTube. I was also asked to tell the story of how it got here from the ship name La Providenza. Grandpa's guitar is an Oscar Schmidt Parlor guitar and was made in Elizabeth, NJ, and then was shipped to Italy, only later to come back to the states via luxury liner, though in steerage.
EHM: What appealed to you about making music when you were first starting out?
SCBP: Joy was the alluring appeal, combined with the good vibe that it gives people, as I mutually enjoy being its vessel.
EHM: Where did you get the inspiration for the name "Cool Beans"?
SCBP: My bands original name was Steve Pullara & His Invisible Friends Band, while my company's name was Cool Beans Music. When people booked me, they always put Cool Beans or Steve Pullara & His Cool Beans Band. The phrase came to me from a person with whom I worked with in a corporation. Whenever she was happy, she would say, "Cool Beans!" That was the team I was forming as my children's entertainment and recording company. When getting booked I needed a catchy name. As I heard that being said, I realized that was a wonderful name and trademarked it with the U.S. copyrights office. I have Cool Beans Music & Design® for my incorporated usage and with that, hence I own it with peace of mind.
EHM: What made you gravitate towards the children's music genre versus any other?
SCBP: It's who I am. Most everything that I record or perform has a fun and gathering feel. I like to make my audiences happy no matter their age or situation. The interesting thing in what I record or perform, is that plenty of my songs have a natural sense of colorful story telling with humor and or reflection.
EHM: You have an award that is unlike most others, and one that many may never get to achieve. How did you first find out that you were nominated for a GRAMMY®, and what was the experience like with actually winning one?
SCBP: It was a lot of work, planning, vision, and team building. Once you have that, you should always want to work at a GRAMMY® quality level. We have a team tradition whereas, I
do not look at the nominees list when it is announced, I'm called by my friend and coproducer Jim Cravero. Once announced, the world as I knew it changed. Interviews were requested with all kinds of people wanting to work with artists like me and our team
members. To the recording artist community, it means that you are serious, relevant and that you have marks to make in the industry.
EHM: You have become quite versed in the business side of things. How has that knowledge and experience transcended work and relationships with others in the music business?
SCBP: Everything that I learned was either the hard way, the best way, or the warning to do it right. Peers and pros gave me time to learn to be a pro. I am called all the time for advice. If I can guide peers to the right sources, it makes me feel great and I ask all who seek and find to share and make time to help others dream, too. Time is a great gift that we can all give.
EHM: Tell us about your latest album, "An A Cappella Family". Where did the inspiration for that release come from?
SCBP: This album was started slightly ahead of Covid 19 as an a cappella album for children in January 2020 with a team in the LA area known as the Smith Sisters (aka Keeli Lewis & Wendi Kilman). They are an a cappella duo that really are tight. We had no idea quarantines were coming. The twist is that we were in Warminster, PA while they were on the West Coast and we never physically met. It was not chosen as a cappella album due to Covid 19, but as I said…The Lord works in mysterious ways. How best to do an album where nobody has to be physically there except in small pockets? I wrote all the songs in PA and sang all the male harmony spots with Pat Robinson's guidance as to where and what to do. He sent them to Keli and Wendi, who gave their tracks to Dave Williams at 2nd Floor Recording & Studio for several months. Tim Lewis also did engineering with Kelli and when that part was done Jim Cravero did audio sound effects, mixing and added in Gloria Domina's Percussion. When all was sung and done, we had created a multi awarded well played new album with fun and relatable subjects. I stay away from politics, but every song, as in my Pullarables, have a deeper meaning, even if you are laughing all the way through. Our fun album "An A Cappella Family" can be head gratis at www.CoolBeansMusic.com or on most streaming services.
EHM: What does the future have in store for you and the Cool Beans Band?
SCBP: Expansion of my work in portable media, but I would like to create content for popular needs such as TV, movies, commercials, and of course radio airplay/streaming, with dare I say a mega hit!
For more information on Steve, his art and music, and the Cool Beans Band, check out his links at:
https://www.coolbeansmusic.com
https://www.facebook.com/steve.pullara
https://www.facebook.com/ECRstudio
https://www.ecrstudio.com/
About Exit Hibernation Media:
A.G. with Exit Hibernation Media (www.exithibernationmedia.com. For more information,contact A. G. at 717-504-5737, or email directly at photography@exithibernationmedia.com.