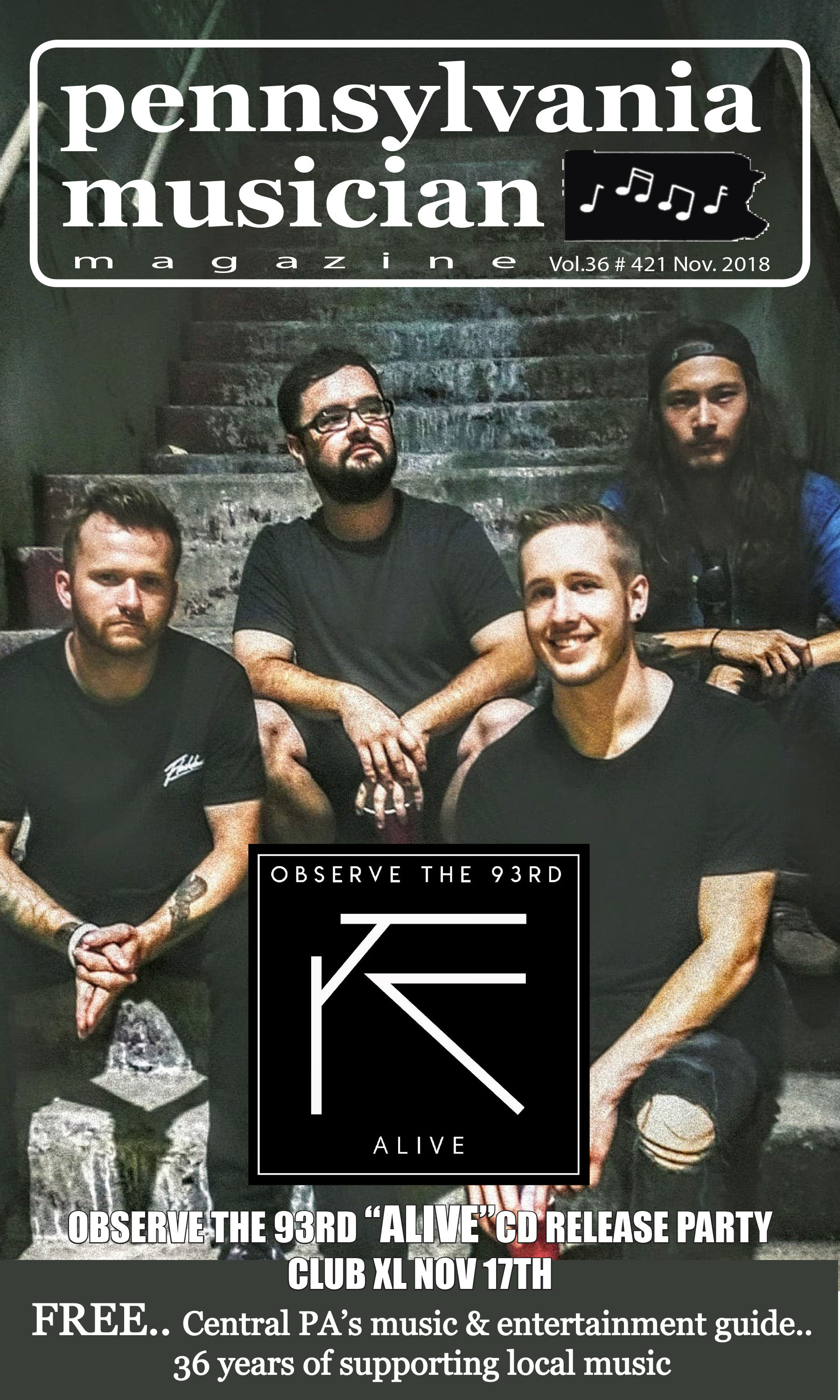 ---
Observe the 93rd… New CD, "Alive," Drops November 17th!
Observe the 93rd (OT93) is a high energy, melodic hard rock band from Harrisburg, PA. The band consists of guitarist/vocalist/keyboardist Derek Henry, bass player Tyler Davis, drummer Dylan Zepp, and their newest member, guitarist, Dan Pugh. Observe the 93rd has undergone some member changes over the years and occasionally has some guest musicians on stage, but one thing is very consistent, no matter where they are playing or how many people are watching, they always put on one heck of a show!
I first saw Observe the 93rd when I was a guest judge for 105.7 the X's Battle of the Bands in 2012. The winner got the opportunity to play at the Rock Allegiance Show at Hersheypark Stadium, and guess what?? Observe the 93rd won! Stage presence is such a key factor to any live show I go see and these guys were insane. They were so much fun to watch, and their music was just the perfect icing on top. I've seen them quite a few times over the years and I've watched them grow and develop as musicians. As one of the youngest bands playing in the area, it was always refreshing to see all of the younger fans out enjoying live music, dancing and singing along. In 2013 they won an award for the "Best Live Act" at the 717 Music Awards, I'm definitely not the only one impressed by the show that OT93 brings to the stage! I did see them a couple months ago, but it had been a while. I couldn't believe how much more aggressive Derek is on the stage stepping up the edge of the stage and singing his heart out. Having their new guitar player, Dan, definitely allows Derek to focus more on vocals, which is awesome! Dylan went through a onesie stage for a while, but he was actually wearing normal clothes, which after 5 years of seeing the onesie, it was almost more weird seeing him "normal". Tyler was his normal, absolutely crazy bass playing self! Even after 7 years of playing you would thing things would get "stale" but let me tell you, that is not the case with Observe the 93rd. They are constantly writing music and learning new music, and more antics to bring to the stage.
Because of OT93's crazy lives and my own crazy life, we decided to mix things up and I just sent Derek some questions, and he sent back the answers. I was going to try and devise some amazing story, but I think it's better to keep it raw and real so here goes..
Rachel Rocks (RR): The Members: Derek, Dylan, Tyler, ?? Who is the 4th mystery man?? Tell me
some back info on how he came into the band, and why you decided to add an additional guitar player…
Derek Henry (DH): That's Dan Pugh! He's been a friend for a while. We wanted an additional guitarist to fill the live sound a little and to free me up so that I can just sing from time to time. We jammed a few times and he seemed into what we're doing and has similar ambitions, it just worked!
RR: Congrats on the new upcoming album "Alive"! How many albums does that make for you guys now?
DH: It's our 2nd full-length album. We had an ep titled 'Attracted to the Abstracted', then our first album 'The Vast and Boundless' in 2016, now we're about to release our 2nd album 'Alive'.
RR: Tell me about who writes what and why? What's the story with "Alive"?
DH: I pretty much write the songs in my room, then I'll bring them to the group and Dylan and I feel out the drum grooves, then we'll collectively nit-pick at parts a bit. And I'm inspired to write for many reasons…working through internal struggles, philosophies, relationships, recounting experiences etc. I think art in general is more often than not someone externalizing their internal suffering as a means of therapy, and that's true for me. This record touches on a lot of topics: reflection, depression, hope, love, consciousness, etc. But the underlying theme seems to be reflecting on times you've felt free and alive, enduring times where you feel like alive is the last thing you want to be, and realizing your strength and choosing to be alive in every moment you have in this existence.
RR: Tell me about how each recording was? Who did you record "Alive" with?
DH: We recorded this album with our friend Logan Summey at Rock Mill Studio in Mechanicsburg, who we also recorded our last album, 'The Vast and Boundless', with. We love working with him. We have a very natural creative chemistry in the studio. I tend to have a very specific vision and emotion that I want to make as potent as possible in each track, and he does a great job of helping to hone in on that. A lot of it is unspoken at this point haha, we know what we're both going for. This album we wanted to make a lot more raw and live-sounding, so less epic reverbs/delays like we used on the last record…a more in your face and vulnerable feel.
RR: Tell me about the songs on the new CD are they different than your other stuff? What's the story behind the artwork of the album? What's the meaning behind it?
DH: This album is definitely different from what we've done previously. I feel like most of the songs we write tend to sound pretty different from one another anyways just because we never focus on trying to make them fit a specific genre, the focus is always just the emotion of what's being expressed in the song. The album cover symbolism will be revealed eventually, but not yet 🙂
RR: What's happening at the CD Release Show? What bands are opening? New merch?? It's at Club XL!! That's awesome in itself…
DH: It is at Club XL, which is an amazing new venue and we are so stoked that we were able to book the release show there for 11/17. We'll be joined by two really awesome bands, Gas Station Disco and Hot and Dangerous. Both of these bands are ridiculously talented and high energy. Definitely get there in time to check out their sets! It's going to be a ridiculously crazy show. Our shows always seem to turn into an insane party vibe, this one is going to be crazy on a different level. Don't send me your texts in the morning about how you can't believe you drank so much that you shaved one of your eyebrows off and woke up in a Denny's booth 2 hours from home. If you come, these things may happen. You have been warned.
RR: How have you evolved as musicians? It's obvious from your stage show, but how about mentally? What keeps you motivated to keep writing songs and playing shows?
DH: For some bands the mindset is, "Well, we're in a band…so we need to write songs.". The
creative aspect is a secondary thought, which is totally fine, but that's just not how I work. I never write for the sake of writing or because I'm in a band. I only write when I have something I need to get out or express. And I find myself needing to express something or inspired constantly, always have, so I write quite a lot…but it's never simply for the sake of the practice I guess. As far as playing live, everyone in the band just thoroughly loves playing shows and using it as an outlet to completely lose our minds and share a really vulnerable experience with the audience.
RR: You've opened for some pretty impressive artists: Foxy Shazam, Three Days Grace, Seether, Stone Temple Pilots, Black Stone Cherry, and Fuel. Any artists you DREAM of opening for?
DH: Twenty One Pilots would be really cool, System of a Down, Bring Me the Horizon or even playing a festival where there's all different genres so we could play with some more pop style artists like Post Malone, Billie Eilish, Drake, and Khalid would be awesome. We all like a really wide spectrum of artists.
RR: What's the band's favorite song to play? Least favorite song to play?
On our last record there's a song called Clever II that we all really enjoy playing live. It's about two minutes of full-on weirdness and insanity. That's probably someone's tinder bio. Least favorite song is now also Clever II.
RR: Any shows coming up besides the CD Release Party?
Look for a lot more shows in 2019!
Well that about sums it up! Observe the 93rd releases their new album "Alive" on Saturday, November 17th at Club XL. Don't miss this amazing show! If you are out of town, make sure pick up their new album on one of the many online platforms. Make sure and like their page on Facebook, Become a Fan on Reverbnation and do all of those other cool things to do! If you would like to have OT93 booked at your venue or special event, give them a call at 717-448-1266. See you all on the 17th!!