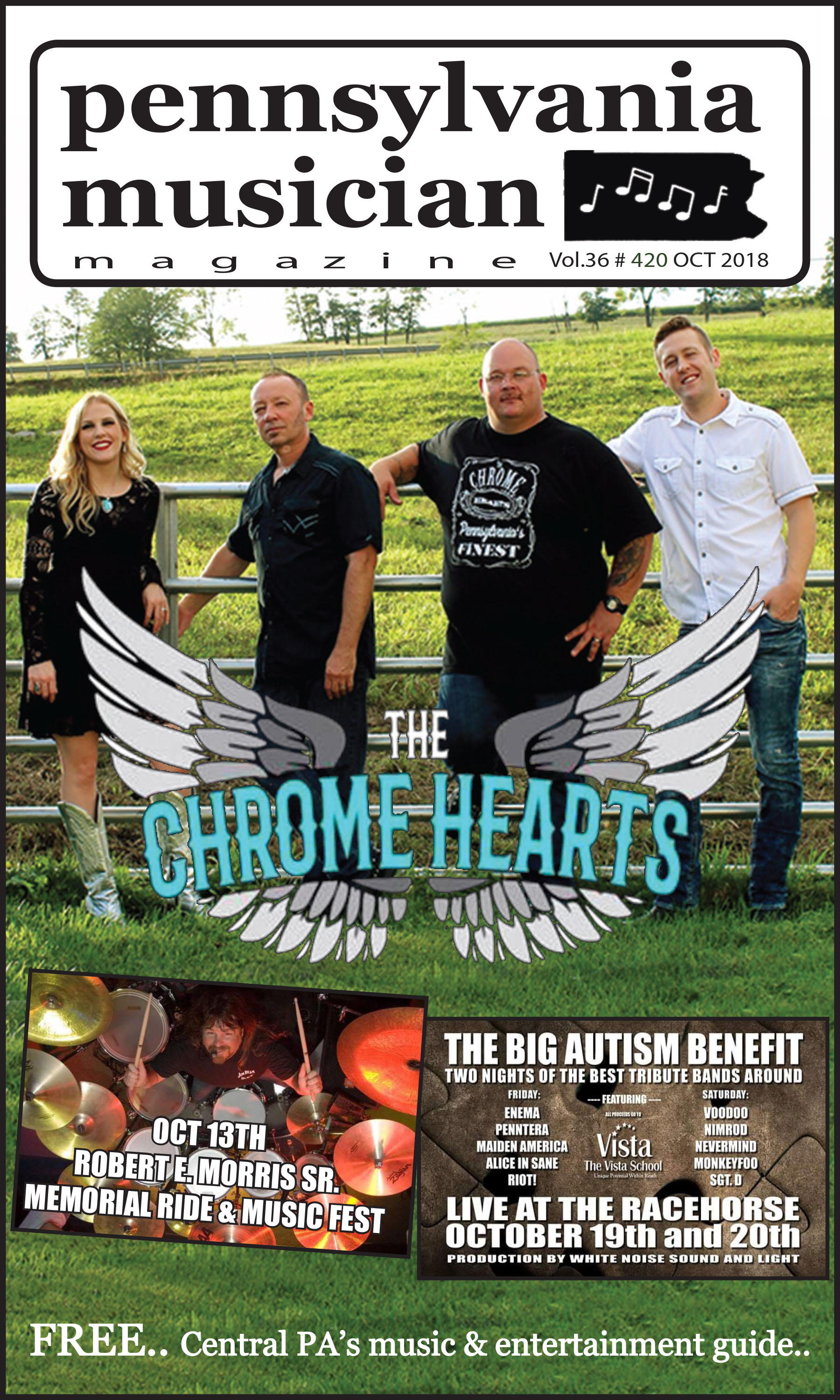 ---
OH NO!
THE CHROME HEARTS:
COUNTRY-ROCK WITH ATTITUDE
By Jim Price
Oh No, the debut CD from Hollidaysburg-based country rockers The Chrome Hearts, was officially released in late August. The album is the latest step in the group's journey, as they steadily build a fan base throughout the region and state with their energetic, edgy sound.
The Chrome Hearts started four years ago as an acoustic act, anchored by the husband-and-wife core of singer/rhythm guitarist Bob Onkst and lead singer Stephanie Onkst. The duo worked with various guitar players early on, before deciding that they wanted to get bigger.
"We realized that we wanted to take a different direction with the acoustic act, and I was really pushing Bobby at that time to form a band," said Stephanie. "Luckily, we were friends with Brian Baum, who actually at that point had never played a bass before. We got him a bass, and we said, 'Practice up, boy – we want to do a band.'"
The group then invited Doug Fetter, one of Bob's coworkers from his veteran's home day job, to come play drums with them. Chad Buterbaugh soon became the group's lead guitar player and appears on the CD, but he recently left the group to relocate to North Carolina. The Chrome Hearts presently work with two platooning lead guitar players, C'Jay Castello and Greg Larrimore.
The group describes their evolving style of music as outlaw country with attitude, occupying the middle ground between country and rock'n'roll. According to Bob, "We like to blend a lot of the classical elements like the lead singer and lead guitarist dynamic – you have a dynamic person up front who can really hold the stage, and the mysterious lead guitar player. And that's what we try to incorporate into our sound and music." He added, "We all love rock and we all love country, and so it was just a natural step for us…and we're all outlaws."
The Chrome Hearts recorded their 11-song Oh No CD at Audible Images Studio in Port Matilda, guided by Mark Ross on production and Bill Filer with mixing and mastering. Due to the band members' work schedules, the recording process took more than a year to complete.
The recording became an educational journey for the group, who were mostly new to the studio process. According to Stephanie, "We went into it green…For three out of five of us, it was our first studio recording experience. It was a learning experience; we're so glad we had Mark and Bill to walk us through it." As the recording proceeded, Mark and Bill gave the musicians direction and challenged them to step outside of the box. Both shared the same vision as the band, and knew what paths to take in order to get the songs to where they needed to be. Stephanie added, "We really learned so much…about how to be so prepared for the studio, and how to learn to be comfortable in that environment where you're not at a gig, and you don't have that crowd in front of you giving you that positive feedback that you're used to. You're in a little isolation booth, and you have to harness that feeling of being at a gig."
The finished product features nine original songs that blend flavors spanning Loretta Lynn-styled classic country to swampy delta blues to rockabilly to rock flourishes of Jimi Hendrix, Led Zeppelin and the Rolling Stones. Among the original songs are the disc-opening, rockabilly-toned title track "Oh No," the harder-edged numbers "Money" and "Jealous of You," the folksy tongue-in-cheek ode "Drunkensville, USA" (partially inspired by the Blair County town of Duncansville), and the hearty dance-inciting "We Got It All Goin' On." The album also features covers of two classic country-rock hits, as the group updates Jeannie C. Riley's "Harper Valley PTA" (this year marks the 50th anniversary of the song's release) and Bobbie Gentry's "Ode to Billie Jo."
Physical copies of the CD can currently be purchased at The Chrome Hearts' live shows, and the album will soon be available digitally through various online music retailers. (See a review of the CD elsewhere in this issue.)
Bob describes The Chrome Hearts' live show as "shenanigans and mayhem." When on stage, the group's chief objectives are to connect with the crowd, as well as getting people dancing and having a good time. According to Bob, the group likes to showcase their original songs, as well as perform a blend of country and rock'n'roll hits that appeal to the crowd.
Fun is the group's bottom line when performing. "Everybody always says that they can tell that we're having fun," says Stephanie. "They know we're playing from the heart."
Brian adds, "We'll be out in the crowd, we'll be dancing, we'll be having a good time…We try to get the crowd involved as much as possible, because whenever they're having a good time, it makes our job so much easier."
The Chrome Hearts maintain a busy live performance schedule throughout central PA, and they enjoy playing at benefits and community functions. One of their show highlights this month will be as part of the seventh annual Striking Chords Against Cancer benefit concert, which takes place on Friday, October 19 at the Jaffa Shrine in Altoona. Proceeds from that event will benefit the American Cancer Society.
Television viewers can see The Chrome Hearts this month as they appear on the Pennsylvania Pipeline Music-TV program. The exact air dates will be announced soon; the program airs on WHVL-TV in State College and WYLN-TV in Hazleton.
The members of The Chrome Hearts have developed a close-knit chemistry as both songwriters and performers. As the core lineup of Bob, Stephanie, Brian and Doug has steadily been together, they have built family-like camaraderie and trust, as well as musical intuition and tightness. All four musicians are like-minded teammates with the same goals, who know and understand each other's tendencies. According to Doug, "We're not just a band, we're a second family…You look behind your shoulder, and there they are, they got your back through thick and thin. That's the key that makes it."
For the immediate future, The Chrome Hearts will continue to expand their fan base and geographical range, as well as introduce new fans and listeners to their original songs and the Oh No CD. The group continues to write new songs, and is already looking forward to recording a second album. The group ultimately hopes to make a living with their own music; as Stephanie puts it, to "grow The Chrome Hearts."
The Chrome Hearts appreciate the support they have received thus far in their journey. They express special gratitude to Doug's wife, Lori Fetter, who serves as their photographer, promoter, and also the nanny to Bob and Stephanie's young daughter Bobbie Mae when the group is performing. The group also thanks all their parents and families, their fans and friends, Mark Ross and Bill Filer, and Jeff Pittinger of Pennsylvania Pipeline Music-TV.
The Chrome Hearts are eager to spread their music and fun vibes to new fans and audiences. The group invites readers to come discover what they are all about, and be won over by their music, sound and lively presentation.
According to Bob, "We're raw, we have attitude, we're real, we're approachable."
Website: www.thechromehearts.net
(Jim Price thanks the students of his COMM 260W news writing class at Penn State Altoona for their help in writing this feature story.)