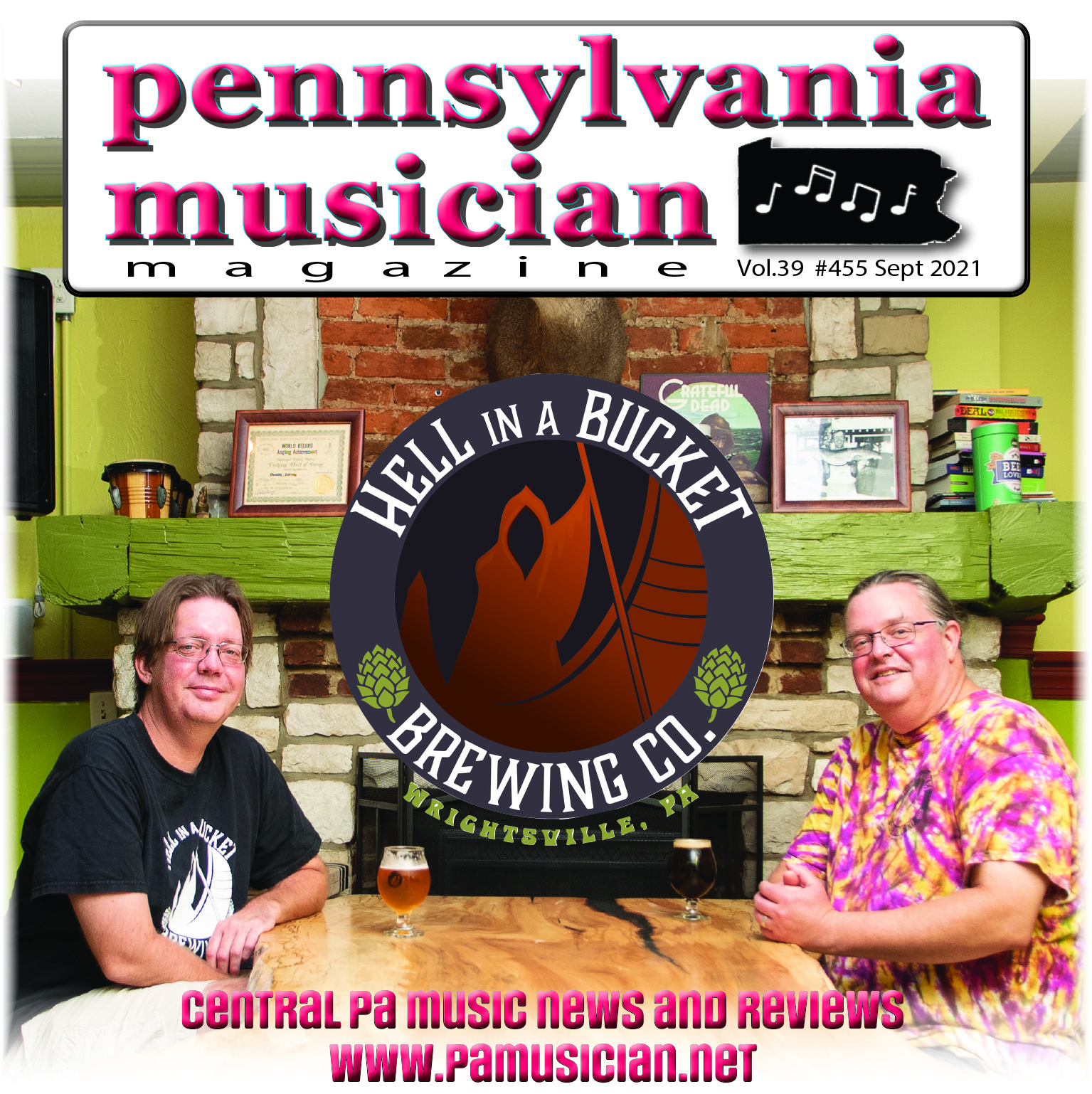 ---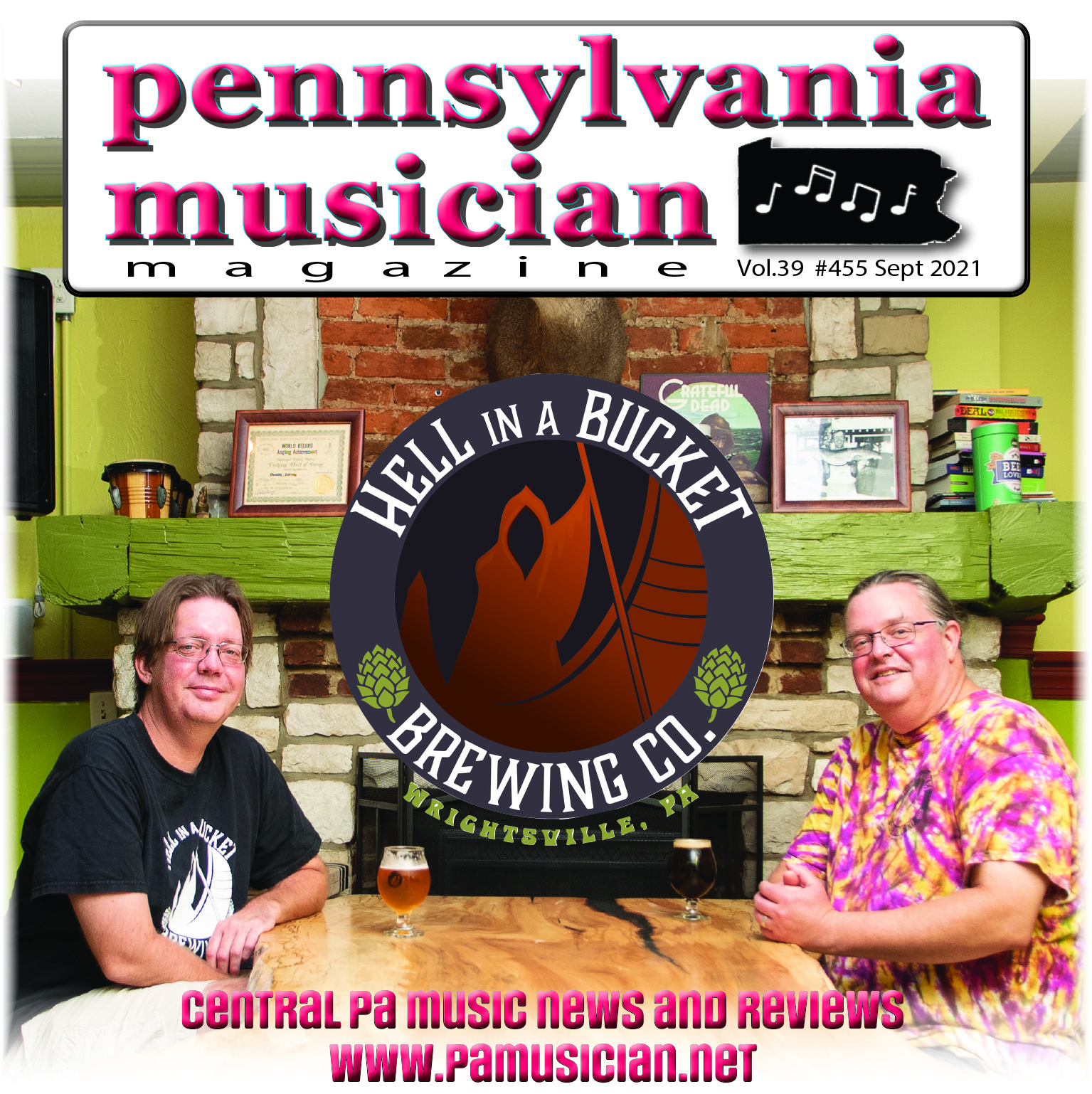 Interview by: Rachel Rocks
Hell In A Bucket Brewery is a new brewery just off the bridge in Wrightsville, PA. Jeff Neighbors and Matt started their business at the end of 2019. We all know it wasn't a perfect time to start a business, but even through a Pandemic they have persevered. I went down to Hell In A Bucket and I instantly loved the atmosphere. It's right across the street from the river, and the inside is so colorful and so inviting, and the beers are absolutely delicious! I love the small, hometown bars where everybody knows your name. The main theme of Hell In A Bucket is the Grateful Dead, and it definitely puts out the vibe of a great place to just chill, have a good time, and listen to great music!
I recently asked Jeff and Matt some questions about Hell In A Bucket came to fruition. Check it out and plan your trip down to Hell In A Bucket Brewery.
Rachel Rocks: I know there are two brewers.. How did you two meet? What made you decide to start brewing your own beers? Please introduce yourselves, and tell me about your history?
Matt: I met Dr. Neighbors 20 years ago in Iowa City, IA. This was at the front table at George's Buffet. This is the Algonquin Round Table for degenerate drunks. I was a software engineer for 23 years. My alma mater is the University Of Iowa. I figured if I worked one more day at desk under fluorescent lighting, I was going to stab someone in the face with a fork.
I did some home brewing in college, but Jeff is really the brewer. I just follow ze orders.
Jeff Neighbors, PhD: Matt is right we met at George's in Iowa City, he was really learning how much he did not like being a computer programmer as you can tell from his comments. We played a lot of poker and drank cheap beer, which really helped end the day after working 10 hours on my PhD in chemistry. I started home brewing in that period with another friend after I discovered craft beer. I was always a fan of some of the original craft beers like Anchor, and couldn't afford them as a grad student so started brewing. Matt and I brewed a couple of batches over the years. I moved to PA in 2014 to take a full-time job here (which I still have) and when Matt decided to really quit the daily grind in Iowa he suggested maybe we could start a brewery. We brew on Saturdays when I have time and he takes care of all the rest of the work for the brewery, so it is a team effort. I suppose it did stop him from the fork thing which is good.
RR: Please tell me more about the name, your logo, etc. How did you come up with it? What's the story behind it?
Matt: Hell In A Bucket comes from a song by the Grateful Dead. Lyrics are by John Barlow. The music is from Bob Weir and Brent Mydland.
The logo was created by artist Summer Walters. It is a depiction of Charon, from Greek mythology, who ferried souls to the afterlife over the river Styx.
Jeff: I am a dead head from way back, saw my first show in 1980 at the Des Moines civic center, saw a total of 74 shows. We had to have a theme and so we went with the various music we are into, we have had references to Neil Young and Frank Zappa in our various beers as well as the Grateful Dead. There are some many interesting lines in all the song lyrics, it is really a great trove of weird beer names.
RR: I know obviously you have a Grateful Dead theme.. but tell me more about how you choose what kind of beers to make?
Matt: We like Belgian beers. Also, pale ales and stouts. And IPAs. We only make beers we like to drink.
Jeff: I like all our beers and drink all of them, I really only drink craft beer that is local and small batch from some of my favorite brewers and of course our own. Interesting note Matt says I am the brewer, but I had never made a Belgian beer prior to Hell In A Bucket, and I charged him with coming up with a recipe for the Steal Your Face Saison. It is just great and now we make a Belgian Triple that is one of our flag-ship beers as well, I like them now, and find the complex flavors really fun to work with. My personal favorite of our is the Dark Star Stout. We really wanted to make a nice variety of beers and it plays to my enjoyment of experimental science.
RR: I see the mention of River Hills Hop Farm? Is that a local Hop Farm?
Jeff: Indeed we have been using River Hills Hops in Mount Wolf as the sole hop in our Sunshine Daydream Pale ale, Dark Star stout and the Cripple Creek Ferry Kolsch, so we really like them. We use local when we can for things but there isn't too much variety of local malts and yeasts, so the hops is where we have been able to source from PA the easiest.
RR: I love the personal touch of having water and soda for people. That is nice for the DDs and non-drinkers. Are there any other personal touches that you feel help you stand out from the rest?
Matt: We have a lovely display of Rick And Morty on the wall. And a deer head called Sven that guards the cooler.
Jeff: Yes, Sven is the guardian of the cooler, the taxidermy of a mule deer which Matt's father shot, it is a nice nod to both of our rural roots I was an avid hunter when I was a youngster. I also have a display of a bunch of tickets from concerts I went to in the late 80's and early 90's on the wall. And as Matt says we have some more recent things like our collection of Rick and Morty figures, which remind us in the words of Bird Person, that we are "down to clown" on occasion.
RR: We obviously love how much you support live music! You have the Open Mic on Thursdays and live music every Fri., Sat., and Sunday evening? Correct?
Jeff: That is correct we have Open Mic on Thursday evening, and music on Friday, Saturday and Sunday. It goes back to our love of music in general, in fact we are going to see Dead & Company in Hershey on Saturday the 28th of August, so if any of you have an in with them, tell them to stop in for a beer.
RR: Is Sound Provided or do bands provide their own? Who would bands/musicians contact to play at the Brewery?
Matt: Joseph Daub has his own sound system that people can plug into. We are normally contacted via Facebook.
Jeff: Yep, our bar manager Joseph Daub has a system that he was kind enough to bring in so we can be a pretty plug and play place for some acts. He handles all the booking for the brewery and we can get that via social media, or by contacting him.
RR: Do you have any plans for expanding? Or any ideas brewing for the future of Hell in a Bucket Brewery?
Jeff: We are trying to make it through the roughness of the last 18 months of pandemic and eventually would love to grow the business to a bigger brewing system. This has been a challenging time to start a brewery and so we are taking it slow, but I think you will see some expansion of Hell In A Bucket eventually we will keep you posted.
RR: Do you have any special events or anything special to promote coming up?
Matt: We currently have our beer served at the Lancaster Barnstormers ballpark. We are looking to have it served at other taverns/restaurants
Jeff: Yes, we are having a tasting night at the Craft Beer Bar at Clipper Magazine Stadium on 9/11/2021, there will be fireworks and a great baseball game.
RR: Is there anything else you'd like to tell me about your Brewery or yourselves?
Matt: We have all of our shots and are mostly well groomed. Mostly
Jeff: I am laughing at Matt's response, I think we are both dedicated to making great beer, and listening to good music, that is what you get at Hell In A Bucket. I am a scientist at heart, and I love experimenting with new beers and new styles so everyone will have that to look forward to from us. In any spare time I have left I ride my bike a lot, so look for me on the local bike trails, I will be wearing that signature Hell In A Bucket Tie-Dye.
RR: Anyone you'd like to thank for helping you get started? Or Keep Going?
Matt: Mike from Moo-Duck was a big help. We did a collab with him.
Jeff: Yeah, I would like to thank Mike one of the Owners/Brewer at Moo Duck Brewing in Elizabethtown. He inspired me to dive into the brewery. They are a great small brewery as well, and also support live music.
Joseph Daub is the best bartender I have ever worked with, and he really is helping drive the success of Hell In A Bucket. We couldn't do what we do without him.
If you are looking for a place to chill, have some good beers and listen to great music, Hell In A Bucket Brewery is for you. Also, they don't sell food, but you can bring food in, or have it delivered. Hell In A Bucket Brewery is open Thursday and Friday from 5pm-10pm, Saturday from Noon to 10pm, and Sunday from (NEW HOURS) 2pm-5pm. Do yourself a favor and plan your next night out on the town at Hell In A Bucket Brewery.