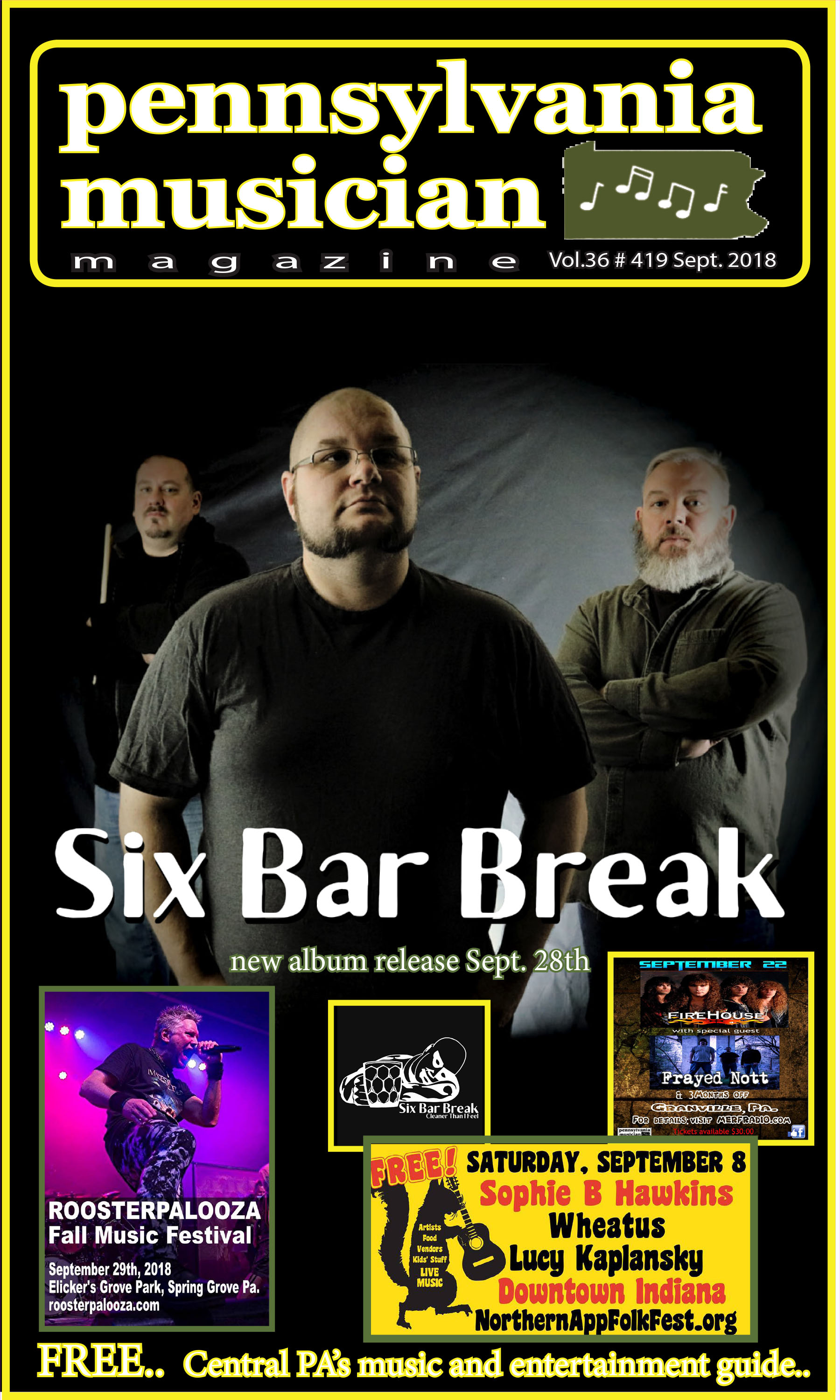 ---
Six Bar Break, Rock Coming at ya From the Roots!
By: Rachel Rocks
Six Bar Break is a full throttle, roots rock trio, based out of Harrisburg. Their style and sound take a little bit of inspiration from yesterday and today. They are a definite DIY band that are constantly driven to create something on their own. Something built on the riffs, beats, and solos and glued together with a vocal begging to be heard, and a story to be told.
After Ben Bollinger, their lead singer/guitar player, battled thyroid cancer in 2011 he decided the best way to recover is to sing, and it's even more fun to sing with friends so why not form a band. It took a few years to find the perfect band mates, but Ben is thrilled with how it all turned out. He found Robert Trowbridge (RT) on bass, and Dave Long on drums. The three of them create a very unique, but cool vibe. Their music quickly draws you in and you realize how you can relate to practically every song.
They have been rockin' area stages for almost four years, it's awesome to see all they've accomplished in such a short time. They've already created 3 albums in those 4 short years. Their first album, "Echo Seven Nine" was independently released in September of 2016. "Broken Road" was released in May of 2017, and now starting Sept. 1st you can pre-order their latest release, "Cleaner Than I Feel". The songs, videos, etc. officially go live on September 28th, and the big CD Release Party will be September 29th at Cliff's Tavern in New Cumberland.
Six Bar Break (6BB) started recording "Cleaner Than I Feel" back in January and they can't wait to share it with the world. This recording was done in their own studio, Studio Beat. Dave was particularly excited because it was his first time he was able to record with his own custom kit from Tone Custom Drums, his Saluda Cymbals, all of his gadgets from Scorpion Percussion, his own mics, etc. Once they got everything recorded and put together they reached out to their good friends in the industry: Erich Arndt from Shortbus Fight Club, and Jason Shaffer from Full Tilt
Productions, for refining and suggestions to help them complete their final product. They did a sneak peak of the album and released one of their new songs, "Water's Edge" on Reverbnation. Their song was quickly chosen and added to the "Best New Music Playlist" and drove Six Bar Break all the way to #1 on the Rock Chart on Reverbnation! It was also cool to see the demographics of everyone who was listening to their song not only here in PA, but all over the world!
Not only are they excited about the sound of this album, but they are also pretty proud of the message behind the album. Ben summed up the meaning behind the album nicely, "We're all gonna fall down now and then. We're all searching for the answers. We're all hoping for the next sunrise is the start of something great, not everyone we meet is gonna have a heart of gold and not every day is gonna be your best, so do like Six Bar Break tells ya kiddies; keep putting one foot in front of the other. You're not alone. We're always out here, listening. Creating. Evolving." Between the lyrics behind the songs, the music behind those lyrics, and of course Ben's voice, Six Bar Break really draws you in to their show and waiting for more!
If you've heard of Six Bar Break before chances are you've already noticed all of their cameras that are rolling at every show. Ben is always creating videos to share on youtube on all of the social media platforms so people can see what they are missing. They've recorded new music videos for each of the 5 songs in this album. Due to all of this rain we've been having some of the video had to be recorded indoors. Greg Platzer and Jared Cannon of BCR Music were nice and opened up their doors to let them record right there in the store. Make sure you go online to sixbarbreak.com and check out the videos yourself, they are always creating new videos for everyone to enjoy. They plan on trying new avenues to become even more interactive with their fans at home and around the world with live streaming, so make sure and keep an eye out for that too.
The biggest show they have coming up is their CD Release Party on September 29th at Cliff's Tavern (Used to be Gullifty's). They saved some money recording this CD on their own, so they decided to go out and buy lots of party swag to make the night even more fun, you definitely don't want to miss it! Plus of course, there will be free hugs for everyone! They are very thankful for Buzzard Luck opening the show, so they can start partying with their fans early. They originally had their CD Release scheduled at Blue Moose, but due to their sudden closing they were scrambling for a venue, they are also very grateful to Cliff's Tavern for letting them have the show on their new stage!
Six Bar Break can't believe where this musical journey has already taken them, but they also can't wait to see where it continues to go! It's always a great turn of events when venues start calling you for dates instead of constantly chasing after the next gig. Even though they have a pretty good rotation of venues, they are always looking for new venues, cities, bands and fans! They love having diversified gigs and playing with other bands and making it more of a full show for their fans. If you want 6bb at your venue or private party, give Ben a call at 717-602-9964.
Last but not least they wanted to thank the people who support us, make the band go and give us the drive to make each video or single or album. We can't thank our fans enough for all their support and of course our families. And all the people who've given us a hand and helped us make our music; our craft; just a little better: Steve Junkins, Rob Simon, and John Harris. It truly does take an army and Six Bar Break has a great one!
Don't forget to hit up Six Bar Break on all of the social media platforms, and at their website, www.sixbarbreak.com.