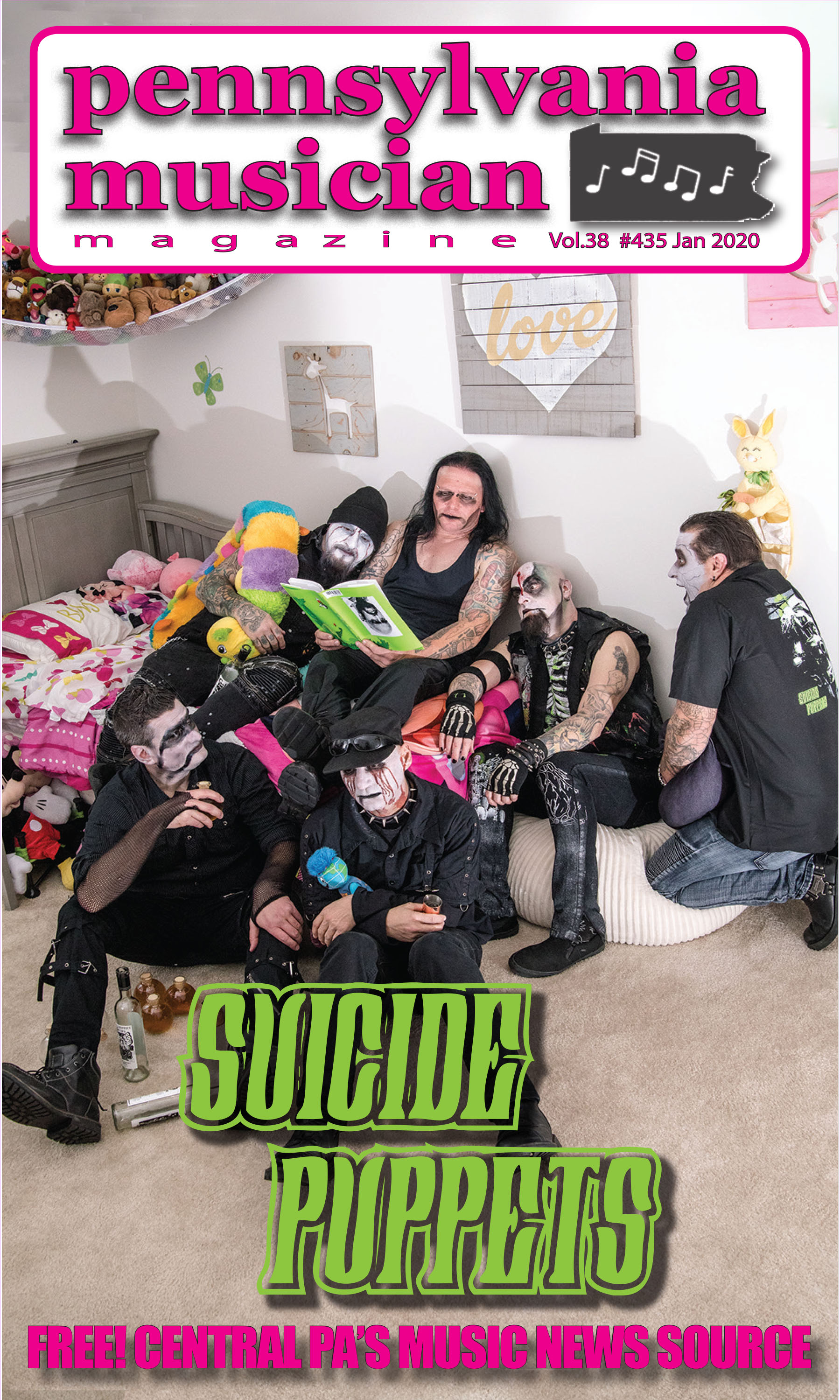 ---
SUICIDE PUPPETS – BREAKING BOUNDARIES
By Josh Noll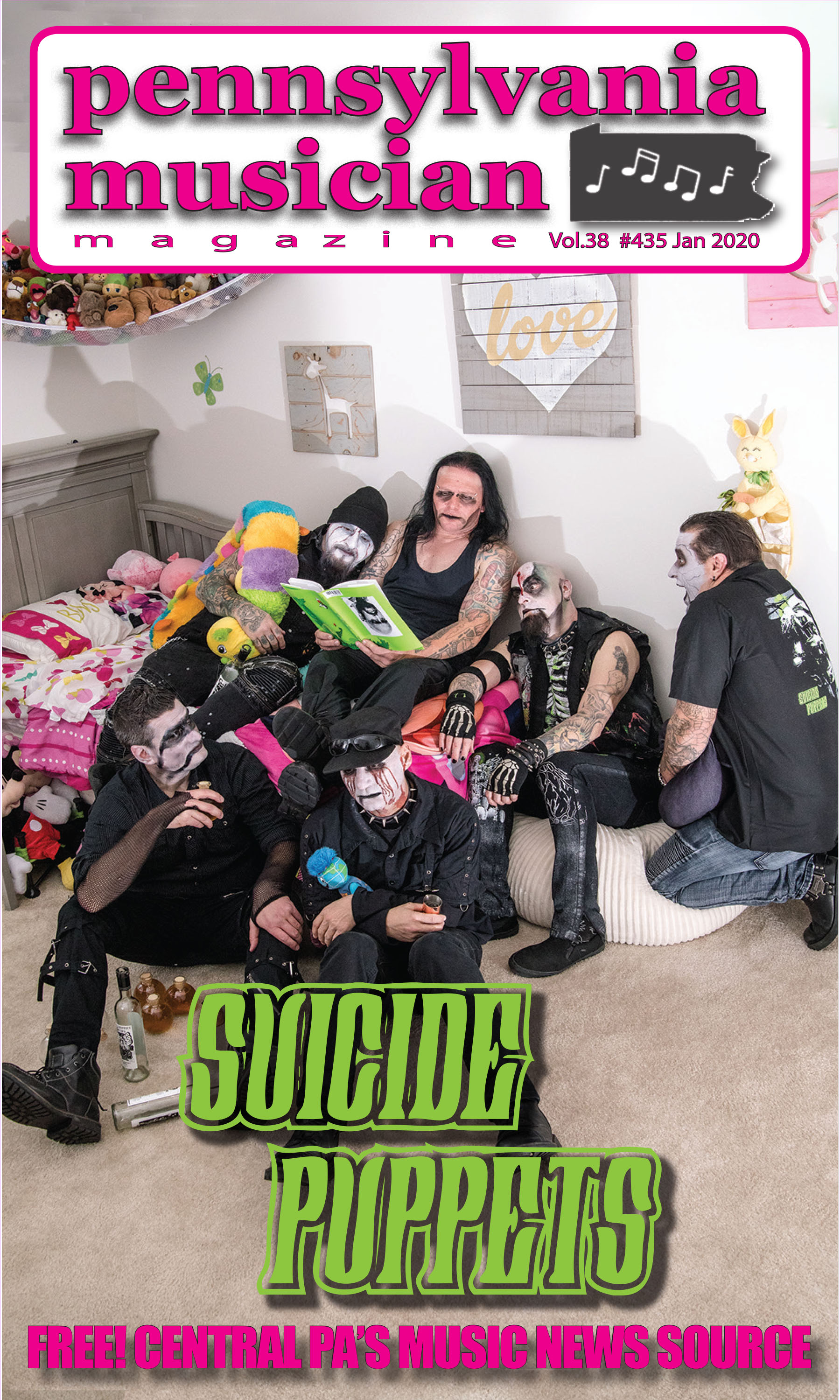 When people hear the name Suicide Puppets, visions of blood, gore and destruction instantly comes to mind. What people don't realize is that the Suicide Puppets have been misunderstood for years. So this month we sat down with them to figure out what exactly these guys are all about. First, a little history about the band which started out in 2006. Although there have been some changes to the band in their early days, the main core of the band has remained unchanged. They are: Twisty Suicide, singer, Spam lover and the one who is always first to make me feel at home at a show by extending the "number one" gesture too me every time I am front and center. Jonny Suicide, a bass playing, super hero nerd behind the scenes, who collects all sorts of vintage memorabilia from action figures to sci-fi stuff. With his hero being the Mighty Godzillia! Steven Suicide, lead guitar player and mild mannered individual who gives back to the community by donating his time to fundraisers when the suns out, but transforms into a lethal, axe wielding, guitar slaying monster after the demons arise. Tattuicide, the "other" lead guitar player who spends his free time inking masterpieces onto his unsuspecting victims during the day. He plays with so many "other" bands that you never know when he will pop up on stage. Disguised as just a regular guy, making faces and slamming out leads. Donnie Von Gailinger, a.k.a. "The Dark Man", rhythm guitar player, always hiding in the darkness. He spends his free time sleeping when the suns out and when night falls, he transforms into a guitar playing beast who is always chugging out the backbone of the song, keeping his fellow players in check and on cue. Finally, we have Veritas Suicide, drummer, who if your not careful will kick you out cold in his free time if you meet up with him in the ring Not because he hates you, but just to keep his cardio up and his legs strong for all his ruthless drumming antics.
So what is the meaning behind the Suicide Puppets name and the band? What a lot of people don't know is that they found their name on a random Google band name search. When it came up, it struck a chord with the band. Suicide Puppets are not promoting suicide but actually the exact opposite. They are trying to bring awareness that it's out there and it affects everyone of us. We all have lost someone close to us and the Puppets have too. They would like people to not take the name so seriously, but to be aware that it's out there and people need to never take life for granted and to always have fun with what you are doing in life. Except for Twisty that is, who says, "F-U if you don't like the name".
When I asked the band what genre of music do they consider themselves a lot of ideas started flying around the room, but they all agreed that industrial metal with black metal influences were the main target area. So who does Suicide Puppets think they sound like? Well, you get some interesting answers ranging from Ramstein, Nine Inch Nails, Ministry, KMFDM to Rick Astley, Olivia Newton John and Static X. When given the option of the whole band being stuck in an ex-Bon Jovi tour bus for 24 hours straight, with one CD to listen to, what would it be? There were some arguments in the room with Type O Negative, Rick Astley among others mentioned. They finally decide on Pantera "Cowboys from Hell" with the final call being decided by whoever was driving said tour bus. Which they all agreed, would be Veritas due to his uncanny nature to stay sober longer than the rest of the crew on long boring drives.
I next started to dig deeper by asking the band if there was a show or a band that made them want to pursue this crazy life of playing music to the masses. Some knew right away while others had to dig deep into the memory banks. For Tattuicide it was a no brainer, AC/DC. Jonny spurted out, "Alice Cooper and Kiss!" Veritas of course listed Pantera, followed by Steve's, Metallica. Donnie Von Gailinger took some time and listed it as not one band but more of a scene. Specifically, the NY/NJ hardcore scene. Twisty, after what seemed like hours, confessed that it was just Spam that gave him inspiration. No, not the computer kind, but the canned kind.
So what's the craziest thing these guys have gone through out on the road? Stories started flying. From being rained on playing in lightning storms, to one time back about 10 years ago (in the early days), when Twisty got a little to "pre-gamed up" and passed out during the first song of the set. After a comeback of sorts, they finished the show, only for Varitas to be punched in the face by an unknown party girl who claimed she was pushed over. Really she just tripped over her own drunken feet and fell on her face. According to Donnie Von Gailinger, one of the most memorable shows for them was a New Year's Eve show at the legendary Tubby's in Duncannon. When the clock struck midnight, instead of lowering some sort of inanimate object they decided it would be cool to lower live suspension artists instead. Just so we are clear, they want everyone to know that no one was harmed in this event…that didn't want to be.
So let's talk about what these guys have been up to since their last interview with us over a year and half ago. They have been working with Ryan Raes with Distilled Entertainment, a national music management company, who is helping the Puppets take their music and their brand to the next level. Ryan Raes and team are working on getting them signed by a "big" label and the guys are in the process of working on a new album. Also, they are planning on touring out of the Pennsylvania area and possibly overseas with some national recording artists. They have talked about maybe heading across the pond and over the iron curtain with some shows in Russia to help grow the Suicide Puppets name worldwide. They have also picked up some sponsors. Varitas is now slamming on the Soultone cymbals (which he is very proud of) and Jonny and Twisty are both playing HEL guitars. Yes, along with his lyrical genius, Twisty plays guitar as well. Another sponsor, Goblin Alchemy, helps them prepare for practice and shows by supplying them with some very fine meads. Which, if your like me, have heard of mead, but know little about. Meads are made from fermenting honey and have a much better taste, in my opinion, than wine. These are not lightweight drinks. With 14% alcohol content, they will get your taste buds (and your senses) in tune…fast. Goblin Alchemy is producing a special mead for Suicide Puppets named "Blood of the Familiar". It's a mead recipe developed with sweet red cherries and orange blossoms that is sure to get you cranked up for a night of music. This special blend will only be available at select Suicide Puppets shows. If you're interested in Goblin Alchemy be sure to check out the back cover to see what they have going on. Who knows, maybe your band will get its own special mead, but only if you're really cool like these guys.
So what advice would Suicide Puppets give to a non mainstream band that is trying to make it in the mainstream music world? Be yourself, stick to what you are doing, keep it real and have fun with what you are doing. Don't let the critics get you down or stray away from the way YOU want to play music. Don't give up on your dreams and strive to be different. What is the hardest part about being in Suicide Puppets besides fighting "the norm" you ask? According to the band there are six things that make it to the top of the list: (1.) It's hard for some of them to be standing next to the man they love, with nothing they can do about it; (2.) Random body cavity checks; (3.) 9 am Sunday practice; (4.) Cleaning up after the mess is over; (5.) Time, not enough time; (6.) Twisty's biggest gripe, no Spam at practice.
What is on the horizon for Suicide Puppets in the year 2020? Along with working on touring, albums and drinking mead, they have also been nominated for the first annual CPMA's (Central Pennsylvania Music Awards and Hall of Fame). Nominated in the category of "best metal band" along with some other big names in the game such as: Defiant, Anatomy of the Sacred, Gun Metal Gray and Gallowglas. It will interesting to see who takes the crown. For more Suicide Puppets content, be sure to checkout "Puppetcast". It's a new podcast started by Varitas and Jonny Suicide. You can find it on most podcast streaming platforms including: Anchor, Breaker, Google Podcasts, Radio Public, Pocket Casts and Spotify. "Puppetcast" sheds some light into who they are and why they exist and will be sure to keep you entertained. The first episode is out now with more to follow, so please tune in and follow.
If you're looking to catch a live show, they will be performing at HMAC on January 25th for the Sounds from the Underground Metal Festival 2 with a slew of other heavy hitters. On February 1st they will be making their debut performance at The Racehorse Tavern; hoping to not blow the roof all the way off so they can return in the near future. Finally, you can catch them down at Reverb in Reading on February 22nd with The 69 Eyes, Wednesday 13, The Nocturnal Affair, The Crowned, Husk and Signs of Withdrawal. This is an all age show, so bring the kids, they will love it.
Suicide Puppets would like to thank the following for helping them along the way: Keith Hummel, HEL Guitars, Goblin Alchemy, Distilled Entertainment, Chris Rider Photography, PA Musician Magazine (shameless plug) and all of their family, friends and fans for putting up with all that goes along with being a band for 13 years. Lastly, Twisty would like to thank his grandfather, for "being such a dick". Also he would like to say, "F-U Spam for not supporting them".