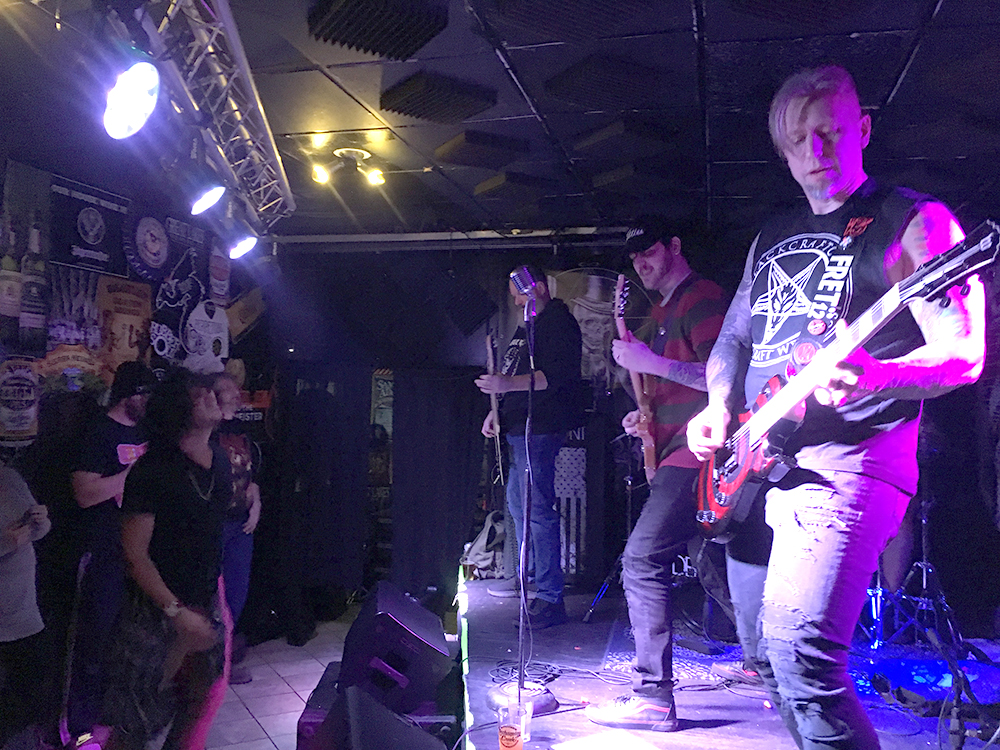 ---
By: Josh Noll
Welcome to the year 2020! Never thought I would make it this many times around the sun. As a kid, the year 2020 always sounded so futuristic and far away. I remember counting up the years and thinking, "holy cow I will be 45 in the year 2020". Followed by, "who wants to be 45?" I'll be too old to ride my bike or play with my toys and life will just be a boring waste of time. Well, it looks like I was wrong about that one. I got 11 months left of being 44 and I plan on still riding bikes and playing with all my toys. Although I do feel a little ripped off, because according to the movies I should at least own a couple hover boards and maybe a jet pack. Perhaps a car that flies? No, we just got this little phone that can do all sorts of dumb stuff we don't really need. I never thought that people would be driving around staring at these little objects instead of actually driving the car. Or walking down the street not paying attention to anyone around them, just this little screen in their hands. When you go out to eat in 2020 I would think the food would just come up out of the middle of the table in like three seconds, taste great and be calorie free. Instead, we have everyone in the place staring at these little screens ignoring the people sitting right next to them. Makes no sense to me and people keep "inventing" new apps to make our lives easier. I wish people would actually start inventing something new and exciting instead of an app that tells you when the next time you should stare at your little screen again. There are some new and exciting things that will be hitting us in the near future, from self driving cars to packages delivered by drones instead of people. I won't go deep into my hatred of drones, but basically they are ruining one of my favorite pastimes by flooding the skies with people who misuse them. Now that Google and Amazon will be flying them around, new rules are coming into place making it harder for me to enjoy flying radio controlled planes. It's pretty crazy that if I fly my little planes, standing on the ground, I have more rules and regulations than if I hop into an ultralight and just take off to the skies myself (which requires no license or permits).
Ok, enough about the future of the planet, let's talk about some music. The holidays are over, thank God, and now it's back to our regular day to day. During December I ventured out to a place I have been hearing a lot about lately, JB Lovedrafts Micropub. It's on Second Street in Harrisburg and has a real punk feel to it. It reminds me a lot of Smalls from "back in the day" with a long bar down the one side and a small stage area in the back. The bathroom has a sweet collection of Teenage Mutant Ninja Turtles and they have over 50 micro brews on tap. The night I was there they had three bands: Factor, Spinebelt 2016 and Defiant. We were a little late to the party and missed out on Factor but the place was pretty packed when we got there. Spinebelt 2016 was just getting ready to hit the stage and we were treated to a set list made up of mostly new material with some of the old classics mixed in for fun. They started out strong and kept rocking the whole set. It's been awhile since I had seen them and it was great to see the guys still up there doing their thing. Be on the lookout for some new material hitting the streets soon from these guys. Next up was Defiant who have been gathering speed like a snowball heading for hell. Every time I see them they keep getting better and better. They have been perfecting their sound and you can really hear it. They have some big shows coming up in 2020 including opening up for Ashes to New at HMAC on January 24th along with Eva Under Fire, Dawn's Divide and Violent Nine. Please, if you haven't seen Defiant yet put them on your list of must see bands for 2020. I'm making a prediction that these guys are going to hit new heights this year, so make sure you are part of it.
For New Year's Eve we decided to go check out a band we have been wanting to see for awhile, Friend of Bob. They were ringing in the New Year over at River Bend Hop Farm & Brewery. This was the first time I got to see a band in the upstairs portion of River Bend which was built inside an old barn that they completely remodeled and turned into a gorgeous brewery. The upstairs room is pretty awesome and it was a great way to start out 2020. Friend of Bob consists of: Troy Sturgeon, vocals; George Karge, guitar; Darren Cohick, bass; and Mike Worthy, drums. If you've been around the music scene for awhile then a couple of these names might sound familiar. One being Darren Cohick of Inciters fame. I have been watching Darren perform since I was a little kid and it is always a treat to see him play. As I walked up to the door of the barn I heard the familiar sound of "walk away walk away, walk away walk away, I will follow". Right away I knew Darren was rocking away and the night was going to be worth the trip out. Once inside we got treated to some real classic tunes and the crowd was already into it and up dancing. It turned out to be one of my favorite New Year's Eve's ever as an old friend was there and we got a chance to hangout and ring in the New Year together. My buddy Chad Frownfelter suffered a life changing brain aneurysm about 5 years ago and has been fighting to recover ever since. At first he was stuck in a wheel chair and had lost most of his movement. Chad however is a true fighter and has been hitting rehabs ever since and has even walked without any assistance during some of his sessions. He is committed to recovery and I wouldn't put it past him to be out skating again sometime soon (although his mother did not like that idea). The highlight of the night for me was Chad requesting to get up so he could dance along to Hey Jude. It was a magical moment for me and one I will not forget. Rock on Chad! You're an inspiration to us all. Anyone who thinks they have problems should take a note from Chad and just "keep on, keeping on." Friend of Bob did a great job keeping the crowd excited with 'Purple Rain' being one of my favorites of the night. Hats off to River Bend for supporting local music and Friend of Bob for rocking the night away.
January has a lot going on. The Union House has Fast Lane on the 11th followed by Close Enough on the 18th. You can catch DMC Duo on the 3rd over at the Fredericksburg Eagle Hotel followed by Nate Myers and the Aces on the 4th and Mycenea Worley on the 10th. Racehorse Tavern has Hot Mess on the 4th followed by their annual Y2k party on the 11th with Maiden America and Stricken, a new Disturbed tribute band taking the scene by storm. Reverb has Micro Wrestling on the 16th if you're looking for something different and then Firehouse will be rocking the place on the 25th. The first annual CPMA's (Central Pennsylvania Music Awards and Hall of Fame) are coming to Harrisburg on the 30th. There are way too many bands to list all the nominees, but I would like to congratulate our own Chris Rider for being nominated for best music photographer. Chris works hard and really takes his craft seriously. The voting is over and the Whitaker Center is sold out, so if you don't have your tickets already you missed out. I think it really shows that the Central PA area has a great music scene and I hope that the CPMA's can continue to showcase all our great artists out there.
Don't forget February is coming fast and that means MMC time! Start making your plans now! I can't wait to spend the weekend with all of the musicians and fans that come out in force to support music in the Harrisburg area.
Well, that wraps up another month. Please check out the cover story for an in depth look at "who" and "what" the Suicide Puppets are really all about. It's not all blood and gore for these guys as we explore their more sensitive sides. Peace out and remember 2020 is your year to take it to the next level. Let us help you out by promoting your band or business. Get in touch with us for all the details on just how easy it is. Later Tater, time for me to go eat some more pork and kraut.