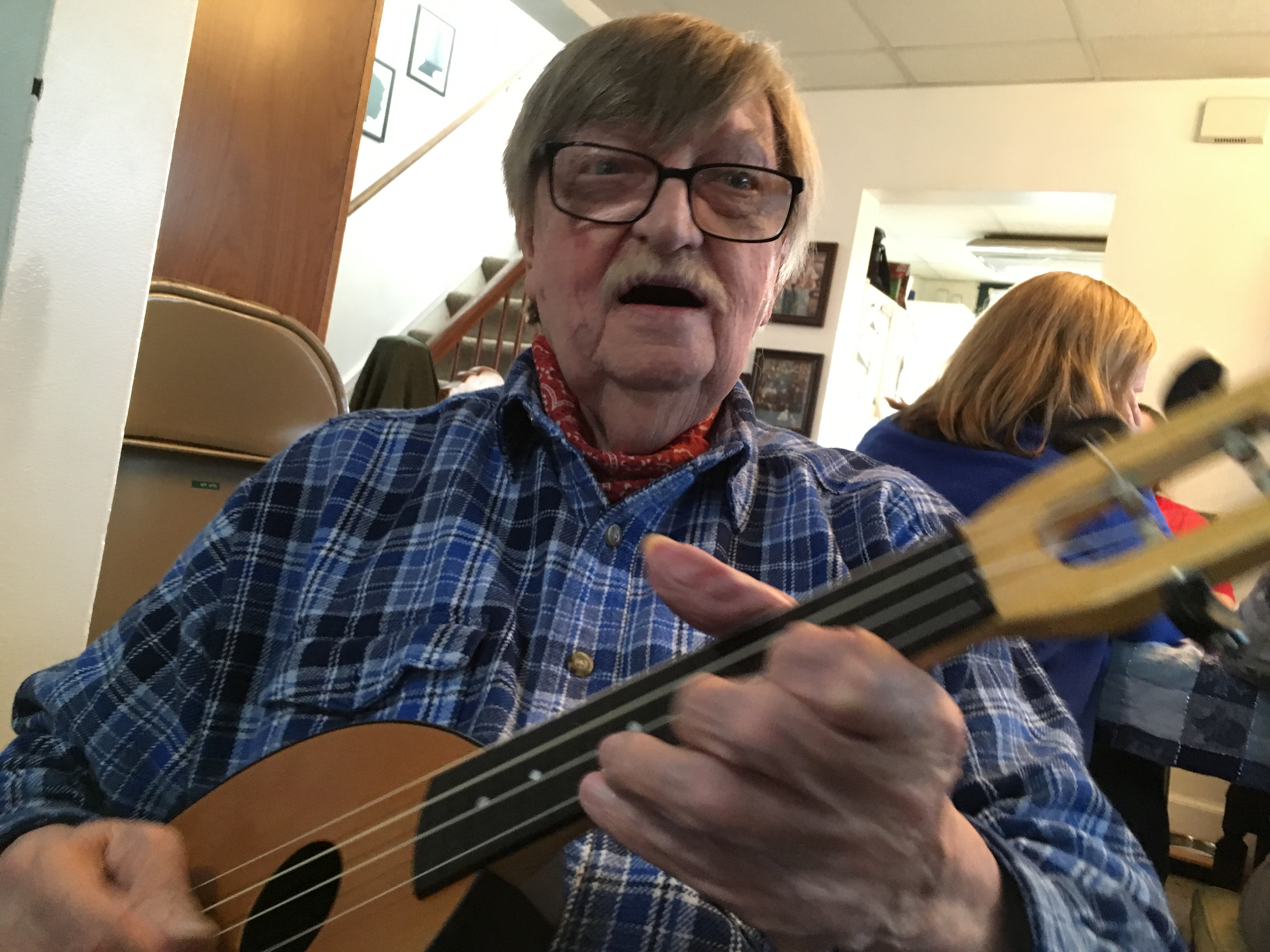 ---
By: Josh Noll
Holy cow it's December! I can't believe that the holiday season is upon us. Time is just flying by this year, November was a busy month. I spent most of my time rushing around taking care of all the things I had planned to do this fall. Did I get them all done? No, but I did put a big dent into the list of things to do. Gathering firewood and getting the place ready for the winter months takes some time and energy but I did manage to get out and see some bands as well.
On the 16th we headed over to the Laurel Run Lodge aka Chick's for a night of 'outlaw country'. When we got there the place was packed. Its clear that people are starting to realize the talent that Zach King and the folks at Laurel Run Lodge are bringing in to our area. We found some parking and then headed in to catch the last couple songs of local legend Chubediah. It was clear when we opened the door that the crowd was already warmed up and ready for a night of stellar music. Witty song writing with some gritty lyrics had the crowd hootin' and hollerin' after every song. Chubediah did the locals proud and fit right into the mix with the seasoned Nashville veterans.
Next up was Grady Hoss & The Sidewinders. It is to be noted that The Sidewinders backed up the first three bands and they never missed a beat. They did an awesome job fitting in with each set. It was even the first time they ever played with Chubediah. The talent that they put forth on stage was impressive and watching them jam along with each band was super cool. Grady Hoss, a tall slender fellow, transforms when he puts on the cowboy hat and instantly draws the crowd in. Grady has a classic country/bluegrass style playing classics and some newer covers like his country rendition of the National's "Blood Buzz Ohio". You can check out the song over on his facebook page @gradyhossandthesidewinders.
Third band of the night was one that I have been wanting to see for awhile now. Rylan Brooks, the duo of Nate Rylan and Chris Brooks. I'm not sure how best to describe these guys. I feel like in another life I could have been out in the woods, with my truck stuck in the mud, talking shit and drinking beers with these guys till the wee hours of the night. The kinda of guys you find at a backwoods garage playing tunes around an old wood stove to keep warm. With songs like 'Gunslinger,' 'Nobody Loves Me Like Myself', 'Last Night I Tried Jesus' and many more spirited tunes. These guys just plain rocked it, backed up by the Sidewinders for the night they really put on a show. The kind of music that hooks you in with the melody and keeps you there with original and creative lyrics.
Afterwards I got to talk with the duo and they were very excited to meet some fans and even hooked me up with a Cd. Great band, I highly recommend you head over to Rylanbrooks.com and get yourself a copy of the CD "Half Wild." It's been wearing out the laser on my Cd player since I got it. If you get a chance these guys are a must see when they hit our area again.
The fourth band of the night was Dallas Moore and his sidekick Lucky Chucky aka the Jersey Devil, The String Strangler and The Snatch Wrangler. These two have been playing together for close to 23 years and you could tell it. They took off and never looked back with songs like "Raisin Hell and Slinging Gravel". A fast paced outlaw country song about ripping it up 90,000 miles on a 2000 Road King. Lots of great guitar playing from both of these two taking turns banging out the leads with Chuck really slamming out some clean runs.
Overall it was an amazing night of music packed into the best kept secret in Perry County, The Laurel Run Lodge aka Chick's. Hats off to Zach King for all he does for the local music scene.
My favorite show of the month was not what some would expect. It happened shortly after Thanksgiving dinner when The Mighty Whitey backed by David Greene took the stage. Or more like the living room at Rachel's lol. Sure it wasn't KIX at XL live or Slayer at Hershey but to me it was far better. Hearing classic's like, 'All Along the Watch Tower', 'Hotel California', and 'Curtains In The Clouds' (a Whitey original) really made my holiday. All while I relaxed on the couch reading the newspaper while the rest of the family was playing games and goofing off. It sure is nice to have music as part of your family gatherings and it has just always been this way for the Noll's. Getting to hear the old man sing is always a treat. After his cancer treatment he was unable to sing for a couple years and while his voice is not as commanding as it was in his youth, he has been able to regain most of his singing skills and at the ripe age of 78 he is still learning new things about music. His latest thing is the discovery of Youtube. Sorta crazy but now dad has a background band he can jam along to that helps keep his leads fresh. You could really hear it while he jammed out with David. His leads were on point and he had a lot of new tricks up his sleeves. Way to go Dad, keep rocking, we all love you!
December is stacking up with some great music in the area. Racehorse Tavern has a full lineup starting with Paddywak on the 6th, National recording artist Willow Hill with Joey Harkum on the 20th and the ever popular Blues Vultures on the 28th. Featuring Ronnie Younkins of KIX.
Reverb in Reading has a full month with Riff Raff December 13th, then Buckcherry on the 14th. Backed up by One Day Waiting, Dawn's Divide, World of Cold, Triple Addiction, and Someday You'll Know Us. Followed the next night on the 15th with Morbid Angel.
The Warwick has bands every Friday and Saturday with DMC Duo on the 6th, Berkley on the 7th and Brett Alexander on the 20th.
For fans of Disturbed there is a new tribute band"Stricken" hitting the scene on December 28th at Fat Daddys.
The Scottish Rite Theatre is having Bobby Brooks Wilson on the 15th with guest appearances by the Chiclettes. End your December with a New Year's Eve extravaganza featuring Cabinet, Larry Keel Experience and many more at the Radisson in Camp Hill with advance tickets and Hotel packages on sale now for more info and tickets go to Bearspicnicevents.com
If you're looking for something a little different HMAC is having an evening of Comedy and illusion with John Westford. If you have never seen or heard of John Westford then you need to check this out. He will amaze you! I never thought "magic" would fool me but wow this guy is awesome. A couple "tricks" in and you too will be amazed. Like really amazeball stuff here I'm not kidding. Don't miss this chance to catch him local. There will also be live music provided by Michael Cullin.
Another HUGE night at HMAC is going down on the 28th. 717 Entertainment is bringing in OZZY tribute band Bark At The Moon. These guys have been making quite a stir all over the state and are bringing the madness to HMAC with local heavy hitters STEEL. This is going to be one to mark in your books if you're a serious OZZY fan. Why, you might ask? Well Bark At The Moon wants Harrisburg to see how serious they are so they are giving away a pair of tickets to see OZZY in Hershey on June 6th 2020! Yep and all you have to do is attend the show on the 28th for your chance to win tickets to see the 'Lord of Darkness'. They haven't nailed down all the details yet but they hope to give away some more cool prizes so stay tuned to the Bark at the Moon facebook page at http://www.facebook.com/batmtribute for more details.
The cover story this month comes from Anatomy of the Sacred. They have a new single out "Suicide Lake" which is dedicated to all who have lost a loved one to Suicide. They hope this song will help prevent the tragedy of suicide in our country and around the world. Sad to say but we have all been affected one way or another by suicide. From a loved one you may have lost to the guy that made you laugh on TV for years. Suicide effects us all and the holidays can hit us the hardest. Please, if you know someone who is struggling in life take the time to give them a call or stop by and visit for minute. Maybe invite them over for some Christmas cheer. Spending time with someone in pain can help them mend and maybe save a life. If you know someone battling suicide or if you need help please contact the National Suicide Prevention Hotline at 1-800-273-8255.
That is all for this month please enjoy the holidays and remember to shop local at all our great local music stores: Player's Exchange, Guitars on Main, Guitars on George, Woodshed Guitar Works, Noteworthy Guitars, Creter Music, Guitar Villa, Mike's Music, Data Music, Dale's Drum Shop, Campbell's Music, Iko's Music, Wiscount Music, Penn Ave Music, Drums etc, the list goes on and on. Give the Gift of Music and Please support the local shops. Thank you to all those who have supported the PA Musician Magazine throughout 2019…See you all in 2020!