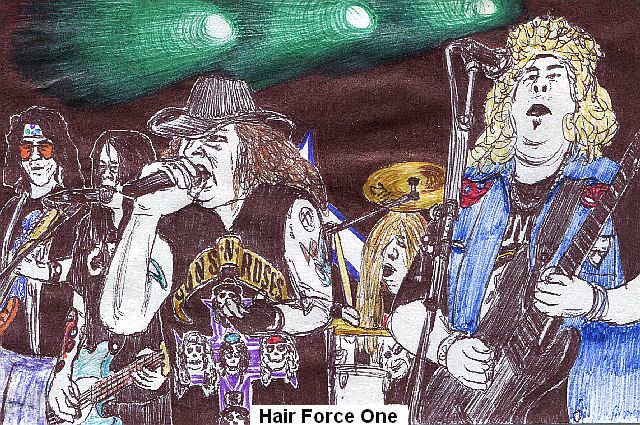 ---
By: Jim Price
We enter the holiday season and the homestretch toward the end of another year. Here's hoping everybody takes the opportunity to enjoy family and friends, take stock in the season and its meaning, and resolve to help make the world a kinder, compassionate place in 2020. Here's hoping all of our PA Musician readers enjoy a Merry Christmas, Happy New Year and safe, pleasant holiday season!
For the ninth consecutive year, live music brought the Altoona area community together to raise money and awareness for the Healing Patch, a service that helps children and families who are dealing with the loss of loved ones. The 2019 edition of Patched Together: A Day of Music to Benefit the Healing Patch took place at Altoona's Bavarian Aid Society. Eight bands and performers donated their talents between two stages this day, starting with Faded Flowers. The lineup of singer Michael Kensinger, guitarists Jarrett Bickel and Mike Wertz, bassist Hunter Karns and drummer Rob Bonsell focused on their melody-driven original rock songs, such as "Outta My Head," "Truth Hurts," "Rollin' On," "Back in Your Arms" and others, plus their strong rendition of The Darkness' "I Believe in a Thing Called Love." Ed N'Born, the pairing of percussionist Ed Hofer and singer/guitarist Sean Osborn, continued with their acoustic set of original songs and covers; spanning numbers from the Black Keys, Foo Fighters, Dave Matthews Band, the Beatles, Eagles, Weezer and more. Making their return to Patched Together, Chris Vipond & the Stanley Street Band performed their brand of innovative funk-flavored groove rock. Namesake Chris on lead vocals and guitar, keyboardist Nathan Beatty, new guitarist Ben Eberhart, bassist Bill Smith and drummer Randy Servello reprised many of their original song favorites, including "Tupelo Tree," "Pink Parking Ticket," "Lonely Cells," "Never Again," "Armchair Preachers," "Shine" and more. Also returning to this year's Patched Together was my group, the Backyard Rockers. It was great to be a part of this event once again, and singer/guitarist Rich Dasch, guitarist/bassist/singer Mo Yon and yours truly on hand percussion, kazoo and backing vocals had fun performing acoustic sounds from Rod Stewart, Steve Earle, Elton John, Bob Dylan, Neil Young, Traffic, Johnny Cash and more. Again providing one of the highlight performances of Patched Together was Jim Donovan & the Sun King Warriors, who brought dancers onto the floor with their rousing set. Jim on lead vocals and guitar, lead guitarist Kevin McDonald, guitarist, mandolin and harmonica player Dan Murphy, Kent Tonkin on bass, Bryan Fazio on congas and Joe Marini on drums did songs off their two CD's including "We See Through It," "We Have Arrived," "You Are My Everything" and more, plus versions of The Record Company's "Off the Ground," the Kent-fronted take on Golden Earring's "Radar Love," Rusted Root's "Send Me On My Way," and the set-ending rendition of Sly & the Family Stone's "Thank You (Falettinme Be Mice Elf Agin)." Greg Burley then continued the music with his blend of acoustic classic rock favorites; applying his hardy voice to numbers from Elton John, Marshall Tucker Band, the Cars, Bob Seger, U2, Eagles, Better Than Ezra, Willie Nelson and more. Matt Otis & the Sound also fired up the dance floor with their set of thoughtful original rock. Matt on lead vocals and guitar, Kent Tonkin on bass, Alec Zander Redd on saxophone and Ron Brode on drums did many of Matt's original songs, including "Make," "Frozen Moments," "Hope," "The Most Important Thing" and others, plus offered their own fresh spins on numbers from Katrina & the Waves, the Monkees, Gotye, Buffalo Springfield and more. And Stephanie & the Wild Hearts closed out Patched Together in a country vein, performing their brand of rebel country. Singer and namesake Stephanie Onkst, Bob Onkst on guitar and vocals, new lead guitarist Wesley Neville, bassist Chad Morral and drummer Doug Fetter mixed up original songs and country favorites, performing tunes from Eric Church, Jason Aldean, Gretchen Wilson, Little Big Town, Dwight Yoakam and more. Patched Together again saw a large turnout, and successfully raised more funds and awareness for the Healing Patch.
As Veterans Day took place last month, I took in two live music benefit events that helped out local veterans. Six bands donated their talents at The Arena in State College early last month to help out the Veterans 22 Motorcycle Club, which helps area veterans dealing with post-traumatic stress disorder (PTSD) and other issues. I missed the opening set by the Donny Burns Duo, but arrived in time to see Speed Bump Willy. This group – singer Amy Weaver, guitarist Larry Tremaglio, bassist/singer Kimberly Tremaglio and drummer Bob Wahlers – devotes their talents solely toward charitable causes. Speed Bump Willy entertained the crowd with numbers from White Stripes, Johnny Cash, the Offspring, Cranberries, AC/DC, Green Day, Alanis Morisette and more. Up next was Wilted, whose sound blended elements of garage, indie and retro rock. Singer/guitarist Christian Douglas, guitarist Julian Saborio, bassist Dylan Forr and drummer Dom Sisto introduced several of their original numbers such as "The Dark" and "Dopamine," and also broke out 1960s-era tunes from The Doors, The Stooges and more. Hawestone then took the music in a country direction with their mix of original songs and favorites. This group recently added a new member, singer and keyboard player Katie Becker, which enables them to perform a wider variety of songs. This night they did songs from Dustin Lynch, Luke Bryan, Luke Combs, Zac Brown Band and more. Taking the stage next was GoatSmoker, who generated heavier groove-driven metal music. Four members strong, GoatSmoker spotlighted original songs such as "Shogun," "Honey Bucket," the Black Sabbath-flavored "Red Tide Rising" and the Tool-like "Jerkoff": and they also included a rendition of Primus' "Mr. Know It All." And Homegrown finished the benefit with their powerful set of classic rock, pop and blues numbers. As happened when I first saw them earlier this summer, Homegrown again impressed me with their enthusiasm and energy, especially singers Tabby Wilson and guitarist Billy Wilson. Both poured heart and soul into every song they did, including duet versions of Sam & Dave's "Soul Man" and the Ike & Tina Turner take on "Proud Mary." The rest of this group – guitarist Caleb Mitchell, keyboardist Rick Bailey, bassist Nathan "Tubz" Eisenhuth and drummer Ray "Bink" Eisenhuth – was tight and energetic as well, and Homegrown kept the crowd cheering from start to end. This benefit successfully raised more than $1,000 to help Veterans 22 MC continue to help area veterans in need.
Guitars For Vets is a nationwide organization that collects guitars, other instruments and accessories and provides them to veterans who are dealing with combat-related issues such as debilitating injuries, post-traumatic stress disorder (PTSD) or other issues, so that the healing power of music (and playing and creating it) can help them cope. The Altoona chapter of Guitars For Vets presented a day-long event last month at Altoona's Oak Spring Winery location to collect instrument donations and raise awareness of the organization and what it does. Live music was a part of the day. Performances from Rogan Allen and Chad Patterson kicked off the music. I arrived as Dave Howsare performed, blending classic rock, soul and other favorites. Some of his songs included John Mellencamp's "Ain't Even Done With the Night," Marvin Gaye's "What's Going On," The Who's "Behind Blue Eyes," and his closing Neil Young double-shot featuring an instrumental version of "Like A Hurricane" into "Cinnamon Girl." Dave also did a Clarks number, breaking out "Someday Maybe," as he related the story of how he listened to The Clarks' music during down time while he was stationed in Qatar; he then jokingly said that The Clarks' music now reminds him of the desert. Next was a group performance involving Guitars For Vets students and instructors. Instructor and event organizer Bill Ferrell was part of this group as they did a variety of numbers, spanning original songs plus vintage rock'n'roll and country songs from Dion, the Righteous Brothers, Elvis, Ricky Van Shelton, Buddy Holly, the Teddy Bears, Woody Guthrie and more. Led by Tim McMillen, The Free Wine Band then closed out the music with their mixture of acoustic rock, blues, country and folk sounds. Tim on lead vocals and guitar, Ken Werner on vocals, guitar and harmonica, and Steve Schilling on dobro performed numbers from John Prine, Neil Young, Rev. Gary Davis, Bob Dylan, Hank Williams, Bruce Springsteen, Johnny Cash and more. Tim and Ken shared singing duties, and all three musicians were solid on their instruments. The Guitars For Vets event was very successful, as a number of used guitars, amps and other items were donated (some from as far away as Dubois), and will help out veterans here in the local community.
Altoona's Unter Uns Musical & Entertainment Society hosted a Toys For Tots benefit event last month, with Kickin' providing the music. Featuring singer and acoustic guitarist Sean Osborn, lead guitarist Craig Albright, keyboardist Barry Yeager, sax player Ted Ellis, bassist Kevin Mitchell and drummer Bill Hocherl, Kickin' stirred up the dance floor and generated good times with their mixture of classic rock and pop hits. This group has come together nicely since their debut this past summer, and sounded sharp on tunes from Billy Joel, Foo Fighters, Romantics, Bruce Springsteen, Jimmy Buffett, Rolling Stones, Badfinger, Dave Matthews, Bob Seger, Beatles, Queen, Ramones, Foreigner and more. Highlights for me included the array of keyboard effects Barry incorporated during Queen's "Another One Bites the Dust," the crowd sing-along take on Neil Diamond's "Sweet Caroline," renditions of Badfinger's "No Matter What," Foreigner's "Urgent," Hall & Oates' "Maneater" and more. A good-sized crowd supported the benefit, and Kickin' kept the dance floor filled and delivered the good time.
Austin, Texas-based guitar slinger Eric Tessmer and his band lit up the People's Natural Gas Park Oilhouse stage in Johnstown in late October. This was an excellent show, with local rockers Midnight Graffiti setting the table with an impressive set. Midnight Graffiti presented a two-singer tandem this night, with Natalie Kurchak and Terri O'Leary displaying and blending their stellar voices on a mix of rock, soul and pop favorites; flanked by the father-and-son tandem of John Kurchak on guitar and John II on bass, Bernie Kralik on guitar, and Jason Williams on drums. Both singers shined often – Natalie lit it up on Janis Joplin's "Piece of My Heart" and the Jefferson Airplane double-shot of "White Rabbit" into "Somebody to Love," Terri sounded great on Pat Benatar's "Hit Me with Your Best Shot" and White Stripes' "Seven Nation Army," and both captured the Heart harmonies on "Straight On" and "Even It Up." Midnight Graffiti also heated up the crowd with numbers from the Pretenders, B.B. King, No Doubt, Blondie and more. The Eric Tessmer Band soon brought their blues-rocking firepower to the stage. Eric amazed the house with his guitar fireworks throughout the set, backed by bassist Jason Rathman and drummer Marc Redix. Eric displayed heated and soulful solos, intense Hendrix-like shredding, and even dazzled on the acoustic guitar for several songs during the middle of the set. Some of Eric's songs were off his latest EP (simply called "EP 2"), such as his extended version of Anders Osborne's "Love Is Taking Its Toll." He also did "Ms. Fortune Teller," new songs from his next EP, and a song from Freddie King. He paid homage to Jimi Hendrix with a fiery take on "Are You Experienced" and – for the encore – a roaring rendition of "Voodoo Chile." And setting up for that encore, Eric "ripped the guts" out of his guitar on the last song of his primary set, which had much of the crowd delivering a standing ovation. Eric and his band left it all on the stage, guitar guts and all, and made everyone in the room glad they decided to attend and partake.
As part of Halloween season, McGarvey's hosted an interesting tribute show in late October, spotlighting music involving Glenn Danzig. The tribute unfolded in three sets and chapters. Maul – joined by Black Sun guitarist Jason Feathers – started out the night with a set that spotlighted Danzig's years as frontman for the Misfits. With Todd McKeone and Nate Nagle sharing vocal duties, Maul did numerous Misfits classics from the Danzig era such as "Skulls," "Astro-Zombies," "Halloween," "Devil's Whorehouse," "Where Eagles Dare," "Die Die My Darling," "Attitude," "We Are 138," "Last Caress" and more. Black Sun then anchored the next two sets, with the second set spotlighting Danzig's work with Samhain. Todd, Jason, bassist Dave Mollica and drummer Nate Woods were joined by Lyndsay Reilly in her first singing role. The group performed Samhain numbers such as the group's title song "Samhain," "The Shift," "The Howl," "The Hungry End," "I Am Misery," "Mother of Mercy," "To Walk the Night," "November's Fire" and more. Adam Feathers on guitar and Beth Helsel on bass joined in late during this set. Black Sun then finished the night with a set of music from Danzig's self-named band, with Jake Hundt joining in on guitar. Opening with "Twist of Cain," Black Sun proceeded with Danzig numbers such as "She Rides," "Am I Demon," "Possession," "Long Way Back From Hell," "Snakes of Christ," "Devil's Plaything," the radio hit "Mother," "How the Gods Kill" and more. The performances were strong throughout the show, and this presentation introduced the audience to a lot of music they may not have heard before, especially from Danzig's Samhain years.
I also caught the Halloween-themed double-bill of Faded Flowers and The M3dium at McGarvey's in late October. The M3dium was in the midst of their opening set when I arrived. Comprised of singer/guitarist Scott Jurcik, lead guitarist Isaac Fischer, bassist and sax player Ryan McCracken and drummer Todd Schwatek, The M3dium did solid work on mostly 1990s numbers from Seven Mary Three, Alice In Chains, Tom Petty, Black Keys, Smashing Pumpkins, Jimmy Eat World and more. Faded Flowers then followed with two energized sets as they mixed original songs with covers. Singer Mike Kensinger took command of the audience from the get-go, and he and Faded Flowers kept the costumed crowd dancing and cheering with original songs like "Stay," "Alive" and the reggae-toned "Holdin' On," as well as cover favorites from The Darkness, Cheap Trick, Tom Petty, Depeche Mode, Cars, Foo Fighters, Prince, Collective Soul, the "Time Warp" from Rocky Horror Picture Show and more.
McGarvey's also welcomed back VH-1 Classic "That Metal Show" host and comedian Don Jamieson, who emceed a night of hard-hitting music last month. I missed openers Darkness On The Radio, but heard impressive accounts of their set as they spotlighted tunes from their new "Snake Eyes" CD. I arrived in time to catch the last few tunes from Pittsburgh metal powerhouse Skell, including the title from their most recent CD, "Everything's Fine," plus the newer numbers "Make Some Noise" and "I Am the One." Skell – singer Wally Wright, guitarist Mike Palone, bassist Mike Ekis and drummer Cameron Cruz Clark – sounded formidable as always, and I look forward to hearing what is next for Skell as they enter the studio in the New Year to record new music. Next was Railroad City Murder Machines, who rendered a powerful set of original tunes, many from their just-issued self-titled album. With singer/guitarist Tim Mort's son Alex joining in on guitar for his birthday, Railroad City Murder Machines blended melody, crunch and velocity on numbers off the CD such as "Old Ghost," "Ray Brower's Body," "These Streets" and "The Butcher" (with guest Troy providing the raps), "El Rey," "Backsleeve" and more. Tim, Alex, singer/guitarist Randy Williams, bassist Dan Mort and drummer Billy Mort provided full-frontal, high-velocity rock that fired up the crowd and kept everyone's attention through the course of their set. Comedy then took the spotlight as local opener Jason Imler and Don Jamieson presented their respective stand-up routines. Jason touched on local themes during his routine, including a piece about what an Altoona subway system might sound like. Don's routine featured a lot of humor based around rock music, especially heavy metal, as he fired off jokes and stories about GWAR, Ozzy, Alice Cooper, Zakk Wylde, Maroon 5, Sebastian Bach, Kiss, Winger and more. He also referenced Cleveland Browns defensive end Myles Garrett (whose helmet-swinging assault against Steelers quarterback Mason Rudolph got him suspended for the rest of the season), Jeffrey Epstein, Larry King and others, bringing laughs throughout his set. Don then introduced Negan, who then closed out the night with their thunderous set of metal-powered originals and select covers. Singer Mike Davis, guitarists Bob Gray and Jeremy Ashurst, bassist Josh Yahner and drummer Damien Falatek did all four original songs off their "Burnt Pages" EP, new originals such as "Bridge of Death," "I Am Negan" and "The Best of Us," as well as renditions of Ghost's "From the Pinnacle to the Pit" and "Square Hammer," an Alice In Chains number and more. Negan again sounded strong; Mike's voice was in good form, and the group instrumentally clicked on all cylinders.
Hair Force One continued their never-ending "Decade of Decadence" concert tour last month with a show at Altoona's Four Dees Lounge. The Dees was already filled up as I arrived late during the first set, with the group in the middle of a strong rendition of Tesla's "Love Song." Frontman Victor Synn's voice was in great form on this number, setting the tone for what was one of the best Hair Force One shows I have witnessed! Tonight's edition of the group – Victor, axe slingers Michael J. Cox and Milo Nuttz, Scött Allen on bass and Shawn Toppuver behind the drum kit – sounded great all night as they fired off favorites from the hair band '80s. Cinderella's "Shake Me," Poison's "Talk Dirty to Me," AC/DC's "You Shook Me All Night Long" and Motley Crue's "Same Ol' Situation" finished out the set. The group launched their second set with Slaughter's "Up All Night," with Victor's vocals again hitting the Mark Slaughter high notes with ease. The group proceeded through tunes from AC/DC, Kiss, Ratt, Guns N'Roses, Ozzy Osbourne, Twisted Sister and more, again filling the dance floor and keeping the crowd happy. Songs from Bon Jovi, Jackyl, Warrant, Ugly Kid Joe, Def Leppard and Poison filled the third set, which culminated in Guns N'Roses' "Paradise City." Beckoned by the crowd for an encore, Hair Force One returned to the stage to slam the lid on the night with another Motley Crue favorite, "Dr. Feelgood." Hair Force One sounded strong and jubilant, and their energy level rode at a constant high for the entire night.
I also caught up with Cajun Norm & the Jam Session Band as they performed at the Windber Hotel in late October. "Cajun Norm" Chynoweth on vocals and keys, Gene Sweeney on vocals and guitar, Steve Spack on bass and Harold Knappenberger handling drum duties this night mixed up classic rock and blues favorites. They sounded strong on all of it; they blended Elmore James/Allman Brothers' "One Way Out" into Johnny Otis' "Willie and the Hand Jive" as I arrived. They proceeded with tunes from Steve Wonder, Jimi Hendrix, Lynyrd Skynyrd and the Allmans' "Whipping Post" to finish the set. Norm and Gene split lead singing duties; Norm showed skills and style on the keys, and Gene made his guitar sing with tasteful and soulful solos. The group's nightcap set opened with a bit of a surprise, as they broke out a version of Pink Floyd's "Brain Damage/Eclipse" and followed with David Bowie's "Changes." They returned to the blues with Robert Cray's "Smoking Gun," and honored a request for Elton John's "Your Song." The group took it into country blues with "Tennessee Whiskey," followed by tunes from Santana, Stray Cats, Buddy Guy's "Feels Like Rain," and the Doors' double-shot of "Riders on the Storm" and "Roadhouse Blues" to end the night. I liked Cajun Norm & the Jam Session Band's mix of flavors, and their instrumental skills and entertaining style in performing those flavors.
"Songs About Life and Work" took the spotlight in late October at the Portage Station Museum in Portage, as local folk group Corn Silk shared folk songs and history. Featuring Annette Bernazzoli on vocals and guitar, Rich Bernazzoli on guitar and vocals, Terri Koenigsberg on banjo and vocals and Jen Sherbine on fiddle, Corn Silk entertained and educated with their song selection. Annette shared stories and information about the labor movement of the late 1800s and early 1900s, slavery, Americana and more. She and Corn Silk performed numbers such as "Union Hall," Si Kahn's "Aragon Mill," "Bread and Roses," "Where Have All the Flowers Gone," "Mary Don't You Weep" and more. The group led the audience on sing-along renditions of "Michael Row the Boat Ashore" into "He's Got the Whole World In His Hands," and "This Little Light of Mine" to end the performance. The performance was dedicated in honor of co-founder and president of the Portage Historical Society, Barbara Yetzko, who passed away in September.
When I learned that the ever-talented Mycenea Worley was performing near my neck of the woods last month, I did a one-hour roadtrip to catch part of her performance at Seven Mountains Wine Cellars near Spring Mills. Armed with her 12-string acoustic guitar and a smile, Mycenea mixed some of her original songs with select covers. She opened her last set with Melissa Etheridge's "Come to My Window," before breaking out a Gin Blossoms number and Bob Dylan's "Mississippi." From her own catalog, she then did "100 Days" from her 2009 "Siren" EP, before breaking out another surprise, a version of Kenny Wayne Shepherd's "Last Goodbye," followed by Dolly Parton's ever-popular "Jolene." Next was her treatment of Mariah Carey's chart-topper "We Belong Together," before she ended the afternoon with one of her early original songs. It was all very enjoyable; Mycenea's voice was in great form, and she kept the mood pleasant and conversational. Her distinctive style served as the connecting thread that wove her originals and covers together into a cohesive presentation. The audience enjoyed the performance and the venue's pleasant atmosphere. Mycenea plans to return to the studio to record new music in 2020, and will be traveling to Iceland in April.
I have written about Zac Grace numerous times, as he has provided the drumbeats for such area bands as Fayted, Shallow 9, Chris Woodward & Shindiggin' and currently Railtowne. But for the past two years, Zac, has embarked on a solo career, writing and singing his own songs and working in and out of Nashville to record and get his music out there. I finally got to see Zac sing some of his songs last month during a show at Altoona's Family Pizza & Pub. Joined by Eric Wertz on guitar and backing vocals, Zac mixed a few of his original tunes with select country and rock covers. He performed the song he recorded and issued earlier this year, "This Is the Day," his song about seizing the day and going for the gusto. He also did his songs "Worth the Wait," "Give You My Best Shot," his next single "Stay Here Stay Home," "I Got You Covered" and more. The duo's cover selection featured country favorites from Luke Bryan, Randy Houser, David Lee Murphy, Rhett Akins, Alan Jackson, John Michael Montgomery, Waylon Jennings and more; and they also did versions of Fuel's "Shimmer," Matchbox 20's "3 AM," Def Leppard's "Two Steps Behind," and I'm sure I detected Eric throwing a short tease of Yes' "Mood for a Day" into the mix as well. And marking the sixth anniversary of his passing, Zac also paid homage to Altoona radio icon (and my former boss and mentor) Steve Kelsey, dedicating Luke Bryan's "Drink a Beer" in his memory.
Other performances I witnessed recently included New Jersey's The Hudson Falcons at McGarvey's, and weekly open mics and jam nights at D'Ottavio's Gran Sasso in Hollidaysburg on Tuesdays, the Unter Uns Musical and Entertainment Society on Wednesdays, and Altoona's Greenbean Coffee House on Thursdays.
The Altoona area music scene was stunned last month by the unexpected passing of Mike Bryant at age 42. Known by his nickname "Iceman," Mike was a drummer, bassist and singer who had played in several Altoona area bands during the past two decades. He was probably best known as the vocalist for The Opposition, which resurfaced on area stages two years ago and was working up new song material. He also played drums in Dafunkt, and played bass in the group Tore Up. We at PA Musician express our heartfelt sympathies to Mike's family, friends and the music community.
News and notes…The Cre814 organization in Altoona, who has presented the annual late summer Cre814 Fest during the past two years, has announced their first annual Winter Carnival event. The Cre814 Winter Carnival 2020 will take place on Saturday, March 7 from 11 a.m. to 4:30 p.m. at the U.S. Hotel in Hollidaysburg. The all-ages event will feature local vendors, artists and live music, including eight bands that will perform throughout the day…Mysterytrain has announced their new permanent bassist. Eric Milinchuk, who also plays guitar in the Skytop Band and The Perkolators, will take over four-string duties in the group… After a 10-year run on area stages, R2B2 will be going their separate ways at year's end. The group has announced that their New Year's Eve show at Altoona's Newburg Fire Association Social Hall will be their swan song performance…Lenina Crowne has announced that they will be releasing their first full-length album. The album, called "Everyone Belongs to Everyone Else," will be officially released on December 13.
Please send correspondence and recordings to: Jim Price, 1104 S. Catherine St., Altoona, PA 16602. You can also e-mail me at jptheprofessor@gmail.com. And if you're into social networking, look me up on Facebook. SUPPORT LOCAL MUSIC! And HAPPY HOLIDAYS!