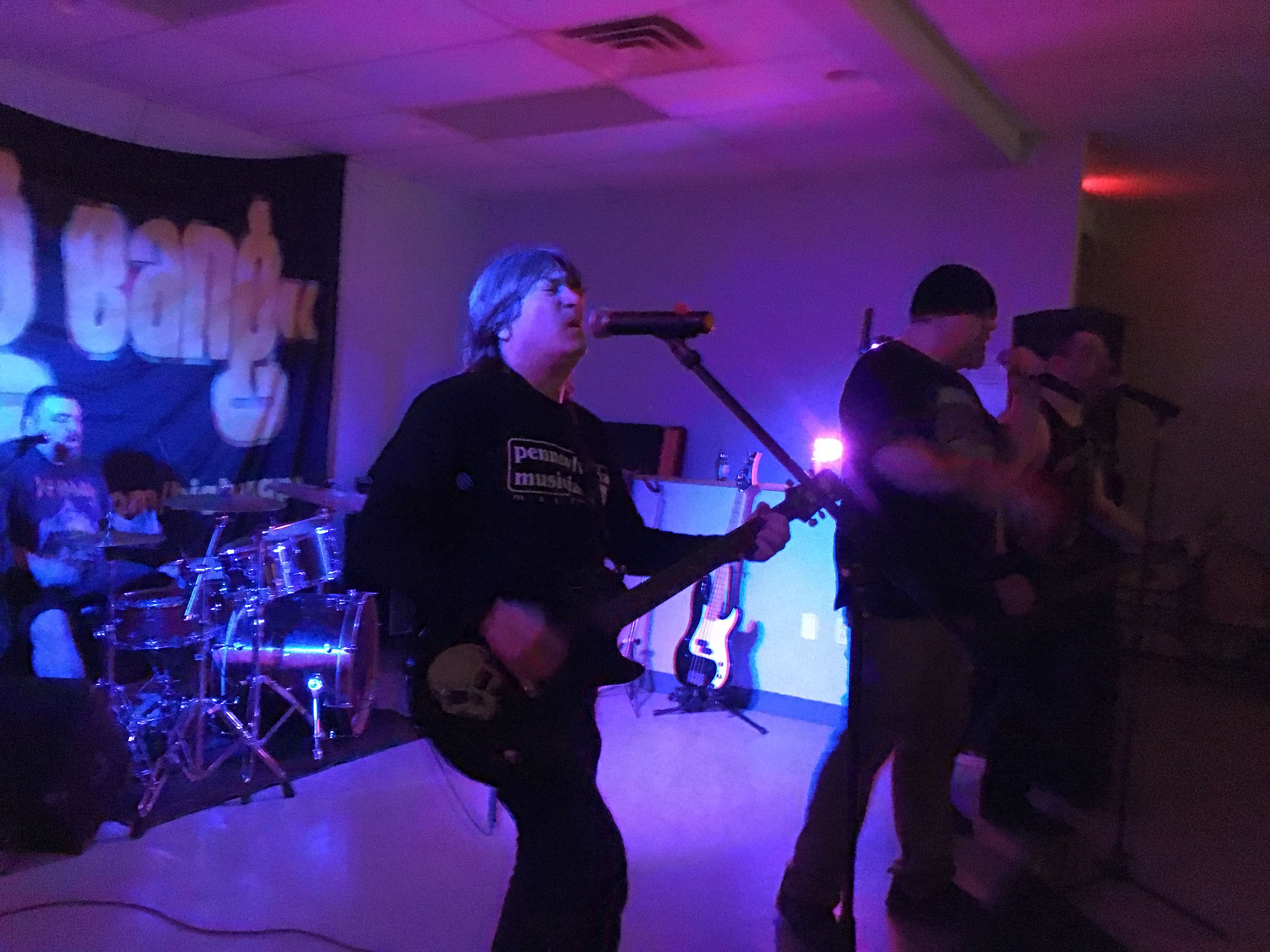 ---
By: Josh Noll
Hello and welcome to our Millennium Music Conference Pre-game edition. This is the 24th year for MMC and we have been there for all of them. It's hard to believe that John Harris and his amazing staff have kept this event going for so long. We all owe them a big thank you for all the hard work they put into it each year. The event brings in some great artist from all over the world, right into your backyard that you may otherwise never get a chance to see. Please be sure to check out the full event schedule in this issue so you can plan ahead and catch all the live action that MMC offers. The cover this month is a dedication to some the past performers so check it out closely to see who made the cut. Pics are by Rachel Rocks and Chris Rider Photography. I hope to see a lot of familiar faces along with a bunch of new ones this year at the event slated for February 27th thru the 29th. Be sure to stop by our booth and check out old issues, peruse sketches by our own Jim Price, drop a CD in the basket for a chance at some air time on the Homegrown Rocker show, grab a drink out of our cooler, or just shoot the shit and talk about life. We love meeting new people so please stop by and say Hi.
January was a another month of great music starting out just over the hill from the PA Musician office at the Meiserville Inn. For those not familiar it has been around for years and years and is a staple in our area for great food and service. Now with new management in the last couple years they have been big supporters of local music and you can often find some great performers entertaining the crowd. On this weekend we got to enjoy the sounds of Mark Alexander with local drum legend John Erdley backing him up. Mark ,a former school teacher, has only been playing guitar for two years. It is no small feat that Mark has learned as many songs as he has in two short years and after he told me that, I really was impressed with his performance. To be able to sing and play guitar in front of a crowd that early on is pretty cool. He also plays to his audience and had us picking which songs we wanted to hear next. They both did a great job and supplied us with an entertaining night of music. He will be back over at the Meiserville Inn on February 7th so stop by and check him out.
Next up was Big Bang! I was contacted by the Liverpool Legion and was asked how they could find some great bands to spice up Liverpool nightlife. I recommended they look through the pages of the PA Musician Magazine and give some bands a call. Wouldn't you know it, the next couple weeks I saw Big Bang was heading my way. I have seen some of these guys in other bands but never as Big Bang. Let me just say it was awesome. It's been awhile since I have seen a band at the Liverpool Legion with the last one being Big Daddy. Liverpool must like Big things because they showed up in force for this one, just like they did in the Big Daddy days. Big Bang knows its crowd and stuck to 80's and 90's "classic" rock the whole night. The crowd ate it up with the ladies and some gents out dancing the night away. I felt like it was the early 90's all over again, and I was over in Newport hanging out at Zerbie's Pool Hall. Everyone was singing along and having a great time with some of my favorites being covers of Four Non Blondes "what's up" and The Cranberries "Zombie". If you're looking for a guilt free good time then, check out Big Bang at a venue near you. Also be sure to check Liverpool Legion' Facebook for events. They have some more bands coming up in the future including Friend of Bob on Saturday February 8th. The good thing is you don't have to be a member to see the band and the drinks are super cheap!
The last night of music I caught this month was down at The Harrisburg Midtown Arts Center aka HMAC for the Sounds of the Underground Metal Festival and also Moon Hooch. The fact the HMAC can have two entirely different shows under the same roof and make everyone feel like one big happy family is no easy feat. Nick Meyers, of 717 Entertainment, and Chris Werner of HMAC have really been stepping up the game with the rebirth of the HMAC. They have been having some stellar shows in the past couple months and this weekend was a non stop action fest with From Ashes to New with Defiant the night before and Turkuaz with Neal Francis the night after. OK, so Moon Hooch, while not my regular cup of tea, was very entertaining and had the place packed with the crowd hopping away. Think jam band with horns instead of guitars, and this is Moon Hooch. I watched a couple songs but jam bands are just really not my thing. Which was OK, because downstairs was all the metal you could handle. One bad ass band after another. Nick knows how to pick them and although I wasn't there for the whole event all the bands I caught were destroying HMAC. Offensive was killer with heavy riffs and non stop action with lots of head banging. Lasciate, a band I have been hearing a lot about, were very high energy with some Misfits thrown in to let everyone know what they were all about. The last band of the night was the mighty Suicide Puppets. Yes we all know I'm a fan and so was the mostly metal infused audience that was there to witness the mayhem. The guys really put on a show leaving the crowd wanting more. With cheers of, one more song, at the end of the set forcing the Puppets back on stage. Like being controlled by the strings of the puppet master, they took to the stage and played a new song that the guys have never even played as a band before. To hear it out front you would have thought they had practiced this song many times but at the end of the song the expressions on the guys faces told a different story. It was like "did we just do that?" Yes, yes you did, and the crowd ate it up. One of the best things about this night was the cross of music genres and seeing Moon Hooch fans faces as they experienced the Suicide Puppets for the first time. Be sure to check out what the HMAC has to offer and please support them as they revamp the place.
This month we have some amazing events coming to our area. Not only is February Millennium Music Conference month but also Gettysburg Rocks. Which takes over the Gettysburg and York area with two nights of music on Feb 7th and 8th. Gettysburg Rocks is a Bi-annual music festival taking place in February and August to benefit the Four Diamonds in supporting children battling pediatric cancer. It is held across multiple venues throughout the area so please go check them out and make plans to attend a show. One of the big ones being at Racehorse Tavern on both nights.
Next we have the Fill The Void Music Festival on Feb. 15th. This is meant to fill the void left by the Lancaster Roots and Blues Festival not happening this year due to Rich Ruoff's wife Claudia battling Glioblastoma, a horrible form of brain cancer. Prayers go out to Rich and Claudia and proceeds from Fill the Void Music Festival will go to help with the Ruoff's medical bills. So please go and support this great cause.
Reverb has a big show this month on the 22nd with The 69 Eyes, Wednesday 13 and our very own Suicide Puppets. This is going to be a killer show so don't miss out.
The Union House Taproom & Livery has Aubrey Rey on February 8th. She is a former American Idol contestant and part of The Voice top 100.
The Warwick has a packed month of music with Dave Heilman on the 8th, The Faves on the 14th, and Fred Pellegrini on the 21st be sure to check the full schedule in this issue. With all we have going on in PA for February don't be a couch slug, get out there and enjoy the winter months, look through the paper and go catch a show. There is something for everyone happening right in your back yard. Be sure to stop by and say hi at the MMC24.
Also If you're a band or a venue looking to draw in more fans please contact us by either email at joshnoll@pamusician.net or by phone at 717-636-4203 and let us help you by doing what we do best, letting the masses know about your music business. Until next time Pennsylvania, take care and rock on!