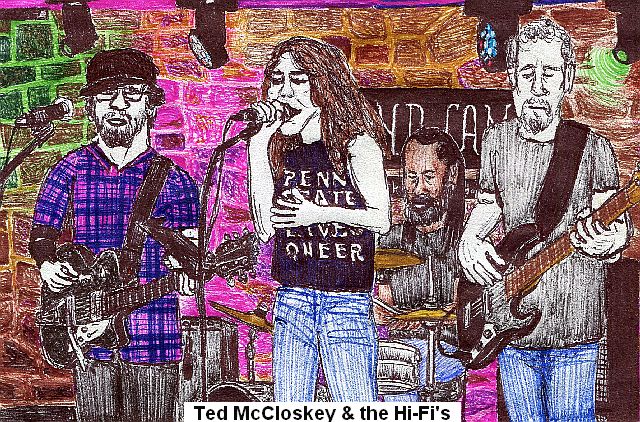 ---
By: Jim Price
Another February, and another Millennium Music Conference…Breaking up the gray and relative monotony of this winter season will be the 24th annual Millennium Music Conference (MMC), which takes place February 27-29 at the Hilton Harrisburg Hotel & Conference Center in downtown Harrisburg. This year's conference will again feature music business panels, clinics, workshops, keynotes, mentoring sessions and the trade show, as well as lots of networking opportunities, and showcase performances by a multitude of bands and artists throughout the Harrisburg area. I again look forward to meeting up with friends I usually only get to see each year during this event, discovering new bands, performers and music, and learning the latest music industry developments and trends. Once again, PA Musician will be present at the MMC trade show, and participating bands and artists are again invited to submit recordings and download cards into my 105.9 Qwik-Rock "Homegrown Rocker" radio show drop box to receive airplay on the show; one CD and one download card will again be randomly drawn at the end of the end of Saturday's trade show, with those winners scoring guest interviews on a future editions of the program! Stop by the PA Musician table at the trade show and say hello!
As mentioned last month, a nasty cold bug sidelined me from catching early holiday season live music events, but I did catch a few performances as 2019 transitioned into 2020. During the weekend between Christmas and New Year's Day, eastern PA-based Beastie Boys tribute Brass Monkeys returned to McGarvey's in Altoona. Kristoph Kostoff, Kirby Sybert, Dom Sciortino and Shawn Beck brought the music, beats, swagger and party fervor of the Beastie Boys to life in front of a packed house crowd. Local favorites Shallow 9 heated up the crowd, before Brass Monkeys ignited the house with favorites from throughout the Beastie Boys catalog, displaying constant stage movement, triggering sing-alongs and shout-alongs, firing off improvisational funky interludes, and rallying the crowd into a continuous, festive mood. Brass Monkeys mixed hits with deeper cuts – breaking out favorites such as their namesake song "Brass Monkey," "Sabotage" and "No Sleep Till Brooklyn," as well as rowdy Beastie numbers like "So What'Cha Want," "The New Style," "Root Down," "Hey Ladies," the punk-fueled "Heart Attack Man," "Time to Get Ill" and more. Brass Monkeys' energy was constant and kept the crowd at an elated high. When the crowd demanded an encore, Brass Monkeys responded with two more favorites, "Girls" and the Beastie Boys' famous party anthem and hit, "Fight for Your Right (to Party)."
I returned to McGarvey's a few nights later to ring in New Year 2020. New Year's Eve at McGarvey's was a two-part event, opening with a buffet dinner and live comedy show featuring six comedians, providing two hours of steady laughter. Then leading up to midnight and guiding the audience into 2020 was live music with local contingent the Heavy Bottoms. Featuring frontman and guitarist Rogan Allen, drummer Keegan Allen and Nate Nagle on bass, the Heavy Bottoms mixed up a variety of classic rock, funk, blues and country. The group stirred up dance floor action and fired up the crowd with tunes from Stevie Wonder, T. Rex, Prince, Wild Cherry, Black Keys, KC & the Sunshine Band, Romantics, Matchbox 20, Stevie Ray Vaughan, Atlanta Rhythm Section, and their own bluesy original title song, "Heavy Bottoms." After champagne, hugs, smiles, laughter, selfies and a cameo visit by McGarvey's main man and lord of drink "Father Rich" got the New Year off to a happy start, the Heavy Bottoms returned to the stage to continue the musical festivities. The nightcap set featured tunes from Jet, Georgia Satellites, guest singer Brittany Boyles belting out lead voice on 4 Non Blondes' "What's Up," Collective Soul, Ohio Players, Luke Bryan, Outkast and more to wrap up this glorious transition into 2020.
With State College almost a ghost town while Penn State University students were away on holiday break, I took advantage of the relative quiet to catch up with local favorites Ted McCloskey & the Hi-Fi's as they fired up their weekly Friday night party at the Phyrst. Ted on vocals and guitar, Molly Countermine on vocals, Rene Witzke on bass and Daryl Branford on drums played a wide mixture of classic and newer hits and favorites, and transformed them into their own inventive styles and flavors. Molly sang the lead on a fresh, soulful take on "Wagon Wheel" as well as a roots-rock version of Elle King's "Exes and Ohs." There were wildly funky extended jam editions of Prince's "Kiss" and "Let's Get Crazy," as well as Ted's scorching guitar solo display for the homestretch of a funk-driven rendition of the Beatles' "Come Together." Ted and Molly led duet versions of Queen's "Another One Bites the Dust" and Smashing Pumpkins' "1979," and the group honored requests for several original songs and Bob Dylan's "Everything Is Broken." There were also hot takes on tunes from Fleetwood Mac, Modest Mouse, Franz Ferdinand, Stevie Wonder, and their final number of the night smoothly gliding into a feisty version of "Auld Lang Syne" to close things out. Ted & the Hi-Fi's musicianship, enthusiasm and excitement were off the map – this band pushed many of the songs into intense and heated finishes; and they never let off the gas even at the end of the night, when just me, one other fan and the bar staff were the only folks left in the house!
The spirit of giving continued past the end of the holiday season, with two benefit shows last month in State College to help out area musicians and their families in need. The first was the Benefit for Jackie Brown & Family event, which took place at Cafe 210 West in State College. The concert raised $2,059 to help out Jackie and her family, as her daughter, Trishanna, receives medical treatment for Hirschsprung's disease, a congenital bowel disorder. Cone Of Silence led off the show before my arrival, and had a mass of humanity in Café 210's stage room happy as I stepped into the building. Next was The Skoal Brothers. This night's cast of singer and guitarist Julian Allatt, Jackie Brown on vocals, John JT Thompson on keys and vocals, John Kennedy on bass and Stubby Stubbs on drums cut loose on a wide range of blues-based rock, funk and soul. This was my first time seeing Julian in action – this man can belt some voice and work those guitar strings! He and Jackie shared and alternated singing duties during the set, and the group's energy level steadily escalated as the set went along. They broke out tunes from the Rolling Stones and Stevie Wonder, before launching a medley that connected tunes from Jimi Hendrix, the Beatles, Pink Floyd and the Grateful Dead, ending in the "Sunrise" fanfare from Richard Strauss' "Also Sprach Zarathustra" (known by many as the theme to the film "2001: A Space Odyssey"). It kept getting rowdier from there, as Jackie sang the lead on Led Zeppelin's "Heartbreaker" into AC/DC's "Highway to Hell," and the group continued with more Led Zeppelin and AC/DC, firing off "How Many More Times" and "Whole Lotta Love" before returning to AC/DC for "Back in Black," then going directly into Black Sabbath's "War Pigs" to slam the lid on the set! The Skoal Brothers (and sister) had the Café 201 crowd on their feet and roaring approval! More excitement was on deck, as Jackie and the Gill Street Band took the stage to blast brassy sounds. The dance floor was instantly packed as the group – nine members strong with four-piece horn section – kicked off their set. They brought the funk and soul, churning the dance floor with Cheryl Lynn's "Got to Be Real," Marvin Gaye & Tammi Terrell's "Ain't No Mountain High Enough," Donna Summer's "Bad Girls," the Ike & Tina Turner version of "Proud Mary," James Brown's "I Feel Good" and more. Jackie and the Gill Street Band kept the energy and excitement constant, and kept the crowd on their feet; leading up to the heartwarming homestretch, when Jackie's daughters Destiny and Diana joined their mother on the stage to sing on several numbers, including the Isley Brothers' "It's Your Thing," the Jackson 5's "Shake Your Body" and Earth Wind & Fire's "September" to close the set. At song's end, daughter Trishanna joined her mother and sisters on the stage, and the night reached a peak moment, as mother and daughters soaked in the collective energy and love from the crowd and the room. Finishing up the benefit was the J.R. Mangan Band with Veronica. That would be Veronica Auger, who sang much of the lead vocals, along with namesake J.R. on vocals and guitar, Jason Ebersole on bass and vocals, Mark Toci on lead guitar, and John Lynch on drums and vocals. They mixed it up with their hearty and fun blend of classic rock and hit favorites. They led off with Fleetwood Mac's "The Chain," with both Veronica and Jason sharing singing duties. That was just one of several Fleetwood Mac numbers; the group would later do a Mac block featuring "Dreams," "Go Your Own Way" and "Landslide." They also did numbers from the Rolling Stones, Led Zeppelin, A-ha, Cranberries, Don Henley, Hall & Oates, Goo Goo Dolls, Guns N'Roses, Amy Winehouse and more. Veronica's voice was in excellent form; she especially nailed Jefferson Airplane's "White Rabbit!" Mark frequently displayed precision guitar work, and Jason and John kept the rhythms tight and moving. J.R. glued it all together with his acoustic guitar presence, and served as ringleader to fire up the remaining crowd in the house. This was an excellent night of music and fun, and it was heartening to witness the support of the State College community this night for Jackie Brown and her family.
Unfortunately, wintry weather and treacherous road conditions prevented me from returning to State College the following weekend for the "Songs for a Friend: A Celebration to Benefit Our Brother, Mark Ross" concert, which took place at the State Theatre. Every seat in the house was sold out as a large cast of area musicians – including The Blue Hornet Band, Felix & the Hurricanes, Tyne & the Fastlyne, Triple A Blues Band, Ted McCloskey & the Hi-Fi's, Miss Melanie, Strayer, Dawn Kinnard, Hannah Bingman, Raven & the Wren, Jamie Davis, Noah Figlin, Jason McIntyre, Junior Tutwiler and special guests – donated their talents to help out Mark as he battles a rare and aggressive form of cancer. A staple of the State College community and regional music scene, Mark has graced stages for more than 30 years as guitarist for Queen Bee & the Blue Hornet Band, Miss Melanie & the Valley Rats and other projects, and has been an educator and music store proprietor as well. Those who would like to donate to help Mark in his battle may do so by visiting http://bit.ly/MarkRoss.
It was in 1989 that a young guitarist and singer named Felix Kos assembled the first edition of his new band, The Hurricanes, and started to build a fan based in his home area of Cresson and Gallitzin in Cambria County. After a few personnel moves, the current edition of the Hurricanes – Felix, bassist and singer Jeff Clapper and drummer Bob Watters – first came together in 1991. Both Jeff and Bob left the group in 1993 to pursue other projects, with bassist Bill Nusom and drummer and singer John McKnight replacing them. That Hurricanes lineup continued to expand its territory and fan base through the 1990s, before John left the group to relocate to his current home base of Atlanta, Georgia in 1997. Jeff and Bob rejoined Felix the following year, and Felix & the Hurricanes have continued nonstop ever since. The group marked their 30-year milestone last month with a special concert at Altoona's Bavarian Aid Society. Many 'Hurricaniacs' and other fans filled the room to celebrate as Felix, Jeff and Bob performed a variety of classic, southern rock favorites and original songs, welcoming several guests to join them on stage along the way. Guest guitarist Mike Borstnar joined the group early on during a rendition of Stevie Ray Vaughan's "Pride and Joy," and Mike and This Albatross/Agent Smith guitarist Phil "Philly Grooves" Wagner joined the Hurricanes on a feisty read of Wilson Pickett's "Mustang Sally" to open the second set. Singer Steve Oswalt joined the Hurricanes for much of the second set, lending his powerful voice on tunes from Ted Nugent, Journey, Delbert McClinton, Wild Cherry, Led Zeppelin's "The Lemon Song" and more. And during the nightcap set, guest singer Lauren George joined in to sing on Dobie Gray's "Drift Away." Felix & the Hurricanes kept the crowd on the dance floor all night with favorites from Steppenwolf, Bob Seger, Lynyrd Skynyrd, Eric Clapton, Boz Scaggs, the Allman Brothers, Doobie Brothers, ZZ Top, Golden Earring and others, along with their own original song favorites "Walking A Straight Line" and "Keep On Rockin.'" As always, Felix & the Hurricanes left it all on the stage, playing for broke to keep the audience happy and dancing the whole night. And after 30 years, they continue to win new fans; I met a 50-year-old man who was seeing the group for the very first time this night!
On the acoustic front, I caught my first look at Lonesome Road last month as they entertained at Hagen's Irish Pub in Chest Springs. The Cambria County-based duo of singer and guitarist Mark Sekerak and percussionist Ben Frick performed a blend of acoustic rock and country favorites. Mark displayed a sturdy voice and friendly personality as he sang numbers from Seven Mary Three, Bruce Springsteen, Chris Stapleton, Nirvana, Tom Petty, Merle Haggard, Jason Isbell and more. He often offered perspective and insight on the numbers he and Ben performed, and honored some audience requests along the way. Lonesome Road returns to Hagen's on March 21.
And I got to take in several recent installments of the weekly Wednesday Jam Night at Altoona's Unter Uns Musical & Entertainment Society, presented by The Live Music Preservation Society. Musicians young and old, seasoned and beginner show up and mix their talents on the stage, and newcomers are welcome. A newcomer to this Jam Night in recent weeks has been Englishman Ron Clayton, who sings and plays guitar. During one Jam Night, he led a group of jammers, and performed a song from across the pond that the audience hadn't heard before, "Matchstalk Men and Matchstalk Men & Dogs," a 1978 chart-topping hit in the U.K. by the duo Brian and Michael. Pleasant surprises are always a possibility at Wednesday Jam Night at the Unter Uns, and it's always cool to see musicians stepping out of their band situation comfort zones to mix it up with other musicians on the stage!
The area music scene was saddened by passings in recent weeks…Singer Biranda "Honey Brown" Goodman passed away on December 29 at age 36 following a brief illness. Biranda had sung in some Altoona-based soul and hip-hop projects, and she also hosted karaoke at area venues. She was also an alumnus and award winner with the late Dennie Huber's "Crazy Fest" Amateur Youth Talent Show as well…And Robert DiVentura, Jr. passed away on January 24 at age 71 following a battle with cancer. Robert and his family have operated Altoona's Pleasant Valley Recreation Center (including the Four Dees Lounge) for many years…Our condolences go out to the families and friends of both people.
News and notes…The bands Black Sun, Maul, Darkness On The Radio, E.N.D., Paradigm and Roadkill will donate their talents on Feb. 16 during "Heavy Metal to Benefit Jen Johnstonbaugh Cuz F*** Cancer," taking place at McGarvey's; proceeds will help Jen – the wife of area drummer Darl Johnstonbaugh – who is being treated for marginal zone B cell lymphoma…Bret Alexander, the primary songwriter with Pennsylvania-based national recording group The Badlees, and the owner and operator of Saturation Acres Recording Studio, will soon undergo a kidney transplant; a benefit concert – "BANDing Together for Bret" – will happen at the Woodlands Grand Ballroom in Wilkes-Barre on April 11, and donations to help Bret can be made via a GoFundMe web page…The State College live music venue formerly known as Crowbar is undergoing another transformation; After a brief run as Re/Bar, the venue has been acquired by the owner of Scranton's Stage West, Steve Masterson, who will reopen the room later this month as Stage West – State College… Guitarist Rick Ramsey has parted ways with area rockers The Zero Club to pursue musical opportunities in Nashville; the group has added singer Stacy Feighner and guitarist Tony Feighner to replace him…Area metalcore rockers It Is Written abruptly parted ways last month.
Please send correspondence and recordings to: Jim Price, 1104 S. Catherine St., Altoona, PA 16602. You can also e-mail me at jptheprofessor@gmail.com. And if you're into social networking, look me up on Facebook. SUPPORT LOCAL MUSIC!