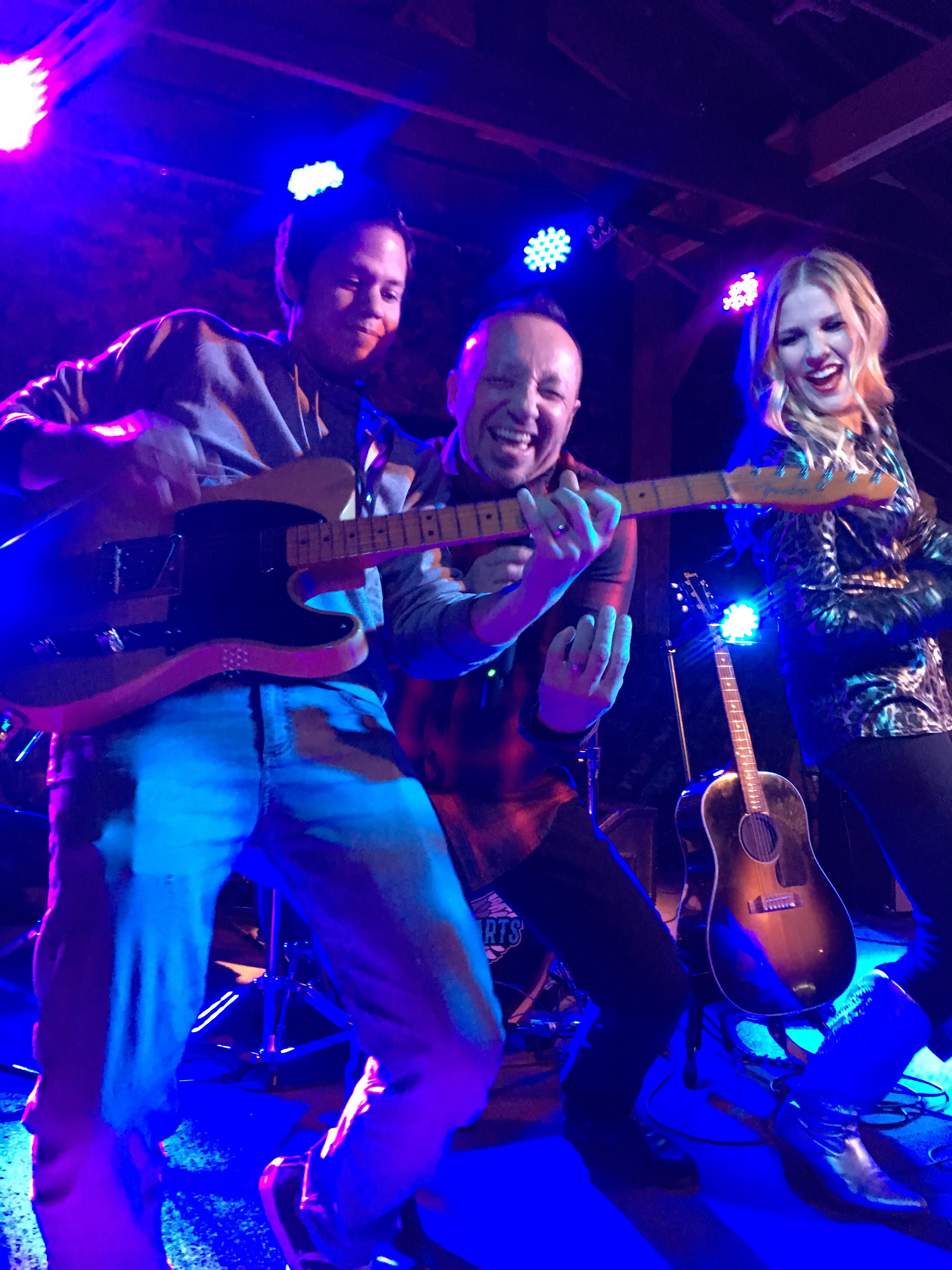 ---
By: Josh Noll
Welcome back and Happy New Year! 2019 has arrived and we are hustling to bring you an action packed issue of the PA Musician Magazine. I had a great holiday season this year hanging with friends and family, working on a long overdue remodel and eating way too much food. Its seems so easy to stuff your face around the holidays rather than avoid all the tasty foods everyone puts in front of you. With that, comes everyone's dreaded new years resolutions. Every year I say that I'm going back to my "fighting" weight but it just never seems to happen. Quitting stuff is another big one on people's lists; smoking and drinking being near the top. I am happy to say that I never took up the cigs but have been known to slam some beers. I have cut back over the last year and overall I feel a lot better day to day. This year I am seriously going to try to lose a couple pounds, keep the drinking under control and try not to be such an Asshole to the people around me. This is perhaps one of my biggest flaws. It's always easy for me to be a pain in the ass rather than go with the flow and see what happens. So there it is, let's see if I'm down to 165 by this time next year. Or at least by November so I can rack it all back on again over the holidays.
January in PA is the start of a new year of music and there is some exciting stuff happening for everyone. One of the cool things we all got to watch over the holidays was The Small Town Titans going viral with the cover they did last year of "The Grinch". It's awesome seeing a local band take off and I'm sure we will be hearing a lot about them this year. They have been working hard and hopefully they continue full steam ahead.
The paper seems to be gaining traction with some new advertisers and people contacting me more and more everyday. I read an article about Harrisburg and Central PA being the east coast Austin. It makes you think about how good we do have it Some people say there is a decline, but I would like to think that is over and that the Central PA music scene is on the rise. We have all kinds of options and you don't have to go far to find what you're into.
With February right around the corner and events happening all over like MMC, The Harrisburg University Concert series, Gettysburg Rocks and the Lancaster Roots and Blues Festival its easy to see what they are talking about. Before February hits, hold on for "Absolutely Freaked" an experiential rock concert featuring the early works of Frank Zappa coming to Open Stage of Harrisburg, January 10th-13th for three nights of shows. Check out the press release following this article to see what it's all about.
If you're further south and having a hard time getting over the fact that you were lazy on New Year's Eve and stayed home, then head over to the Racehorse Tavern on January 12th for the 19th Annual Y2K Bash. You can drink some champagne and make some noise and party like its the end of the world all over again.
If that wasn't enough fun, check out our cover band Defiant. They are rocking Johnny Joe's on the 5th and HMAC on the 25th. Be sure to read the cover story to find out about these guys and put them on your list of must see bands.
Speaking of HMAC, we would like to welcome them to our pages. They have teamed up with 717 Entertainment and are featuring The Crash Test Dummies on January 20th. They have a full winter schedule, so check it out here in the pages of the PA Musician Magazine.
Another band to go check out is Stephanie and the Wild Hearts (formerly The Chrome Hearts). I got to see them last month and they bring a great energy to the stage that's hard to come by. With Bob and Stephanie leading the charge, they rope you in and really play to the crowd and it shows. You can catch them at the end of the month at Blarney's on the 25th and again during the MMC conference in February. Well, that about sums it up but hold on PA, 'cause 2019 is coming at you like a lion. Don't be the lamb and remember, life is what you make of it and same goes for your music scene.
PRESS RELEASE: ABSOLUTELY FREAKED!
Open Stage of Harrisburg and Joseph Osborne Productions invite you to join them for the world premiere of ABSOLUTELY FREAKED – an experiential rock concert featuring the early works of Frank Zappa. Authorized by Zappa Records and with arrangements and music direction by Joseph Osborne and direction by Chris Gibson, this world premiere showcases Frank Zappa's early works from 1966 to 1972 – including the classic Zappa and the Mother of Invention songs "Plastic People", "Dirty Love", "Who Are The Brain Police", "Going To Montana", "Brown Shoes Don't Make It" and more.
ABSOLUTELY FREAKED! was conceived and developed to provide audience members with an intimate and fierce experience – filled with art – music, graphic art, visual art and lighting. The concert was also designed and arranged to showcase various performers rather than being a tribute band. ABSOLUTELY FREAKED! features Stacy Werner, T.J. Creedon, Hanni Sindelar, Nicholas Werner, Chris Gibson, T.J. Cole, Anthony Pieruccini, Joseph Osborne and Jeremy Blouch. Graphic and visual designs are by Bri Dow and Rachel Landon. Promotional art by Ryan Spahr and photography by Norman Seef.
Zappa's early works were groundbreaking and integrated various genres into his music – from doo-wop to rock to jazz – while creating songs that featured lyrics that ranged from humorous to eccentric and from provocative to shocking. ABSOLUTELY FREAKED! provides the experimental and experiential vibe of Zappa and The Mothers of Invention, and is a tribute to Zappa's transformative performances without being a tribute band.
Performance dates are January 10, 11, 12 and 13 at 7:30pm. All performances are at Open Stage of Harrisburg, a regional professional performing arts facility located at 25 North Court Street, Harrisburg PA. Ticket prices range from $25 to $35 and can be purchased at https://www.openstagehbg.com/freaked. For additional information call (717) 745-7381 or go to our event page at: https://www.facebook.com/events/170506433899476/?ti=as