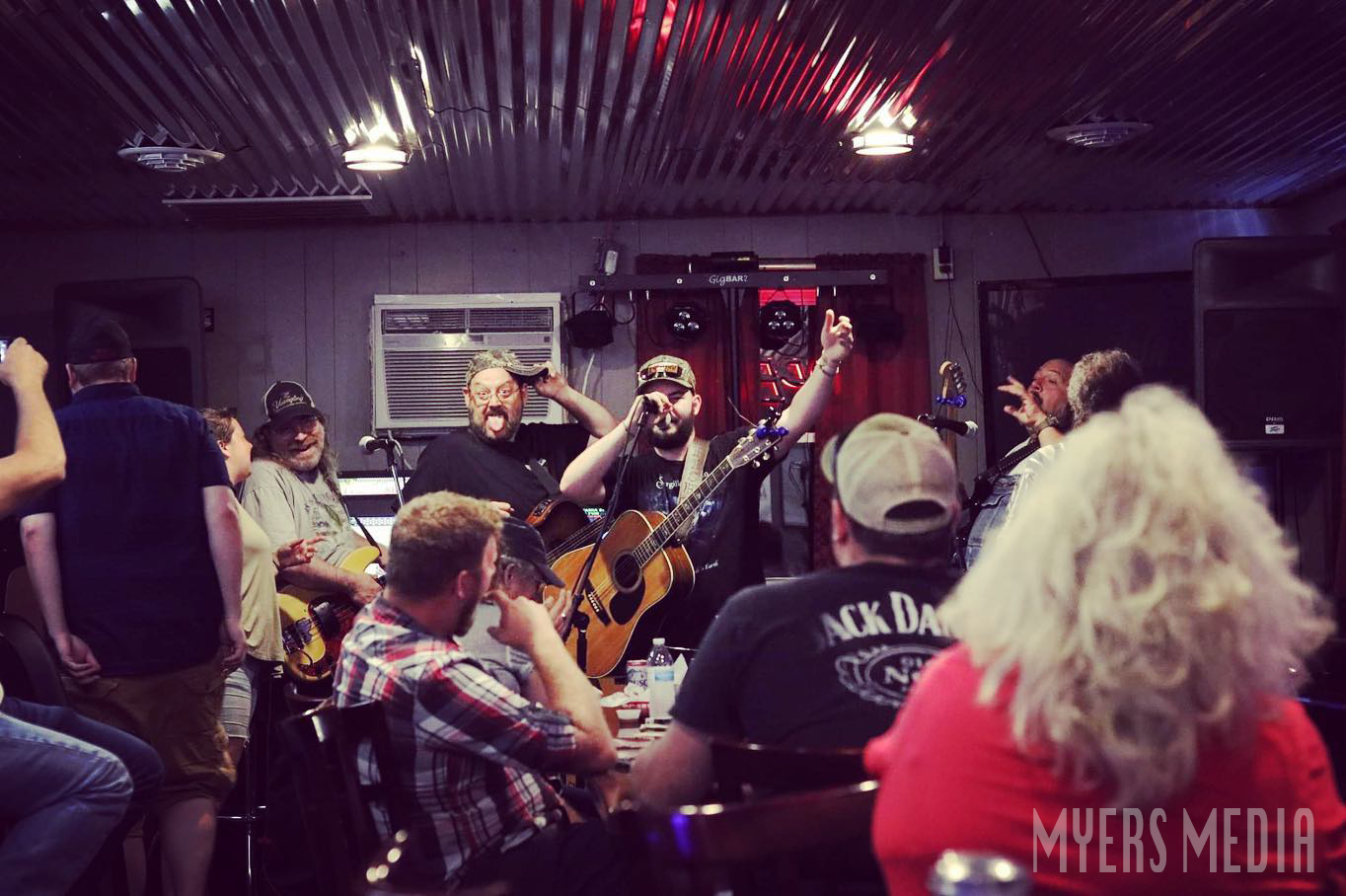 ---
By: Josh Noll
Welcome to the dog dayz of summer and another installment of the PA Musician Magazine. This month blew by in a whirlwind of RAIN!! It's rained so much that I've started to develop a British accent and spend my days wearing rain boots, watching the yard get longer and longer. But let's not dwell on it and hope that July is full of sunshine, vacations, and live music! On ONE of the nice Saturdays, I was able to get out and enjoy the day on the 'Northwest Lancaster River Trail'. This trail runs from Columbia up through Marrietta, Bainbridge and ending in Falmouth. It is a mostly paved and a flat trail so it's perfect for all skill levels and ages. The great part is, if you time it right, you can bike/hike/run the trail in the afternoon and then stop at Marrietta to McCleary's Pub House for some fine food and some great live music. We drank "after ride beers", talked about the sites along the trail, ate some great food and then watched the band Dillweed perform, all while sitting at the same table. The band was great and McCleary's Pub House had an inviting vibe with plenty of different seating areas to choose from. If you're there for the band, just let them know and they will seat you so you can enjoy the show. You can also pick up the latest copy of the PA Musician at McCleary's, but get there early in the month as they usually disappear pretty quick.
Last month I was visiting some new and old local favorites and decided we would do a little refresher on some places that are really supporting local and national live music. These two places might not be on your radar for live music, but they should be. They are The Rusty Rail Brewing Company and Laurel Run Lodge "aka Chick's". These two places represent two opposite ends of the spectrum when it comes to size and location. They both offer the same great support for the local music scene by bringing in great out of town talent, and by supporting the local guys with weekly open mic nights. Both are lucky enough to be supported by great local musicians. Scott Bachman and Bryan Noaker host the open mic for Rusty Rail and Zach King with his Kingfish & Friends heading up duties at The Laurel Run Lodge. For the full Rusty Rail story, head over to page 13 and see what Rachel Rocks has to say and I will fill you in on Laurel Run Lodge. The bar "also known as" Chick's. Ahhh, Chick's…it has been around for as long as I can remember. In fact, its one of the earliest bars I was ever in. As a family, back in the early days, we would often go camping at Cornel Denning State Park. It was just a couple backroads away from our house and was an easy place for Whitey and Robin to take us kids to swim in the lake, fish, hike, and have a great time. One of the critical stops on the way, before we headed over the mountain, was Chick's. Dad always said it was to let the old Dodge van cool off before we headed up over the mountain. We mostly waited outside and threw rocks, while dad went in and had a couple drinks and chatted with the locals. It was always a 'spot', no matter where we were going, that Dad always had to stop at when going by. So yeah, I spent some time there wondering what the hell Dad was up too. Fast Forward to the year 2019 and The Laurel Run Lodge "aka Chick's" has made some serious changes, while also keeping to its' roots in many ways. In November of 2017, Chick's got some new owners in the way of locals, Rob Wright and Sarah Zeiders. They knew right away that live music was one of the things they wanted to keep in the future for The Laurel Run Lodge along with a major facelift and remodel. In true entrepreneur style, they did the work themselves and the result of all of their hard work is a very clean and tightly run bar with a unique interior design and a cozy feel. The food is great and I must say the prices take me back to when I was stopping in with Dad in the 80's. I was pleasantly surprised when my bill came, and the fries and BLT were banging! Along with the great prices came great service, even when the bar suddenly filled up for the start of Kingfish & Friends Open Mic Night. About a half hour from Carlisle, it offers a nice road trip away from the city that's not too far off the beaten path. When you consider most trips to a venue, no matter how close, still take a decent amount of time to get too. The Wednesday night weekly open mic hosted by Kingfish & Friends, led by Zach King of The Flat Wheels (who is always up to music related business including his solo act opening up for David Allen Coe later this month at Reverb in Reading on July 26th), always has great local support. The night I was there it was a full bar, with plenty of people signing up for the open mic. We arrived just before Zach and his crew kicked it off and shortly after the guys started playing, the place really got into it and full attention was on the band. It was nice seeing the whole bar listening to the music and cheering after each song and really making each musician feel welcomed. Seems sometimes open mics are just in-the-corner sort of things, but here it was very clear everyone was there for the music. I got to hear some great musicians including my old buddy Shawn Pike, who I typically see around the campfire singing his tunes. From what I am told, you never know who will show up with past appearances from the likes of Pete Netznik, Joe King, Mike Foltz, and even a visit from Calvin Ott and Don Bailey of Bailey's Crossing But it doesn't stop with the open mic, Rob and Sarah have let Zach run wild on the booking and he's been able to get some great names and talent that doesn't make it to our area often.
Last month they had Hello June, a West Virginia Based indie-rock band, that has been making noise all across the country with the release of their debut LP. This month, along with open mic, they have some local and some not so local bands playing. On the 19th they have a local band from the Camp Hill area, The Jacks. They are an Americana style band that play some interesting twists on covers along with some great original tunes. On the 27th they are bringing a little slice of Nashville to your backyard with Pat Reedy and The Longtime Goners along with Philadelphia locals Rylan Brooks. I know if you have never heard of the band you might say is that Garth's son? Well no, that's actually the band name consisting of Nate Rylan and Chris Brooks who met running cargo up and down I-95, but have turned to slinging music instead. They are a country western band playing 60's and 70's outlaw country style music with catchy tunes like Gunslinger and Friend Of The Road. I suggest you check out the website for the band@ rylanbrooks.com and give the music a listen. If Willie and Waylon are heard blasting from your 72 RS split-bumper Camaro, then you should check these guys out. You wont be disappointed. Pat Reedy and the Longtime Goners are based out of Nashville. Originally from New Orleans, Pat makes honest honkytonk music for the modern world. As a young 21 year old, Reedy cut his teeth and busked on the streets of New Orleans, playing for crowds on Lower Decatur and Bourbon Street. This helped launch his career and meet up with his backing band the Longtime Goners. They have since moved to Nashville and have started recording albums and touring the backroads in an old 85 Dodge diesel pickup, hitting the dive bars, honky tonks, and punk houses across America, and now venturing up to you at the Laurel Run Lodge. You can check out Pat's music and all he has going on at his website @www.patreedymusic.com. I do hope they bring that truck, it will be the perfect spot for the old girl to cool down and throw back some cold ones. So if rowdy country tunes, backed by a variety of stringed instruments is your cup of tea, then be sure to mark down Saturday, July 27th as your day to head out to Laurel Run Lodge and see what it's all about. Along with great food prices and service, they also like to stick to the rule of no cover charge and never raise drink prices when the band shows up. Heck, they even do DJ and Karaoke nights! So the next time your looking for adventure, or a place to share your tunes with a new crowd, head over to Laurel Run Lodge, "aka Chick's". You can follow along with what they are up to on Facebook @chickslaurelrunlodge. So that wraps it up for this month. Please spend some time and head out to a new bar or brewery this month. Go for a drive, take a hike or a swim, then find yourself a place to enjoy an evening of music. The paper is full of places like this, all over the state, and some right in your back yard! Check out everyone's schedules and then plan your month, because before you know it, summer will be over and you can only blame yourself for not enjoying it. Take care PA, see you out on the road.