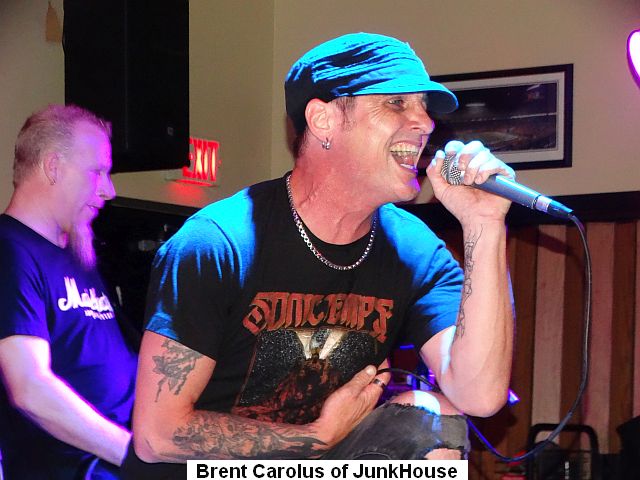 ---
By Jim Price
Outdoor live music reaches its full stride this month, with plentiful concerts, festivals and community events showcasing musicians throughout the region, and keeping this music-o-holic very busy!
One recent festival was the Westsylvania Jazz & Blues Festival, which happened during Memorial Day weekend in downtown Indiana. A blend of jazz and blues performers entertained throughout two-day event on a single stage. I caught much of Saturday's music, arriving during the performance by The Inner Urge. Based in Pittsburgh, The Inner Urge introduced an intriguing style of spacy jazz, rock and funk fusion. It was interesting to watch these four musicians – vibraphone and djembe player Michael Garbett, guitarist Alex Price, bassist and synth player Andrew Koss and drummer Jesse Griffith – match wits on their respective instruments, yielding experimental, ambient original numbers like "The Wheelbarrow" and other tracks from their self-titled CD. They also did a unique instrumental take on Tears for Fears' "Everybody Wants to Rule the World." Next was renowned Pittsburgh pianist Tom Roberts, who has appeared on The Tonight Show with Johnny Carson and The Statler Brothers Show on TNN, scored and arranged music for movies and other productions, and appeared on National Public Radio. He mixed a variety of jazz flavors, with an emphasis on New Orleans. Tom performed numbers from Professor Longhair, Dr. John and James Booker, sharing insight on Booker's inventive, often complex style of piano playing as he did renditions of Booker's "Pixie" and the choro number "Tico Tico." He also did works from Vince Gauraldi, Fats Waller, Jelly Roll Morton, and even improvised a one-time boogie creation, "The Westsylvania Boogie," on the spot. Miss Freddye's Blues Band next lit up the stage. Within her first few seconds of singing the opening tune "Lady of the Blues," the audience knew it was in for a great set, as "Miss Freddye" Stover and her band lit up the stage with feisty, fun blues and soul. Flanked by guitarist Greg Casile, bassist Greg Sejko, drummer Tim McDermott and lap steel/slide guitar player Bob Powers, Miss Freddye brought a sassy, bold and boisterous voice and an outgoing, positive vibe as she belted out original songs like "That Kinda Woman," "Doorway to the Blues," "Home Improvement," "Freight Train Blues," "Miss Freddye's Gonna Fix Ya" and more. A cancer survivor, Miss Freddye took a moment to take stock of the blessings in her world, thanking the fans and festival organizers for their support. Music then headed back toward the jazz side with the next performer, Pittsburgh's Dwayne Dolphin and his band. A bass player, Dwayne's resume includes work with various Pittsburgh jazz projects, and he has also worked alongside prominent jazz names like Wynton Marsalis, Nancy Wilson, Melba Moore, Maceo Parker and others. Dwayne showed ample skills on the bass strings, generating infectious grooves and making his instrument sing out frequently during the set. His support cast of bandmates was strong, too, including Jevon Rushton on drums, a keyboard player and a sax player. Several songs in, Dwayne welcomed to the stage Chantal Joseph, who displayed a great voice and enthusiasm on renditions of Sade's "Sweetest Taboo," Rufus & Chaka Khan's "Sweet Thing," a Stevie Wonder number and more. Dwayne and his bandmates stretched out on a version of Herbie Hancock's "Chameleon," and wrapped up their set with another instrumental number that allowed each musician a moment in the limelight along the way. Closing out the festival was Philadelphia-based singer and sax player Vanessa Collier and her band. The 2019 Blues Music Award winner for "Instrumentalist of the Year – Horn," Vanessa wasted no time displaying her talents on saxophone and vocals as she performed several original songs; mixing blues, funk and rock flavors. Storm clouds gathered as she and band started into a slow blues number, and despite initial raindrops starting to fall, Vanessa stepped off the stage and strolled into the crowd to serenade folks up close and personal. As she finished the song, a nearby flash of lightning prompted organizers to quickly end the performance about half an hour early for safety concerns.
Another recent festival highlight was last month's annual Happy Valley Music Fest in downtown State College. National recording group 10,000 Maniacs headlined the festival's Friday slate, while JJ Grey & Mofro headlined on Saturday. I attended Saturday, arriving in time to see the last few songs of The Probables' performance on the main stage as they mixed elements of folk, bluegrass and rock. Music alternated between two stages, and performing next on the side stage was Johnstown's Afro N'at. Eight members strong with three-piece horn section, Afro N'at introduced their brand of original instrumental funk. Alec Zander Redd on saxes, trombonists Mere Kae Redd and Tom Buchko, guitarists Matt Partsch and James Augustine, bassist Randy Penrod, drummer Elias Ghantous and percussionist Mark Goncher spotlighted songs off their four-song debut EP, stretching out on such numbers as "Cannon," the hard-edged "Fuzzy Pharaoh," "Remedo" and "The Wind-Up," which featured a percussion jam. Afro N'at triggered some dancing action with their closer, a rendition of Average White Band's "Pick Up the Pieces." Back at the main stage, Idaho-based singer and songwriter Eilen Jewell and her band presented a set of roots-based country, blues and honky-tonk sounds. Accompanied by husband Jason Beek on drums and washboard, former State College-based musician Jerry Miller on guitar and Vanessa McGowan on upright bass, Eilen sang songs from throughout her discography, including several new songs from her forthcoming album "Gypsy." A fan of early roots music, Eilen also did numbers from Charles Sheffield, Loretta Lynn, Big Maybelle, Willie Dixon, Pinto Bennett, Bessie Smith, Flatt & Scruggs, and – with her young daughter Mavis on egg shaker – the set-ending rendition of Johnny Kidd's "Shakin' All Over." Recent International Blues Challenge finalist Gabe Stillman and his band then lit up the side stage with hearty electric blues. Accompanied by bassist Colin Beatty and drummer Jesse Roedts, Gabe showed his passion for traditional blues with his heartfelt vocals and scorching guitar work, performing original songs plus numbers from Little Walter, Blind Lemon Jefferson, Hound Dog Taylor and more. New Orleans' horn-driven Bonerama then presented a treat at the main stage, performing their brassy salute to Led Zeppelin. Armed with four trombones and a sousaphone, Bonerama did numerous classics from the Led Zeppelin catalog, including "The Ocean," "In My Time of Dying," "Immigrant Song," "The Crunge," "Black Dog," "Good Times Bad Times" and more. The group also infused some of their New Orleans-rooted music into the mix, doing "Mr. Okra" and several other original numbers. Miss Melanie & the Valley Rats then closed out the second stage with their joyful set of soul, blues and R&B. "Miss Melanie" Morrison-Zeigler again provided her stellar voice, taking the audience through a myriad of emotions from soothing and contemplative to boisterous and jubilant, with guitar master Mark Ross, keyboardist Rev. James Harton and drummer (and kazooist on Stevie Wonder's "For Once In My Life") Chris Coyne providing smooth and steady backdrops. Miss Melanie & the Valley Rats did a number of songs from their latest self-titled CD, and prepped the audience for the next day's Sunday services with their stirring set-closing rendition of "Amazing Grace." Main stage headliners JJ Grey & Mofro weathered arriving rains to deliver an uplifting close to the Fest, performing bright, passionate soul and R&B sounds. Namesake and singer JJ Grey led the group with his enthusiastic and charismatic presentation, while wailing feisty harmonica and playing guitar. Flanked by trumpeters Dennis Marion and Marcus Parsley, guitarist Pete Winders, bassist Todd Smallie, keyboardist Eric Brigmond and drummer Craig Barnette, JJ did numbers from throughout his catalog; including the set-opener "99 Shades of Crazy," "A Woman," the uptempo "Country Ghetto," "Jookhouse," "Slow, Hot and Sweaty" and more. Drummer Craig unleashed a blistering solo during "Ho Cake," and – referencing his current positive outlook on life – JJ led the group to a glorious close to the Fest with the rousing "Brighter Days." JJ Grey & Mofro captivated the crowd, as few people departed when a steady rain began falling.
Altoona's Railroaders Museum kicked off this year's Alive at Five Concert Series in late May with the return of AC/DC tribute group Live Wire for a sold-out show. Making their first appearance on the railcar stage, Johnstown's Octane led off with a rousing opening set of mostly 1980s-era hard rock classics. Singer Mike Prebehalla, guitarist James Forish, bassist Dave Bambino and drummer Chris Jimerson were clearly fired up, and started energizing the Museum crowd and triggering dance action as they drilled rocking numbers from 3 Doors Down, Van Halen, Bon Jovi, Damn Yankees, Iron Maiden, Deep Purple, Journey, Quiet Riot and many more. Mike's voice was in great form, impressively blending power and range. And James delivered a shredding clinic as he displayed dazzling fingerwork and precision with his solos, including his incredible display on White Lion's "Wait!" New York's Live Wire then returned to the railcar stage, brandishing a new frontman as Francis Crouse recently took over the Bon Scott/Brian Johnson role. It didn't take long into their set for Francis to show that he was a great choice, he clearly had the Brian Johnson polecat howl and demeanor down! Live Wire electrified the crowd from start to end during their two sets, bringing the AC/DC "thunder from Down Under" full fury. The group's "Angus," Mike Hughes, provided nonstop excitement through the entire show, executing bristling guitar work, Angus-styled duck walks and flying leaps, and during one of the night's big highlights – "Let There Be Rock" – leaving the stage to do a grand tour of the rail yard crowd, generating nonstop soloing as he made the entire circuit and returned to the stage, resulting in a nearly 25-minute version of the AC/DC classic! Rhythm guitarist Bill Voccia, bassist Bill Bowden and drummer Billy Rauff provided the solid and steady thundering backdrop behind it all. Other highlights included the Mike/Angus striptease during "Bad Boy Boogie," which had ladies howling…The arrival of a large, inflatable 'Rosie' for "Whole Lotta Rosie"…and the feverish pitch of both band and crowd during the show's homestretch run of "TNT," "For Those About to Rock (We Salute You)" and the encore – "Highway to Hell!" Live Wire's exciting performance set the bar high for the rest of the upcoming Alive at Five shows to follow.
South Florida-based Bon Jovi/Journey tribute Titans of Rock arrived at the railcar stage the following Friday for the second installment of the Alive at Five Summer Concert Series, and another sold-out show. After some time away, the newest incarnation of Half Tempted – singer and guitarist Ron Dalansky, bassist and singer Joe George and drummer Paul Caracciolo II – returned to the rail car stage to rock classics from the 1960s, 70s, 80s and 90s. Half Tempted soon had dancers in front of the stage as they fired through tunes from Kiss, Thin Lizzy, 7 Mary 3, Judas Priest, Steppenwolf, Black Sabbath, Ramones, Grand Funk Railroad and more. Half Tempted's rousing performance kept the full house Railroaders Museum crowd fired up. Titans of Rock soon presented their tributes to Bon Jovi and Journey. They did two presentations, starting first with their Livin' on a Prayer Bon Jovi show. Singer Billy D. Lindley in both the Jon Bon Jovi and Steve Perry roles, guitarist Clint Ettore, keyboardist Gary Bivona, bassist Kam Falk and drummer Jerry O'Malley did solid work on the Bon Jovi catalog, opening with "You Give Love a Bad Name" and celebrating the hits – "Lay Your Hands on Me," "It's My Life," "Never Say Goodbye," "Raise Your Hands," "Bad Medicine," "I'll Be There for You," "Runaway," "Wanted Dead or Alive" and their namesake track "Livin' on a Prayer." Their execution was tight, and Billy worked the entire railcar stage to keep the crowd excited. After a short intermission, the Journey half of the night – Never Stop Believin' – took the stage, opening with "Majestic" and going into "Any Way You Want It." Billy was excellent in the Steve Perry role, achieving the legendary Journey frontman's vocal power and range! He and the rest of the group did favorites from the Journey catalog, from rocking numbers like "Separate Ways," "Feeling That Way/Anytime," "Wheel in the Sky," "Stone in Love" and "Lovin' Touchin' Squeezin'" to ballad hits like "Who's Crying Now," "Open Arms," "Lights" and the set-closer "Faithfully." Clint – sporting a huge Neal Schon-like afro – fired off a guitar solo display that culminated in the "Star Spangled Banner." When the crowd called for the encore at night's end, Never Stop Believin' quickly responded with two songs – "Where Were You" and – you guessed it – "Don't Stop Believin.'"
The Johnstown Area Heritage Association launched this year's Highmark Blue Cross Blue Shield Free Concert Series last month at Johnstown's People's Natural Gas Park with the double-bill of The National Reserve and Felix & the Hurricanes. Opening with their raucous instrumental "Wild Turkey," The Hurricanes – lead 'Cane, singer and guitar master Felix Kos, Bobby Watters on drums and vocals and Jeff Clapper on bass and vocals – quickly fired up the Johnstown crowd with their mix of original tunes, southern and other classic rock favorites. After the Allman Brothers' "Blue Sky," the Hurricanes first triggered in-seat grooving with their original tune "Icy You," before "Keep On Rockin'" brought folks up in front of the stage to dance and groove. The Hurricanes mixed up more originals such as "On the Bottom Again," "Coming Home to You" (dedicated in honor of D-Day) and "Walking a Straight Line," and did numbers from Charlie Daniels, Grand Funk Railroad, Stevie Ray Vaughan, Boz Scaggs, a surprise take on Paul Simon's "50 Ways to Leave Your Lover" and more. This nicely set the table for Brooklyn's The National Reserve, who took the stage to introduce Johnstown to their unique fusion of rock, country, blues and rockabilly. Lead by the hearty growl of frontman and guitarist Sean Walsh, The National Reserve fired through a mostly original set, mixing hard-driving rock, boogie, country blues, Americana twists and turns and more. Not familiar with their original song catalog, I wasn't able to identify much of their song list, but one of their numbers was "New Love," and they also did select covers including Willie Nelson's "Shotgun Willie," Jimmy Reed's "Big Bossman" and a clever slow blues-rock edition of the traditional folk song "Rollin' in My Sweet Baby's Arms." The National Reserve were instrumentally tight and skilled, and their song variety kept this set moving and never staying in one place long. The Johnstown audience enjoyed them, and the kickoff to the Highmark Blue Cross Blue Shield Free Concert Series was a good one.
Staking claim as one of the birthplaces of Memorial Day, Boalsburg again celebrated the holiday with a weekend of activities, including live music and a memorial service on the holiday itself. Pure Cane Sugar wrapped up the Memorial Day live music in downtown Boalsburg. The group had a slightly different look this day, as regularly-scheduled bassist Bob Hart handled guitar duties, and John Kennedy sat in on bass. It all still sounded great, as singers Kate Twoey and Natalie Race brought vocal harmonies galore, and Daryl Branford kept the beats steady behind the kit. Pure Cane Sugar mixed original songs with their distinctive, inventive takes on several covers. Some highlights included original song favorites "Box N' Nails" and "Get a Leg Up," as well as Dolly Parton's "Jolene," and the group's blending of "Iko Iko" and "Man Smart, Woman Smarter" with guest Stubby Stubbs sitting in behind the drum kit. Pure Cane Sugar's musicianship and vocal harmonies were not lost on the Boalsburg audience, as several people around me remarked that they could listen to those vocal harmonies all day long. I totally agree! Pure Cane Sugar takes a break from live shows this summer, and returns to stages in late August.
On the heels of recently issuing their latest CD, (But, at What Cost??!), national recording group Silvertung returned to The Arena in State College early last month. Lewistown-based rockers JunkHouse opened the show with their mix of hard rock, new and classic metal. Flanked by guitarists Jeremiah Shafer and Rich Randolph, bassist Tristan Conner and drummer Brad Slemons, frontman Brent Carolus sang, snarled and growled out hard-hitting numbers from Avenged Sevenfold, Bullet For My Valentine, Volbeat, Prong and others. Silvertung soon took the stage to fire up and lead the Arena crowd with their rock show and party. Lead singer and guitarist Speed, lead guitarist Codey Red, bassist Sam and drummer Danno performed songs off the new CD as well as past favorites. Some of the highlights included the group's current chart-climbing single "Done My Best," "World Gone Mad" off the new album, plus established crowd-pleasers like "Justify," "Coming Alive," "Déjà Vu" and their popular past single "Never Too Late." Silvertung's performance provided constant action, and I liked their approach toward playing to an audience who may not have been familiar with their music; Speed encouraged the crowd to come up front, be a part of this rock show and party, and live for the moment and make the most of their Saturday night. This approach worked, as many folks did get up in front of the stage and have fun, and a number of those folks lined up at the merchandise table afterward to procure the new CD, T-shirts and more.
Local original hip-hop, funk and soul music took the spotlight during a special three-band showcase in late May at Altoona's Four Dees Lounge. The show was hosted by Altoona's PennSoulvanians, who opened the evening. Although a prior commitment prevented me from arriving until after their set, videos posted by the group showed that their performance was well-received, as singer and guitarist Chet Denny, rapper Michael (DuVille) Thomas, bassist Matthew (LT) Burns and drummer Larry Pool, Jr. blended soul, rap and acoustic textures into a smooth-sounding mixture. Some of their songs included "The Cards You're Dealt," "Strip You of Your Innocence," "Louder Than Words" and their popular "PennSoulvania Anthem (The 814)." I arrived in time to witness the remaining two acts. Brooklyn-based artist Pana Zeke teamed with Rik Golden on guitar, Mike Stanley on bass, Todd Harshbarger on drums and backing singer Sonny Caplea to perform a set of his original hip hop creations. Zeke's words this night centered around prominent themes of triumphing over life's challenges and adversity, plus bridging gaps and tearing down barriers. Some of his numbers included "Struggle Builds Character," "Missing My Kids," "Money Call," "Pray 4 Better Days" and "White Friends." Johnstown's Witness 159 finished the night with a strong set displaying their blend of tasty soul and hip-hop sounds. The group's three vocalists – singer Sidnee B, singer/rapper Sijel Bee and guitarist Ian Jeffreys – were backed by keyboardist Daniel Hutton, bassist Scott Jeffreys and drummer Randy Servello. Witness 159 crafted seductive grooves on their original numbers, including "Unpredictable" and more. The group also blended Snoop Dogg's "Gin and Juice" with Montell Jordan's "This Is How We Do It." This showcase introduced fresh and interesting sounds, and it was good to see a receptive audience appreciating what all three of these acts have to offer.
Those purveyors of 'dadcore,' The Snipped, threw a five-band punk-rocking Father's Day Extravaganza last month at McGarvey's. A prior commitment (actually, my Altoona Area High School Class of 1979 40-year reunion) prevented me from seeing the first four bands – Dave Hates Everything, The Flannels, Pittsburgh's The New 52's and X's For Eyes. Prior to their taking the stage, The Snipped hosted a sort of 'dadcore Olympics,' with audience members competing for dad-themed prizes in such categories as dad jokes, a tape measure contest and more. Then the roster of singer and guitarist Wax, lead guitarist Jeff Reid, bassist Rik Golden and drummer Justin Burket fired through their mix of new original tunes plus songs off their "Dadcore" CD. The Snipped quickly had fans moving to high-octane tunes such as "Waste My Time," "All We Know," "Hand That Feeds," "Bus," "Friday Night" and "Along These Streets." The group also broke out two surprise covers, offering a driving punk-rock take on Bruce Springsteen's "Born to Run," and for the encore, a slamming rendition of Genesis' "Invisible Touch."
Nomadic horror punk and roots rockers The Living Deads returned to McGarvey's early last month. Railroad City Murder Machines and Ben Dumm & the Prostitutes led off the evening before I arrived in time to see the latter half of The Living Deads' set. Although a duo; singer, drummer and guitarist Randee McKnight and singer and upright bass player Symphony Tidwell brought a broad, full sound as they delivered a freewheeling, unpredictable blend of styles; merging punk rock, rockabilly, surf rock, country twang, blues and more. Both shared singing duties, and kept the McGarvey's audience happy and grooving as they mixed original tunes plus select covers. Each original tune had its own unique angle, and the tunes ranged from uptempo punkish rants to lowdown, greasy and bluesy numbers. Among their cover selection was The Living Deads' distinctive take on Black Sabbath's "Children of the Grave" and, for the finale, Randee's tribute to psychedelic rock pioneer Roky Erickson (who passed just days before at age 71). The Living Deads return McGarvey's during Thanksgiving weekend in November.
Cambria County rockers One Adam 12 closed out a 10-year run on area stages with their farewell show at McGarvey's last month. Singer and guitarist Lloyd Rummell, guitarist Bill Stiles, bassist Joe Stiles, Tony Dostal on samples and drummer Brandon Adams performed their punk-driven, horror-themed brand of hard rock; celebrating favorites from their two CD's such as "Walking on the Moon," "Devil's Lullaby," the wrestling-themed "Running Wild," "Build Me a Bride," "Flight of the Mothman," "Bates Motel" and more. When their fans demanded one final song, One Adam 12 encored with their rendition of The Cranberries' "Zombie." I enjoyed One Adam 12's distinctive style and sound, and wish the band members good luck on their future endeavors.
I caught my first look at Johnstown-based singer and songwriter Edward Locher in late May as he performed at Firehouse Brewing Tap House in Indiana. Playing electric guitar and harmonica, Ed mixed original songs with a variety of cover material. He did several tracks off his latest recording, "Public Transportation," including the title song, "The World We Live In" and more, and he did a few newer originals as well such as "Spare a Dime." Ed's cover selection was interesting, spanning Social Distortion's "Ball and Chain" and "Story of My Life," Steve Earle's "Johnny Come Lately" and "Guitar Town," the Rolling Stones' "Wild Horses," Reckless Ones' "Dead and Gone," a Ween number and more.
Other performances I saw recently included rising Pittsburgh-based indie folk-rock group Living with Monsters' first visit to McGarvey's last month, the last few songs of The Deuces' late May performance at McGarvey's, established Johnstown performers Bo Moore and Gordy Haluska's duo – Stay Tuned – as they finished out their performance at the Windber Hotel in late May, and several editions of the weekly Wednesday Jam Night at Altoona's Unter Uns Musical & Entertainment Society.
News and notes…The Centre region heats up with festival music this month, including the July 4 Central PA 4th Fest near Penn State's Beaver Stadium, the 53rd annual Central Pennsylvania Festival of the Arts in downtown State College July 11-14, and the 27th annual People's Choice Festival of Pennsylvania Arts & Crafts, happening July 11-14 at the Pennsylvania Military Museum in Boalsburg…The annual Remington Ryde Bluegrass Festival happens July 3-7 at Grange Park in Centre Hall…The Clarks, Bill Kirchen, Steep Canyon Rangers, Elizabeth Cook and Jim Donovan & the Sun King Warriors are among the performers during the second annual Altoona First Frontier Festival, taking place July 26-27 at Altoona's Mishler Theatre and Heritage Plaza…Lewistown's Hawestone has added a fifth member, singer Katie Becker…The Hungry Duck Eatery in Roaring Spring, which had provided a stage for original acoustic artists since opening early last year, announced its pending closure; their final day of business will be Friday, July 12…Former members of Lies, Inc. and The Grimm are embarking on a new recording project called Scorched Earth Syndrome, and are recording their first album, tentatively entitled "The Greater Good," at Golden Studios near Summerhill…Nag Champions Mystery Band has released their third CD, entitled "Peel & Reveal"…Altoona's August Wake has released their debut recording, called "Mistakes I've Made"…On The Brink is currently recording their second CD, called "Visual Empathy"…Singer and songwriter Conner Gilbert will shortly issue his second CD, "Life in the Years"…Respected longtime Harrisburg area blues musician Mitch Ivanoff passed away from health complications on June 8 at age 67; Mitch played guitar and sang for several Harrisburg area blues projects over the years, and was a founding member of Krypton City Blues Revue. We at PA Musician extend our heartfelt sympathies to Mitch's family, friends and musical colleagues.
Thanks again to my "street team" who helps get PA Musician to various locations in west-central PA: Mo Yon (Bedford), Zac Grace (southern Bedford and Huntingdon Counties), Deanna Trio-Schompert (Johnstown and Somerset), Rick Ramsey (northern Cambria County) and Dylan Miller (Huntingdon).
Please send correspondence and recordings to: Jim Price, 1104 S. Catherine St., Altoona, PA 16602. You can also e-mail me at jptheprofessor@gmail.com. And if you're into social networking, look me up on Facebook. SUPPORT LOCAL MUSIC!