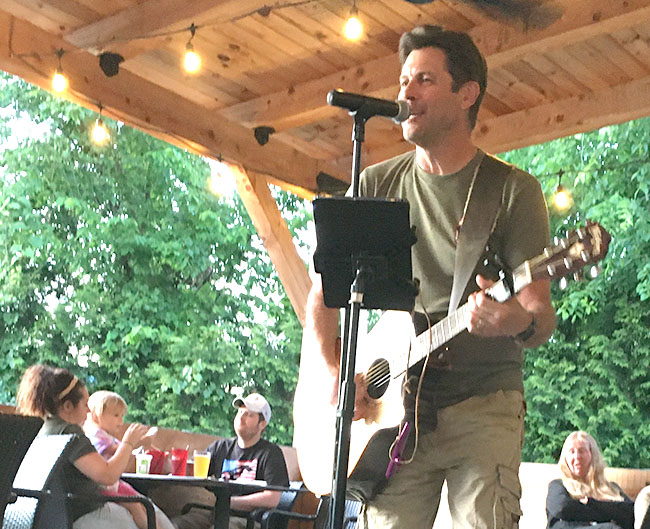 ---
By:Josh Noll
Hello and welcome back to another issue of the PA Musician Magazine. We are going full green and are back to printing the paper this month. That means that along with the online issue, you will once again be able to pick up a copy of the paper at your favorite venue or music store. I am super excited to be able to get back out and deliver the paper to the masses. I would like to thank everyone for supporting us through these hard times. Without the support of the local music community we would not exist.
With most counties going to green, live shows started popping up once again. The first chance I got to check out some live action was out at JP Edwards Grill & Bar in Lewistown. Ed Varner was up for the task of performing for the anxious crowd that had gathered at JP's. When we got there the outside seating was pretty much filled up and Ed was already jamming out on the patio. We grabbed what seating was left and ordered some food. Ed does a great job of performing to the crowd and I was told he was put on restraint and forced to "social distance" at this show. With instructions to stay in one place Ed still did a great job at keeping the crowd entertained and involved with his show. With tunes from Tom Petty to Prince and everything in between, Ed keeps his set list spontaneous as he draws from his vast knowledge of catchy songs that everyone can relate too. We were also treated to a special performance from Ed's granddaughter, who stole the show and the hearts of everyone watching. JP Edwards is well worth checking out and is always a stop for us on our way home from our adventures at Raystown or Rothrock State Forest. Nothing quite like some cold beer, great food and live music after a long day out on the trail. If you are in the area please go check them out and tell them the PA Musician Mag sent you.
With everything going on in the world, live music is needed more now then ever. Nothing will take your mind off the mess this country is in better then getting out and seeing some live action. Lots of places are offering acoustic outside music so you can still social distance but also feel like you're a human again, and able to interact with others.
The Eagle Hotel in Fredericksburg has a full list of events for July so go check out the schedule and make some plans to attend. as many live events as possible. They have always supported local music and are preparing to go green on Friday July 3rd. So along with outside dining you will soon be able to beat the heat and enjoy dining in the A/C. They also appreciated all the people that ordered take out during the lock down, it kept them going. Coming up on August 8th will be their Customer Appreciation Bash just to let you know how much they do appreciate their customers and all those that kept them going.
The Racehorse Tavern in Thomasville has just announced the return of full bands starting mid July. They have already upped their game by booking a bunch of acoustic acts for the patio and now plan to return to the inside stage soon. You can check them out on facebook for updates and I also recommend downloading the Racehorse app on your smart phone to keep up to date with what they are offering.
Penntera has been hiding for far too long and have decided to throw an outdoor event dubbed "The Weekend Mountain Party". It will take place at a "friends" house in Gardner PA and EVERYONE IS INVITED!! With claims of a giant property with plenty of room for camping, they are not messing around. People are encouraged to bring there own food/chairs/flashlights/beverage of choice as this is a BYOB event. Dead Centre will kick things off at 4pm with Penntera following at around 7pm. You can find the address in Penntera's ad in this issue so get out there and party with your friends and enjoy the Weekend Mountain Party.
With all the cancellations being announced let's all be sure to get out and support the events that are still happening. One event that is keeping the music alive is Bands At Gettysburg 2020. With a heavy hitting list of bands consisting of The Backseat Hooligans, Coal, Day Drinkers, Hollow Rhymes, Hott Mess, Old Weed, Jinokoya, Rebel Soul, Signal 13 and SinYstr this is one you don't want to miss. Ticket proceeds are being donated to The Adams County Children's Advocacy Center so get out and enjoy the live music and support a good cause all for just 10 bucks. Tickets are available at Eventbrite.
Well that's it for this month let's all do our part and start enjoying this great summer weather. Before you know it old man winter will be here and the summer of 2020 will be a distant memory. Take care, stay healthy and be kind and courteous to your fellow humans.