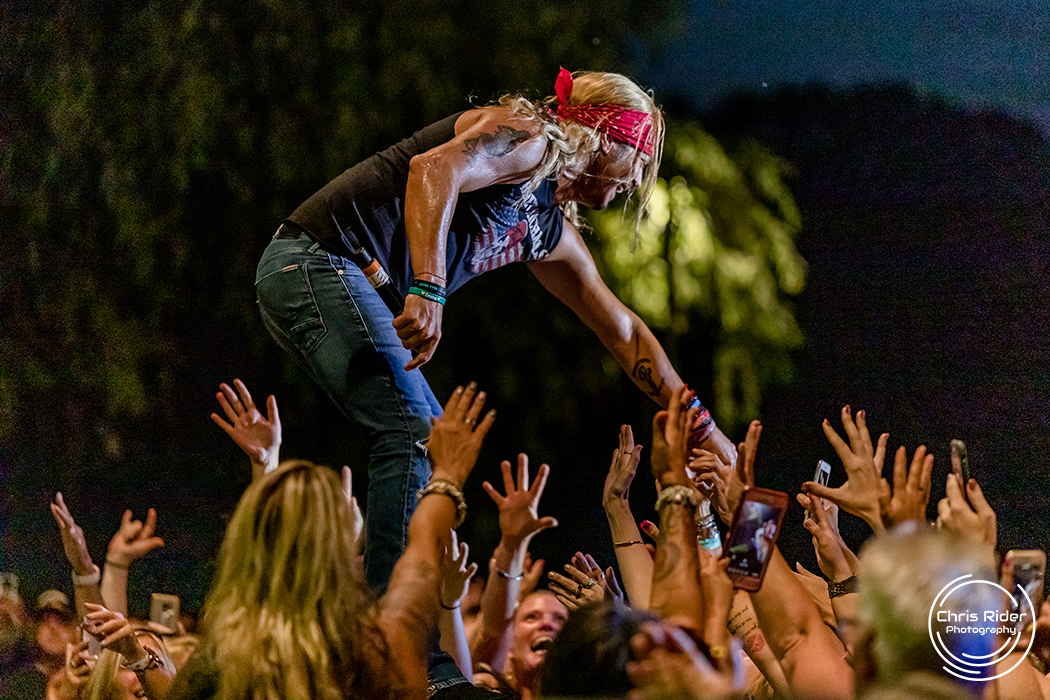 ---
By: Michele Kelley
What is your favorite summertime hobby? Mine would be kicking back and escaping reality with a good read. I love reading books but have not had a whole lot of extra time, so I have resorted to reading silly articles online. Let me tell you, my head is spinning with all that is out there. One article read that people who attend concerts live longer than those that don't. Another read that musicians tend to have shorter life spans than the average person, up to 25 years. Yikes! My question is, what exactly is an average person? While you're pondering that, let's move on to what Chris and I got out to see in July.
We caught a few bands at the end of June that I promised to include with my July's article, so let me start with those. On June 28th, Spyglass Ridge Winery in Sunbury had us over for a killer line-up as part of their Backyard Concert Series. We had a short notice visit from my awesome father-in-law, Mike in Colorado. I started to panic since we were to cover this show and now had company, but my friend Michelle at Spyglass hooked us up and all was well. In fact, it was perfect, as Mike is also a music lover and this lineup was right up his alley. Of the three legendary bands that were on the bill I wondered who would be on stage first.
To kick things off for this Southern Rock party was Molly Hatchet. Playing since the 70's, this band has certainly had its share of member changes, but after 40 years of playing, what band wouldn't! I have to say; they were awesome and I am so glad they continued the tradition of supporting our troops. After their performance we were able to meet them back stage and they were so open to talk to us and hang out. It was awesome to bring Mike and our friend, Alex, back stage with us to share in the experience.
Next up, The Outlaws. When I am stuck on how to form my words, I look to the web. Sometimes there is just too much to say about a band to put into one paragraph so after reading their website bio, my words don't matter because this was worded perfectly. "it's always been about the music" and "It's about a band of brothers bound together by history, harmony and the road. It's about a group that respects its own legacy while refusing to be defined by it's past. But most of all it's about pride". The Outlaws were outstanding on stage! I am so glad I had the opportunity to see them play. I have much respect for these bands that have been together so long and still cranking out the tunes on stage much like they did years ago. It was truly an honor to see them play.
The Marshall Tucker Band closed the night. Probably the band I was most excited to see on stage. To hear them play songs that I literally grew up listening too since I was a little kid was amazing. They have released 29 albums since 1973! The latest being in 2013. The surprising member of the band to me was Marcus Henderson, playing keyboards, flute, sax, in addition to singing both back-up and lead vocals. Phenomenal musician. I was able to meet some of the guys as they were leaving the stage. After 40 years you would think a band would blow you off, but after introducing myself, Doug Gray gave me a hug and thanked me for coming and covering them and was so appreciative. He also went home with a few copies of June's issue. He said he loves reading about local bands so there you go guys! These legends are reading about your bands!
It was such a neat experience to see Chris and his father enjoying the music together. A huge shout out to Michelle, Tom and the whole crew at Spyglass for making this a memory they will treasure forever!
The following day we headed to the Selinsgrove Farmers Market and caught up with Jason P Yoder playing. We have seen Jason play a few times now and its so fun to see the friendships forming. He is a such talented guy that you should make a point on going to see if you have not done so yet. The Selinsgrove Farmers Market happens every Saturday in the center of town from May until October from 9am–1pm. They have musicians every weekend. Be sure to check out their schedule online and pick up some of those fresh fruits and veggies! And go see Jason! He's awesome!
The following Friday we landed at Que Brew in Selinsgrove to see Runaway Stroller. This duet always blows me away. Johanna Kodlick and Anthony Latt are both outstanding musicians. It has been a while since we got out to see them play but they have only improved. The couple covers songs from the 1960's to today including Rock, soul, funk, blues, folk and R&B. They are so much fun. Go see for yourselves!
On July 6th we headed south to XL Live in Harrisburg to check out Freedom Fest. The first band to take to stage was Dreams of Eden. They are a New Cumberland band that is heavily influenced by nu-metal, thrash and groove metal doing all original songs. Members include Adam Goudy: Rhythm Guitar, Jeremy Nealey: Drums, Tom Mehail: Bass and Dave Moore on Vocals. The band has been together for nearly a year and are planning a self-recorded demo EP this summer, so be on the lookout for that!
Lasciate was up next. They are a 5-piece metal band from the Hershey area that formed in 2017. Members include Tanis Pellegrini: Vocals, Aaron Perry: Lead Guitar/Backing Vocals, Sam Hart: Rhythm Guitar/ Backing vocals, Kevin Abt: Drums and Josh Mercado: Bass/Backing Vocals. The band has been working on some new originals that will be coming out soon.
Defiant was the third band to take the stage and did so with a vengeance. They are a 4-piece band playing original, high-octane hard rock and they are not messing around. These ambitious guys have only been together for about a year and already have their first EP completed, "4 Years For Nothing", which was just released July 19th and released their first video! Members include Al Halterman: Vocals/Guitar, Joe Defiant: Guitar, Paul Barlowski: Bass and Paul Cochran: Drums. If you are into this type of music, they are a must see! These guys are on fire right now and show no signs of slowing down. You don't want to miss them! Their new EP is available for download on Amazon, Apple, Google, Spotify and YouTube. Check out their next local show on August 3rd at HMAC where they will be opening for Green Jello. They will also be performing in the finale for the Summer Breakout Competition in Winchester, VA on August 10th. Best of luck to you guys in this competition! Show them what PA Musicians are all about!
The last band of the evening was local favorites, Small Town Titans. There is no denying that these guys love playing to their fans. This band has made their shows all about their fans and have a huge following of "Titan Army" members on Facebook to show for it. Members of STT includes Phillip Freeman: Vocals/Bass/Harmonica, Ben Guiles: Guitar/Vocals and Jonny Ross: Drums/Vocals. They are such an impressive group of musicians who somehow muster up a ton of energy for every single show. Their music is classified as Hard Rock but they are so versatile that they can pretty much cover and pull off anything from gritty rock to beautiful ballads. Finally, word on the street, XL Live has some great bands in the works. Keep an eye out for what's to come!
July 19th marked the last of competitions to form the Finale line-up for Whitaker Unplugged in Harrisburg. July's singer/songwriters included Keeley and Chris from The Jayplayers, Matt Tarka, Corina Aucker, Cody Wilt from Cold Spring Union and RJ Conrad and Jake Joyce from Rascal Revival. All did an outstanding job and once again it was a close race. So close that Whitaker Unplugged experience their first tie for first place. Amy Piper from Whitaker Center let the crowd decide the tie-breaker between Corina and Cody. With slightly more hollers, Corina took the cash prize and paid gig at Strawberry Square in Harrisburg. Because it was so close, both Corina and Cody will be advancing to the Finals on August 16th. Congratulations to both of you on a job well done! You DO NOT want to miss the Whitaker Unplugged FINALE! The talent is going to be ridiculous! The line-up will include Antonio Andrade, Josh Krevsky, Justin Angelo, Indian Summer Jars, Corina Aucker and Cody Wilt. August 16th, 5pm-7pm at The Whitaker Center in Harrisburg. Street parking is free after 5pm and they will have a cash bar on site. Admission in only $5 in advance or $8 at the door. So, come check out this spectacular event that is sure to give you goosebumps!
July 25th, we headed back to XL Live in Harrisburg for another four-band line-up including Time Bomb, Lead Foot, Bang Tango and Faster Pussycat. Time Bomb kicked things off covering some great 80's rock songs and did a great job. Followed up by Lead Foot. This was my first-time seeing Lead Foot play. They also did a great variety of 80's/90's cover songs. To close their set, they did a killer mashup of "Bang Your Head, Jump Around, One Week and It Takes Two". Very impressive! I loved it! And if that wasn't enough, Bang Tango came out and rocked it next. Followed up by none other than, Faster Pussycat. It was a fun night spent with some great people! Thank you XL Live! You Rock!
Sweet, aka: The Sweet, opened for Bret Michaels Band on July 27th at Spyglass Ridge Winery in Sunbury and they were outstanding! The band was high energy and got the crowd on their feet in no time. After doing some background on this band, I found it interesting that there are two bands with the name and both have an original member of the original band from the 70's. I hope you followed along. The original band formed in the 70's in the UK and didn't make it to the U.S. until a few years later. The band split up around 1981. Both Andy Scott and Steve Priest started their own "Sweet" band. Scott's in the UK and Priest's in the U.S., which is now based out of LA. You may remember their songs that topped the charts in the 70's and still played today. The U.S. band Sweet played 3 of my personal favorites, 'Ballroom Blitz' which has appeared in several movies including Wayne's World and The Sandlot. The others they played were, 'Love is Like Oxygen' and "Fox on the Run" which can be heard on the Dazed and Confused soundtrack. Awesome job guys! I had a great time hearing you play!
Bret Michaels closed the night at Spyglass. Thinking back, my first-time seeing Bret perform was with Poison back in 1991 when they played with Slaughter. Probably one of the best stage performances and light shows I have seen to date. I was able to catch Bret about two years ago at Spyglass when he shared the stage with Lita Ford as well. It has been a while, so when googling Bret's name, I was remembered how diverse he has been over the years. From the front man in Poison to Entrepreneur, TV star, Philanthropist, movie director and actor of his movie 'A Letter from Death Row', and most importantly, father. Bret is on his Unbroken World Tour and performed the song "Unbroken" that he co-wrote with his youngest daughter. Raised in Mechanicsburg, he has come a long way and never tires in giving back to non-profits and charity. In addition, he is a huge supporter of our military folks and first-responders.
Before I close, I need to send a sincere thank you to Michelle at Spyglass for going the extra mile for us this month. Tom, Michelle and the whole crew and volunteers at Spyglass, do such an outstanding job with their Backyard Concert Series, as well as the indoor local music they host. As most of you know, the reason we do what we do is because we love live music and really believe in supporting local musicians. I feel it's important to mention the venues that share the same beliefs. Without you, there would be no place for these musicians to show their craft. Please know that your establishments are just as important to us as the musicians we support! Hope to see you all very soon!