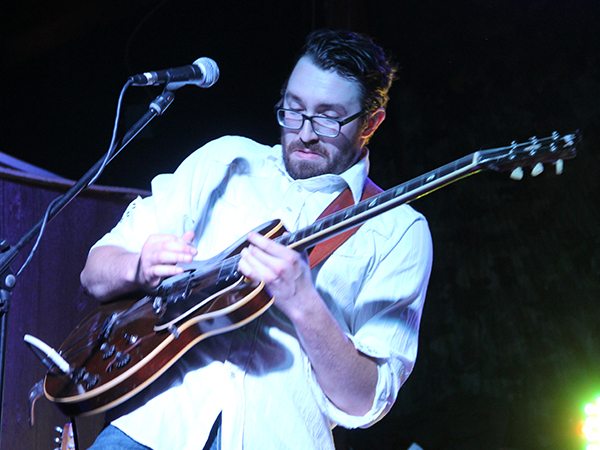 ---
By: Rachel Rocks
    What an amazing Summer month! July was a perfect amount of steamy and rainy with a beach trip right in the middle, and plenty of music all around!
The month started a very long time ago with Swisher Sweets at Duke's Riverside in Wormleysburg. They have live music every Thursday night out on the deck. The deck is set up perfect to be able to keep the bands covered and safe in bad weather, but yet plenty of seats along the outside of the deck to listen to music and enjoy the beautiful sunset. This night it was my first time catching Swisher Sweets, even though these three: Joey, Phil, and Swish have been playing together for quite a while now. All three of them have been playing in various bands for years, so they obviously know what they are doing and have a wide range of music in their arsenal. It was a gorgeous night on the deck and a perfect place just to sit back and listen to the music.
My next stop was for a last minute gig for RJ Conrad and Jake at Boneshire Brew Works on Derry St. in Harrisburg. RJ and Jake were scheduled at another venue, but they cancelled on them last minute. RJ heard before that Boneshire is pretty flexible, so he gave them a call, and sure enough they responded and let them come play. RJ invited me over and I was glad to stop by and finally check them out. You can also catch these two in Rascal Revival, a 6 piece band! RJ and Jake played a few originals and a few covers too. They quickly transitioned between songs and did a great job and going with the flow of the chilled out vibe of Boneshire. You can catch RJ and sometimes Jake and other guest musicians at quite a few breweries and wineries throughout central PA in August. So many breweries and wineries have live music now. Please make sure and let the musicians know how much they are appreciated, and let the venue know, the music is why you are there.
The next weekend I headed to HMAC for Smile Empty Soul that was headlining the Evening Sun Festival, hosted by 717 Entertainment. Nick Myers again outdid himself with a day full of music alternating on technically three different stages throughout HMAC. Smile Empty Soul put on a great show. They've been touring all around the US since March So I can't imagine how exhausted they all were, but you couldn't even tell. Their energy was intense all night long. To end the night they had an official "After-Party" with the acoustic version of The Curly Jeffersons. Darrin and Chris took the stage and kept the party going with popcorn and all! It was a great ending to a great night of music.
I was actually around for the 4th of July Holiday weekend, so I headed in to XL Life for the Freedom Fest featuring Small Town Titans as the headliner. It was a full night of music with a 4 band line-up of all Central PA Bands. The night started with Dreams of Eden. I can't image how hard it is to be the opener of any show, but Dreams of Eden came out ready to rock! Their stage presence and their vocals were on point, and they started melting our faces off early! Lasciate had big shoes to fill after Dreams of Eden's set, but they kept the high energy vibe going strong and continuing to melt faces. Next up was our advertiser, Defiant. I'm so glad they've been given the opportunities to open for various bands at various venues throughout the midstate. Their energy and enthusiasm to sell tickets before a show is unlike any other band out there, and their enthusiasm pays off. It was cool to see so many Defiant shirts in the crowd and see how much their fan base has grown. In July they released their debut EP "The Anarch-EP" including their first single "4 Year for Nothing," along with a video and t-shirts, and all the fun stuff. Do yourself a favor and stream it, download, and just have some fun!! Defiant rocked the stage and kept the energy soaring for Small Town Titans.
After Defiant it was time to head over to Road Case at Blarney's. Even tho their show was "Humiditypalooza" somehow the "Train Kept Rollin" all night long! (Side Note: HUGE kudos to all of the bands that played shows in the heat this past month. I heard a few stories of people blacking out, including myself. Remember even tho beer is 70% water, it does NOT keep ya hydrated! Drink WATER, and don't forget to build back up your electrolytes.) You know their fans are dedicated when they still had the dance floor packed on such a hot night. Sweat was pouring off of everybody just as fast as the rock n' roll was pouring off the stage. Road Case will be playing in the Finding Freedom Festival on August 17th on City Island. That's right! Music is coming back to City Island, and the show is going to be right in the baseball stadium!! So buy your tickets and reserve your seats!! With at least 10 bands playing from 11am-10pm, it's definitely going to be one heck of a party! Check out the ad in this issue and read all about it Josh's "Editor's Ramblings."
On a Friday night I headed to Chick's in Hummelstown for Element 22. They were playing as a full band which is rare these days, so I wanted to check them out. The line-up sometimes varies, but lately they seem to be sticking with the one original member Jeff on lead vocals, Nate on bass, Wade on drums, and Darrell on guitar. It was a hilarious night of shenanigans and requests, and the Class of, I believe, 1985 was there for a class reunion, so their music preference was right in Element 22's wheel house.
Saturday night was a trip to Cliff's Underground for Steel. After humiditypalooza I was really dreading heading underground, but surprisingly enough the new owners have the air conditioning running top notch down there. I was actually COLD. It was awesome! After Chris sweated in places he didn't know he could sweat in with Road Case, he took no chances for this show and his outfit was priceless!! Make sure and check the pics, it's worth it! Steel really does a great mix of all the Rocks: Hard, Heavy Metal, Classic, Modern, and of course Original; overall I say for sure, they definitely rock! Steel is one of those bands that I know I'll be letting loose and having a good time, and definitely a sore neck the next day from banging my head! Check out Steel's schedule and come out and bang your head with me!
Sunday was a special Open House/Community Day at Rock Mill Industries. I've seen these guys doing there thing at the MMC, but I never REALLY knew the extent of their business. When I arrived Derek Henry was just finishing up an acoustic set, I'm so glad he's out there playing his music however and wherever he can. I had the privilege of getting a tour by Logan Summey the founder and owner of Rock Mill. It was like the building never ended. They have the recording studio, then a separate video production room, they can put your logo on anything, t-shirts, stickers, embroidering, etc. They also have a ginormous rehearsal space available for rent. It is massive, plus they have backline, etc you could use if you wanted to. Hershey AV Solutions has his own room too where he can display some of his fancy light equipment. I tried to steal all of the red bulbs, but digital doesn't work that way! It's so cool to see what these guys have going on. So many creative minds in one building making everything a musician could possibly need. Rock Mill Industries is definitely a one-stop shop for any musician big or small.
The following week started with a crazy day Thursday at work, and then a crazier night Thursday Out and About. It all started out peacefully with a trip back to Duke's, this time for the Nate Myers Trio. It was gorgeous out and after a stressful day it was nice to just sit on the deck and watch the sunset on the river and listen to the guys play some music that definitely feeds my soul. Nate, Pete, and Chad keep the music flowing with a perfect amount of music and laughter. They played a fine mix of originals and covers and kept the crowd boppin, swaying, swinging, and dancing along! Nate Myers and his duos, trios, and all of his Aces can be found playing all throughout PA and beyond. Check out their website at www.natemyers.com and see where they are playing next!
After a set of The Nate Myers Trio it was time to head to XL Live for a crazy night of flashback to the 80s music! Michele and Chris were there covering the show for us too, it worked out perfect because they were there in time to see the openers, Time Bomb and LeadFoot. You can read all about their show in Michele's article. I did get there in time for Bang Tango and Faster Pussycat. I have not known either band for the past 30 years like most people in the room, but I knew anything coming from the Sunset Strip was going to rock and it truly did. I heard a few complaints from people because of the limited amount of original members, but that's to be expected for a band on a 30 plus year run. Overall I think both bands sounded amazing. It's awesome they are both still touring so much and still creating music with amazing guitar riffs that make your head turn! You really have to keep a close eye on XL Live's schedule. They get amazing bands on all different nights of the week, it all depends on when they are passing through town. Maybe you see a band on their schedule you've never heard of before.. do yourself a favor and Google them!! You might actually discover the "mystery" bands and performers turn out to be your new favorites! Every band I've seen pass through have all gotten rave reviews. XL Live doesn't mess around, they bring us the best of the best, show after show! Check out their schedule in this issue and plan your night out on the town!
I took the night off on Friday, still recovering from Thursday, but I more than made up for it on Saturday. Saturday started at 11am for a trip up to New Berlin for Gilson's Summer Snow Day! Another free community event to let the locals know what's going on. Gilson's makes amazing skis and snowboards all year long. Some of the boards and skis have even been seen used by Olympic Athletes. To celebrate they bring in a full day of bands, vendors, and FREE Beer and Bourbon! They had kids activities, and a strong man competition. One of the coolest attractions is the "Snow Hill" where they bring in tons of snow and pile it on a ramp and snowboarders get to practice their tricks in the Summer time! Pretty cool and lots of fun to watch!!
The first band I saw there was Throwback 202 from Duncannon. I saw a few familiar faces, and met a few new ones. They threw out a lot of the favorite party hits and had the crowds attention. They also had Ariana a secret weapon and front girl with a wild set of pipes. Next up was Christian Porter. He kicked off his fame back when he was on Season 4 of The Voice! Pretty amazing opportunity for any musician. I'm glad to see that Christian still has plenty of fans adoring him and all of his songs. He just played solo acoustic, but it sounded amazing! The last band I caught a glimpse of was The Roof from State College. They played more of your Jam Band Rock music, which was the perfect vibe for Gilson's. Every one was just chillin' and having an amazing Snow Day in July! I know one thing I definitely can't wait for next year!
Saturday wasn't over yet, though.. after a quick 3 hour power nap, I was rockin' and ready to go! I headed over to Johnny Joe's for the opening set of Hot and Dangerous. They have really gained some notoriety in the scene, but have still mainly played as openers. Hopefully they soon get the Headlining Spot they definitely deserve. Erica has amazing stage presence and an excellent set of pipes. Reggie is laying down some serious riffs on guitar and then Lauren, and their new permanent drummer Corey are holding down the line! I was very excited to see Corey back on the scene after about a 10-year hiatus. He used to play in Rhea Silvia. I had a blast with those guys! I love seeing musicians come back out of the shadows of busy life! They did a great job kickin' things off for Smileyfoot! I would've loved to stay and see those guys, but alas, duty calls.
Next up the final band of the month was Cold Spring Union at Blarney's. The first time I saw these guys it was like "love" at first sight! We don't have very many good old rock and roll, with plenty of soul and as some would say Americana music in the area. Hearing these guys put their own spin on covers, but even better yet, hearing their crazy awesome originals, will make ya yell! "I JOINED THE UNION!" Seriously.. ya have to hear it to believe it. They are starting to make their mark on the area and are picking up quite a few gigs throughout the area. Do yourselves a big favor and give these guys a listen, you won't be disappointed.
Welp, I think I finally made it through another month of running around Out and About. August is filled with even more amazingness. Check out the pages of this magazine, and make your plans NOW! Bands are everywhere, all different nights of the week! There are still festivals to be seen and heard, or even just a little local open mic. Get out there and support local music! Support local venues! Connect with your friends, live and in person!!! If you see me, please stop me and say Hi! Don't forget sometime during the 1st week of the month I do usually get our website updated, www.pamusician.net, and I also share all of our "Hot Shots" on our Facebook page, facebook.com/pamusicianmagazine. It's unfortunate that we can't fit ALL of the pictures in the magazine, but I know I saw 19 bands this month, JP saw 54, and who knows how many Michele saw! That is a lot of pictures!!!
Thanks so much to all of our advertisers. We wouldn't be if it wasn't for all of you!! Want to find out how YOU can get your band or business in our pages?!? Give Josh a call at 717-636-4203.