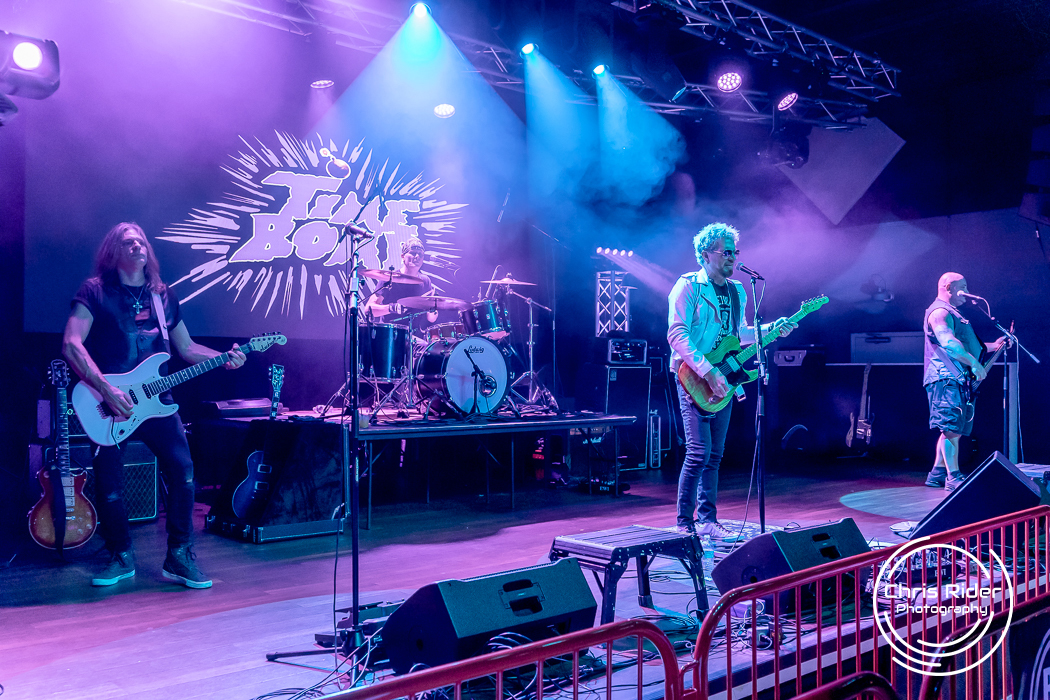 ---
By: Michele Kelley
Happy New Year to all of you! I hope you all had a peaceful holiday season. 2018 was a great year for us musically and I am very excited to see what 2019 has in store for us. We have already been notified of some big-name bands coming to our area. Club XL in Harrisburg has already released their Spring Concert Series line-up. They have teamed up with Harrisburg University and there will be some mind-blowing music happening in the 'burg. Also, we have been invited back to cover some awesome bands at Spyglass Ridge Winery in Sunbury as well. I can't spoil their news yet, as some of the bands are still in the works, but stay tuned for some big acts coming your way. We are even more excited to see what is happening with the local music scene. I have a feeling some of the local bands we have covered in 2018 are going to explode in 2019. It's a very exciting thing to witness. PA is very blessed to have such amazing talent here. Thank you all for allowing us to be part of this adventure. We got out to see a lot of bands last month and Josh promised to get them all in this issue, so I should move on to that.
December started off incredibly busy for us and didn't let up the entire month. December 1st we attended a benefit concert for Toys for Tots sponsored by The River 97.3 and Club XL in Harrisburg. Wow, what a fun night this was! They brought in over $2,000 and collected 7 overflowing boxes of toys in just a few hours! Great job Harrisburg! You definitely helped kids have a great Christmas! The music started off with special guest DJ Heidi. Next was a group called Time Bomb. This was my first time hearing of them and they were very entertaining to watch. Time Bomb formed in 2015 and they're an 80's Metal cover band. It was apparent how their name came to be as they played some great covers that took me on a trip back to the 80's rock and roll. The band consists of Dave Grim: Lead Vocals/Guitar, Brian Gates: Lead Guitar/Vocals, Todd Williams: Bass/Vocals, Randy Groff: Drums/Vocals.
The SynD'Cats played next. This was a reunion show for this old-school, rock'n roll band. The band played in the Harrisburg area in the early to mid 1990's. They wasted no time grabbing the audiences attention with their raw, fiery rhythm. Members include Dave Venet: Vocals, Steve Nelson: Guitar, Terry White: Guitar, Ryan Sohmer: Drums and Mark Brown: Bass.
The Martini Bros. hit the stage next. I had a chance to see them a few years back and remember being really impressed by them. Founded in 1992 by Deuce Gibb, this York-based band has been putting a classy spin on Retro-Rockabilly. Since 1995, they have released one single, four albums and seven videos and they show no signs of slowing down. They had the crowd up dancing and having a great time.
The next band is at the top of my list of local bands to see. The Jellybricks always put on a dynamic, feel-good performance that never disappoints. These guys are always smiling on stage and it's infectious. For 22 years, this Harrisburg band has aHbeen performing Indie/Rock music and entertaining fans all over the U.S. The band consists of Larry Kennedy: Guitar/Vocals, Bryce Conner: Guitar/Vocals, Garrick Chow: Bass/Vocals and Tom Kristich: Drums/Vocals. It is always a pleasure seeing these guys on stage.
The Famous closed out the evening at Club XL. This Harrisburg based band has been together for over 3 years and perform covers songs from the 70's and 80's. Members include Joey Dalto: Lead Vocals/Guitar, Steve Nelson: Lead Guitar/Vocals, Michael Romig: Bass/Vocals, Erik Avakian: Keyboard/Vocals, Trent Sprinkle: Drums/Vocals and Shelby Nelson: Vocals. The band showed their dynamic talent of weaving genres together and putting on a top-notch show. Their song selection and appearance was brilliantly selected for the time frame they covered.
On December 15th we went to see Small Town Titans at Ye Old Meeting Place in Milton. STT have been around the area since 2011. This York band includes Phillip Freeman: Vocals/Bass/Harmonica, Ben Guiles: Guitar/Vocals and Jonny Ross: Drums/Vocals. Many may have heard them re-release their version of "You're a mean one, Mr. Grinch" that they originally recorded over a year and a half ago. The song took off again in 2018 and pushed the YouTube video over 32 million views. I have seen these guys play a few times and they never disappoint. They are such an impressive group of musicians. Their shows are high energy and they play for their fans, not just to them. Their music is classified as Hard Rock but they are so versatile that they can pretty much cover and pull off anything from gritty rock to beautiful ballads. Albums include a self-titled album released in 2012. In 2013 they released 'From Flight to Flight'. In 2016 they released 'Reflection' and the newest EP, 'The Hybrid Sessions' was released in 2018. The latest EP includes 6 songs recorded last summer and 2 new originals never released. To find more information on them and read their story, go to www.smalltowntitans.com/epk
That same evening, we headed to Selinsgrove to The Isle of Que Brewing Company to check out a band that I have wanted to see, Prairie Dogma. It was a perfect way to end an evening. These guys put out a warm-mellow groove that is appealing to the audience. Together since 2015, they definitely charm their audience with humor. Members include Michael Lundy: Vocals, Guitar, Banjo and Mandolin, Dave Jackson: Percussion/Vocals, Bruce Barr: Guitar/Vocals and Geoff Schneider: Bass/Vocals. Along with some great originals, they cover songs from The Grateful Dead, Talking Heads, Al Green, Bob Dylan and many more. They are in the process of recording an album which I was lucky enough to get a demo of. It is rather good and can't wait to see what they produce as a final copy. Check them out on Facebook or go to their website at www.prairiedogma.net
The following day we drove north to catch The 5th Annual Winter Blues Bash at Trout Run Hotel in Trout Run. This event was created to raise money for the winners of the Billtown Blues Association Challenge to travel to Memphis TN to participate in the International Blues Challenge (IBC). First on the bill was the 2018 Billtown Blues Challenge winner of the Solo/Duo category, Chris LaRose. He is originally from Lock Haven and is a self-employed Musician that plays Guitar, Harmonica, Banjo and Vocals. His music ranges from Blues to 50's Rockabilly to soulful acoustic originals. He has played several shows with Grammy Award Winner, Joanne Shenandoah both in America and Europe. He recently returned to the states from playing venues in Germany and back packing his way through Germany, Poland and the Czech Republic. Since his return home, he has been playing the local music scene and promoting his current original album 'Switchblade Blues'. I was really impressed by his performance and have never witnessed anyone playing the blues on a banjo before. He is definitely a must see! To read more about Chris and to purchase his album, go to www.chrislarosemusic.com
Next up was The Dirty Mojo Blues Band. They are a Williamsport-based blues band with strong rock, funk, and soul influences. They formed in 2009 by Shawn Strickland and his father, Gary Strickland. Current members include Shawn Strickland: Vocals/Harmonica, Gary Strickland: Guitar/Vocals, Al Meck: Guitar, Chris Carithers: Guitar, Tim Reinhard: Bass and Mark Peterson: Drums. Shawn is a Seydel Harmonica endorsee and has competed solo at the 2012 IBC in Memphis, representing the Billtown Blues Association. Shawn has a very unique grit to his voice that stands out and once heard will never be forgotten. Shawn also competed in the 2013 IBC, representing the Natchel Blues Network. He returned in 2015 as a duo with his father Gary, representing the Natchel Blues Network. To hear some funky blues, check out their Facebook page or go to www.reverbnation.com/dirtymojo
The Becky Blue Band was the next performance. From Central PA, they are a Rock and Blues Band. Becky mixes in some cigar box that gives the songs a whole new sound. She has a strong and striking voice that mixes well with the instruments played. Members are Dan Montville: Guitar, Justin Aurand: Keys, Carolyn Gatty: Drums, Scott Myers: Bass and Becky Blue: Vocals/Cigar box. They recently released an EP 'South of Florence' recorded in Muscle Shoals, Alabama and are working on several projects including their first LP to be released in the near future.
Following some stellar performances was the acoustic trio, Mystery Trayne. This Williamsport band added a unique mix of harmonious smooth blues, twang and swing along with a washboard that set their sound apart from the rest of the bands playing. This band consists of Cheryl 'Miz Ida' Miller: Vocals/Washboard, Jay 'Bone' Short: Guitar and Jack 'J.C.' Reed: Upright Bass. Jay and Cheryl have been fixtures in the area blues scene for decades. Jack is a multi-instrumentalist is a songwriter and recording engineer. They produce a polished sound that is timeless.
The Ann Kerstetter Band was our last band to see for the evening. It had been a long day of great music and we had a lot of road to cover before we reached home. This Northumberland band was truly exciting watch and was so much fun. Their style is a mix of Blues, Classic Rock and Americana. Ann's voice is described as a mix of Etta James and Janis Joplin and I would say that is spot on. The members include Ann Kerstetter: Vocals, Bryan Noaker: Guitar, Bill Stetz: Bass and Jack Lawton: Drums. Ann is now in my top 10 of best local female performers to see. It wasn't just her voice, although her voice is incredible, it was her stage presence. She is so animated, funny and has crazy energy on stage. Bryan's guitar playing second to none and his slide work is phenomenal. Ann has released 2 albums over the years. Her debut album 'Classics' and follow up album "Duke St. Dairy" that features 11 cuts including 9 original songs by Ann and her band. Duke St. Dairy also includes her first original song performed in Spanish, 'No Me toques mas asi', which in English means 'Do not touch me anymore'. It is a very powerful song that shows her passion yet resonates. The album also features songs by Ann Rabson and EG Kight. I picked up this CD years ago and it is one I still never get tired of hearing. The Blues foundation honored Ann and her band by naming this CD as '2010's Semifinalist for Best self-produced CD'. For more information on the band, future shows or to purchase music, go to their website at www.annkerstatter.com or find them on Facebook.
The music did not stop there though. After we left, Gabe Stillman along with Stacia Abernatha, were playing next. Gabe is the lead in The Gabe Stillman Band that won the band category for the 2018 Billtown Blues Challenge. You may recall us covering The Gabe Stillman Band in our article of the December issue of the magazine. We also covered Stacia in our article of the October issue. Both Stacia and Gabe are stellar musicians and are must sees. We sadly missed The Cadillac Cats, who were also in our article of the October issue (and faithful advertisers of the magazine I might add. Thank you again for your support of the magazine). If you missed the paper copies of these musicians, I encourage you all to read the magazines digital issues online. These guys are all notable musicians and deserve to be recognized. We will definitely be back to catch some more of their shows in the near future.
The final band to play that evening was Miz Ida & the Allnightas. They are a Williamsport band and this was sadly their final performance together after playing the Blues for 10 years. Members of the band were Cheryl 'Miz Ida' Miller: Vocals, Lori Smith: Guitar, Dave Krempasky: Bass and Roy Pursel: Drums. From the videos posted on Facebook, it appears we missed out on one heck of a performance. We wish you all the best in the next chapter of your lives. I am sure we will see you all out supporting the great music that north central PA has to offer.
We were contacted by a friend that plays with the band SINK IN. They have been touring the U.S. and he informed us they were playing a show in Lancaster on December 22nd so we took a trip down to Tellus360. We have never been to this venue before but have heard great things about it. I know from following music, they get some really great musicians playing there. They have multiple levels and several stages in this huge building. They have done a really good job with setting up the stages and keeping the sound contained to those areas. Very cool place that we will go back to in the future.
There were several bands playing that evening at Tellus360. First on stage was Devix. Devix was created by Eric Torres and was intended to be a high school project piece but remained a solo looping act out of York. Eric is originally from Queens, NY and later moved to Greenville, NC. 13 years ago he landed in PA and has been creating music ever since. He started playing guitar 17 years ago and didn't start singing until 9 years ago. This surprised me since he has a skilled and trained voice that sounds like he has been singing his whole life. He has started working on an album but no release date set. I really enjoyed hearing him play and look forward to seeing what he makes of this in the future.
Following Devix was Astro Lasso. They are a two piece Indie/Pop band also from York. Jordan Davis and Tristan Martin make up this new project and they are already getting a lot of attention. Jordan and Tristan were formally in the band Kingsfoil. Astro Lasso puts on a striking show with a full band sound. Look for them on Facebook for upcoming shows.
Next to take the stage was SINK IN. They are a high energy Pop/Rock band originated in Los Angeles with 2 of the members being from Hershey. Members include Tighe Eshleman: Vocals, Cobrette Bardole: Guitar, Josh Lamczyk: Guitar and Stefano Pigliapoco: Drums/Vocals. SINK IN kicked off in 2015 by recording their debut EP 'Wide Eyes'. With great response to the EP, they set off on a full US touring schedule. They have shared the stage with artists such as: Relient K, Skillet, Red Jumpsuit Apparatus, Emery, Icon for Hire, and many more! In 2016, they released a single called 'Castaway', which amassed over half a million views on YouTube. SINK IN entered the studio again in the winter of 2016 to record their first full-length album entitled 'Ordinary People, Extraordinary Things'. It has been really cool to watch this band grow on stage over the last couple years. They have a lot of fun performing and interact really well with their audience. Check them out on Facebook more information on tour dates and merchandise or visit them at www.sinkinband.com
Tigers and Thieves was the headliner of the night. This Lancaster band formed in 2015 and is an Indie/Rock Band. Members include Andrew Benner: Vocals, Nate Longenecker: Synths, Dwight Sensenig: Drums, and Levi Schlosser. Their first EP 'You Can't Have Everything' was released before they played any shows. They released 2 singles in 2017, 'Change you Mind' and 'Charminar'. They are set to release their 2nd 5-song EP later this winter/early spring. Check out their Instagram or Facebook page to follow along for upcoming news on a release date.
With that, 2018 is a wrap. We are looking forward to 2019 and covering some new bands checking out some new venues around the area. If you see us at a show, stop and say hello. Also, remember that advertising is available and pricing is really inexpensive. Check out the magazines website at www.pamusician.net and contact Josh for any help you may need to get you started.