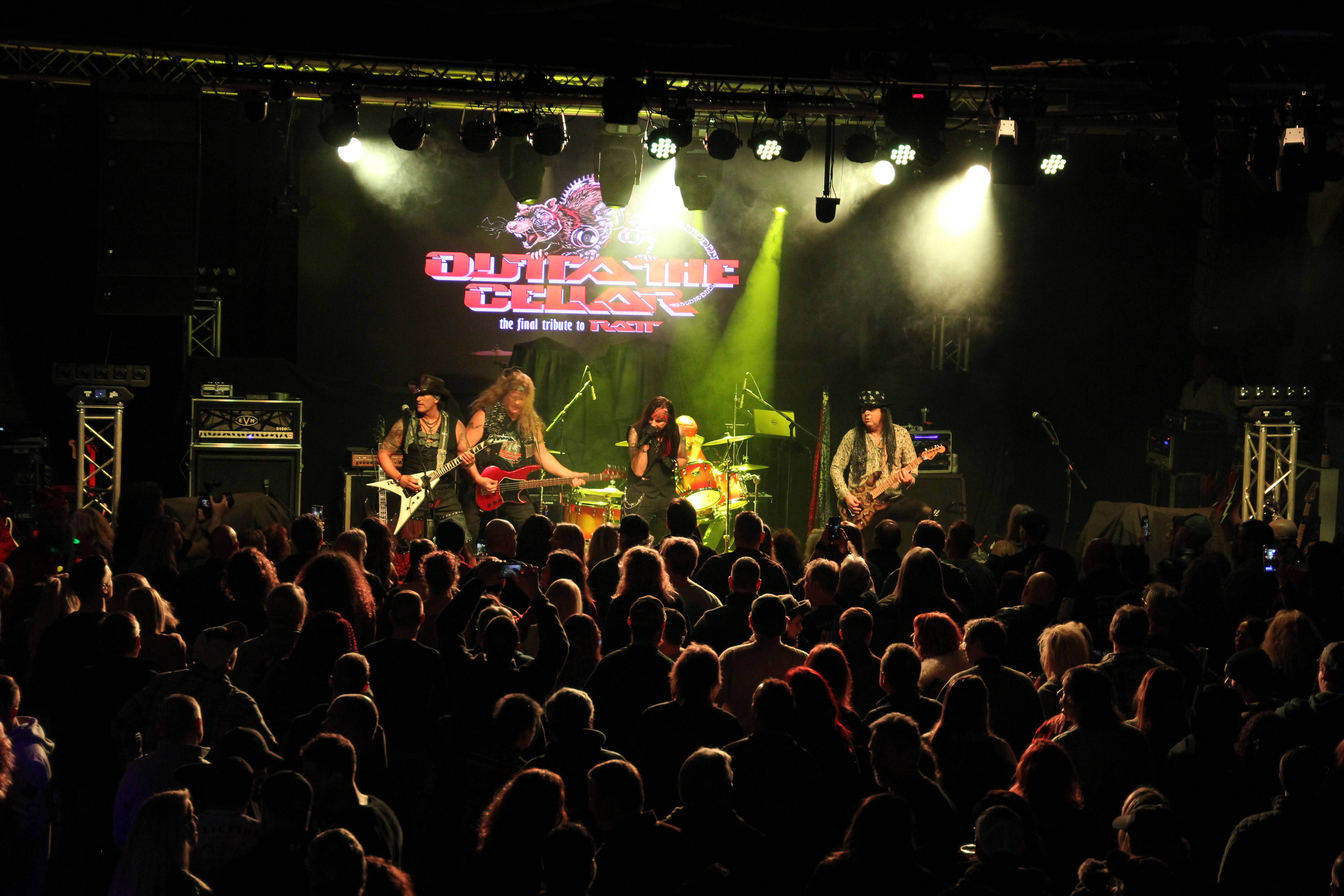 ---
Happy New Year!!!! The first article of 2019. Thank you all for another amazing year of friendship, support, and most importantly entertainment! I am constantly amazed at the talent in our area. We are truly blessed with all of the bands and venues right here in and around Harrisburg. There is always somewhere to go and someone to see. December was pretty packed with birthdays and family craziness, but I still managed to get out to a few shows.
The first big show of the month was another trip down to Racehorse Tavern with my friend Angie for the Francis Crouse Benefit. Francis, the lead singer from Big Jack, was in a horrific motorcycle accident and has been on a super long road to recovery. We were all extremely thankful that not only did he make it to the benefit, but he also got on stage and sang with Problem Child. I'm sure we'll see him back on the stage rockin' with Big Jack real soon, but in the meantime, it was nice to see so many friends out supporting a friend in need.
The first band I made it for was Shadow Rising. This is Chris Redding's side project. Shadow Rising is a little calmer than Steel, sticking more with your Classic Rock favorites. They've been playing together a while now, I can't believe it was the first time I got out to see them. They've been playing mostly in the southern part of the state, but hopefully they will soon by "rising" more towards Harrisburg.
Next was Problem Child. Many of the "older" rockers in the house remember Problem Child, after 20 years of a hiatus they are back with a vengeance and ready to rock! It's awesome to see and hear that they haven't missed a beat and picked right up where they left off. Abby has an amazing voice and Problem Child definitely knows how to rock! I'm sure you'll be seeing them more throughout the area very soon.
The last band of the month was Steel. It seems like anytime someone in the area has a benefit, Steel always helps out however they can. I know we greatly appreciated them playing at our benefits. Not only are they amazing musicians, but just amazing people in general, always helping out however they can. Racehorse was packed all night long, and Steel kept it packed til the very last note! Jim and all of the staff at Racehorse also always go above and beyond for anyone in need. Jim is always opening up his stage for benefits, giving promoters, and bands themselves a great place to get together and play for an even greater cause.
The following weekend I headed in to Club XL for The River 97.3's 10th Annual Toys for Tots benefit. First off CONGRATS and THANK YOU to Toys for Tots for hosting this amazing event for 10 years!! The amount of toys and money collected are always amazing. Even when the Marines got up on stage to talk about Toys for Tots, they said they were amazed at the amount and quality of toys donated, someone even donated a bike! The event was a huge success for Toys for Tots and that is what really matters. The bands that perform at the River's TFT event are always top notch and this night was no different. It all kicked off first with Time Bomb and the SynDCats. I unfortunately missed their sets, but it was awesome to see Michele Kelley and Chris Rider Photography were already there covering the event. To see full coverage and even more pictures, make sure and check out Michele's article. But now for what I did see…
The Martini Bros have rocked almost 10 years of this event, last year Deuce was in a little biking accident, but luckily it was nothing major and didn't slow these guys down. They were back and rockin' as they always do. These guys have been playing fewer shows during the year, so you definitely want to catch them every chance you get. It's hard to believe they've been rockin' our faces off for 25 years! They probably don't want to admit that, but it is still a pretty amazing! Their music is one of a kind with it's funky rockabilly coolness. I know I always enjoy it. It was also nice seeing them on a big stage having fun doing what they do.
The Jellybricks have also played all 10 years of this event. When you have bands like the Jellybricks that play limited shows it definitely brings out the masses for this special event. Throughout the years they've built up quite a following here in Harrisburg and throughout the airwaves. Their songs are very catchy and have their own special original twist. It's awesome seeing them playing their songs we all love mixed in with new music. It's awesome to see them still creating and having a true passion for their music. The Jellybricks shows are also few and far between, make sure and catch 'em while you can!
After the Jellybricks I let Michele and Chris do their thing, oh and Eric Hoffman was there too, and I headed over to Cliff's for Road Case. Road Case had a great crowd at Cliff's with people enjoying the good old rock and roll. Now that these guys have quite a few shows under their belt they are definitely just rockin' all night long! They've all played in enough bands for years that they know how to put on a great show and keep their crowd entertained. It was a great way to end the night. Make sure and check out Road Case's ad in this issue so you can get out there and rock with them soon!
The next weekend it was time for another benefit, Spacefest for Eric Dengler, aka Space. Space has undergone some terrifying cancer surgeries and his friends got together and had two nights of Spacefest to help raise money to pay some of the medical bills and take away some of their financial burdens. I made it to the 2nd Spacefest at River City. I was thrilled that I had to park in overflow parking when I got there. The place was packed! Space has played so many benefits for years for so many different people, I was so glad to see such a great turn out for him and his family. The bands of the night were Ebenezer Screw, Penntera, Maiden America and Steel.
I made it in time to see Ebenezer Screw rockin' the stage. It's been a while since I saw these guys and they never disappoint. The whole night was all about rocking, head banging, and just going crazy, and these guys definitely got the party started. At the very end of their set they also had a super special guest performance by most of the members of Scapegoat. They say get ready, Scapegoat is coming back.. but that is to be continued.. People were very excited to see and hear them on the stage together again.
Next up was Penntera. Of course, Space would play his own benefit not only in one, but two bands! The guy is an absolute beast!! This was only the 2nd time I've seen Penntera with Jason on vocals and Zack on bass, but I was once again impressed. Pat, Zack, and Jason have an amazing stage presence or should I say off-stage presence for Jason. He literally came flying off the stage one time and almost took me out! If you go to a Penntera show and you're standing up front, it's in your best interest to pay attention! The guys are all great musicians and just a blast to watch and hear! If you haven't checked out this new line-up yet, do yourself a favor, check out their ad in this issue and get out there and ROCK with Penntera!
No rest for the weary.. the show just kept right on rockin with Maiden America! I love how one their facebook page they have the Maiden America food pyramid: loud guitars, huge drums, and cold beer! That sounds about right, but you also have to add in the amazing vocals of Gordon! Not to mention all of Gordon's leaps into the crowd and all over the stage. I don't know how he manages to sing so perfectly while moving around so much, I would be completely winded and probably pass out, but he does it flawlessly. I'm a huge Iron Maiden fan, so I love hearing all of their songs. They really do a great range of all their songs, newer and older. If you are a Maiden fan, trust me when I say you won't be disappointed if you go see these guys. They really put on a great show!
The last band of the night was Steel. The room was just pouring out so much energy, and Steel just keep pouring it right back. I was a little sad to hear some of the songs that Maiden America played because I love how Steel plays them, but Steel didn't let it phase them, they have plenty of songs in their arsenal and they were still able to play a great set of music! They really kept the place hopping til the bitter end. I'm glad everyone showed up and made this a great night of music and fun for Space and his family. On a side note: I noticed that "River City" used duct tape to cover up the words on their banner that said "Blues Club".. this venue is not just for blues, it is for EVERYTHING! It's awesome to hear and see how River City is supporting all types of music: rock, blues, jazz, original artists, etc. It is just a great little venue for any local bands to play in. If you haven't checked it out yet, you really should!
The next night I headed out to Ted's on 22 for Calling Off Doug. I haven't seen these guys in a while, now I've seen them two months in a row! I'm glad they are getting noticed and getting more gigs in the area. They really do deserve it. Stephanie is such an amazing vocalist and can belt out so many of your favorite pop/party songs that keep the booties on the dance floor and have the room singing along! Ted's room is pretty spread out and it was fun to be able to look around the room and see people dancing along in the front, the back, and everywhere! If you want to see a band that will get you up dancing and having a great time, do yourself a favor and check out Calling Off Doug's schedule in this issue. You can also give Tim a call and get them booked at your venue!
Since Calling Off Doug was done early at Ted's, I finished off the night at Double K with Ebenezer Screw. Yes, I just saw them at Spacefest, but it was only a little teaser compared to a full show. Double K definitely loves Ebenezer Screw, they always pack the place and this night was no different. Ebenezer Screw makes sure they always put on a great show not only with their music, but with their "show" too! They had "Hired Sound" there doing their sound and lights and it was definitely a sight to see! Darrin doesn't mess around, and always puts on an amazing show. If you want to really put on a show at your next event, check out "Hired Sound's" add in this issue and give Darrin a call. Another side note: Double K might have a buyer. It's in the infancy stages, so it's a big we'll see what happens… so do yourself a favor and get out and see a band at Double K as soon as possible!!
Finally, the last show of the month, but it sure was a big one! It was the debut night for the new RATT Tribute band, OUTTA the Cellar, opening for Back in Black at Club XL. Steve and all of the guys from OUTTA the Cellar were promoting like crazy for this show, and you could definitely tell by the venue! OUTTA the Cellar played at 9pm and the place was already packed! They had a great response from the crowd, so I'm sure you will be seeing a lot more of these guys in the upcoming months. I know they already have a few shows lined up. They are all seasoned musicians and have all played and been in this scene for years, so they know what it takes to get the job done, and they are doing it! Thanks for promoting your show in the PA Musician Magazine. We really do appreciate the support!
LeadFoot was the next opening band. They are becoming regulars at Club XL opening up for quite a few bands. LeadFoot is a great solid band that plays a variety of your favorite 80s metal songs that knows how to get a party started! They always quickly get everyone paying attention to the stage and dancing and singing along. It was cool to see Ray Geida behind the drums again! It was also cool to see their new guitar player Jason Sparks really moving, dancing and feeling more comfortable on the stage with these guys. It has to be difficult to come in and play with musicians that have been playing together so long, but the whole band does a great job rocking together!
The last band of the month is Back in Black. It's again been way too long since I saw these guys! They are all such amazing musicians and a blast watching. I couldn't believe with it being the weekend before Christmas and so many shows happening in the area, I really didn't think they'd have a huge crowd, but Club XL was packed! There were so many familiar faces in the room and it was a blast just rockin with everybody and having a great night of entertainment! Back in Black has been rockin' stages for 30 years! They are definitely the "True" AC/DC Experience! Even tho they are from Massachusettes that doesn't stop them from building up their fan base all along the East Coast, and especially here in PA. They've been playing shows in PA for 29 years! Anybody have video of them playing 29 years ago? I'd love to see it! Keep an eye out for Back in Black, I'm sure they'll be passing back through the area soon. I'm so glad people are coming out and supporting Club XL. With so much free parking and such a large venue with amazing sound and lights it really is a sight to see! Don't forget Club XL are offering "Season Passes" this year, for only $250! Check out their website, www.xlhbg.com for all of the details. There are lots of amazing shows this month and every month at Club XL. Small Town Titans January 25th and so much more! And I hear Jackyl is coming in February!! Get your tickets now!!!
Well that's all for this month. Happy New Year again!!! I can't wait to see what this New Year brings!!! Don't forget how cheap it is to advertise in the PA Musician Magazine. If you truly want to let the music lovers know where you are playing, place your ad with us!! I don't know how many people have said they've been De-Activating their Facebook pages. I'm not sure what the next fad will be yet, but I really do think Facebook is on it's way out… Yet here we still are.. Promoting as much music as we possibly can, covering shows, and still printing a magazine!! Give Josh a call at 717-636-4203. If you have any questions, comments, or shows you want me to know about, email me RachelRocks@pamusician.net. When you see me Out and About, stop me and say Hi and let's do a selfie!! Support Local Music! Support Local Magazines!!!